Volvo Ec210b 240b 290b Prime Update Manual
FILE DETAILS:
LANGUAGE:ENGLISH
PAGES:235
DOWNLOADABLE:YES
FILE TYPE:PDF
VIDEO PREVIEW OF THE MANUAL:

IMAGES PREVIEW OF THE MANUAL: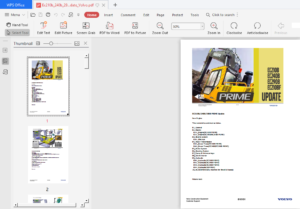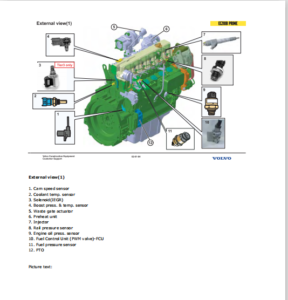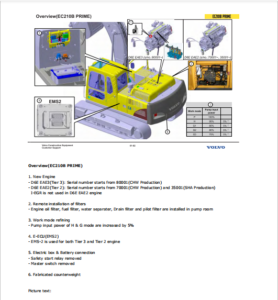 DESCRIPTION:
Volvo Ec210b 240b 290b Prime Update Manual
Main components
1.The most advanced Volvo engine controller, EMS2, will be utilized to provide the highest level of electronic features and to enhance reliability.
2.The IEGR(Jacobs system) creates a small second exhaust valve lift. This extra lift feeds exhaust gases back into the cylinder during the inlet stroke to reduce NOx.
3. Common Rail Whereas in conventional diesel engines injection pressure is generated for each injector individually, a common rail engine stores the fuel under high pressure in a central container (common rail) and delivers it to the individual injectors on demand. Benefits of common rail injection are reduced noise levels, stronger performance, improved emission control and greater efficiency.
4.The new high-pressure solenoid diesel fuel injector.(BOSCH-CRIN 2nd Generation Injector)
IEGR operation
1. IEGR consists of a solenoid valve, control valve, and master and slave pistons. These components are assembled into a housing.
2.When the solenoid is de-energized, the control valves move down and the high-pressure oil is released through the tops of the control valve bores.
3. When the IEGR is activated, the solenoid allows oil to pass to the control valve. The control valve moves up and the check ball in the control valve is unseated, allowing oil to fill the master/slave piston circuit.
4.The oil pushes the master piston out, and when rocker motion pushes the master piston back, high pressure is created which seats the check ball in the control valve.
5.Continued rocker motion causes the high-pressure oil to move the slave piston. The slave piston motion causes the exhaust valves to open. As the rocker moves back down, the master piston follows, and the slave piston moves up, allowing the valves to close again, ready for the next cycle. These cycles continue as long as the brake solenoid is energized.
TABLE OF CONTENTS:
Volvo Ec210b 240b 290b Prime Update Manual
EC21OB/240B/290B PRIME Update
New Engine
This material is combined as below.
01_General
02_Engine
02-1_Engine(EC210B PRIME)
02-2_Engine(EC240B/EC290B PRIME)
03_Electric system
03-1_Elec sys
04_Power Transmission
04-1_Power Trans(EC210B PRIME)
04-2_Power Trans(EC240B/EC290B PRIME)
05_Brake System
06_Steering System
07_Frame & Undercarriage
08_Cab & Interior
09_Hydraulic
09-1_Hydraulic(EC210B PRIME)
09-2_Hydraulic(EC240B PRIME)
09-3_Hydraulic(EC290B PRIME)
09-4_Hydraulic(COMMON)
10_EC210BF(Forestry machine for Brasil & Russia)
PLEASE NOTE:
This is the same manual used by the dealers to diagnose and troubleshoot your vehicle
You will be directed to the download page as soon as the purchase is completed. The whole payment and downloading process will take anywhere between 2-5 minutes
Need any other service / repair / parts manual, please feel free to contact heydownloadss@gmail.com . We still have 50,000 manuals unlisted