Toro Workman 3000 4000 Series Early Service Repair Workshop Manual
FILE DETAILS:
LANGUAGE:ENGLISH
PAGES:438
DOWNLOADABLE:YES
FILE TYPE:PDF
VIDEO PREVIEW OF THE MANUAL:
IMAGES PREVIEW OF THE MANUAL: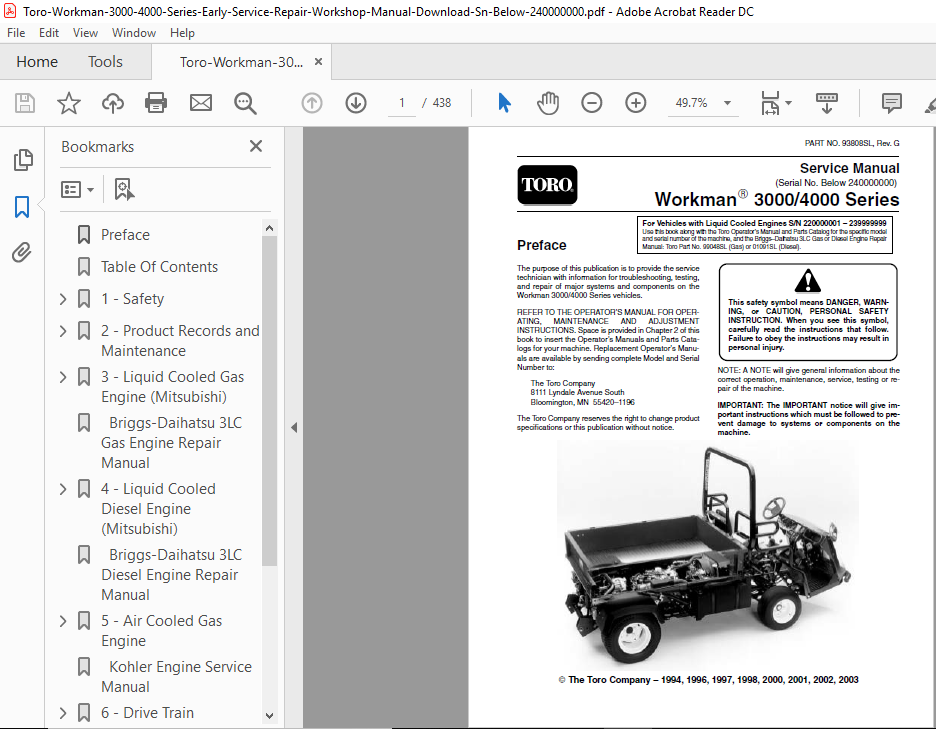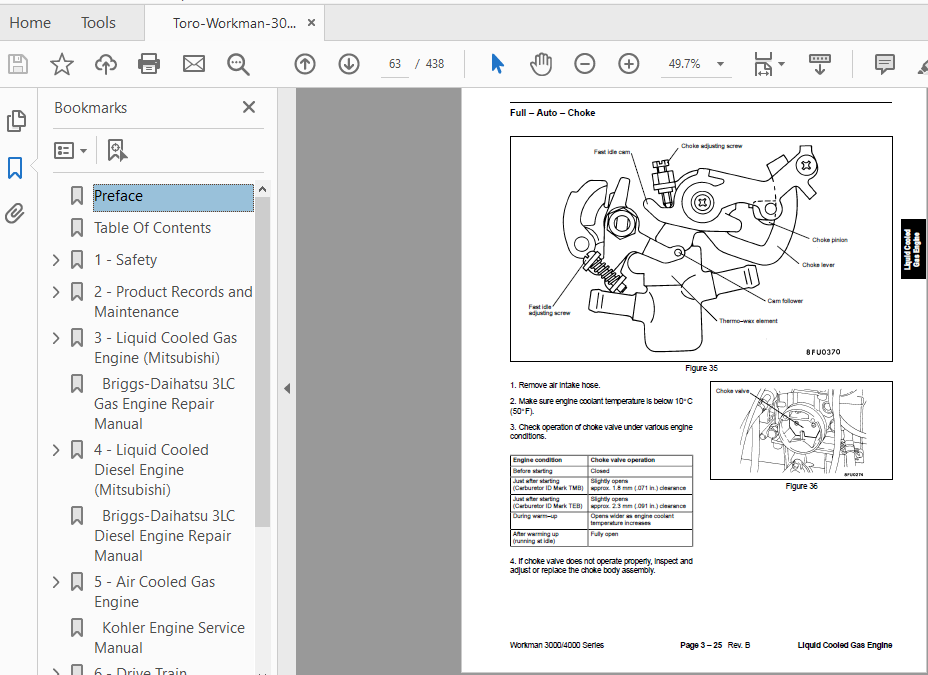 DESCRIPTION:
The WORKMAN 3000 Series vehicles are designed and tested to offer safe service when operated and maintained properly.
Although hazard control and accident prevention partially are dependent upon the design and configuration of the machine, these factors are also dependent upon the awareness, concern, and proper training of the personnel involved in the operation, maintenance and storage of the machine.
Improper use or maintenance of the machine can result in injury or death. This is a specialized utility vehicle designed for off–road use. its ride and handling will have a different feel than what drivers experience with passenger cars or trucks. So take time to become familiar with your WORKMAN vehicle.
Recommended fastener torque values are listed in the following tables. For critical applications, as determined by Toro, either the recommended torque or a torque that is unique to the application is clearly identified and specified in this Service Manual.
These Torque Specifications for the installation and tightening of fasteners shall apply to all fasteners which do not have a specific requirement identified in this Service Manual.
The following factors shall be considered when applying torque: cleanliness of the fastener, use of a thread sealant (Loctite), degree of lubrication on the fastener, presence of a prevailing torque feature, hardness of the surface underneath the fastener's head, or similar condition which affects the installation.
As noted in the following tables, torque values should be reduced by 25% for lubricated fasteners to achieve the similar stress as a dry fastener.
Torque values may also have to be reduced when the fastener is threaded into aluminum or brass. The specific torque value should be determined based on the aluminum or brass material strength, fastener size, length of thread engagement, etc.
The standard method of verifying torque shall be performed by marking a line on the fastener (head or nut) and mating part, then back off fastener 1/4 of a turn. Measure the torque required to tighten the fastener until the lines match up.
TABLE OF CONTENTS:
Toro Workman 3000 4000 Series Early Service Repair Workshop Manual
Chapter 1 – Safety
Safety Instructions 1 – 1
Chapter 2 – Product Records and Maintenance
Product Records
Equivalents and Conversions
Torque Specifications
Lubrication
Quick Reference Maintenance Aid
Operation and Service History Report 2 – 11
Chapter 3 – Liquid Cooled Mitsubishi Gas Engine
(Workman S/N Below 220000001)
General Information
3 – 2 Specifications
3 – 3 Special Tools
3 – 12 Inspection and Adjustments
3 – 17 Troubleshooting
3 – 28 Testing 3 – 30
Preparation for Engine Repair
3 – 46 External Engine Component Repairs
3 – 47 Electrical System Repairs
3 – 58 Fuel System Repairs
See Part No 99048SL Briggs–
Daihatsu 3LC Gas Engine Repair Manual)
Chapter 4 – Mitsubishi Diesel Engine
(Workman S/N Below 220000001)
General Information 4 – 2
Specifications 4 – 3
pecial Tools 4 – 11
Adjustments 4 – 13
Troubleshooting 4 – 15
Testing 4 – 18 Preparation for Engine Repair
4 – 31 External Engine Component Repair
4 – 32 Electrical System Repairs
4 – 34 Governor System Repairs
4 – 45 Fuel System Repairs
4 – 50 Removing and Installing the Engine
4 – 57 Cylinder Head Overhaul
4 – 59 Cylinder Block Overhaul 4 – 66
Briggs–Daihatsu Diesel Engine
(Workman S/N 220000001 & Up
Workman 3000/4000 Series
Chapter 5 – Kohler Command Series
Air Cooled Gas Engine
Specifications
General Information
Adjustments
KOHLER ENGINE SERVICE MANUAL
Chapter 6 – Drive Train
General Information
Specifications
Special Tools
Adjustments
Troubleshooting
Repairs 6 –12
Chapter 7 – Steering,Brakes and Suspension
Specification
7 – 2 Special Tools
7 – 3 Adjustments
7 – 4 Troubleshooting
7 – 6 Repairs 7 –10
Chapter 8 –
Electrical System
Wiring Schematics 8 – 2
Special Tools 8 – 13
Troubleshooting 8 – 14 Testing
8 – 17 Service and Repairs 8 – 22
Chapter 9 – Hydraulic System
Specifications 9 – 2
General Information 9 – 3
Hydraulic Schematics 9 – 5
Special Tools 9 – 8
Troubleshooting 9 – 10
Testing 9 – 12
Service and Repairs
PLEASE NOTE:
⦁ This is the SAME exact manual used by your dealers to fix your vehicle.
⦁ The same can be yours in the next 2-3 mins as you will be directed to the download page immediately after paying for the manual.
⦁ Any queries / doubts regarding your purchase, please feel free to contact [email protected]