TCM 870-2 Wheel Loader Parts Manual PW-670K – PDF DOWNLOAD
FILE DETAILS:
TCM 870-2 Wheel Loader Parts Manual PW-670K – PDF DOWNLOAD
Language : English
Pages : 508
Downloadable : Yes
File Type : PDF
Size: 18.7 MB
IMAGES PREVIEW OF THE MANUAL: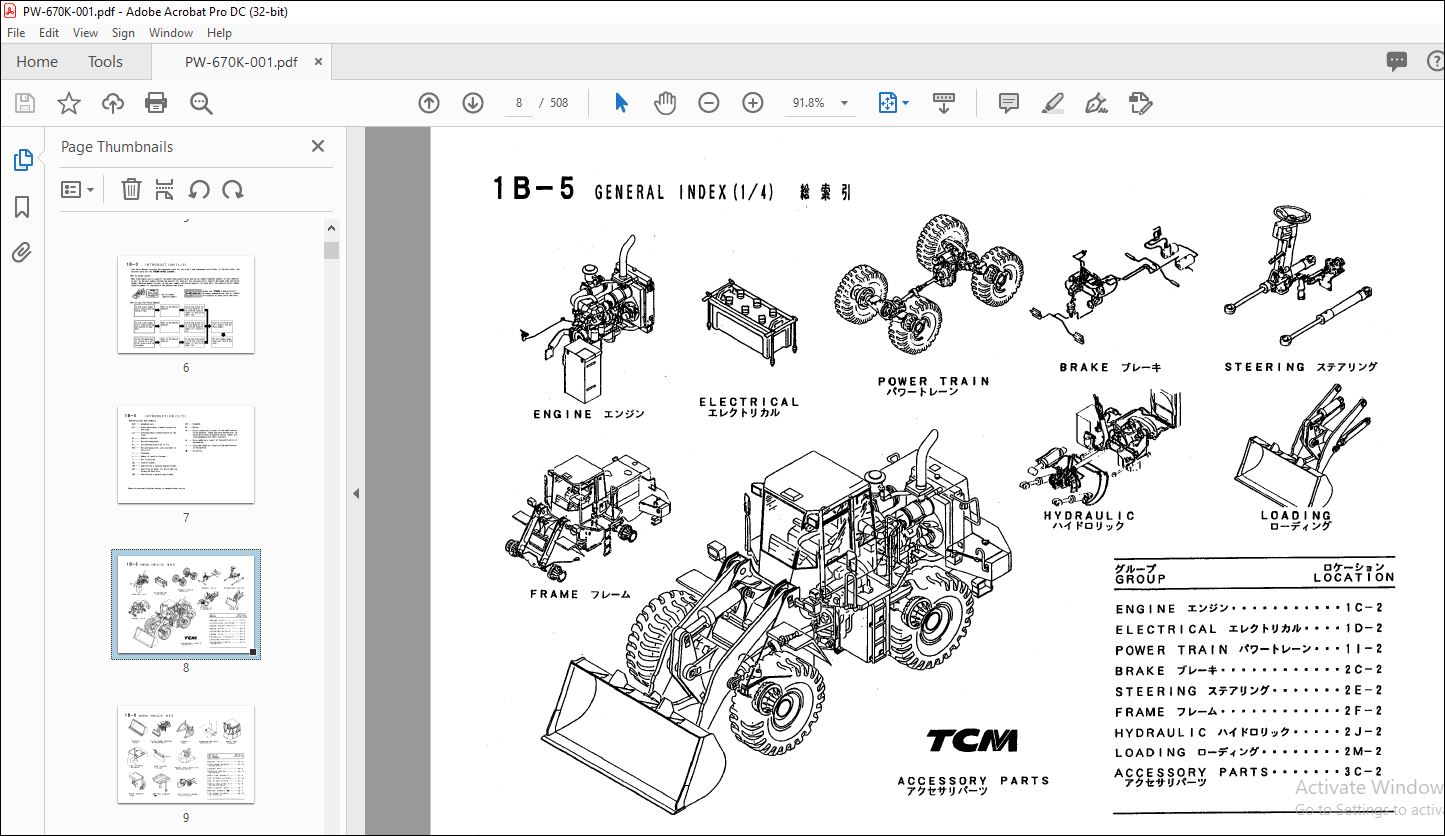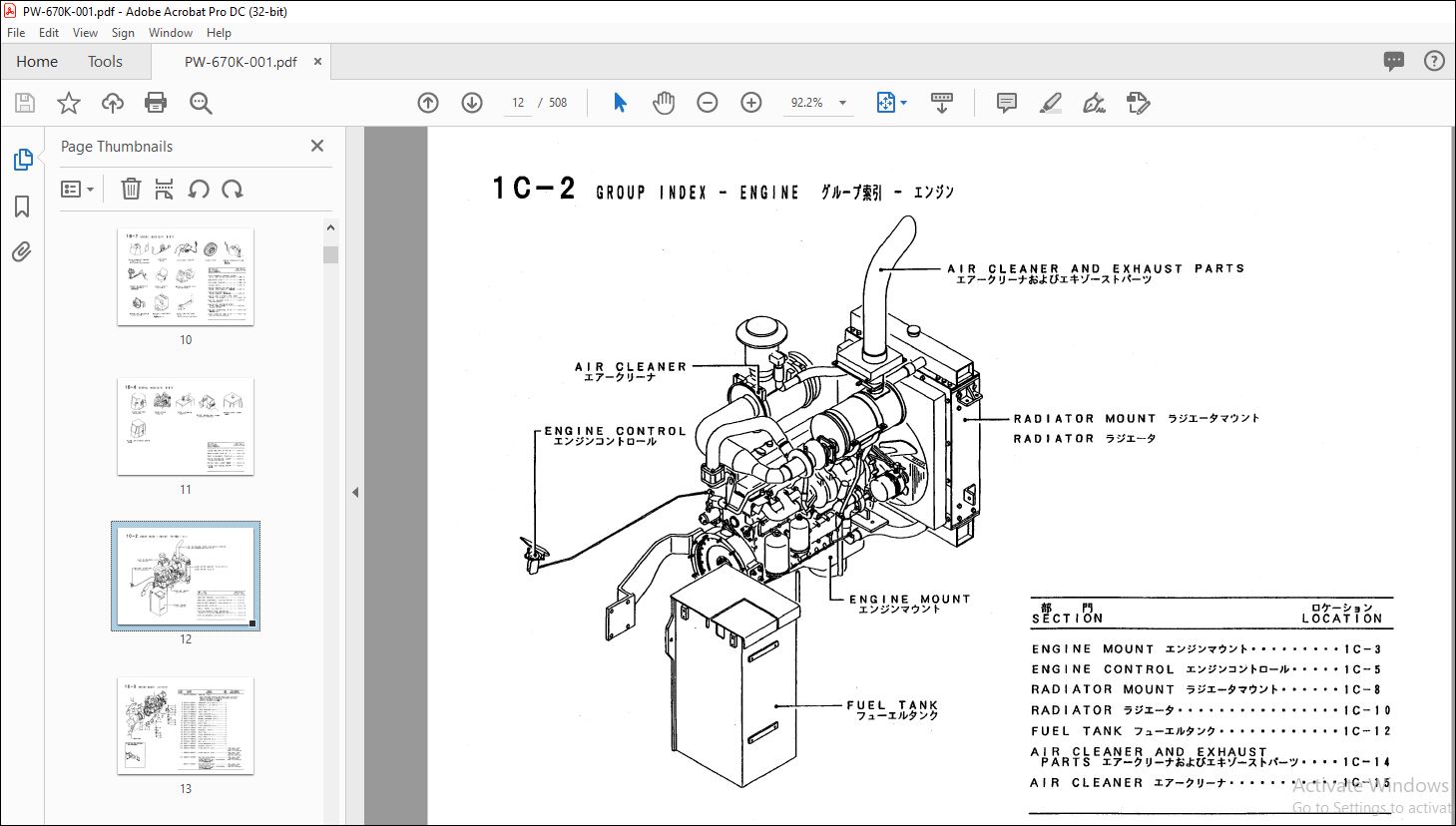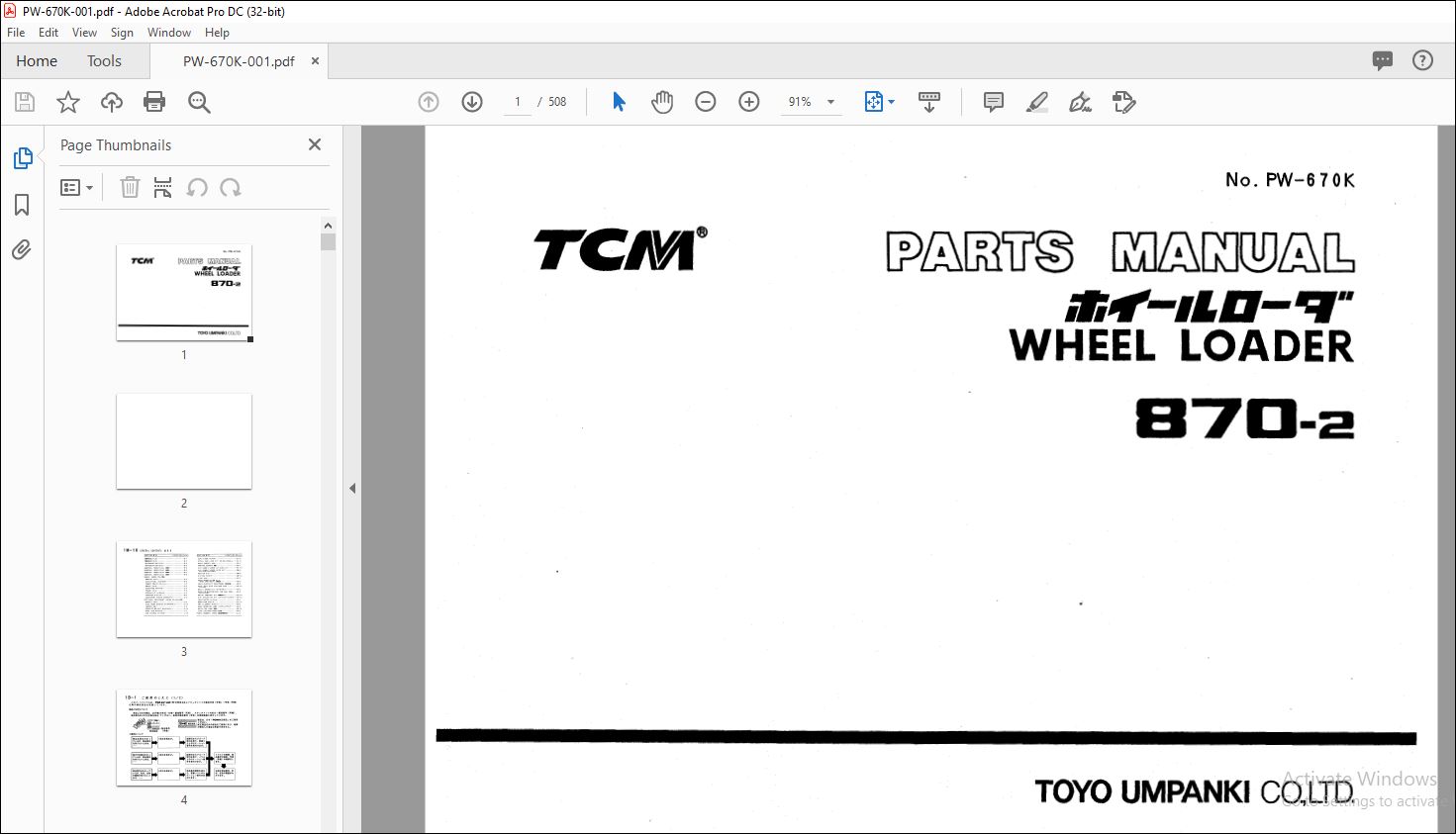 DESCRIPTION:
TCM 870-2 Wheel Loader Parts Manual PW-670K – PDF DOWNLOAD
Introduction:
This shop manual describes the structure and the service procedures of the machine for its
service uses. Use this manual when servicing.
Please note that values or other features might be change to enhance the machine's
performance.
Scope of Description and Usage of This Manual
■ To Readers of This Manual
This manual provides service staff who have completed basic training with technical information necessary
for service activity. For obtaining satisfaction and trust from customers, you are expected to read through
this manual and acquire correct product knowledge and service technique. ·
■ Reference Material
This manual does not, in principle, describe basic items and overlapped areas with other materials (below)
to eliminate redundancy.
• For handling and inspection procedures, refer to "Operation & Maintenance Manual."
• For structure and component parts, refer to "Parts Catalog."
• For handling, maintenance procedure and parts of the engine, refer to materials issued by the engine
manufacturer.
■ Organization
This manual is organized into four parts: 1. General Instructions 2. Construction and Function 3. Oveahaul
4. Troubleshooting
1. General Instructions
Safety during maintenance work and general cautionary instructions are compiled.
2. Construction and Function
An explanation of the construction and function and an explanation of operation (function) by
illustrations, circuit diagrams and system diagrams are compiled.
3. Oveahaul
Methods of removing hydraulic equipment from a vehicle, its disassembly and reassembly, its adjusting
method, standard values used for service work and service limits are compiled.
4. Troubleshooting
Probable causes and corrections for troubles are compiled.
TABLE OF CONTENTS:
TCM 870-2 Wheel Loader Parts Manual PW-670K – PDF DOWNLOAD
1.GENERALINFOMATION
1-1.Commonltems
l-2.Specifications
2.CONSTRUCTION AND FUNCTION
2-0. Engine
2-1. Electronical System
2-2. Power Train I
2-3. Power Train II
2-4. Brake System
2-5. Steering System
2-6. Frame
2-7. Hydraulic System
2-8. Working Equipment
3. OVERHAUL
3-0. Engine
3-2. Powertrain I
3-3. Powertrain 11
3-4. Brake System
3-5. Steering
3-7. Hydraulic System
4. TROUBLESHOOTING / DIAGNOSIS
4-0. Engine
4-2. Powertrain 1
4-3. Powertrain 2
4-4. Brake System
4-5. Steering System
4-7. Hydraulic System
VIDEO PREVIEW OF THE MANUAL:
PLEASE NOTE:
This is the SAME MANUAL used by the dealerships to diagnose your vehicle
No waiting for couriers / posts as this is a PDF manual and you can download it within 2 minutes time once you make the payment.
Your payment is all safe and the delivery of the manual is INSTANT – You will be taken to the DOWNLOAD PAGE.
So have no hesitations whatsoever and write to us about any queries you may have : heydownloadss @gmail.com
S.V