Shibaura ST330 ST333 Tractor Manual Set Assembly Manual+ Operators Manual + Parts Manual + Shop Manual
FILE DETAILS:
LANGUAGE:ENGLISH
FILE TYPE:PDF
PAGES:3000+
DOWNLOADABLE:YES
DESCRIPTION:
In order to refine the Shibaura tractor series furthermore, ST series tractors were developed this time. These are economical tractors provided with practical functions and high power.
They meet users' needs according to efficient and economical specifications requiring no after-care. This manual describes structure, functions, maintenance and service procedures for the ST tractors to obtain their functions fully and for safe operation.
For a complete l ist of the pre-del ivery service checks per formed by your dealer , refer to the PRE-DELIVERY SERVICE check l ist found at the back of this manual .
Keep one copy as your record of the service per formed. The other should be removed f rom the manual and kept by your dealer . MAKE SURE THAT BOTH COPIES ARE COMPLETED AND THAT YOU AND THE DEALER SIGN BOTH COPIES.
Af ter you have operated your t ractor for f i f ty hours, take this manual and your t ractor to your dealer .
He wi l l then per form the factory recommended 50-HOUR SERVICE as l isted on the lower por t ions at the back of this manual - wi thout charge - except for lubr icant , oi l , or f i l ters replaced as par t of normal maintenance.
MAKE SURE THAT YOU AND THE DEALER SIGN BOTH COPIES. A PRODUCT IDENTIFICATION PLATE is located on the r ight -hand side of the f ront f rame.
The numbers on the plate are impor tant should your t ractor require future service. For your convenience, have your dealer record the numbers in the appropr iate spaces below.
IMAGES: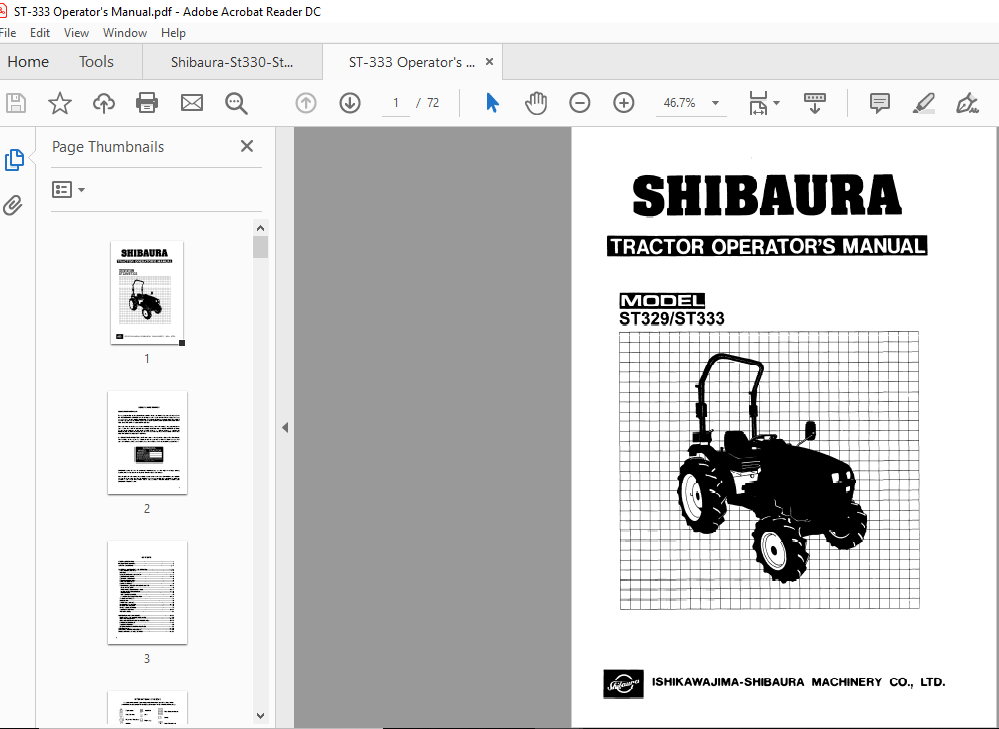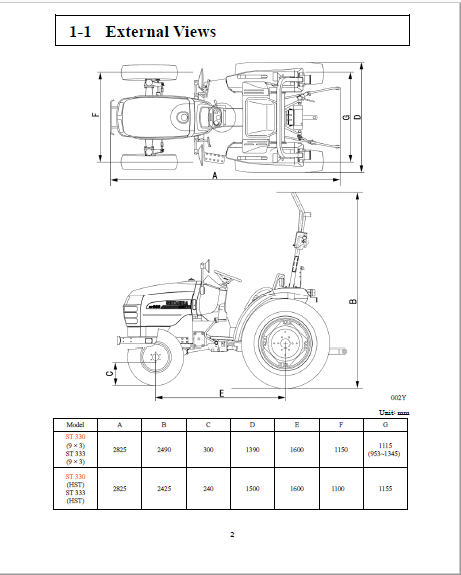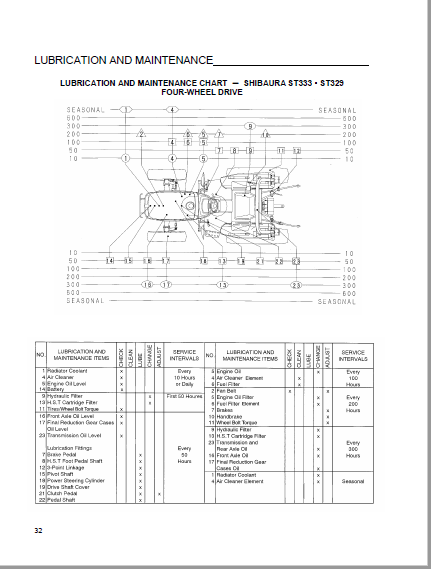 VIDEO PREVIEW:
TABLE OF CONTENTS:
GENERAL INFORMATION
INTERNATIONAL SYMBOLS
SAFETY PRECAUTIONS
CONTROLS, INSTRUMENTS AND OPERATION
SEAT, MIRROR AND ROPS
LIGHTING
STARTING THE ENGINE
STOPPING THE ENGINE
BREAK-IN PROCEDURES
THROTTLE CONTROLS
BRAKE CONTROLS
TRANSMISSION, FOUR-WHEEL DRIVE AND PTO
FOUR-WHEEL DRIVE
MECHANICAL TRANSMISSION (9×3)
HYDROSTATIC TRANSMISSION
CLUTCH PEDAL
DIFFERENTIAL CONTROL
PTO CONTROLS AND OPERATION
TOWING THE TRACTOR·
HOOD LUTCH
THREE POINT LINKAGE
HYDRAULIC LIFT SYSTEM
DRIVING THE TRACTOR
WHEEL TREAD SETTINGS
TRACTOR WEIGHTING
TIRE PRESSURES
LUBRICATION AND MAINTENANCE
LUBRICATION AND MAINTENANCE CHART
FUEL AND LUBRICANTS
FUEL AND LUBRICANT SERVICE PROCEDURES
GENERAL MAINTENANCE
TRACTOR STORAGE
GENERAL TORQUE SPECIFICATION TABLE
SPECIFICATIONS
SAFETY AND INSTRUCTION DECALS
PREDELIVERY AND 50-HOUR SERVICE
PLEASE NOTE:
⦁ This is the SAME exact manual used by your dealers to fix your vehicle.
⦁ The same can be yours in the next 2-3 mins as you will be directed to the download page immediately after paying for the manual.
⦁ Any queries / doubts regarding your purchase, please feel free to contact [email protected]