Pioneer Dvr-530h-s 630h-s Service Manual Repair Guide pdf download
DESCRIPTION:
When replacing the lithium batteries, follow the note below. Dispose of the used battery promptly. Keep away from children. Do not disassemble and do not dispose of in fire. The battery used in this device may present a fire or chemi- cal hazard if mistreated. Do not recharge, disassemble, heat above 100°C or incinerate. Replace only with the same Part Number.
Use of another battery may present a risk of fire or explosion. Note : The lithium battery installation position is shown in the exploded views.
IMAGES: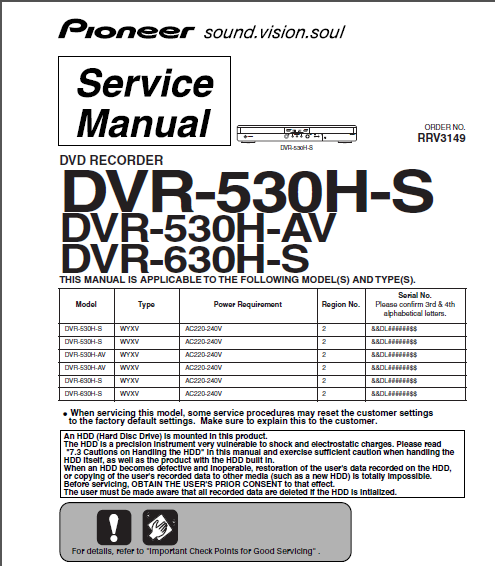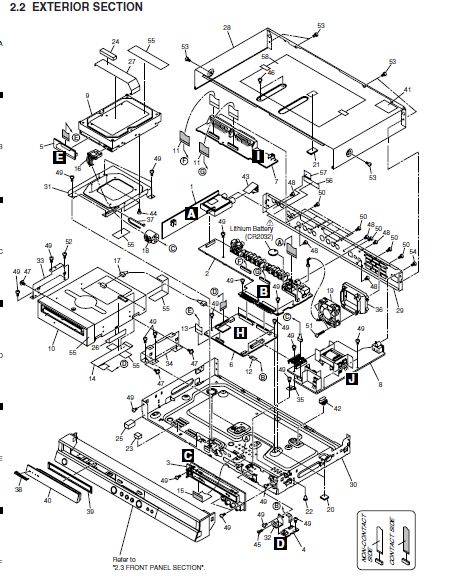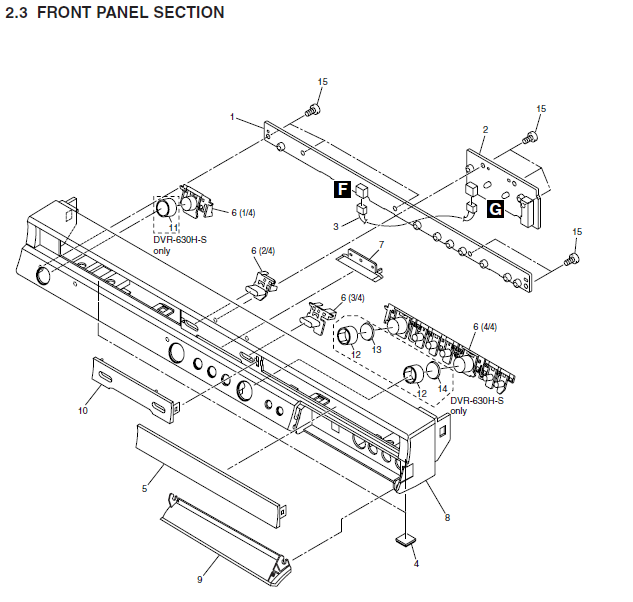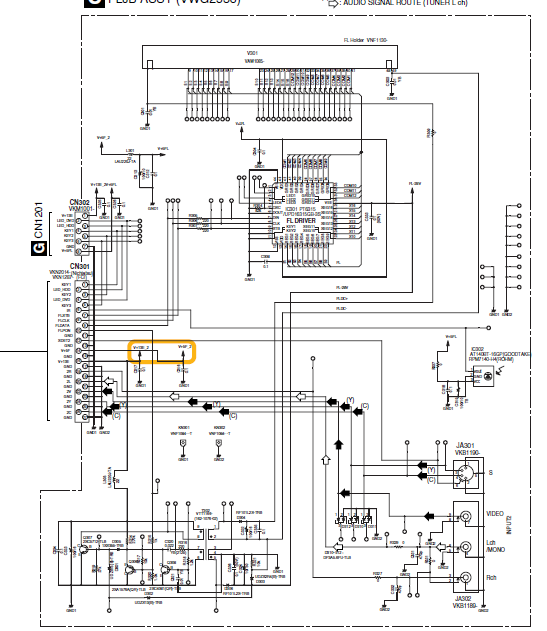 VIDEO PREVIEW:
TABLE OF CONTENTS:
SAFETY INFORMATION
SPECIFICATIONS EXPLODED VIEWS AND PARTS LIST
PACKING
EXTERIOR SECTION
FRONT PANEL SECTION
BLOCK DIAGRAM AND SCHEMATIC DIAGRAM
BLOCK DIAGRAM
OVERALL BLOCK DIAGRAM
MAIN ASSY
OVERALL WIRING DIAGRAM
TUNB ASSY
JACB(1/2) and FLJB ASSYS
JACB ASSY(2/2)
DVJB ASSY
ATAB ASSY
PSWB and RSWB ASSYS
MAIN ASSY(1/5)
MAIN ASSY(2/5)
MAIN ASSY(3/5)
MAIN ASSY(4/5)
MAIN ASSY(5/5)
SCRB ASSY
POWER SUPPLY UNIT
WAVE FORMS
PCB CONNECTION DIAGRAM
TUNB ASSY
JACB, FLJB, DVJB and ATAB ASSYS
PSWB and RSWB ASSYS
MAIN ASSY
SCRB ASSY
POWER SUPPLY UNIT
PCB PARTS LIST
ADJUSTMENT
GENERAL INFORMATION
DIAGNOSIS
MODELTYPE SETTING
PLEASE NOTE:
This is the same manual used by the dealers to diagnose and troubleshoot your vehicle
You will be directed to the download page as soon as the purchase is completed. The whole payment and downloading process will take anywhere between 2-5 minutes
Need any other service / repair / parts manual, please feel free to contact [email protected] . We still have 50,000 manuals unlisted