Official 2002 Polaris Octane Service Manual
FILE DETAILS:
Official 2002 Polaris Octane Service Manual
FILE TYPE:PDF
MANUAL LANGUAGE:ENGLISH
DOWNLOADABLE:YES
PAGES:137
DESCRIPTION:
Official 2002 Polaris Octane Service Manual
This manual is designed primarily for use by Polaris personal watercraft service technicians in a properly equipped shop. Persons using this manual should have a sound knowledge of mechanical theory, tool use, and shop procedures in order to perform the work safely and correctly.
The technician should read the text and be familiar with service procedures before starting the work. Certain procedures require the use of special tools. Use only the proper tools, as specified. Cleanliness of parts and tools as well as the work area is of primary importance.
This manual includes procedures for disassembly and reassembly, inspection,maintenance, component identification and unit repair, along with service specifications for the 2002 OCTANE Personal Watercraft. A table of contents is placed at the beginning of each chapter to aid the user in locating specific areas of information.
Care is taken to ensure that all information in this manual was technically correct at the time of publication. However, all materials and specifications are subject to change without notice. Comments or suggestions about thismanualmay be directed to: Engineering Services, TechnicalWriter, Polaris Sales Inc., 2100 Highway 55, Medina, MN 55340.
TABLE OF CONTENTS:
Official 2002 Polaris Octane Service Manual
Chapter 1 General Information
Chapter 2 Maintenance
Chapter 3 Engine / Cooling
Chapter 4 Carburetion / Exhaust
Chapter 5 Final Drive / Propulsion
Chapter 6 Electrical Systems
Chapter 7 Wiring Diagram
SCREENSHOT OF THE MANUAL: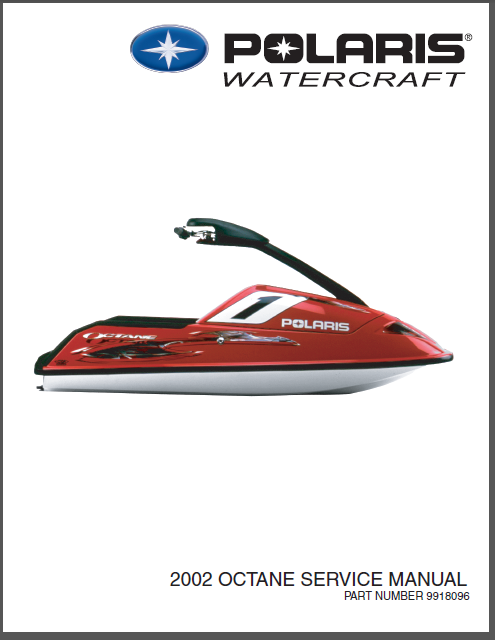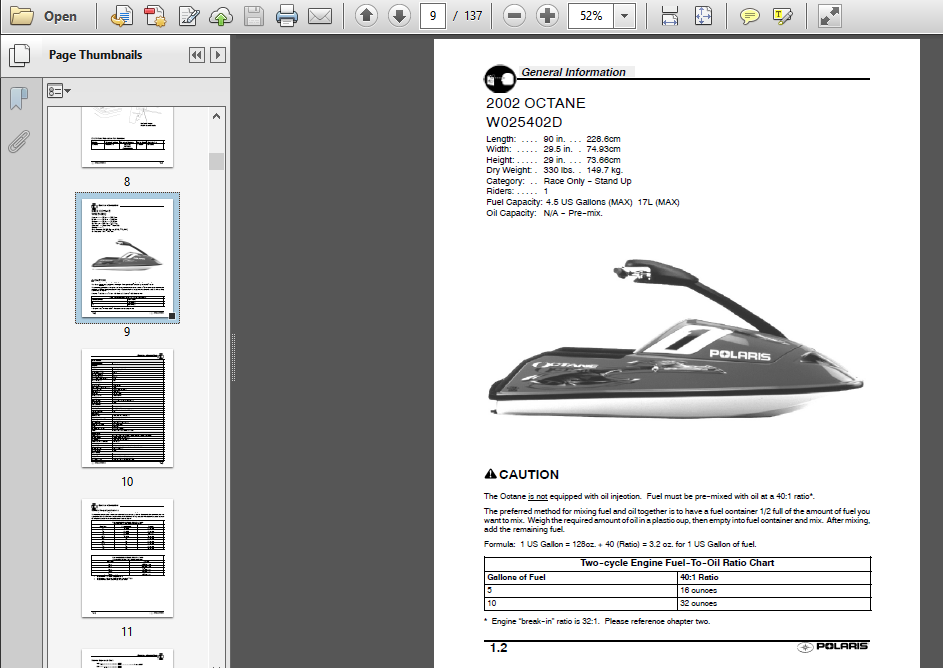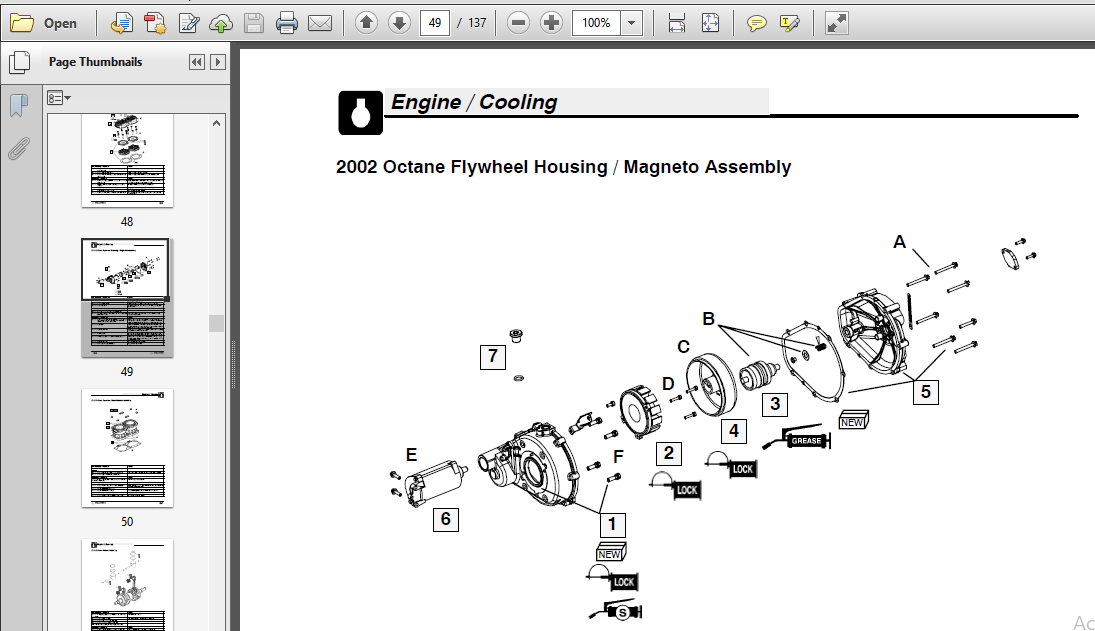 VIDEO PREVIEW:
PLEASE NOTE:
⦁ This is the SAME exact manual used by your dealers to fix your vehicle.
⦁ The same can be yours in the next 2-3 mins as you will be directed to the download page immediately after paying for the manual.
⦁ Any queries / doubts regarding your purchase, please feel free to contact [email protected]