New Holland RG 140.B Motor Grader Operation & Maintenance Manual 75314231 – PDF DOWNLOAD
IMAGES PREVIEW OF THE MANUAL: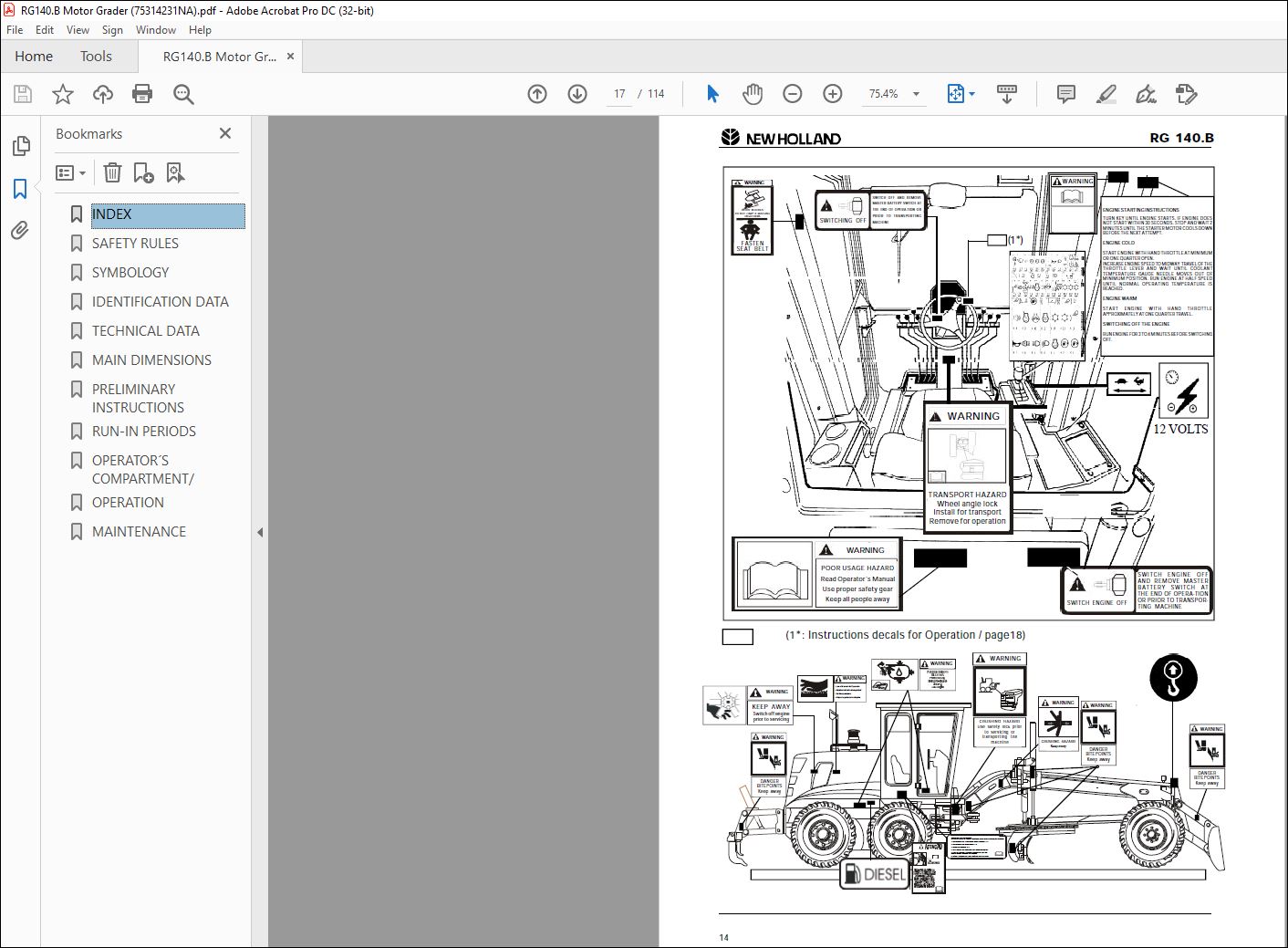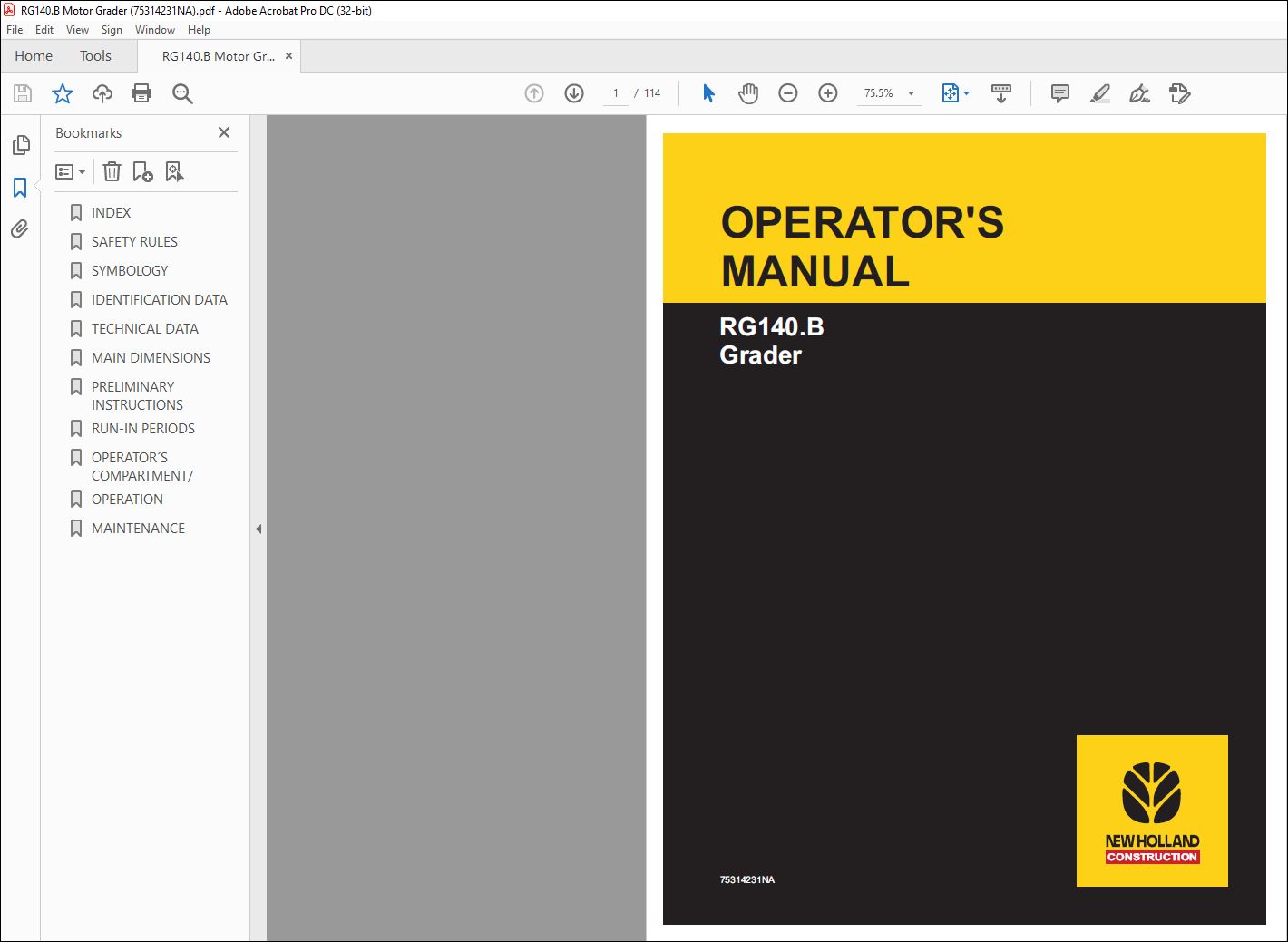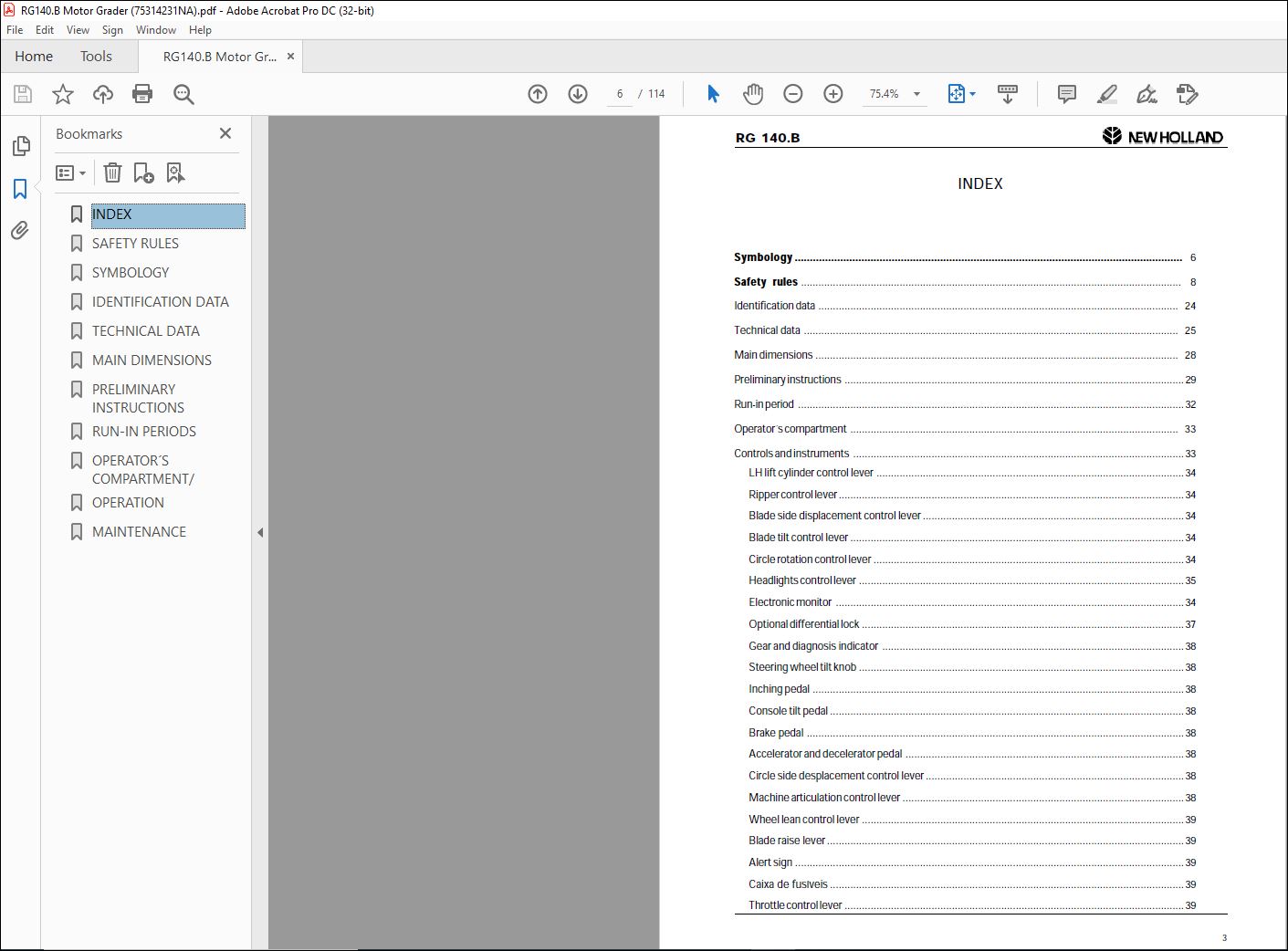 DESCRIPTION:
New Holland RG 140.B Motor Grader Operation & Maintenance Manual 75314231 – PDF DOWNLOAD
TO THE OWNER:
Read this manual before starting or operating the machine. Call your Authorized NEW HOLLAND dealer should
you need any additional information.
You Authorized NEW HOLLAND Dealer will provide service by fully trained servicemen who will use the best
methods in carrying out maintenance and repair work on your machine, using genuine NEW HOLLAND approved
parts.
Use this manual as a guide. Your Motorgrader will be a realiable working tool for as long as its kept under good
operating condtions and subject to proper maintenance.
DO NOT operate or allow someone else to operate or service this machine until they have read and understood
all safety, maintenance and operating instructions contained in this manual. Only trained operators with proven
skills to operate and service the machine properly should operate this equipment.
This motorgrader with standard equipment and attachments is for use in earthmoving operations such as
landfilling and and material handling.
NEW HOLLAND use this machine for any other application other than as described in this manual. If you want
to use the motorgrader in an application requiring special attachments or equipment, see your Authorized
NEW HOLLAND Dealer regarding changes, implementations or modifications required to meet the various safety
regulations and standards required in each country. Modifications carried out without prior authorization may
result in serious or fatal accident. Anyone carrying out such modifications will be held liable for damages.
This Operator`s Manual must be kept in the appropriate compartment in the machine´s cab as shown in the
following page.
Ensure the manual is complete and in good condition. See your Dealer for any additonal copies of the manual,
supplementary information or service to the machine. Your Authorized NEW HOLLAND dealer has genuine
NEW HOLLAND approved parts and fully trained serviceman to perform repair and maintenance operations using
the best methods available.
TABLE OF CONTENTS:
New Holland RG 140.B Motor Grader Operation & Maintenance Manual 75314231 – PDF DOWNLOAD
Symbology 6
Safety rules 8
Identification data 24
Technical data 25
Main dimensions 28
Preliminary instructions 29
Run-in period 32
Operator´s compartment 33
Controls and instruments 33
LH lift cylinder control lever 34
Ripper control lever 34
Blade side displacement control lever 34
Blade tilt control lever 34
Circle rotation control lever 34
Headlights control lever 35
Electronic monitor 34
Optional differential lock 37
Gear and diagnosis indicator 38
Steering wheel tilt knob 38
Inching pedal 38
Console tilt pedal 38
Brake pedal 38
Accelerator and decelerator pedal 38
Circle side desplacement control lever 38
Machine articulation control lever 38
Wheel lean control lever 39
Blade raise lever 39
Alert sign 39
Caixa de fusíveis 39
Throttle control lever 39
Gear selector lever 40
Switch board 40
Electronic instrument cluster 42
Master battery switch 42
Auxiliary power outlet 42
Starter switch 42
Seat adjustment 43
Parking brake 43
Cab 43
Air conditioning 44
Preliminary inspection 45
Operation 46
Engine starting 46
Engine stopping 46
Engine speed changes 46
Towing 47
Slope cutting 48
Scarifying 50
Stopping the machine 50
Typical operations 52
Maintenance 55
General note 55
Lubrification and service guide 56
Lubricant specifications 57
Lubricant type code and viscosity 58
Every 10 operating hours 59
Every 50 operating hours 60
VIDEO PREVIEW OF THE MANUAL:
PLEASE NOTE:
This is the SAME manual used by the dealers to troubleshoot any faults in your vehicle. This can be yours in 2 minutes after the payment is made.
Contact us at [email protected] should you have any queries before your purchase or that you need any other service / repair / parts operators manual.
S.V