New Holland L-550 Skid-Steer Loader Operator's Manual 40055510 – PDF DOWNLOAD
IMAGES PREVIEW OF THE MANUAL: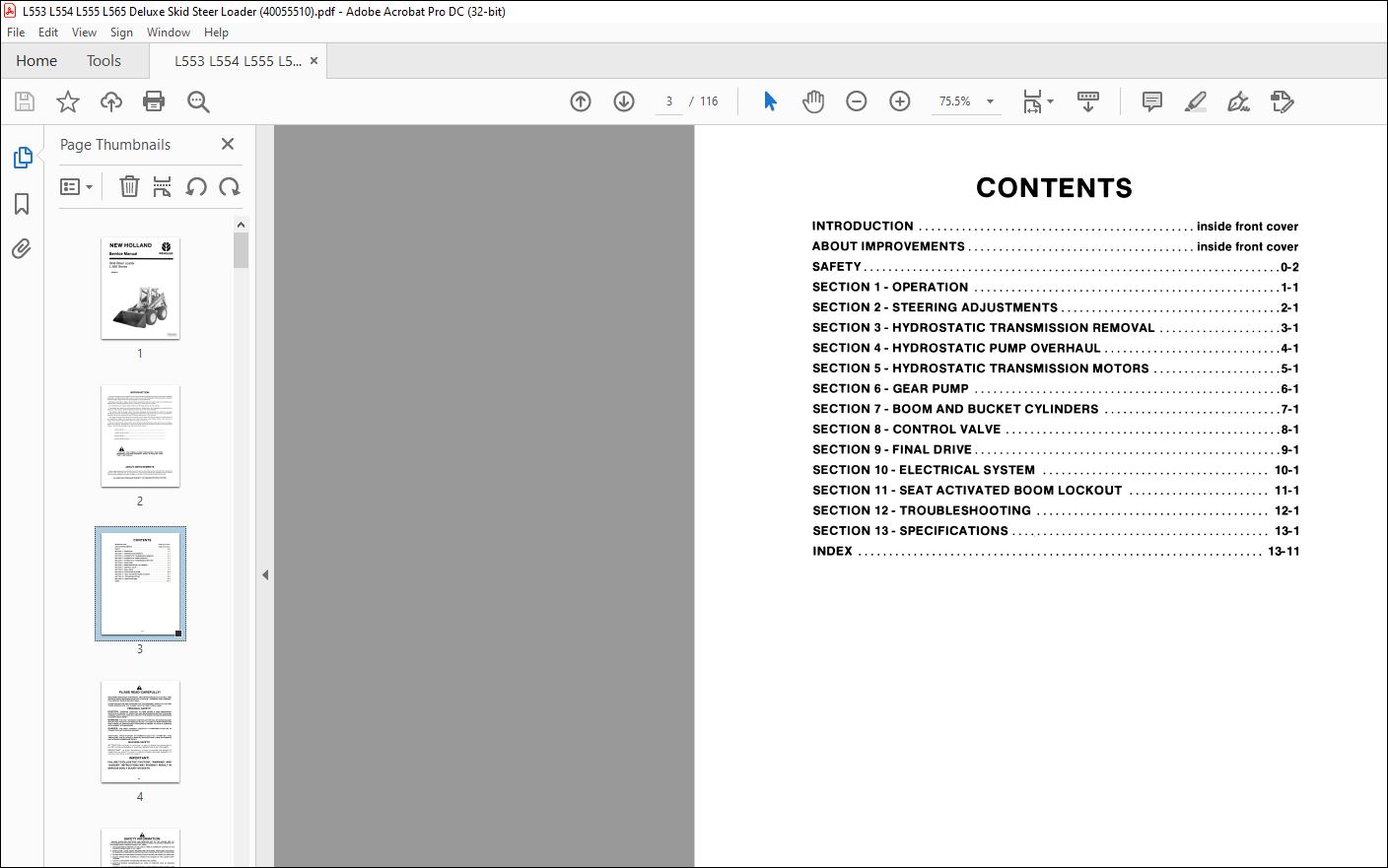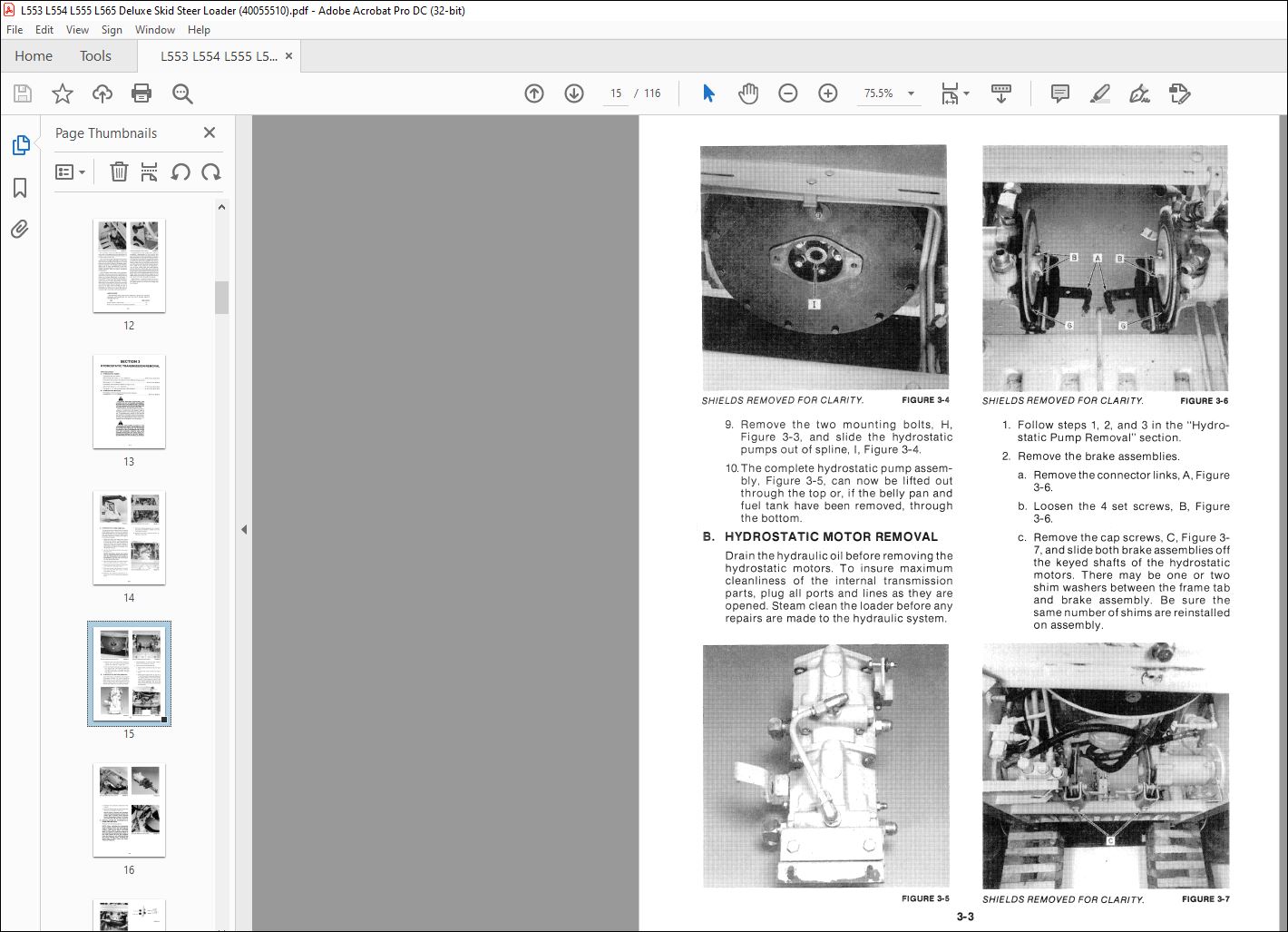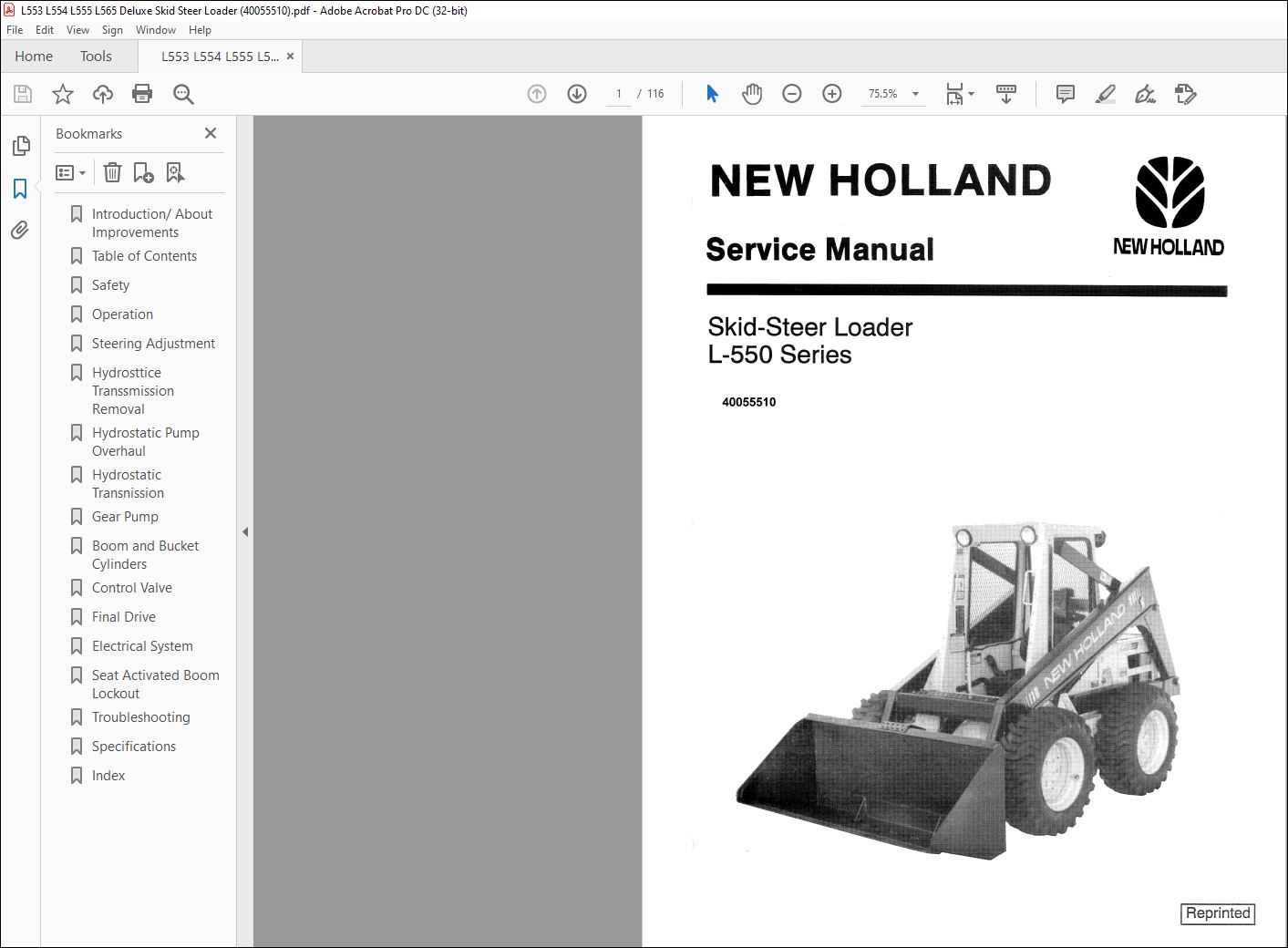 DESCRIPTION:
New Holland L-550 Skid-Steer Loader Operator's Manual 40055510 – PDF DOWNLOAD
INTRODUCTION:
This service manual provides the technical information needed to properly service and maintain
the Model L-555skid-steer loader. Use it in conjunction with the operator's manual which is supplied
with the loader. Keep both manuals available for ready reference.
Whenever working on Sperry New Holland equipment, left and right sides of the machine are
determined by standing behind the unit, looking in the direction of travel.
For information on engine repair, refer to the manufacturer's service manual.
The easiest and least time-consuming removal, disassembly, and reassembly procedures are
detailed in this manual. Modifying these procedures is not recommended.
The Model L-555 skid-steer loader has been designed with emphasis on safety for operator
protection. However, careless and negligent operation can still result in serious injury to persons or
property. Be sure to read and follow all safety instructions in this manual.
Your Sperry New Holland dealer is interested in your obtaining the most from your investment. He
will be glad to answer any questions you may have about your loader. When major service is
required, his staff of trained servicemen is ready to serve you.
When in need of parts, always order genuine Sperry New Holland service parts from your Sperry
New H611and dealer. Be prepared to give your dealer the model and serial number of the engine and
loader. Locate these numbers now and record them below.
TABLE OF CONTENTS:
New Holland L-550 Skid-Steer Loader Operator's Manual 40055510 – PDF DOWNLOAD
INTRODUCTION inside front cover
ABOUT IMPROVEMENTS inside front cover
SAFETY 0-2
SECTION 1 – OPERATION 1-1
SECTION 2 – STEERING ADJUSTMENTS 2-1
SECTION 3- HYDROSTATIC TRANSMISSION REMOVAL 3-1
SECTION 4- HYDROSTATIC PUMP OVERHAUL 4-1
SECTION 5- HYDROSTATIC TRANSMISSION MOTORS 5-1
SECTION 6- GEAR PUMP 6-1
SECTION 7 – BOOM AND BUCKET CYLINDERS 7-1
SECTION 8- CONTROL VALVE 8-1
SECTION 9 – FINAL DRIVE 9-1
SECTION 10- ELECTRICAL SYSTEM 10-1
SECTION 11- SEAT ACTIVATED BOOM LOCKOUT 11-1
SECTION 12-TROUBLESHOOTING 12-1
SECTION 13- SPECIFICATIONS 13-1
INDEX 13-11
VIDEO PREVIEW OF THE MANUAL:
PLEASE NOTE:
This is the SAME manual used by the dealers to troubleshoot any faults in your vehicle. This can be yours in 2 minutes after the payment is made.
Contact us at [email protected] should you have any queries before your purchase or that you need any other service / repair / parts operators manual.
S.V