New Holland G200 Tier 3 Motor Grader Parts Catalog Manual 75314466 – PDF DOWNLOAD
IMAGES PREVIEW OF THE MANUAL: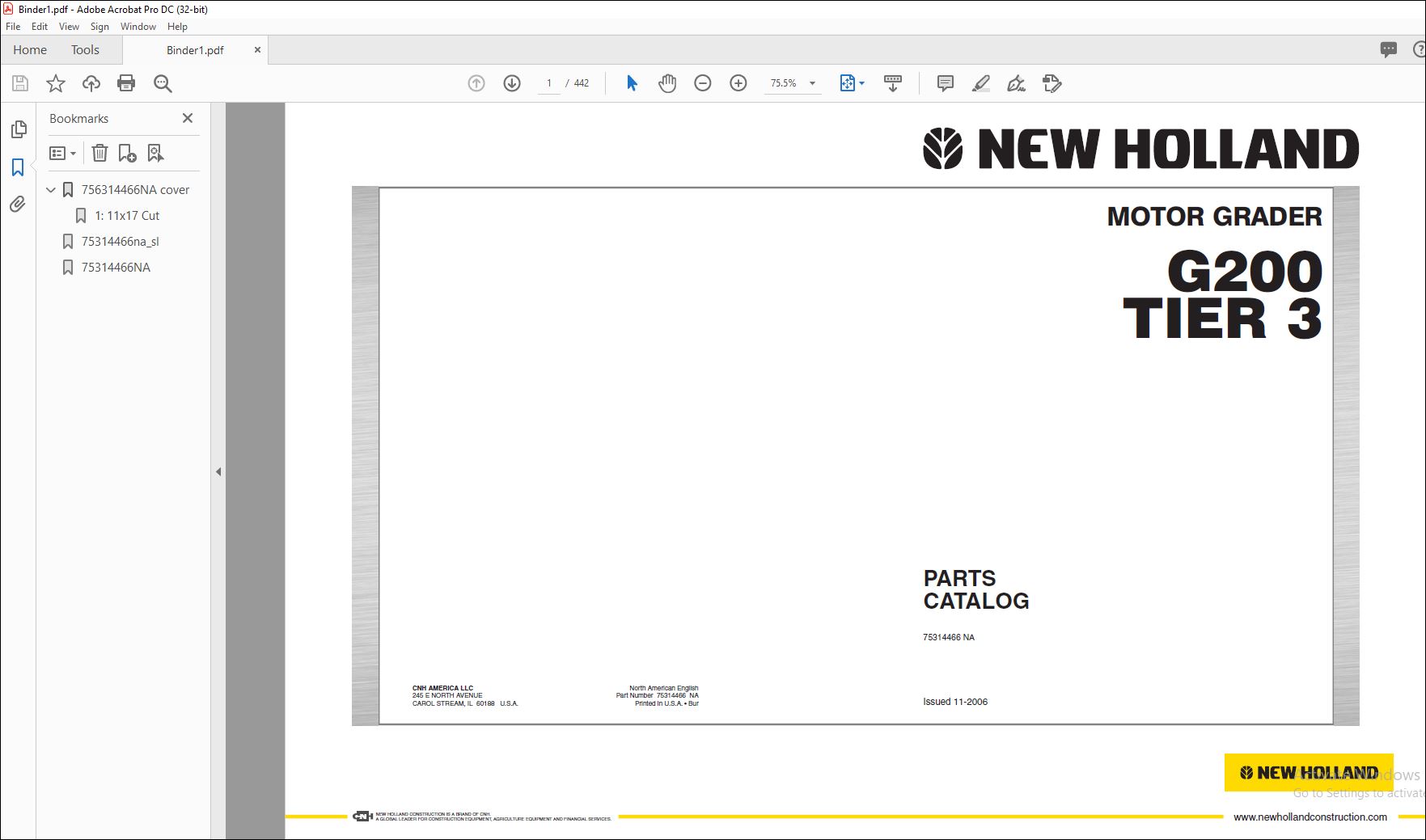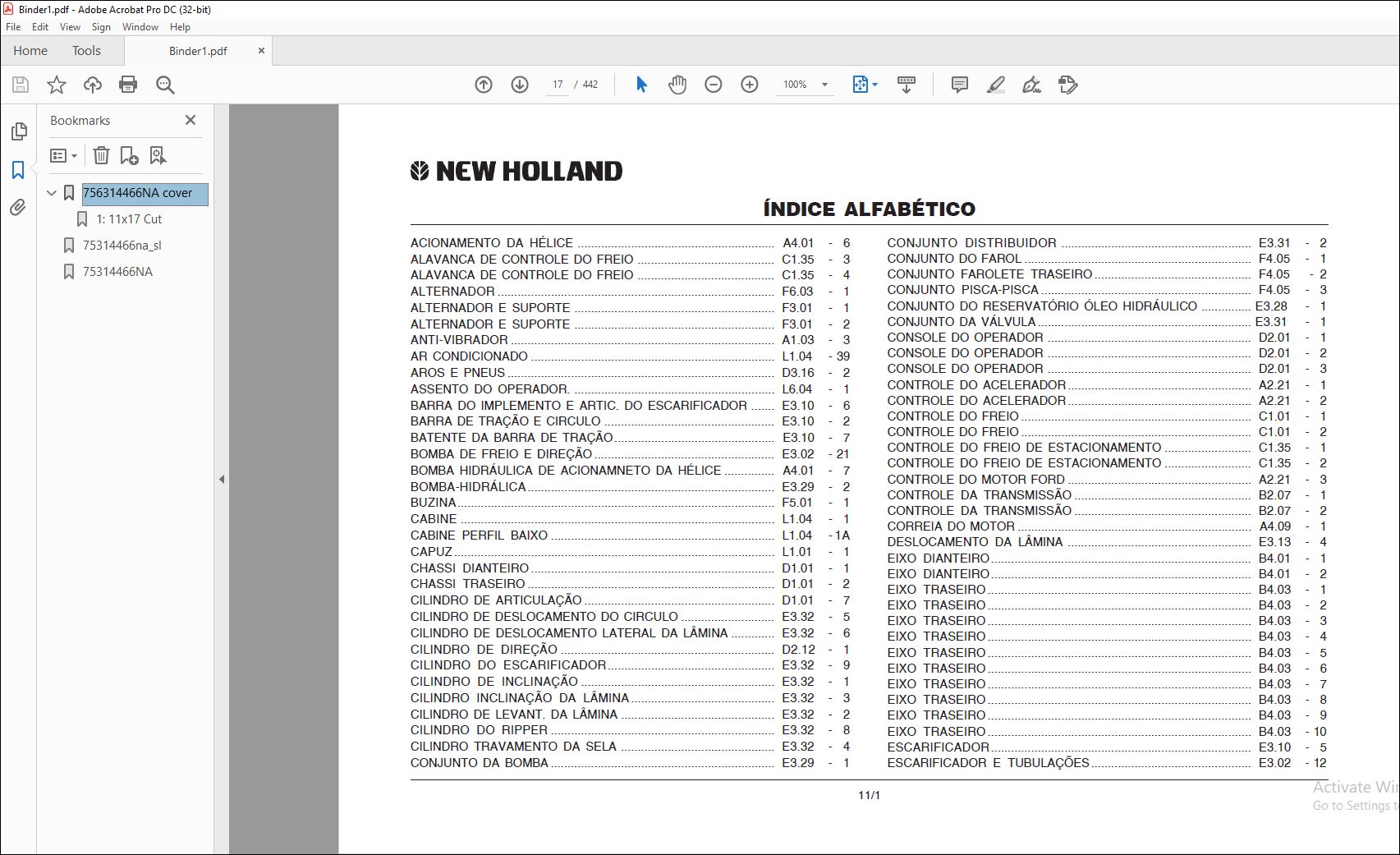 DESCRIPTION:
New Holland G200 Tier 3 Motor Grader Parts Catalog Manual 75314466 – PDF DOWNLOAD
USE OF THE CATALOG:
To locate the separate parts correctly, proceed as follows:
a) Consult the version list on page 7 to find the code number of the version
involved: see following for 1 (6).
b) Consult the ilustrations and the associated spare parts lists as directed below
in 1 and 2.
1 – Illustrations (see example on page 5)
Illustrations show the spare parts of each subgrupo. The spare parts illustrated
are identified by a reference number (ITEM). This number may be replaced by
other indications, for example:
E3.06. part shown only in subgroup E3.06
Moreover, each illustration shows:
– Subgroup number 1 – Sheet number 2 used when one subgroup covers several
sheets, and – updating indication 4, for example: Suffix 06, to print no. 604.01.046,
indicates that subgroup modification is shown in updating of the catalog dated 3
(23-2-81). When code 4, is missing, no changes were introduced.
Updating publication description 4, if any: subgroup title 5 – version code 6 whith
reference to previous point (a).
In lack of said codes, the illustration apllies to all model versions covered by the
catalog.
– Indication of part kit 7, with associated part numbers and part kits symbol. (See
page 9 for kit composition).
2 – Spare parts list (See example on page 5)
They list the spare parts of each subgroup contained in the corresponding
illustrations. The following is shown for each parts.
8 ITEM: number associating the part shown with the respective "part number".
9 PART NUMBER: spare part order number.
10 Q.TY: total quantily of the part. The quantity may be replaced by the
following indications:
L = Supplied by length, k = kit to be ordered in the desired quantily.
TABLE OF CONTENTS:
New Holland G200 Tier 3 Motor Grader Parts Catalog Manual 75314466 – PDF DOWNLOAD
AFTER COOLER A2 54 – 2
AIR CONDITIONER L1 04 – 39
AIR CLEANER A2 22 – 2
AIR CLEANER AND MOUTING A2 22 – 1
AIR CONDITIONER SYSTEM L1 04 – 39
ALTERNADOR F6 03 – 1
ALTERNATOR F6 03 – 2
ALTERNATOR AND SUPPORT F3 01 – 1
ALTERNATOR AND SUPPORT F3 01 – 2
ARTICULATION CYLINDER D1 01 – 7
ARTICULATION CYLINDER E3 32 – 8
ARTICULATION JOINT D1 01 – 3
ARTICULATION JOINT D1 01 – 4
AXLE OIL COOLER B2 06 – 3
BELT A4 09 – 5
BRAKE CONTROL C1 01 – 1
BRAKE CONTROL C1 01 – 2
BRAKE SYSTEM C1 01 – 3
BRAKE SYSTEM C1 01 – 4
BRAKE SYSTEM C1 01 – 5
CAB L1 04 – 1
CAB L1 04 – 2
CIRCLE SHIFT CYLINDER E3 32 – 5
CIRCLE SHIFT HYDRAULIC E3 02 – 5
CIRCLE TURN HYDRAULIC E3 02 – 10
COLD WEATHER STARTING AID A2 43 – 1
CONSOLE COVERS L1 01 – 3
DIRECTIONAL LIGHTS ASS'Y F4 05 – 3
DOZER BLADE AND SKID PLATES E3 13 – 6
DRIVER'S SEAT L6 01 – 1
ELECTRIC SYSTEM F4 01 – 1
ELECTRIC SYSTEM F4 01 – 6
ELECTRIC SYSTEM F4 01 – 7
ELECTRIC SYSTEM F4 01 – 8
ELECTRIC SYSTEM F4 01 – 9
ELECTRIC SYSTEM F4 01 – 10
ELECTRIC SYSTEM F4 01 – 11
ELECTRIC SYSTEM F4 01 – 12
ELECTRIC SYSTEM F4 01 – 13
ELECTRIC SYSTEM F4 01 – 14
ELECTRIC SYSTEM-INSTRUMENT PANEL F4 01 – 2
ELECTRIC SYSTEM-TRANSMISSION F4 01 – 3
ENGINE A0 00 – 1
ENGINE MOUNTS A0 02 – 1
FAN DRIVE A4 01 – 5
FIRE EXTINGUISHER G1 01 – 1
FRONT AXLE B4 01 – 1
FRONT AXLE B4 01 – 2
FRONT FRAME D1 01 – 1
FRONT WHEEL LEAN PIPING E3 02 – 13
FUEL FILTERS A2 26 – 1
FUEL TANK A2 01 – 1
GUARDS L1 01 – 4
GUARDS L1 01 – 5
HAND BRAKE CONTROL LEVER C1 35 – 3
HAND BRAKE CONTROL LEVER C1 35 – 4
HORN F5 01 – 1
HYDRAULIC ARTICULATION SYSTEM E3 02 – 14
HYDARULIC MOTOR ASSEMBLY E3 10 – 4
HYDRAULIC OIL TANK ASSEMBLY E3 28 – 1
HYDRAULIC SYSTEM E3 02 – 1
HYDRAULIC SYSTEM MOLDBOARD E3 02 – 3
HYDRAULIC SYSTEM MOLDBOARD E3 02 – 4
HYDRAULIC SYSTEM MOLDBOARD E3 02 – 6
HYDRAULIC SYSTEM MOLDBOARD E3 13 – 5
INTAKE VALVE E3 31 – 3
ALPHABETICAL INDEX
11/2
LIGHT ASSEMBLY F4 05 – 1
LIGHT ASSEMBLY F4 05 – 2
LIGHTING SYSTEM F4 01 – 5
MOLDBOARD 13 FT E3 13 – 1
MOLDBOARD 14 FT E3 13 – 2
MOLDBOARD DRAWBAR AND CIRCLE E3 10 – 2
MOLDBOARD HYDRAYULIC SYSTEM E3 02 – 2
MOLDBOARD LIFT CYLINDER E3 32 – 2
MOLDBOARD LIFT PIPING E3 02 – 8
MOLDBOARD LIFT PIPING E3 02 – 9
MOLDBOARD PITCH CYLINDER E3 32 – 3
MOLDBOARD SIDE SHIFT E3 13 – 4
MOLDBOARD SIDE SHIFT CYLINDER E3 32 – 6
MUFFLER & EXHAUST PIPE A2 56 – 1
OPERATOR'S CONSOLE D2 01 – 1
OPERATOR'S CONSOLE D2 01 – 2
OPERATOR'S CONSOLE D2 01 – 3
OPERATOR'S CONSOLE D2 01 – 4
OUTLET VALVE E3 31 – 11
PARKING BRAKE CONTROL C1 35 – 1
PARKING BRAKE CONTROL C1 35 – 2
PIPING ENGINE OIL COOLER A4 01 – 2
PUMP ASSEMBLY E3 29 – 1
PRECLEANER A2 22 – 3
RADIATOR A4 0 1 – 1
REAR HYDRAULIC SYSTEM E3 02 – 15
REAR AXLE B4 03 – 1
REAR AXLE B4 03 – 2
REAR AXLE B4 03 – 3
REAR AXLE B4 03 – 4
REAR AXLE B4 03 – 5
REAR AXLE B4 03 – 6
REAR AXLE B4 03 – 7
REAR AXLE B4 03 – 8
REAR AXLE B4 03 – 9
REAR AXLE B4 03 – 10
REAR HYDRAULIC SYSTEM E3 02 – 15
REAR HYDRAULIC SYSTEM E3 02 – 22
REAR HYDRAULIC SYSTEM E3 02 – 23
REAR MAIN FRAME D1 01 – 2
REAR WHEEL D3 16 – 1
REDUCTION GEAR E3 10 – 3
RIPPER HYDRAULIC SYSTEM E3 02 – 16
RIPPER HYDRAULIC SYSTEM E3 02 – 18
RIPPER LIFT CYLINDER E3 32 – 9
RIPPER LIFT CYLINDER E3 32 – 11
RIPPER TOOL BAR AND LINKAGE E3 10 – 6
RIPPER TOOL BAR AND LINKAGE E3 10 – 7
SADDLE AND CYLINDER E3 10 – 1
SADDLE AND CYLINDER E3 10 – 1A
SADDLE LOCK PIN CYLINDER E3 32 – 4
SADDLE LOCK PIN CYLINDER E3 32 – 7
SADDLE LOCK PIN CYLINDER AND PIPING E3 02 – 7
SADDLE LOCK PIN CYLINDER AND PIPING E3 02 – 7A
SCARIFIER E3 10 – 8
SCARIFIER HYDRAULIC SYSTEM E3 02 – 11
SCARIFIER LIFT CYLINDER E3 32 – 10
SCARIFIER PIPING E3 02 – 12
SCARIFIER AND RIPPER HYDRAULIC SYSTEM E3 02 – 17
STARTER MOTOR F6 08 – 1
STARTER MOTOR F6 08 – 2
STARTER MOTOR F2 01 – 1
STARTER MOTOR F2 01 – 2
STEERING/BRAKE HYDRAULIC SYSTEM E3 02 – 20
STEERING CYLINDER D2 12 – 1
STEERING HYDRAULIC SYSTEM E3 02 – 21
SOUND SUPRESS L1 01 – 5
TANDEM R H D3 33 – 1
TANDEM R H D3 33 – 2
ALPHABETICAL INDEX
11/3
THROTTLE CONTROL A2 21 – 1
THROTTLE CONTROL LINKAGE A2 21 – 2
TILT CYLINDER E3 32 – 1
TIRES AND WHEEL D3 16 – 2
TOOLS H1 01 – 1
TOW HOOK D1 01 – 6
TRANSMISSION B2 00 – 1
TRANSMISSION B2 01 – 1
TRANSMISSION B2 01 – 2
TRANSMISSION B2 01 – 9
TRANSMISSION B2 01 – 10
TRANSMISSION B2 01 – 15
TRANSMISSION CONTROL B2 07 – 1
TRANSMISSION CONTROL B2 07 – 2
TRANSMISSION OIL COOLER B2 06 – 1
TRANSMISSION OIL DIPSTICK B2 06 – 2
TRANSMISSION OIL FILTER B2 06 – 4
TRANSMISSION-PARKING BRAKE B2 01 – 17
TRANSMISSION-PARKING BRAKE B2 01 – 18
TRANSMISSION-PARKING BRAKE B2 01 – 19
TRANSMISSION-PUMP B2 01 – 16
TRANSMISSION-1ST SPEED SHAFT B2 01 – 3
TRANSMISSION-2ND SPEED SHAFT B2 01 – 4
TRANSMISSION-3RD SPPED SHAFT B2 01 – 5
TRANSMISSION-4TH SPEED SHAFT B2 01 – 6
TRANSMISSION-5TH SPEED SHAFT B2 01 – 7
TRANSMISSION-6 TH SPPED SHAFT B2 01 – 8
TRANSMISSION-VALVE B2 01 – 11
TRANSMISSION-VALVE B2 01 – 12
TRANSMISSION-VALVE B2 01 – 13
TRANSMISSION-VALVE B2 01 – 14
TURN SIGNAL F4 01 – 4
TYPES PLATES KIT L1 25 – 1
VALVE E3 31 – 12
VALVE E3 31 – 13
VALVE E3 31 – 14
VALVE ASSEMBLY E3 31 – 1
VALVE ASSEMBLY E3 31 – 2
VALVE-ARTICULATION E3 31 – 9
VALVE-CICLE SHIFT E3 31 – 10
VALVE-CIRCLE TURN E3 31 – 8
VALVE GEAR A1 07 – 2
VALVE GEAR A1 07/1 – 1
VALVE-MOLDBOARD SHIFT E3 31 – 6
VALVE-MOLDBOARD LIFT LEFT/RIGHT E3 31 – 4
VALVE-PITCH/WHEEL LEAN E3 31 – 7
VALVE-SCARIFIER/RIPER E3 31 – 5
WATER TANK A4 01 – 4
WATER FILTER A4 02 – 1
VIDEO PREVIEW OF THE MANUAL:
PLEASE NOTE:
This is the same manual used by the DEALERSHIPS to SERVICE your vehicle.
The manual can be all yours – Once payment is complete, you will be taken to the download page from where you can download the manual. All in 2-5 minutes time!!
Need any other service / repair / parts manual, please feel free to contact us at heydownloadss @gmail.com . We may surprise you with a nice offer
S.V