New Holland G200 Tier 3 Grader Parts Catalog Manual 71114091 – PDF DOWNLOAD
IMAGES PREVIEW OF THE MANUAL: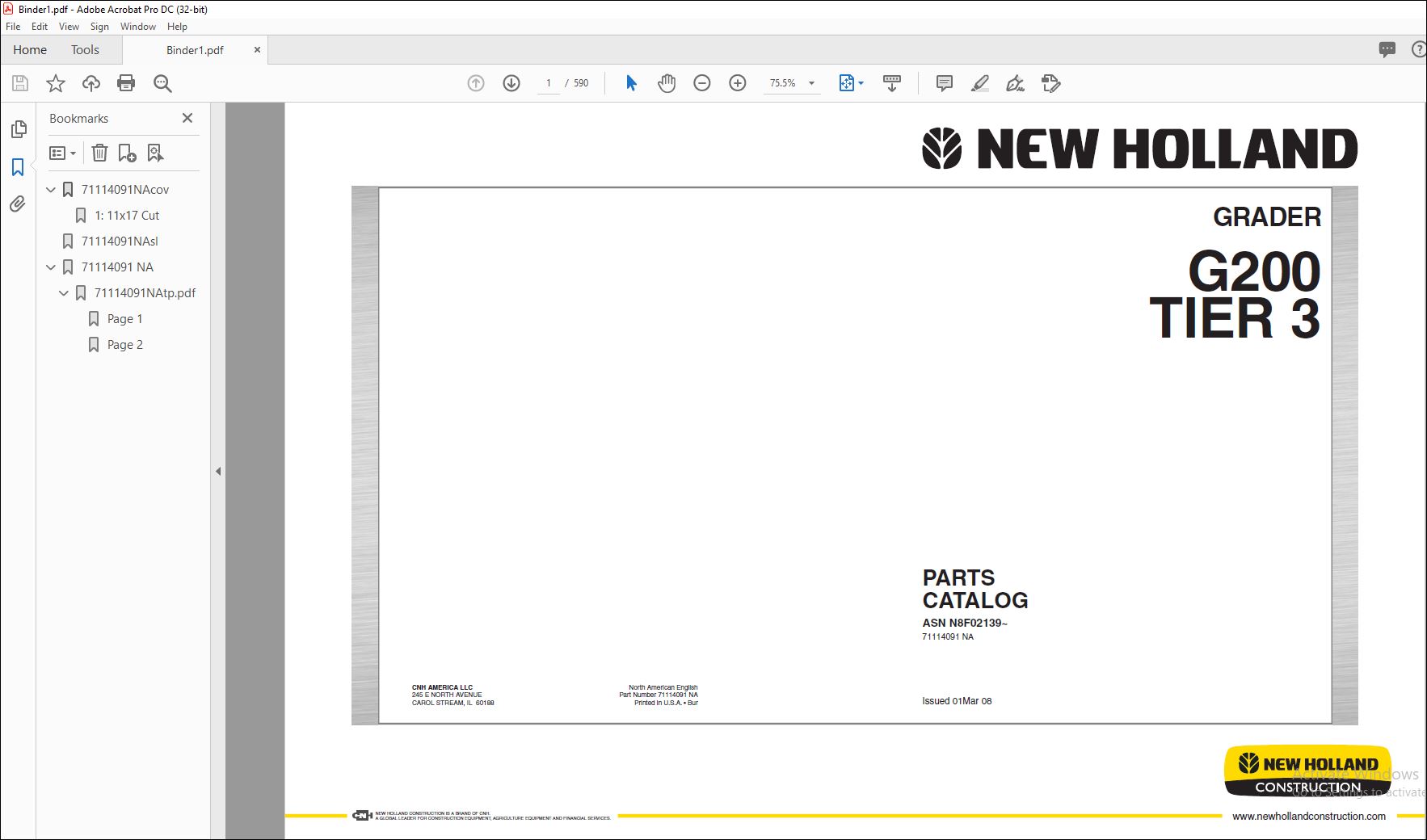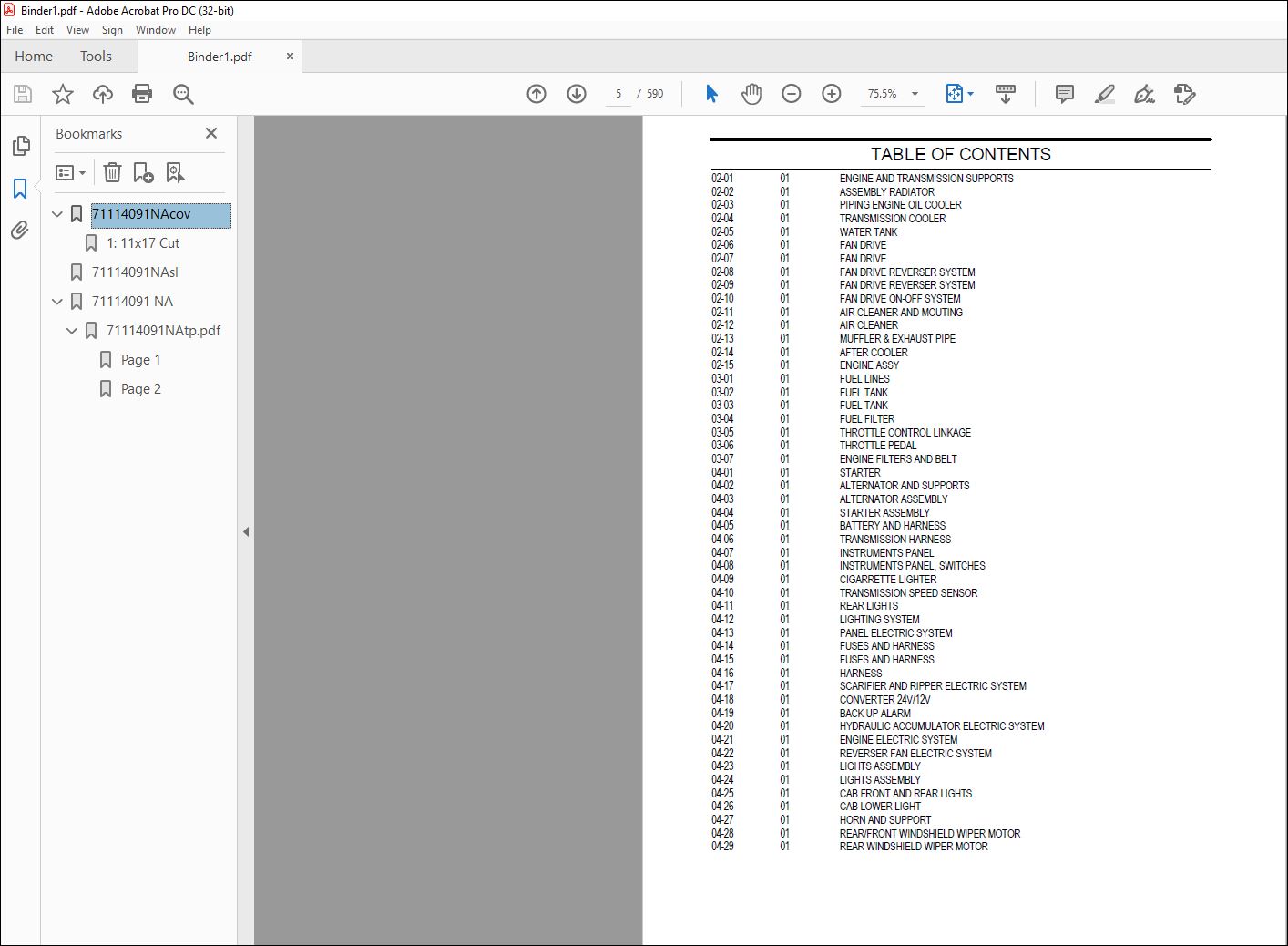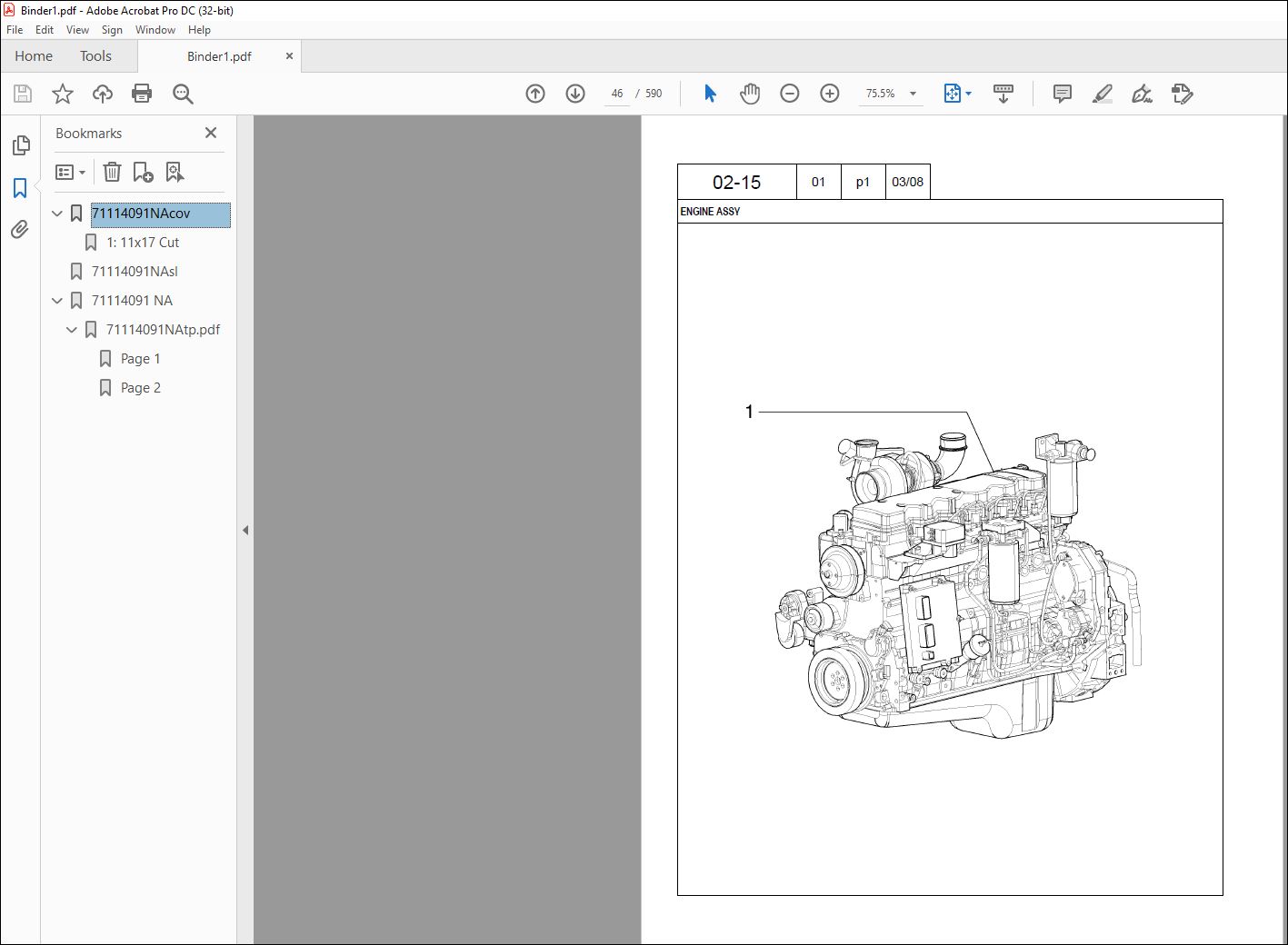 DESCRIPTION:
New Holland G200 Tier 3 Grader Parts Catalog Manual 71114091 – PDF DOWNLOAD
GENERAL INFORMATION
PROPRIETARY NOTICE:
The contents of this manual are proprietary data of this company. Reproduction or use of any part for other than the operation and maintenance of our equipment is permissible only if expressly authorized in writing. Additional copies may be obtained from your dealer. Address requests for copies to your Dealer and refer to the publication part number appearing on the bottom of the rear catalog cover or on the title page.
COMPANY POLICY:
Company policy, which is one of continuous improvement, reserves the right to change prices and to make changes in design and specification at any time without notice and without obligation to modify units previously built. All data given in this book is subject to production variations. Dimensions and weights are approximate only and the illustrations do not necessarily show machines in standard condit ion. For exact information about any particular machine please consult your dealer.
PARTS AND ACCESSORIES:
Genuine parts and accessories have been specifically designed for these machines. We would like to point out that "non-genuine"  parts and accessories have NOT been examined and released by the Company. The installation and or use of such products could have negative effects upon the design characteristics of your machine and thereby affect its safety. The company is not liable for any damage caused by the use of "non-genuine" parts and accessories.
HOW TO USE YOUR PARTS CATALOG:
1. Figure Number
2. Sequence Code within the Figure Number
3. Page Number within the Sequence Code
4. Date of Printing (month / year)
5. Figure Description
6. General information regarding the figure
7. Parts supplied in repair kits per symbol reference
8. Figure call-out of the part number (REF)
9. Technical specifications relating to the part indicated
10. Figure call-out includes bracketed items, the included items may also be listed in the additional description
area
11. Orientation – Arrow indicates front of the machine
12. Footnote – Additional information relating to the part number. In this example, 08-20 equals another figure that
this part is shown on
13. Part Number
NSS = Not Serviced Separately (Non-serviced parts)
Bracketed numbers = not available as service parts in this market
14. Not Available as service part in this market
15. YR/SN
Year
Before 01/85 = Part valid for production January 1985 and before
From 01/85 = Part valid for production from January 1985 and after
BTW 01/85 & 02/02 = Part valid for machines produced between January 1985 and February 2002.
Serial Number (P.I.N.)
BSN JJC0268800 = Part valid for serial number JJC0268800 and below
ASN JJC0268800 = Part valid for serial number JJC0268800 and above
BTW JJC0178000 & JJC0179000 = Part valid for serial numbers between JJC0178000 & JJC0179000
16. Total Quantity of the Part referred to in the page. The quantity can be replaced by the following indications:
AR = As Required
X = As required
17. Part Description
18. Additional description of the part to help confirm identification
19. Figure Notes
20. Model Number(s)
TABLE OF CONTENTS:
New Holland G200 Tier 3 Grader Parts Catalog Manual 71114091 – PDF DOWNLOAD
General Information
Section 2 – Engine
Section 3 – Fuel System
Section 4 – Electrical System
Section 5 – Tracks / Steering
Section 6 – Power train
Section 7 – Brakes
Section 8 – Hydraulics
Section 9 – Chassis/Attachments
Index
02-01 01 ENGINE AND TRANSMISSION SUPPORTS
02-02 01 ASSEMBLY RADIATOR
02-03 01 PIPING ENGINE OIL COOLER
02-04 01 TRANSMISSION COOLER
02-05 01 WATER TANK
02-06 01 FAN DRIVE
02-07 01 FAN DRIVE
02-08 01 FAN DRIVE REVERSER SYSTEM
02-09 01 FAN DRIVE REVERSER SYSTEM
02-10 01 FAN DRIVE ON-OFF SYSTEM
02-11 01 AIR CLEANER AND MOUTING
02-12 01 AIR CLEANER
02-13 01 MUFFLER & EXHAUST PIPE
02-14 01 AFTER COOLER
02-15 01 ENGINE ASSY
03-01 01 FUEL LINES
03-02 01 FUEL TANK
03-03 01 FUEL TANK
03-04 01 FUEL FILTER
03-05 01 THROTTLE CONTROL LINKAGE
03-06 01 THROTTLE PEDAL
03-07 01 ENGINE FILTERS AND BELT
04-01 01 STARTER
04-02 01 ALTERNATOR AND SUPPORTS
04-03 01 ALTERNATOR ASSEMBLY
04-04 01 STARTER ASSEMBLY
04-05 01 BATTERY AND HARNESS
04-06 01 TRANSMISSION HARNESS
04-07 01 INSTRUMENTS PANEL
04-08 01 INSTRUMENTS PANEL, SWITCHES
04-09 01 CIGARRETTE LIGHTER
04-10 01 TRANSMISSION SPEED SENSOR
04-11 01 REAR LIGHTS
04-12 01 LIGHTING SYSTEM
04-13 01 PANEL ELECTRIC SYSTEM
04-14 01 FUSES AND HARNESS
04-15 01 FUSES AND HARNESS
04-16 01 HARNESS
04-17 01 SCARIFIER AND RIPPER ELECTRIC SYSTEM
04-18 01 CONVERTER 24V/12V
04-19 01 BACK UP ALARM
04-20 01 HYDRAULIC ACCUMULATOR ELECTRIC SYSTEM
04-21 01 ENGINE ELECTRIC SYSTEM
04-22 01 REVERSER FAN ELECTRIC SYSTEM
04-23 01 LIGHTS ASSEMBLY
04-24 01 LIGHTS ASSEMBLY
04-25 01 CAB FRONT AND REAR LIGHTS
04-26 01 CAB LOWER LIGHT
04-27 01 HORN AND SUPPORT
04-28 01 REAR/FRONT WINDSHIELD WIPER MOTOR
04-29 01 REAR WINDSHIELD WIPER MOTOR
TABLE OF CONTENTS
04-30 01 REAR WINDSHIELD WIPER
04-31 01 FRONT WINDSHIELD WIPER
04-32 01 FRONT LOWER WINDSHIELD WIPER
04-33 01 WINDSHIELD WASHER
04-34 01 WINDSHIELD WASHER WATER RESERVOIR
04-35 01 LOWER WINDSHIELD WASHER RESERVOIR
04-36 01 CAB HARNESS
04-37 01 OPEN CAB HARNESS
04-38 01 AIR CONDITIONER SYSTEM
04-39 01 AIR CONDITIONER SYSTEM
04-40 01 OPEN CAB FAN
04-41 01 CAB FAN
04-42 01 ROTATING WARNING BEACON
04-43 01 ROTATING WARNING BEACON
05-01 01 OPERATOR'S CONSOLE
05-02 01 OPERATOR'S CONSOLE
05-03 01 OPERATOR'S CONSOLE
05-04 01 OPERATOR'S CONSOLE
05-05 01 ORBITROL
05-06 01 STEERING CYLINDER
06-01 01 TRANSMISSION ASSY
06-02 01 TRANSMISSION, PTO
06-03 01 TRANSMISSION, SPEED SHAFTS
06-04 01 TRANSMISSION, 1ST SHAFT
06-05 01 TRANSMISSION, 2ND SHAFT
06-06 01 TRANSMISSION, 3RD SHAFT
06-07 01 TRANSMISSION, 4TH SHAFT
06-08 01 TRANSMISSION, 5TH SHAFT
06-09 01 TRANSMISSION, 6TH SHAFT
06-10 01 TRANSMISSION, OUTPUT SHAFT
06-11 01 TRANSMISSION, CASES
06-12 01 TRANSMISSION, VALVE
06-13 01 TRANSMISSION, VALVE
06-14 01 TRANSMISSION, YOKE
06-15 01 TRANSMISSION, PUMP
06-16 01 TRANSMISSION OIL COOLER
06-17 01 TRANSMISSION OIL DIPSTICK
06-18 01 TRANSMISSION FILTER LINES
06-19 01 TRANSMISSION OIL FILTER
06-20 01 TRANSMISSION CONTROL
06-21 01 TRANSMISSION CONTROL
06-22 01 TRANSMISSION CONTROL
06-23 01 FRONT AXLE
06-24 01 FRONT AXLE
06-25 01 FRONT AXLE WHEEL HUB
06-26 01 REAR AXLE
06-27 01 REAR AXLE HOUSING
06-28 01 REAR AXLE
06-29 01 REAR AXLE
06-30 01 REAR AXLE DIFERENTIAL
06-31 01 REAR AXLE, TANDEM
TABLE OF CONTENTS
07-01 01 PARKING BRAKE
07-02 01 PARKING BRAKE
07-03 01 PARKING BRAKE CONTROL
07-04 01 PARKING BRAKE CONTROL LEVER
07-05 01 BRAKE CONTROL
07-06 01 BRAKE HYDRAULIC SYSTEM
07-07 01 BRAKE HYDRAULIC SYSTEM
07-08 01 BRAKE/STEERING HYDRAULIC SYSTEM
07-09 01 DIFERENTIAL HYDRAULIC BLOCK
07-10 01 BRAKE BOOSTER VALVE
07-11 01 BRAKE/STEERING PUMP
08-01 01 HYDRAULIC TANK ASSY
08-02 01 HYDRAULIC TANK, FILTERS
08-03 01 REAR HYDRAULIC SYSTEM
08-04 01 REAR HYDRAULIC SYSTEM
08-05 01 REAR HYDRAULIC SYSTEM
08-06 01 MOLDBOARD HYDRAULIC SYSTEM
08-07 01 MOLDBOARD HYDRAULIC SYSTEM
08-08 01 CIRCLE SHIFT HYDRAULIC SYSTEM
08-09 01 MOLBOARD HYDRAULIC SYSTEM
08-10 01 SADDLE LOCK PIN CYLINDER AND PIPING
08-11 01 SADDLE LOCK PIN CYLINDER AND PIPING
08-12 01 MOLDBOARD LIFT PIPING
08-13 01 MOLDBOARD LIFT PIPING
08-14 01 CIRCLE TURN HYDRAULIC SYSTEM
08-15 01 SCARIFIER PIPING
08-16 01 SCARIFIER PIPING
08-17 01 DOZER BLADE FLOAT CONTROL
08-18 01 FRONT WHEEL LEAN PIPING
08-19 01 ARTICULATION HYDRAULIC SYSTEM
08-20 01 REAR HYDRAULIC SYSTEM
08-21 01 RIPPER HYDRAULIC SYSTEM
08-22 01 SCARIFIER AND RIPPER PIPING
08-23 01 RIPPER CYLINDER PIPING
08-24 01 STEERING HYDRAULIC SYSTEM
08-25 01 STEERING HYDRAULIC SYSTEM
08-26 01 MOLDBOARD SHIFT HYDRAULIC ACCUMULATOR
08-27 01 MOLDBOARD LIFT HYDRAULIC ACCUMULATOR
08-28 01 CENTER MOLDBOARD FLOAT
08-29 01 RELIEF VALVE
08-30 01 PRIORITY VALVE
08-31 01 SOLENOID VALVE
08-32 01 DIAGNOSTIC TEST PANEL
08-33 01 SOLENOID VALVE
08-34 01 SOLENOID VALVE
08-35 01 SOLENOID VALVE
08-36 01 SOLENOID VALVE
08-37 01 LOCK VALVE
08-38 01 SOLENOID VALVE
08-39 01 RETAINER VALVE
08-40 01 LOCK VALVE
TABLE OF CONTENTS
08-41 01 MAIN PUMP ASSY
08-42 01 MAIN PUMP, BODY
08-43 01 MAIN PUMP, DRUM
08-44 01 VALVE ASSY
08-45 01 VALVE ASSY
08-46 01 INLET VALVE
08-47 01 VALVE, MOLDBOARD LIFT LEFT/RIGHT
08-48 01 VALVE, SCARIFIER/RIPPER
08-49 01 VALVE, MOLDBOARD SHIFT
08-50 01 VALVE, PITCH/WHEEL LEAN
08-51 01 VALVE, CIRCLE TURN
08-52 01 VALVE, ARTICULATION
08-53 01 VALVE, CIRCLE SHIFT
08-54 01 OUTLET VALVE
08-55 01 FRONT WHEEL LEAN CYLINDER
08-56 01 MOLDBOARD LIFT CYLINDER
08-57 01 MOLDBOARD PITCH CYLINDER
08-58 01 SADDLE LOCK PIN CYLINDER
08-59 01 CIRCLE SHIFT CYLINDER
08-60 01 MOLDBOARD SIDE SHIFT CYLINDER
08-61 01 ARTICULATION CYLINDER
08-62 01 RIPPER LIFT CYLINDER
08-63 01 SCARIFIER LIFT CYLINDER
08-64 01 SADDLE LOCK PIN CYLINDER
08-65 01 HYDRAULIC PUMP FAN
08-66 01 FAN HYDRAULIC MOTOR
08-67 01 FAN REVERSIBLE HYDRAULIC MOTOR
08-68 01 HYDRAULIC VALVE
08-69 01 REDUCTION GEAR HYDRAULIC MOTOR
09-01 01 MOLDBOARD DRAWBAR AND CICLE
09-02 01 CIRCLE REDUCTION GEAR
09-03 01 SADDLE AND CYLINDER
09-04 01 SADDLE AND CYLINDER
09-05 01 REAR MAIN FRAME
09-06 01 FRONT FRAME
09-07 01 ARTICULATION JOINT
09-08 01 ARTICULATION CYLINDER
09-09 01 TOW HOOK
09-10 01 BATTERY LEFT SUPPORT
09-11 01 BATTERY RIGHT SUPPORT
09-12 01 MOLDBOARD 13 FT.
09-13 01 MOLDBOARD 14 FT.
09-14 01 MOLDBOARD LEFT AND RIGHT EXTENSION
09-15 01 MOLDBOARD REINFORCEMENT
09-16 01 MOLDBOARD SIDE SHIFT
09-17 01 MOLDBOARD LEAN SYSTEM
09-18 01 DOZER BLADE AND SKID PLATES
09-19 01 SCARIFIER AND SUPPORT
09-20 01 RIPPER TOOL BAR AND LINKAGE
09-21 01 DRAWBAR TRAVEL LIMITER
09-22 01 PUSH PLATE
TABLE OF CONTENTS
09-23 01 FRONT COUNTERWEIGHT
09-24 01 TOOLS BOX
09-25 01 FIRE EXTINGUISHER
09-26 01 DRIVER'S SEAT
09-27 01 ENGINE HOOD
09-28 01 ENGINE HOOD
09-29 01 CONSOLE COVERS
09-30 01 GUARDS AND COVERS
09-31 01 SOUND SUPPRESS
09-32 01 CLOSED CAB
09-33 01 CAB, MAT AND GASKET
09-34 01 OPEN CAB, MAT AND GASKET
09-35 01 AIR CONDITIONER FILTER AND DUCTOS
09-36 01 AIR CONDITIONER FILTER AND DUCTOS
09-37 01 INSPECTION COVER
09-38 01 CAB, GLASSES
09-39 01 LOW PROFILE CAB, GLASSES
09-40 01 CAB, DOOR
09-41 01 CAB, DOOR COVERING
09-42 01 CAB, DOOR AND HINGE
09-43 01 CAB, DOOR-SILL AND HOOK
09-44 01 CAB, REAR-VIEW MIRROR
09-45 01 CAB, LOCK SYSTEM
09-46 01 CAB, LOCK SYSTEM
09-47 01 CAB, CURTAIN
09-48 01 CAB, COLUMN COVERING
09-49 01 CAB, LOWER COVERING
09-50 01 CAB, LOWER COVERING
09-51 01 CAB, REAR COVERING
09-52 01 CAB, ROOF COVERING
09-53 01 CAB, ROOF COVERING
09-54 01 OPEN CAB, GLASSES
09-55 01 OPEN CAB, ROOF COVERING
09-56 01 OPEN CAB, ROOF COVERING
09-57 01 CAB, ROOF COVERING
09-58 01 AIR CONDITIONER SYSTEM
09-59 01 EVAPORATOR BOX
09-60 01 AIR CONDITIONER SYSTEM
09-61 01 AIR CONDITIONER SYSTEM
09-62 01 DECALS
09-63 01 DECALS
09-64 01 DECALS
VIDEO PREVIEW OF THE MANUAL:
PLEASE NOTE:
This is the same manual used by the dealers to diagnose and troubleshoot your vehicle
You will be directed to the download page as soon as the purchase is completed. The whole payment and downloading process will take anywhere between 2-5 minutes
Need any other service / repair / parts manual, please feel free to contact [email protected] . We still have 50,000 manuals unlisted
S.V