New Holland Ford Series 765 Backhoe Service Repair Manual (40076510)
FILE DETAILS:
New Holland Ford Series 765 Backhoe Service Repair Manual (40076510)
Format: PDF
Language: English
Number of Pages: 90 pages
Brand: New Holland
Type of document: Repair Manual
Model: Series 765
Part No: 40076510
VIDEO PREVIEW:
SCREENSHOTS OF THE MANUAL: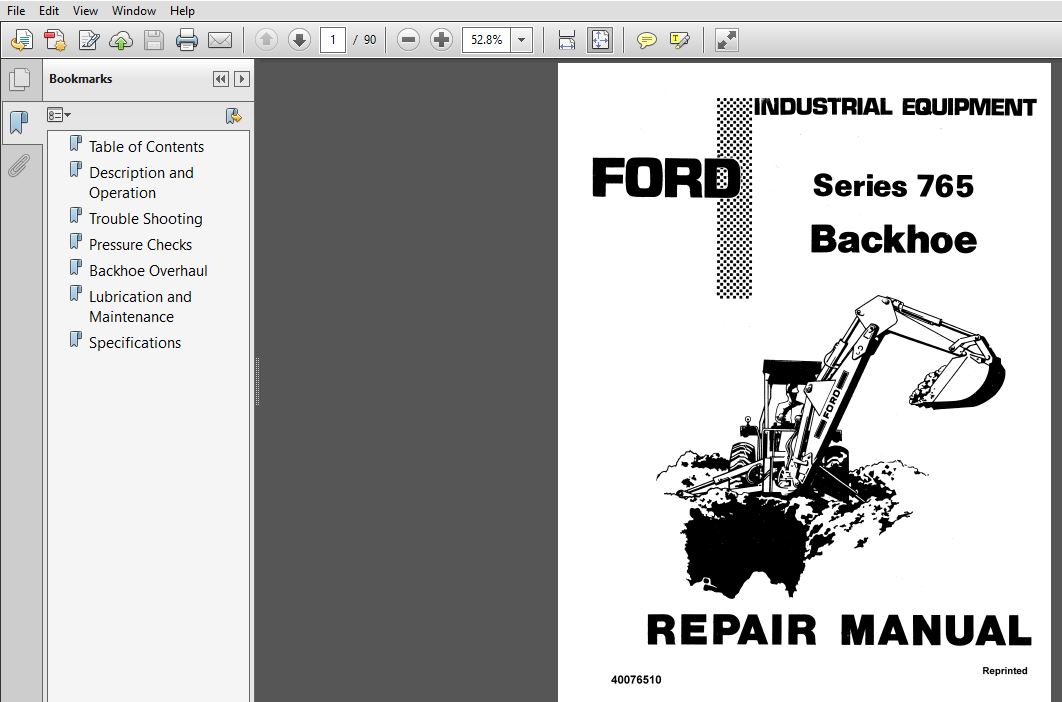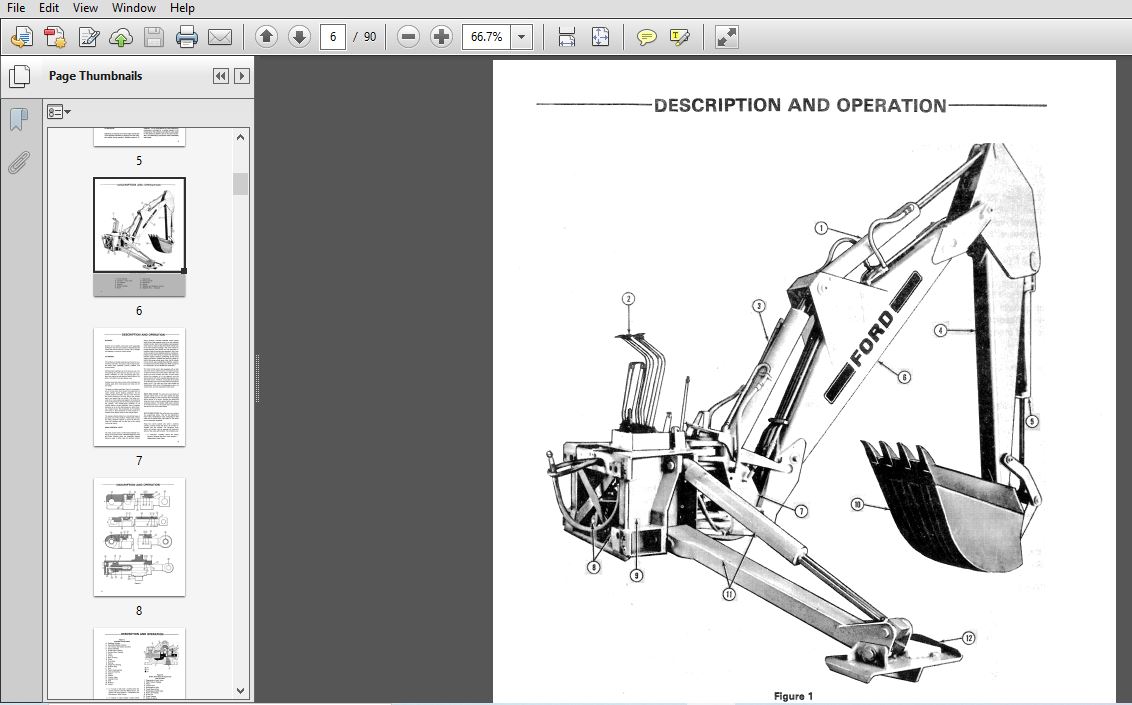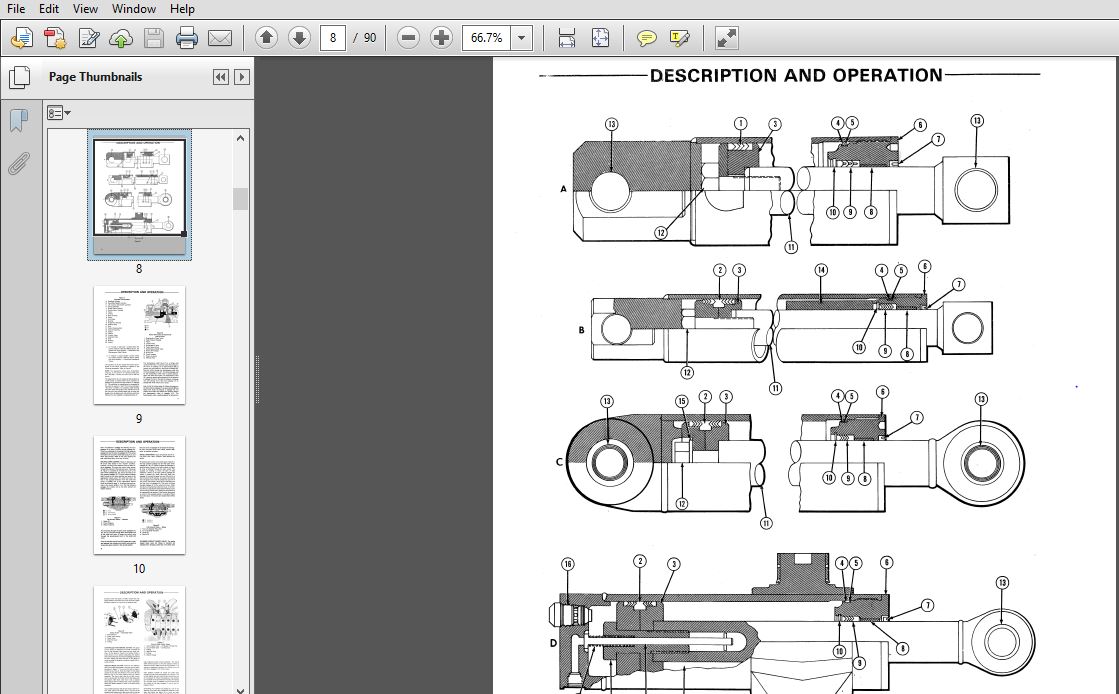 DESCRIPTION:
New Holland Ford Series 765 Backhoe Service Repair Manual (40076510)
This manual contains service procedures for the Series 765 Ford Industrial Backhoe, models 19-801 thru 19-808. Detailed information is given on Description and Operation, Trouble Shooting, Tests and Adjustments. Maintenance, Lubrication and Specifications. installation of the basic backhoes, the attaching kite, and the hydraulic kits are not covered in this publication.
Refer to the appropriate operating and assembly manuals for installation information. Each backhoe is similar in construction and identical in operation; there are, however, variances in dimensions and specifications. Particular attention should be given to the correct modal identification when ordering parts or when servicing the unit.
The service procedures in this manual are the most apparent. practical, and efficient methods; however. a pro. cedura may not prove to be the most desireable in all situations.
Alternate methods are sometimes required. depen- ding upon the toois and equipment available. Reference to direction in the operation and servicing of the backhoe is made as viewed from the backhoe seat.
When ordering parts. left and right are reversed and referenced as facing in the direction of tractor travel. Keep this manual with your other service material so that it will be readily available when required.
The Ford 765 Backhoe consists of a mainframe, swing post, cylinders, boom, dipstick, hoses and tubing, control valves and controls, bucket, and attaching hardware. Refer to Figure 1 for location of the com- ponents.
Hydraulic power for the backhoe is supplied by a hydraulic pump mounted on the tractor. All dimensions of the backhoe are measured in metrics.
This include bolts, nuts, washers, pivot pins, structural components and cylinders. However, tub- ing, hose connections and control valve components are of standard size.
TABLE OF CONTENTS:
New Holland Ford Series 765 Backhoe Service Repair Manual (40076510)
Table of Contents ………….. 3
Description and Operation …… 5
Trouble Shooting ……………16
Pressure Checks …………….21
Backhoe Overhaul ……………44
Lubrication and Maintenance ….81
Specifications ……………..83
PLEASE NOTE:
This is not a physical manual but a digital manual – meaning no physical copy will be couriered to you. The manual can be yours in the next 2 mins as once you make the payment, you will be directed to the download page IMMEDIATELY.
This is the same manual used by the dealers inorder to diagnose your vehicle of its faults.
Require some other service manual or have any queries: please WRITE to us at [email protected]