New Holland F140B VHP TIER 3 F170B VHP TIER 3 F200B VHP TIER 3 Motor Grader Operator's Manual 90442248 – PDF DOWNLOAD
IMAGES PREVIEW OF THE MANUAL: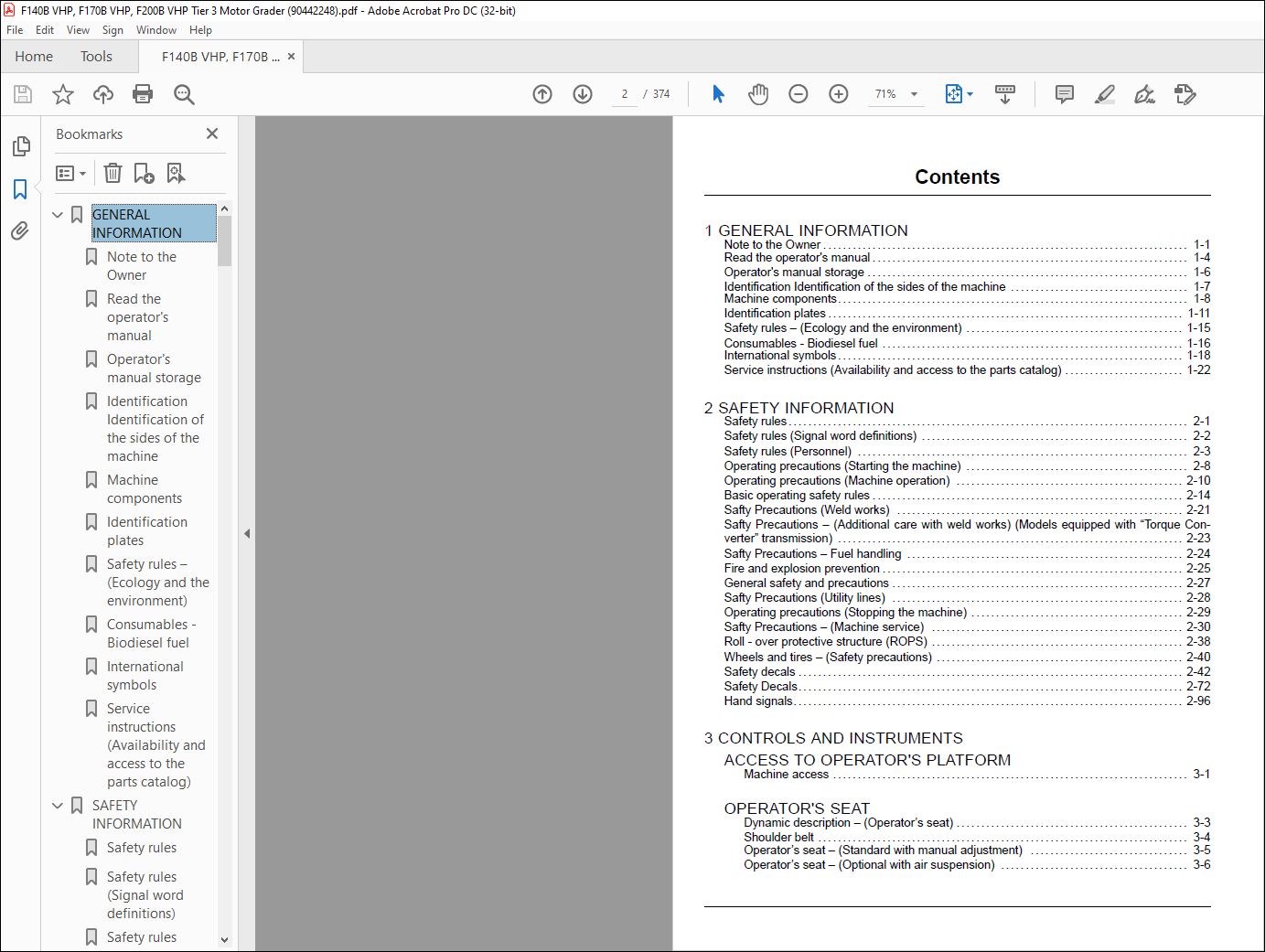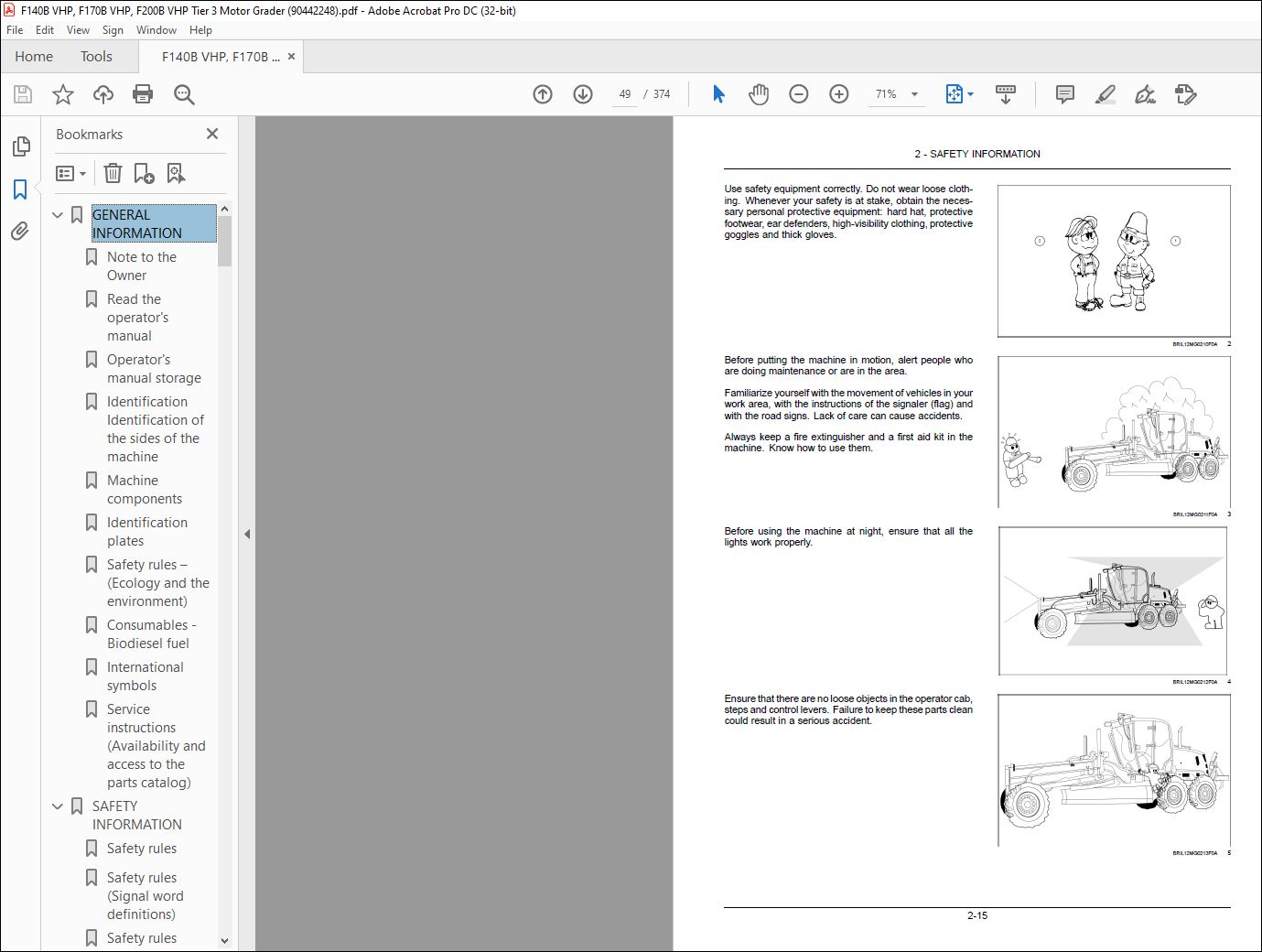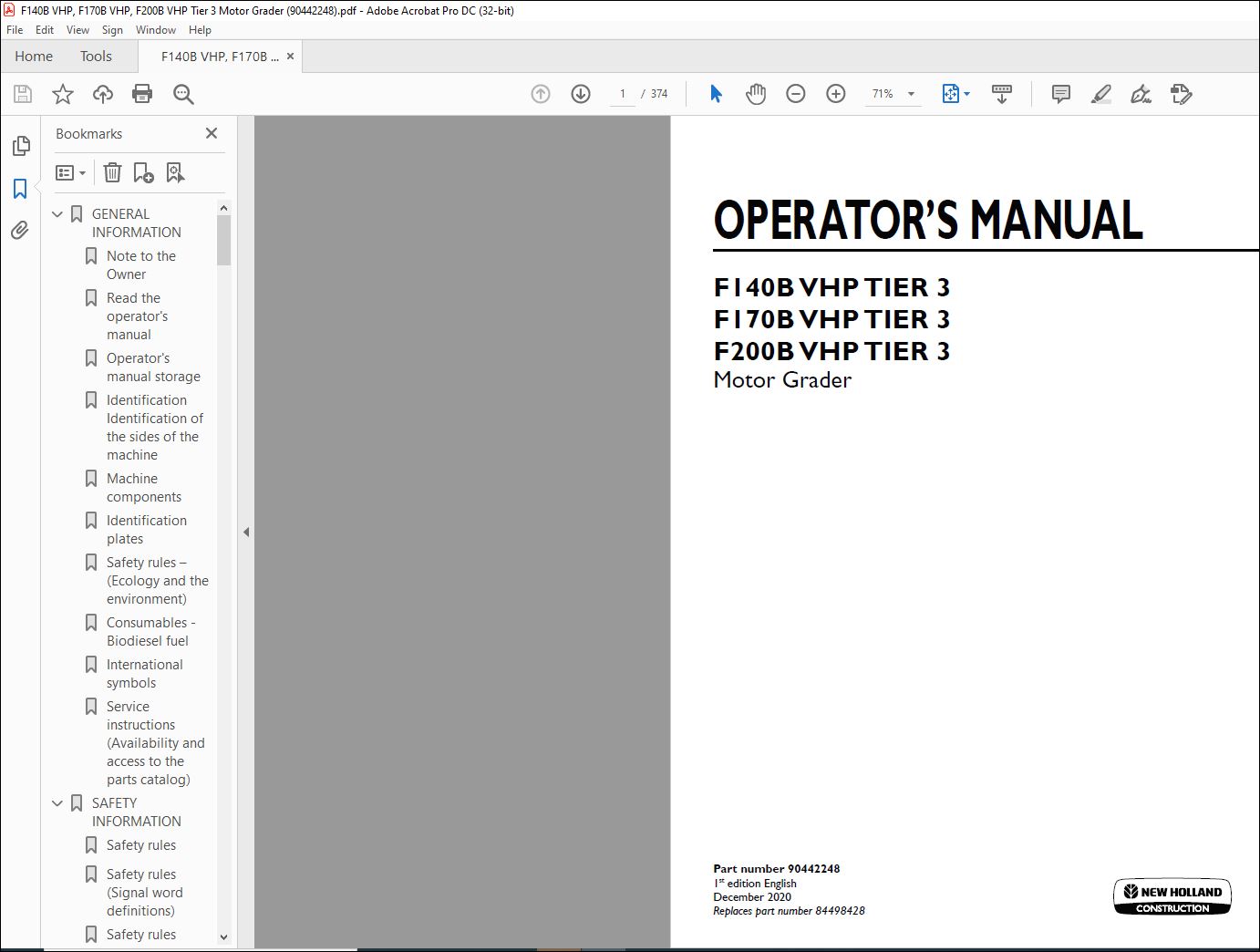 DESCRIPTION:
New Holland F140B VHP TIER 3 F170B VHP TIER 3 F200B VHP TIER 3 Motor Grader Operator's Manual 90442248 – PDF DOWNLOAD
GENERAL INFORMATION:
Note to the Owner:
Introduction:
This manual has been developed as a guide for the safe and proper use of the machine, as well as for its maintenance.
Always follow the recommendations in this manual to ensure the best performance, cost-effective operation and long
service life of your machine. The manual is in sections. For a list of sections, see the table of contents. Refer to the
index at the back of this manual for locating specific items about your machine.
This manual contains all of the information related to daily maintenance, periodic maintenance, correct use and procedures
for safe operation and maintenance of the machine. Some maintenance services require technical skills and
appropriate tools for execution. Allow only trained technicians to perform such maintenance services on the machine.
The recommendations in this manual also allow you to prevent the most common causes of accidents that might
occur during work or maintenance operations of the machine. If you are in any doubt, consult your Authorized NEW
HOLLAND CONSTRUCTION Dealer.
Read and fully understand all of the instructions and warnings in this manual before you start the engine or operate the machine. Pay special attention to the instructions related to safety, operation and maintenance to avoid unnecessary risks or injuries when you use or perform maintenance operations on the machine. Do not operate this machine or perform maintenance work if you have not had appropriate training. Have all operators read this manual carefully.
The information in this manual is provided on the basis of information that was available at the time the manual was
written. Settings, procedures, part numbers, software and other items can change. These changes can affect the
maintenance performed on the machine. Make sure that your Authorized NEW HOLLAND CONSTRUCTION Dealer
has provided complete and current information before you start to operate any machine.
Do not remove this manual from the machine. The manual should be stored and kept inside the cab, to be consulted
by the operator at any time. Make sure this manual is complete and in good condition. Contact an Authorized NEW
HOLLAND CONSTRUCTION Dealer if you need additional manuals or manuals in other languages. Always keep the
manual in its compartment.
Your machine was designed and manufactured in accordance with the strictest quality standards. It complies with the
current safety regulations. Never use the machine for applications that are not included in this manual. Modifications
made without authorization could result in serious or fatal accidents. Anyone making such unauthorized modifications shall be accountable for the consequences.
The engine and fuel system of the machine are designed and
manufactured in accordance with government emissions regulations. Tampering by dealers, customers and operators
is strictly prohibited by law. Failure to comply with this recommendation could result in government fines, rework
costs, voided warranty, lawsuits, and possible confiscation of the machine until it is returned to its original design.
Technical assistance to the engine and repairs must be done by a certified technician only.
TABLE OF CONTENTS:
New Holland F140B VHP TIER 3 F170B VHP TIER 3 F200B VHP TIER 3 Motor Grader Operator's Manual 90442248 – PDF DOWNLOAD
1 GENERAL INFORMATION
Note to the Owner 1-1
Read the operator's manual 1-4
Operator's manual storage 1-6
Identification Identification of the sides of the machine 1-7
Machine components 1-8
Identification plates 1-11
Safety rules – (Ecology and the environment) 1-15
Consumables – Biodiesel fuel 1-16
International symbols 1-18
Service instructions (Availability and access to the parts catalog) 1-22
2 SAFETY INFORMATION
Safety rules 2-1
Safety rules (Signal word definitions) 2-2
Safety rules (Personnel) 2-3
Operating precautions (Starting the machine) 2-8
Operating precautions (Machine operation) 2-10
Basic operating safety rules 2-14
Safty Precautions (Weld works) 2-21
Safty Precautions – (Additional care with weld works) (Models equipped with "Torque Converter"
transmission) 2-23
Safty Precautions – Fuel handling 2-24
Fire and explosion prevention 2-25
General safety and precautions 2-27
Safty Precautions (Utility lines) 2-28
Operating precautions (Stopping the machine) 2-29
Safty Precautions – (Machine service) 2-30
Roll – over protective structure (ROPS) 2-38
Wheels and tires – (Safety precautions) 2-40
Safety decals 2-42
Safety Decals 2-72
Hand signals 2-96
3 CONTROLS AND INSTRUMENTS
ACCESS TO OPERATOR'S PLATFORM
Machine access 3-1
OPERATOR'S SEAT
Dynamic description – (Operator's seat) 3-3
Shoulder belt 3-4
Operator's seat – (Standard with manual adjustment) 3-5
Operator's seat – (Optional with air suspension) 3-6
FORWARD CONTROLS
Control levers of implements 3-8
Controls front 3-10
Steering column 3-12
Front console 3-13
Drive pedal – (Models equipped with Torque Converter transmission) 3-15
Fuses and relay box 3-16
Key start switch 3-17
Sun visor 3-18
RIGHT-HAND SIDE CONTROLS
Right console – (Models equipped with Torque Converter transmission) 3-19
Fuses and Relays 3-20
Switches and controls – (Models equipped with Torque Converter transmission) 3-21
Control levers – (Models equipped with Torque Converter transmission) 3-24
Auxiliary electrical outlet of 24V 3-25
Parking brake – (Models equipped with Torque Converter transmission) 3-26
Air conditioner 3-27
OVERHEAD CONTROLS
Dome light 3-28
EXTERIOR CONTROLS
Windshield washer 3-29
Rear view mirrors 3-30
CAB
Cab Internal Ventilation 3-31
INSTRUMENT CLUSTER
Instrument panel 3-32
Keypad – LCD monitor control 3-41
LCD Display – (General description) 3-42
LCD Display – (Menu screens) 3-44
LCD Display – (Trip screens) 3-46
LCD Display – (Selection screens) 3-48
LCD Display – (Service screens) 3-49
LCD Display – (Preferences menu) 3-51
LCD Display – (Options Menu) 3-53
4 OPERATING INSTRUCTIONS
COMMISSIONING THE UNIT
Introduction 4-1
Before starting the engine 4-2
Shoulder belt 4-5
STARTING THE UNIT
Starting the engine 4-6
Auxiliary battery connections 4-7
Auxiliary battery connections 4-8
STOPPING THE UNIT
Stopping the engine 4-9
MOVING THE UNIT
Differential lock system 4-10
Break-in period 4-11
PARKING THE UNIT
Parking the machine 4-12
5 TRANSPORT OPERATIONS
RECOVERY TRANSPORT
Towing the machine 5-1
6 WORKING OPERATIONS
Transmission
Transmission operation – (Models equipped with Torque Converter transmission) 6-1
Drive – (Manual mode) (Models equipped with "Torque Converter" transmission) 6-3
Drive – (Automatic mode) (Models equipped with "Torque Converter" transmission) 6-5
Drive ("Limp-Home" safety operation mode) (Models equipped with "Torque Converter"
transmission) 6-6
Operating the machine
Machine operation – (General description) 6-7
Machine operation – (Slope cutting) 6-9
Machine operation – (Ripping) 6-11
Machine operation – (Articulation system) 6-12
Machine operation – (Typical operations) 6-13
Wheels and tires
General information 6-18
Tire pressure 6-19
Tires pressure – Check – Calibration 6-21
Wheel nuts torque 6-22
Bracket – (Tandem lock) 6-23
7 MAINTENANCE
GENERAL INFORMATION
Maintenance and adjustments 7-1
Lubrication analysis program 7-8
Transport and maintenance service pin 7-9
Engine hood 7-10
Access doors 7-11
Engine oil 7-13
Diesel fuel 7-14
Hydraulic fluid 7-16
Organic Acid Technology (OAT) coolant 7-17
MAINTENANCE CHART
Maintenance chart 7-18
When the warning lamp lights
Warning indicators (Check) 7-20
First 10 hours
Break-in period (Check) 7-21
Initial 50 hours
Break-in period (Check) 7-22
As required
Engine air filter (Replacement) 7-23
Radiator – Cleaning 7-26
Windshield washer resevoir 7-28
Alternator drive belt (Replacement) 7-29
Every 10 hours or daily
Engine oil (Checking the level) 7-31
Engine coolant (Checking the level) 7-32
Transmission fluid – (Models equipped with "Torque Converter" transmission) (Level check)
7-34
Every 50 hours or weekly
Hydraulic fluid (Checking the level) 7-36
Fuel filter (Draining condensation) 7-37
Every 100 hours
Lubrication points 7-38
Every 250 hours
Engine air filter (Restriction sensor) (Check) 7-41
Cab air filter (Cleaning) 7-43
Air conditioning compressor belt (Checking) 7-44
Alternator drive belt (Checking) 7-45
Gearbox oil – (Circle turn oil) (Level check) 7-47
Tires (Checking the condition and pressure) 7-48
Grease points 7-49
Every 500 Hours
Fuel filter –/Water separator filter (Replacement) 7-53
Fuel reservoir (Draining) 7-55
Engine oil and filter (Replacement) 7-56
Air intake lines (Verification of the hoses) 7-59
Hydraulic filter (Replacement) 7-60
Hydraulic suction filter (Cleaning) 7-62
Tranmission filter – (Models equipped with "Torque Converter" transmission) (Replacement)
7-64
Tandem drive case oil (Checking the level) 7-65
Tandem drive case oil – (Collection for analysis of contamination) 7-67
Rear axle oil (Checking the level) 7-68
Roll Over Protection Structure (ROPS) (Check) 7-70
Shoulder belt (Checking) 7-73
Operator's seat (Checking) 7-75
Circle – (Check and adjust) 7-77
Grease points 7-80
Every 1000 hours
Transmission fluid – (Models equipped with "Torque Converter" transmission) (Change)
7-83
Engine valve (Checking clearance and adjustment) 7-85
Gearbox oil – (Circle turn oil) (Change) 7-86
EVERY 2000 HOURS
Engine coolant – (Change) (For models up to series NGAF05985) 7-87
Rear axle oil (Changing) 7-89
Tandem drive case oil (Changing) 7-91
Hydraulic fluid (Changing) 7-93
EVERY 4000 HOURS
Engine coolant – (Change) (For models from series NGAF05986) 7-95
General maintenance
Air conditioner (Charging refrigerant) 7-97
Parking brake – (Models equipped with Torque Converter transmission) 7-100
Cab (Checking) 7-102
Fire extinguisher (Checking) 7-103
Drawbar (Checking) 7-104
Hydraulic diagnostic panel (Checking) 7-105
Electrical system
Batteries (Safe operation) 7-106
Fuses and relays – (Models with Torque Converter transmission) (Checking) 7-109
Fuses (Replacement) 7-113
Radio – (Electrical system) 7-114
STORAGE
Storing the machine (Preparing for storage) 7-115
Storing the machine (Re-using the machine after storage) 7-116
8 SPECIFICATIONS
Lubrication, Filters and Fluids – (Models equipped with Torque Converter transmission) 8-1
General specification 8-3
Engine specifications 8-9
Transmission specifications – (Models equipped with Torque Converter transmission) 8-12
Hydraulic specifications 8-13
Overall dimensions 8-14
Operating weights – (Models equipped with Torque Converter transmission) 8-20
Standard torque data 8-23
VIDEO PREVIEW OF THE MANUAL:
PLEASE NOTE:
This is the SAME MANUAL used by the dealerships to diagnose your vehicle
No waiting for couriers / posts as this is a PDF manual and you can download it within 2 minutes time once you make the payment.
Your payment is all safe and the delivery of the manual is INSTANT – You will be taken to the DOWNLOAD PAGE.
So have no hesitations whatsoever and write to us about any queries you may have : heydownloadss @gmail.com
S.V