Mitsubishi Forklift Truck Controller FB16KT, FB18KT, FB20KT Service Repair Manual (Controller)
FILE DETAILS:
FILE TYPE:PDF
DOWNLOADABLE:YES
MANUAL LANGUAGE:ENGLISH
PAGES:550+
DESCRIPTION:
This service manual is a guide to servicing of Mitsubishi forklift trucks. The instructions are grouped by systems to serve the convenience of your ready reference. Long productive life of your forklift trucks depends to a great extent on correct servicing — the servicing consistent with what you will learn from this service manual. We hope you read the respective sections of this manual carefully and know all the components you will work on before attempting to start a test, repair or rebuild job. The descriptions, illustrations and specifications contained in this manual were of the trucks of serial numbers in effect at the time it was approved for printing. Mitsubishi reserves the right to change specifications or design without notice and without incurring obligation.
TABLE OF CONTENTS:
General Information 2 – 1
Electrical System Diagram 2 – 3
Alarm List 2 – 5
E0 Right Motor, Overheating 2 – 7
E1 Left Motor, Overheating 2 – 9
E2 Pump Motor, Overheating 2 – 11
E3 Controller, Overheating 2 – 13
E4 Right Motor, Worn Brushes 2 – 15
E5 Left Motor, Worn Brushes 2 – 17
E6 Pump Motor, Worn Brushes 2 – 19
Brake Oil, Low Level 2 – 21
10 Right Motor, Faulty Armature Circuit 2 – 23
11 Right Motor, Transistor Wire Breakage 2 – 26
12 Right Motor, Shorted Transistor 2 – 28
13 Right Motor, Faulty Transistor Drive 2 – 30
14 Right Motor, Faulty Current Sensor 2 – 32
15 Right Motor, Armature Over-current 2 – 34
16 Right Motor, Stall Timer 2 – 36
17 Right Motor, Faulty Field Circuit 2 – 38
18 Right Motor, Faulty Field Drive 2 – 40
19 Right Motor, Field Over-current 2 – 42
20 Left Motor, Faulty Armature Circuit 2 – 44
21 Left Motor, Transistor Wire Breakage 2 – 47
22 Left Motor, Shorted Transistor 2 – 49
23 Left Motor, Faulty Transistor Drive 2 – 51
24 Left Motor, Faulty Current Sensor 2 – 53
25 Left Motor, Armature Over-current 2 – 55
26 Left Motor, Stall Timer 2 – 57
27 Left Motor, Faulty Field Circuit 2 – 59
28 Left Motor, Faulty Field Drive 2 – 61
29 Left Motor, Field Over-current 2 – 63
30 Pump Motor, Faulty Circuit 2 – 65
31 Pump Motor, Transistor Wire Breakage 2 – 68
32 Pump Motor, Shorted Transistor 2 – 70
33 Pump Motor, Faulty Transistor Drive 2 – 72
34 Pump Motor, Faulty Current Sensor 2 – 74
35 Pump Motor, Armature Over-current 2 – 76
TROUBLESHOOTING FOR CONTROL CIRCUITS
40 Line Contactor, Abnormality 2 – 78
41 Regeneration Contactor, Abnormality 2 – 80
43 Regeneration Diode, Abnormality 2 – 82
44 Right Armature Diode, Abnormality 2 – 84
45 Left Armature Diode, Abnormality 2 – 86
46 Pump Armature Diode, Abnormality 2 – 88
47 Right Motor, Wire Breakage 2 – 90
48 Left Motor, Wire Breakage 2 – 92
49 Pump Motor, Wire Breakage 2 – 94
50 Steering Sensor, Abnormality 2 – 96
51 Accelerator, Abnormality 2 – 98
52 Right Vehicle Speed Sensor, Abnormality 2 – 100
53 Left Vehicle Speed Sensor, Abnormality 2 – 102
54 FC Lever, Abnormality 2 – 104
55 FC Solenoid, Abnormality 2 – 106
57 FC Controller, Abnormality 2 – 108
E Direction Lever and Accelerator, Faulty Setting 2 – 110
(E) Seat Switch, Faulty Setting 2 – 112
H1 Lift Lever, Faulty Setting 2 – 114
H2 Tilt Lever, Faulty Setting 2 – 116
H3 Attachment 1 Lever, Faulty Setting 2 – 118
H4 Attachment 2 Lever, Faulty Setting 2 – 120
H5 FC Controller Lever, Faulty Setting 2 – 122
60 Data Communication, Abnormality 2 – 124
61 EEPROM, Abnormality 2 – 126
65 Logic Card, Faulty Initial Setting 2 – 127
66 Controller, Abnormality 2 – 128
68 Battery Voltage, Excessively Low
(For 48-V Vehicles Only) 2 – 129
Electrical System Diagram 2 – 131
Electrical Schematic (DC motor models FC) 2 – 133
Electrical Schematic (DC motor models MC) 2 – 135
SCREENSHOT OF THE MANUAL: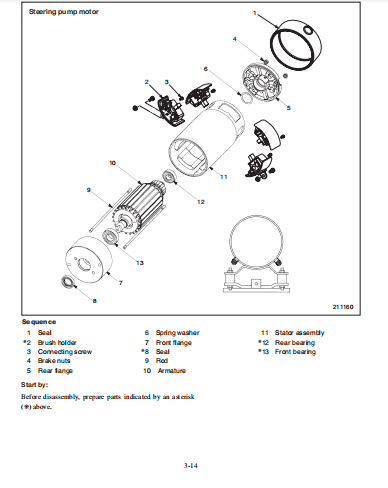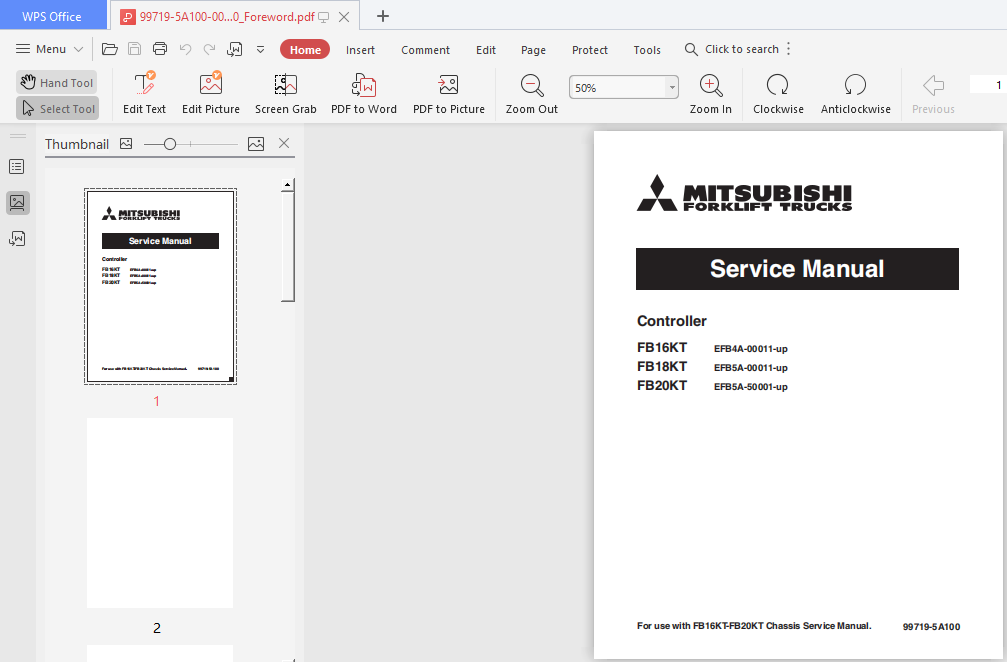 VIDEO PREVIEW:
PLEASE NOTE:
⦁ This is the SAME exact manual used by your dealers to fix your vehicle.
⦁ The same can be yours in the next 2-3 mins as you will be directed to the download page immediately after paying for the manual.
⦁ Any queries / doubts regarding your purchase, please feel free to contact [email protected]