Manitou MT6034T MT6034 XT Forklift Truck Operator Manual 805930 – PDF DOWNLOAD
IMAGES PREVIEW OF THE MANUAL: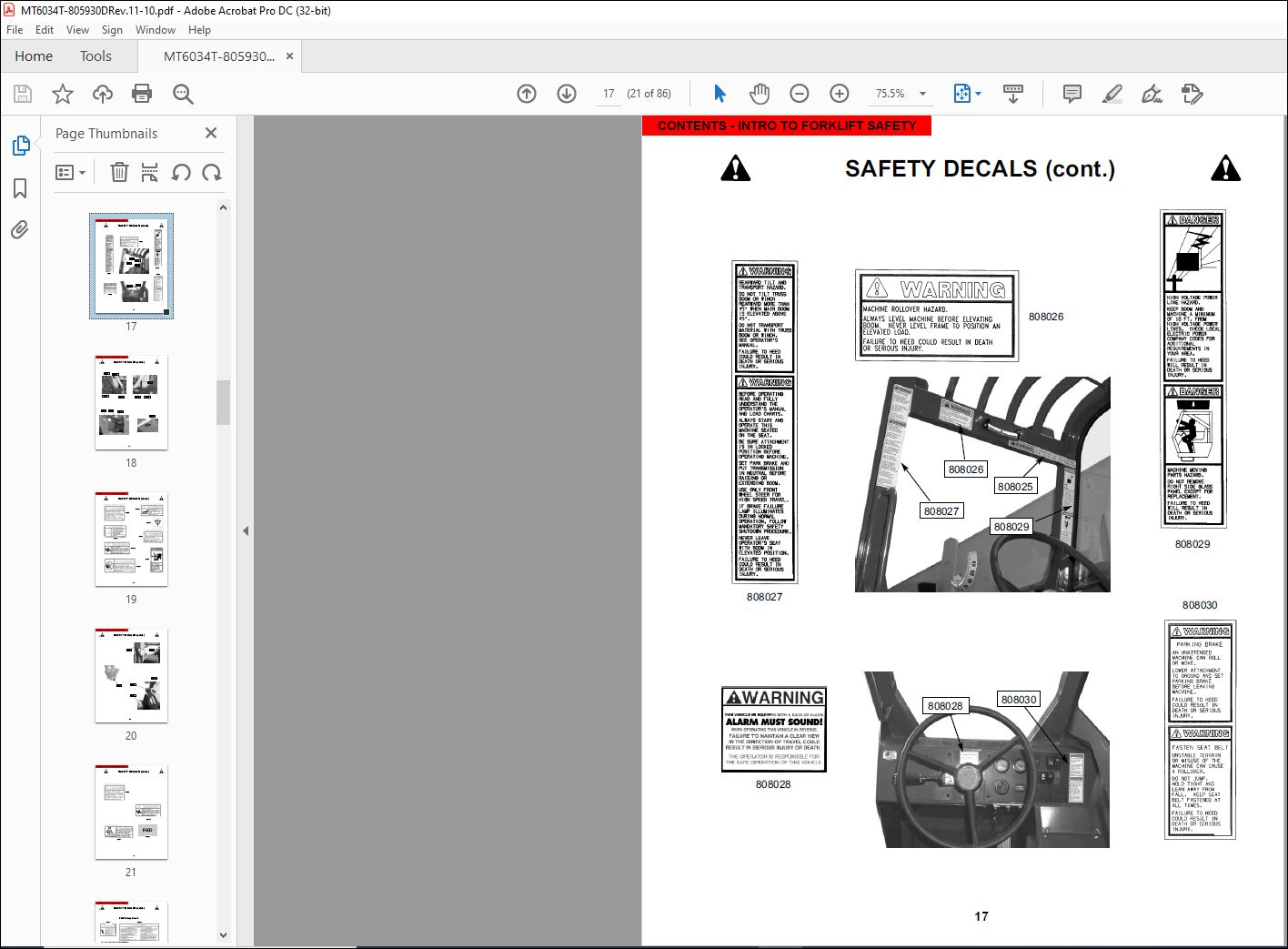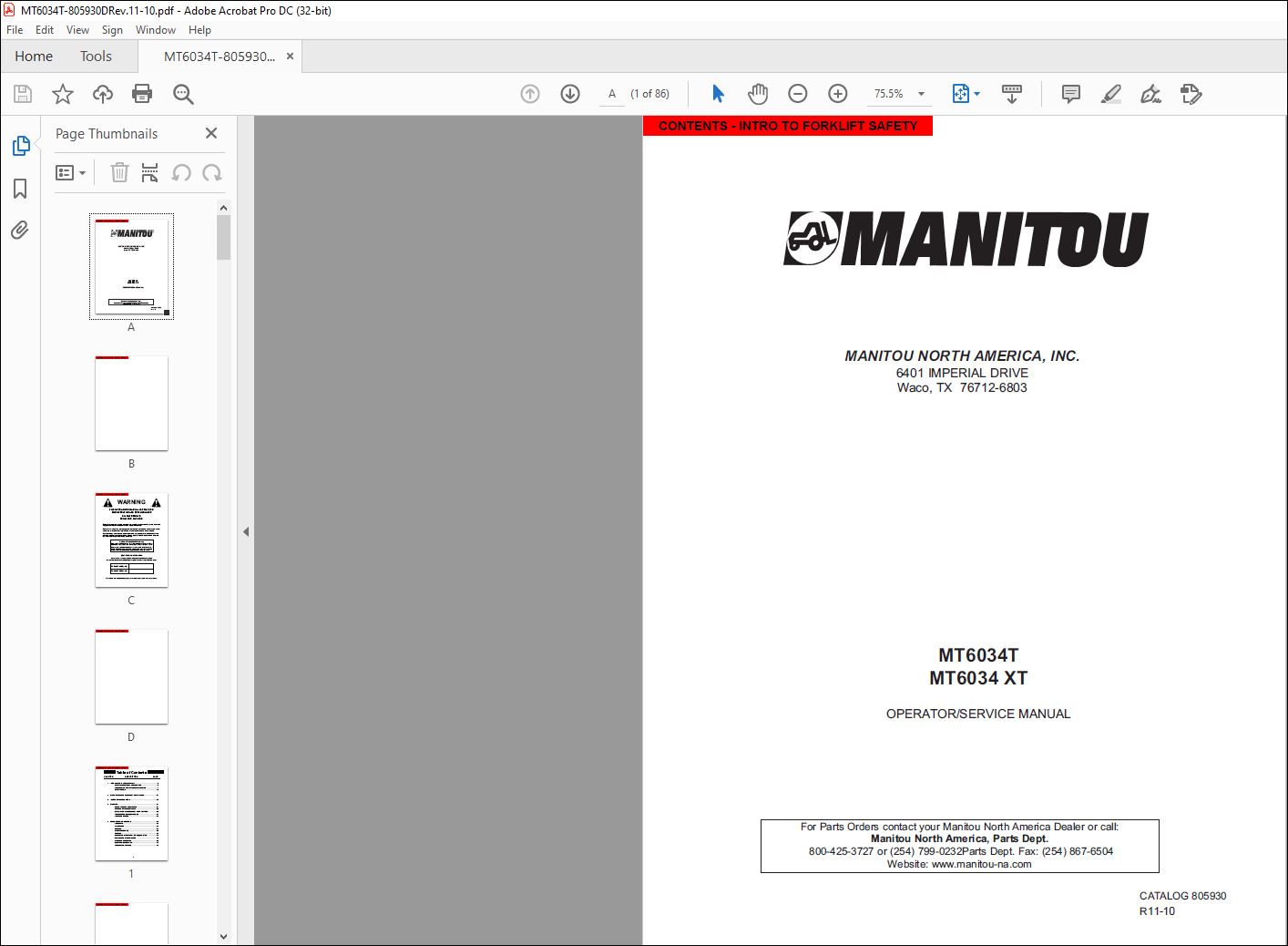 DESCRIPTION:
Manitou MT6034T MT6034 XT Forklift Truck Operator Manual 805930 – PDF DOWNLOAD
INTRODUCTION TO FORKLIFT SAFETY:
STUDY THE OPERATOR/SERVICE MANUALS:
The information in this manual provides general and specific instructions for the safe operation and maintenance
of your forklift truck. This information is vital and must be clearly understood by the operator and serviceman.
Study this manual and the Rough Terrain Forklift Safety Manual (part no. 496727) thoroughly and carefully before
operating or servicing your forklift. Contact your dealer or Manitou North America, Inc. if you have any questions
concerning your forklift, its operation, service or parts. Keep both manuals in the literature pocket on the back of
the operator's seat. If either manual becomes illegible or is missing, contact your dealer for replacements immediately.
This manual cannot cover every situation that might result in an accident. It is the responsibility of the
operator to always remain alert for potential hazards and be prepared to avoid them!
ATTEND OPERATOR TRAINING CLASSES:
The forklift operator must clearly understand all instructions concerning the safe operation of the forklift and all
safety rules and regulations of the work site. They must have successfully completed a training coarse in accordance
with the Powered Industrial Truck Standard (29 CFR 1910.178) as described by the Occupational Safety
and Health Administration (OSHA). They must be qualified as to their visual, hearing, physical, and mental ability
to operate the equipment safely. NEVER use drugs or alcohol while operating a forklift! NEVER operate or allow
anyone to operate a forklift when mental alertness or coordination is impaired! An operator on prescription or overthe-
counter drugs must consult a medical professional regarding any side effects of the medication that may impair
their ability to safely operate the forklift.
CREATE A MAINTENANCE PROGRAM:
OSHA recommends a maintenance log, listing repairs requested and completed, for each forklift. Also, "lock out
tag procedures" should be utilized. If the forklift malfunctions; park it safely, remove the key, tag "Do Not Use", and
report the problem to the proper authority or authorized service personnel immediately. For the best forklift performance
and operation, a maintenance program is required. Use the hour meter on the instrument panel to keep
maintenance properly scheduled. For repairs on major components (engine, transmission, etc.), contact your
nearest dealer for a Repair Manual. Do not operate a forklift that is damaged or does not function properly. Only
authorized personnel may make repairs or adjustments to the lift truck. After repairs, the lift truck must be tested
for safe operation before returning to service.
TABLE OF CONTENTS:
Manitou MT6034T MT6034 XT Forklift Truck Operator Manual 805930 – PDF DOWNLOAD
1 INTRODUCTION TO FORKLIFT SAFETY 3
SAFETY ALERT SYMBOL AND WARNINGS 8
PERSONNEL WORK PLATFORM SAFETY SYSTEM 11
SAFETY DECALS 14
2 SPECIFICATIONS AND COMPONENT IDENTIFICATION 21
3 INSTRUMENTS AND CONTROLS 23
4 OPERATING 31
ENGINE PRESTART AND STARTING 31
CHANGING ATTACHMENT TOOLS 33
INSTALLATION OF A PERSONNEL WORK PLATFORM 38
TRANSPORTING BETWEEN JOBSITES 41
LOAD ZONE CHARTS 42
5 SERVICING AND MAINTENANCE 45
LUBRICANTS 45
FILTER CHART 46
GREASING 46
OPERATOR SERVICES 49
STORAGE 60
PWP SYSTEM OPERATIONAL TROUBLESHOOTING 62
MAINTENANCE INTERVAL CHART 63
HYDRAULIC SCHEMATICS 68
ELECTRICAL SCHEMATICS 72
TORQUE SPECIFICATIONS 74
VIDEO PREVIEW OF THE MANUAL:
PLEASE NOTE:
This is the same manual used by the dealers to diagnose and troubleshoot your vehicle
You will be directed to the download page as soon as the purchase is completed. The whole payment and downloading process will take anywhere between 2-5 minutes
Need any other service / repair / parts manual, please feel free to contact [email protected] . We still have 50,000 manuals unlisted
S.V