Manitou MT 10055XT MT 8044XT MT 6642XT Telescopic Handler Operator Manual 50960001 – PDF DOWNLOAD
IMAGES PREVIEW OF THE MANUAL: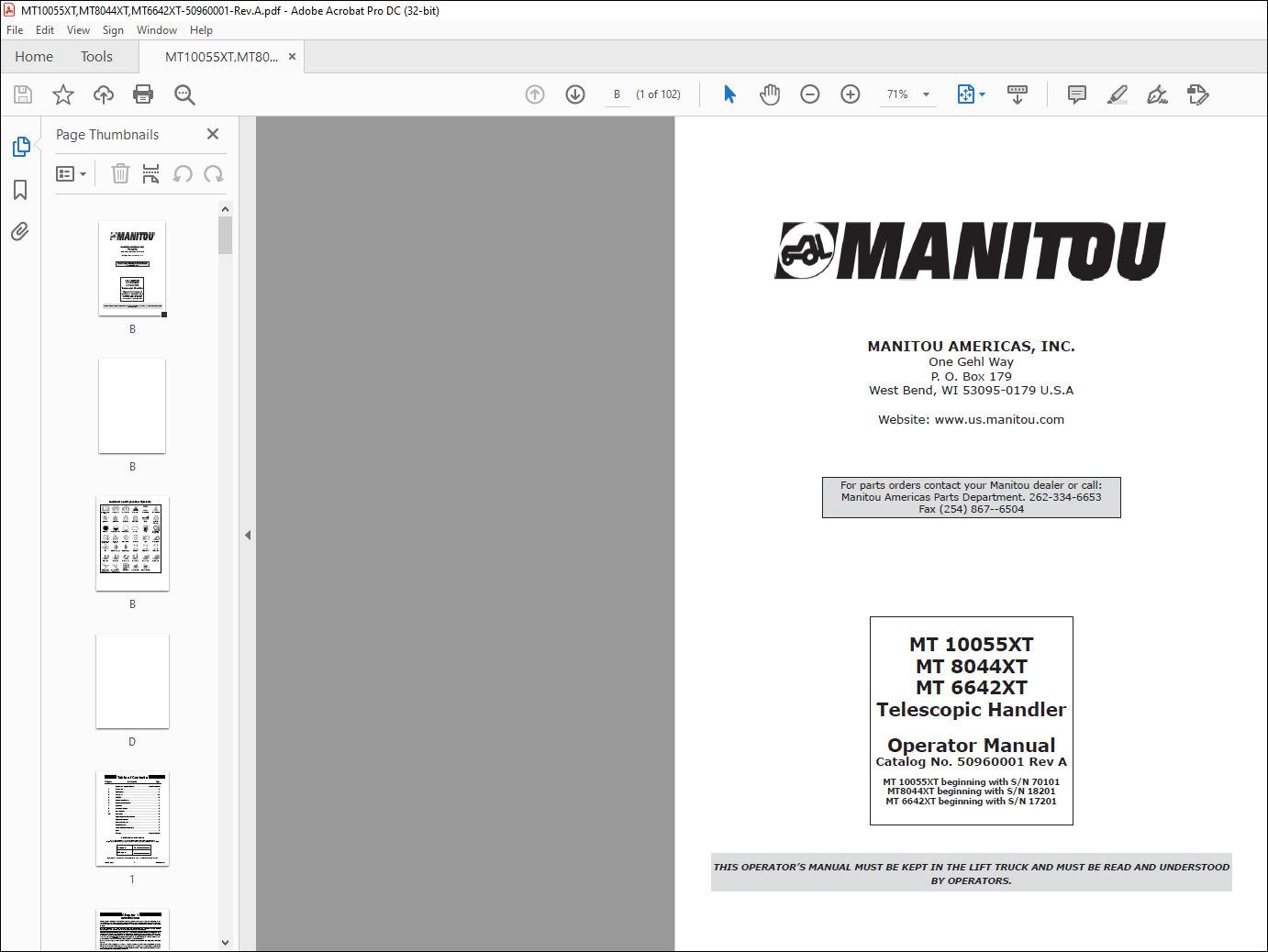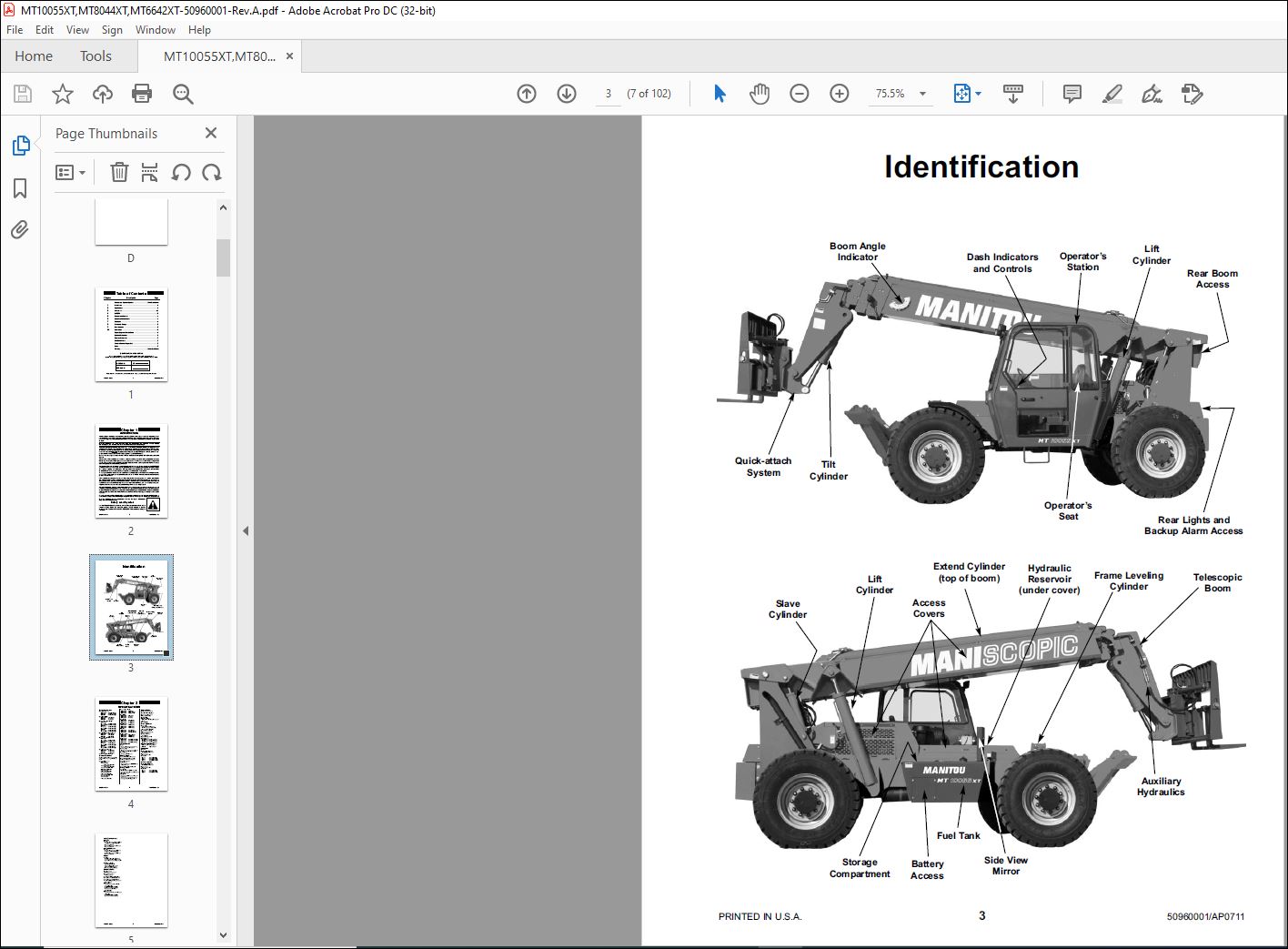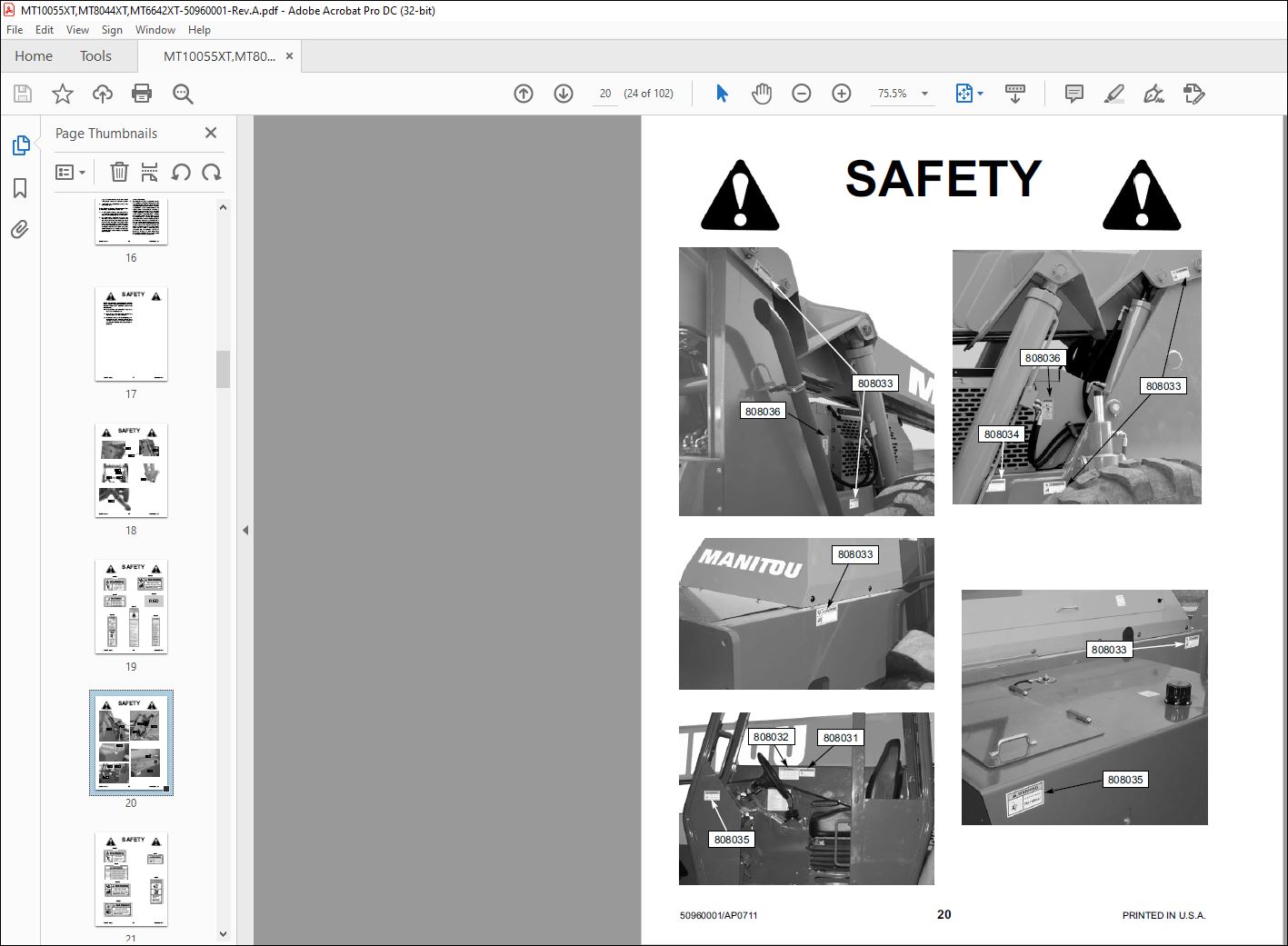 DESCRIPTION:
Manitou MT 10055XT MT 8044XT MT 6642XT Telescopic Handler Operator Manual 50960001 – PDF DOWNLOAD'
MT 10055XT beginning with S/N 70101
MT8044XT beginning with S/N 18201
MT 6642XT beginning with S/N 17201
INTRODUCTION:
The information in this Operator's Manual was written to give the owner/operator assistance in preparing, adjusting,
maintaining and servicing of the Telescopic Handler. More important, this manual provides an operating plan
for safe and proper use of the machine. Major points of safe operation are detailed in the SAFETY chapter of this
manual.
Manitou Americas Inc. asks that you read and understand the contents of this manual
COMPLETELY, and become familiar with the machine before operating it.
This Telescopic Handler is primarily intended for use as a material handler. However, it may be equipped with an
optional system: the Personnel Work Platform (PWP) System, which is intended for use when lifting personnel.
When there is no other practical option available, this machine, when equipped with the PWP System, is approved
for use to lift personnel, but only with an approved work platform, with the PWP System activated, and in full compliance with the "Mandatory Work Platform Safety Rules" (see SAFETY chapter).
Refer to the seperate operator's/parts manual for information related to the optional Radio Remote Boom Control
System.
The use of this Telescopic Handler is subject to certain hazards that cannot be eliminated by mechanical means,
but only by the exercise of intelligence, care and common sense. It is therefore essential to have competent and
careful operators, who are not physically or mentally impaired, and who are thoroughly trained in the safe operation
of the equipment and the handling of the loads.
Throughout this manual information is provided that is set in italic type and introduced by the word IMPORTANT
or NOTE. Be sure to read carefully and comply with the message or directive given. Following this information
will improve operating and maintenance efficiency, help to avoid breakdowns and damage, and extend the
machine's life. A chart of standard hardware torques is located in the back of this manual.
A storage pocket in the back of the seat is provided for storing the Operator's Manual. After using the manual,
please return it to the pocket and keep it with the unit at all times! If this machine is resold, this manual should be
given to the new owner.
If this machine was purchased "used," or if the owner's address has changed, please provide your Manitou
Americas Inc. dealer or Manitou Americas Inc. Service Department with the owner's name and current address,
along with the machine model and serial number. This will allow the registered owner information to be updated,
so that the owner can be notified directly in case of an important product issue, such as a safety update program.
"Right" and "left" are determined from a position sitting on the seat and facing forward.
TABLE OF CONTENTS:
Manitou MT 10055XT MT 8044XT MT 6642XT Telescopic Handler Operator Manual 50960001 – PDF DOWNLOAD
Indicator and Operation Symbols Inside Front Cover
1 Introduction 2
2 Specifications 4
3 Check Lists 7, 9
4 SAFETY 10
5 Indicators and Controls 23
6 Operation and Adjustments 33
7 Lubrication 45
8 Service and Storage 48
9 Decal Locations 65
10 Maintenance 70
Engine Diagnostic Trouble Codes 75
Hydraulic Schematics 81
Electrical Schematics 83
Load Zone Charts 85
Standard Hardware Torque Data 92
Index 93
Warranty Inside Back Cover
VIDEO PREVIEW OF THE MANUAL:
PLEASE NOTE:
This is the same manual used by the DEALERSHIPS to SERVICE your vehicle.
The manual can be all yours – Once payment is complete, you will be taken to the download page from where you can download the manual. All in 2-5 minutes time!!
Need any other service / repair / parts manual, please feel free to contact us at heydownloadss @gmail.com . We may surprise you with a nice offer
S.V