Manitou DANA Axle Type 112 Repair Manual 647013EN – PDF DOWNLOAD
IMAGES PREVIEW OF THE MANUAL: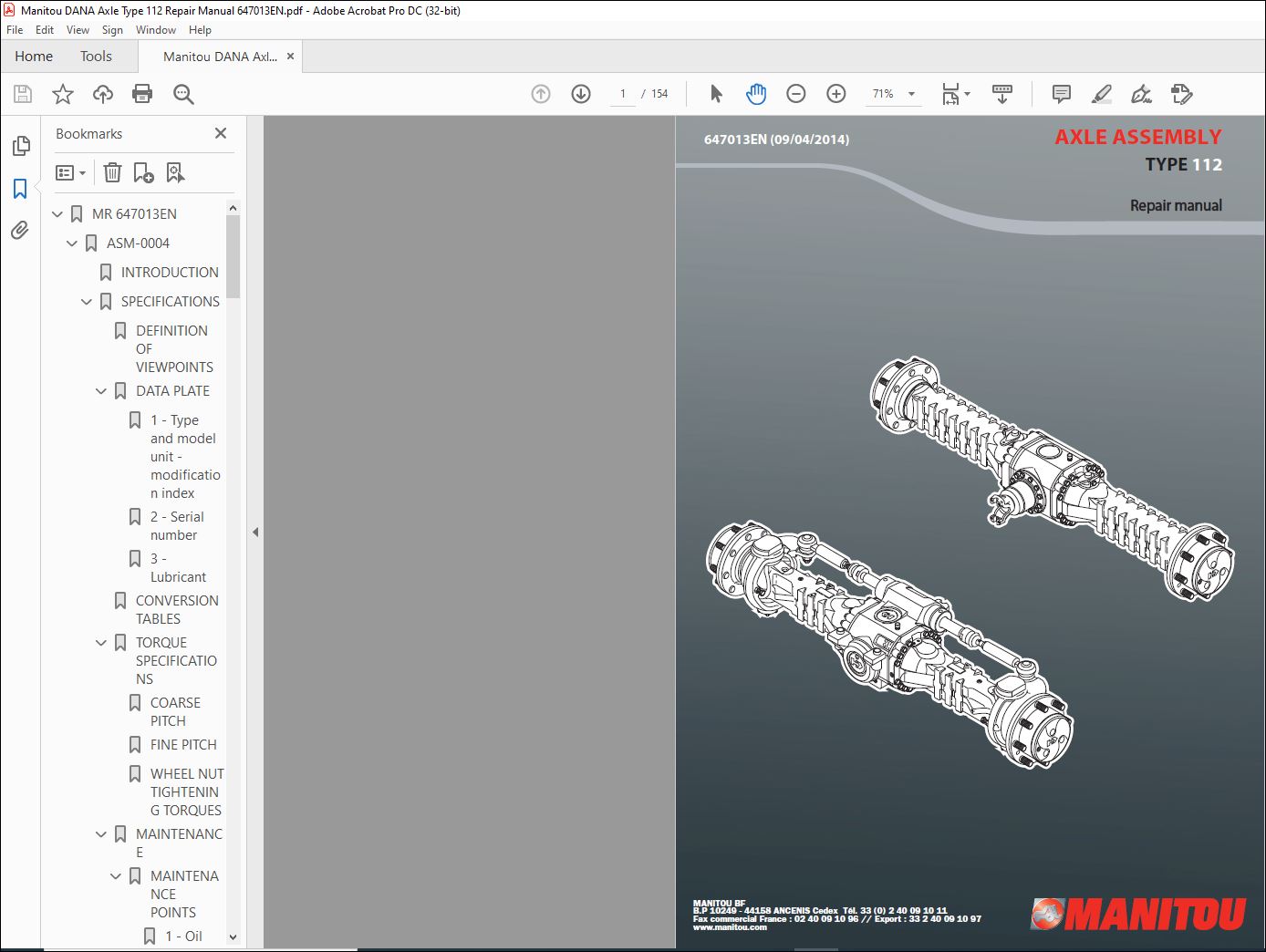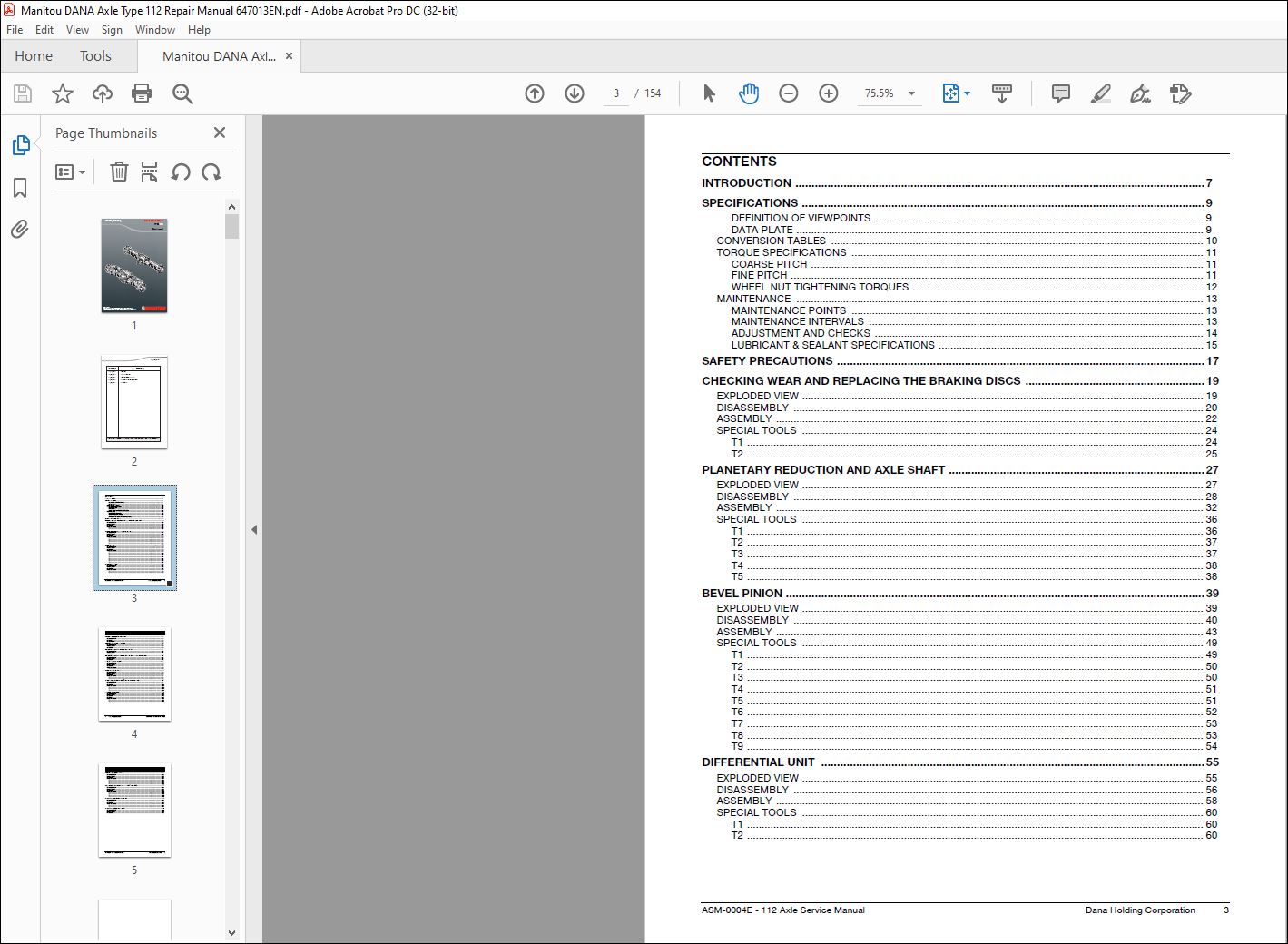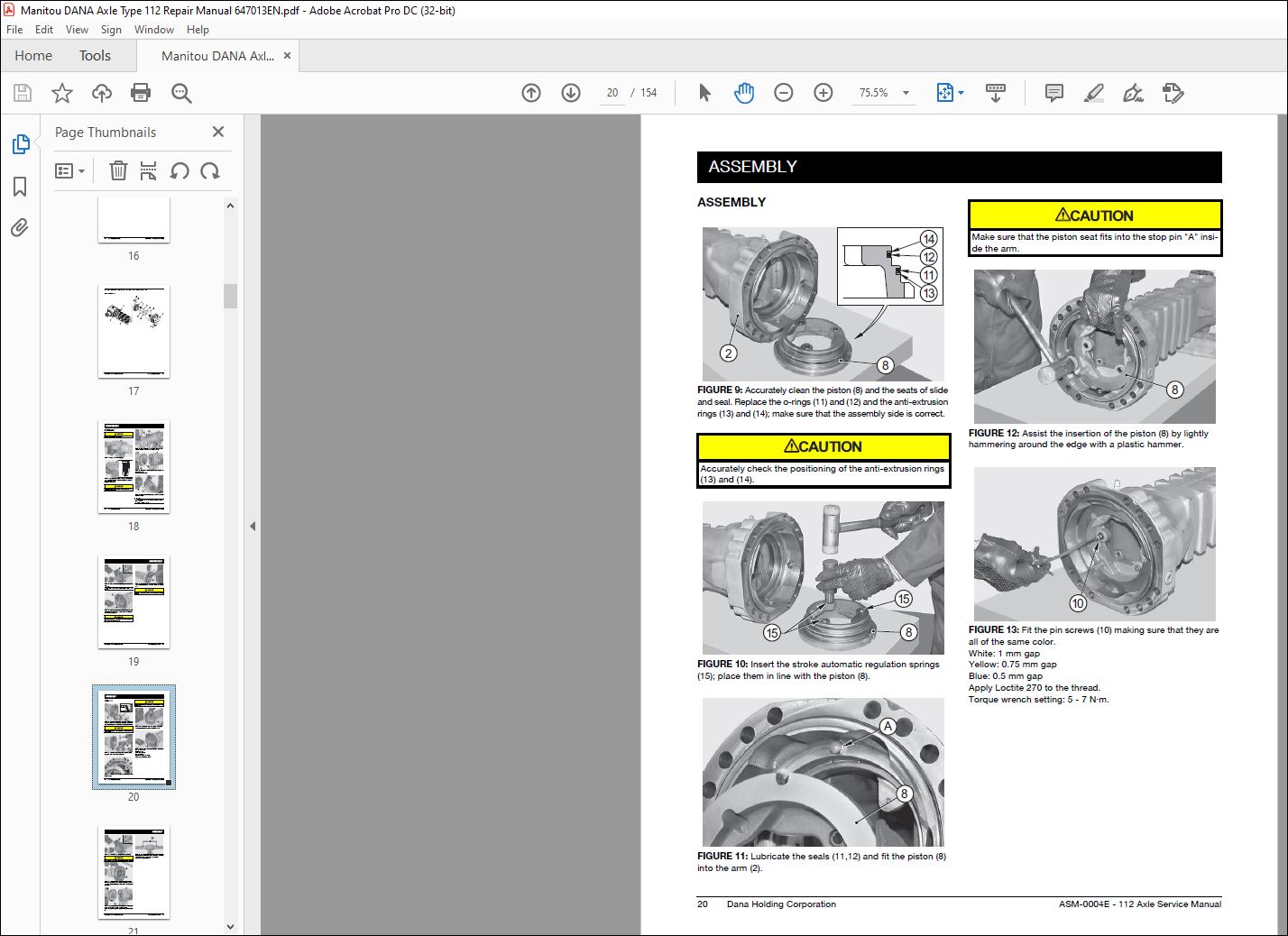 DESCRIPTION:
Manitou DANA Axle Type 112 Repair Manual 647013EN – PDF DOWNLOAD
INTRODUCTION:
The efficiency and continued operation of mechanical units depend on constant, correct maintenance and also on
efficient repair work, should there be a break-down or malfunction. The instructions contained in this manual have
been based on a complete overhaul of the unit.
However, it is up to the mechanic to decide whether or not it is
necessary to assemble only individual components, when partial repair work is needed. The manual provides a
quick and sure guide which, with the use of photographs and diagrams illustrating the various phases of the operations,
allows accurate work to be performed.
All the information needed for correct disassembly, checks and assembly
of each individual component is set out below. In order to remove the differential unit from the vehicle, the
manuals provided by the vehicle manufacturer should be consulted. In describing the following operations it is presumed
that the unit has already been removed from the vehicle.
IMPORTANT: In order to facilitate work and protect both working surfaces and operators, it is advisable to use proper
equipment such as: trestles or supporting benches, plastic or copper hammers, appropriate levers, pullers and
specific spanners or wrenches. Before going on to disassemble the parts and drain the oil, it is best to thoroughly
clean the unit, removing any encrusted or accumulated grease.
TABLE OF CONTENTS:
Manitou DANA Axle Type 112 Repair Manual 647013EN – PDF DOWNLOAD
INTRODUCTION 7
SPECIFICATIONS 9
DEFINITION OF VIEWPOINTS 9
DATA PLATE 9
CONVERSION TABLES 10
TORQUE SPECIFICATIONS 11
COARSE PITCH 11
FINE PITCH 11
WHEEL NUT TIGHTENING TORQUES 12
MAINTENANCE 13
MAINTENANCE POINTS 13
MAINTENANCE INTERVALS 13
ADJUSTMENT AND CHECKS 14
LUBRICANT & SEALANT SPECIFICATIONS 15
SAFETY PRECAUTIONS 17
CHECKING WEAR AND REPLACING THE BRAKING DISCS 19
EXPLODED VIEW 19
DISASSEMBLY 20
ASSEMBLY 22
SPECIAL TOOLS 24
PLANETARY REDUCTION AND AXLE SHAFT 27
EXPLODED VIEW 27
DISASSEMBLY 28
ASSEMBLY 32
SPECIAL TOOLS 36
BEVEL PINION 39
EXPLODED VIEW 39
DISASSEMBLY 40
ASSEMBLY 43
SPECIAL TOOLS 49
DIFFERENTIAL UNIT 55
EXPLODED VIEW 55
DISASSEMBLY 56
ASSEMBLY 58
SPECIAL TOOLS 60
4 Dana Holding Corporation ASM-0004E – 112 Axle Service Manual
MANUAL EMERGENCY RELEASE 61
EXPLODED VIEW 61
RELEASE 62
ADJUSTMENT 63
MECHANICAL PARKING BRAKE 65
EXPLODED VIEW 65
DISASSEMBLY 66
ASSEMBLY 68
EXTERNAL HYDRAULIC NEGATIVE BRAKE 71
EXPLODED VIEW 71
DISASSEMBLY 72
ASSEMBLY 73
EXTERNAL HYDRAULIC NEGATIVE BRAKE WITH QUICK RELEASE 75
EXPLODED VIEW 75
DISASSEMBLY 76
ASSEMBLY 78
INCOMING DRUM BRAKE 81
EXPLODED VIEW 81
DISASSEMBLY 82
ASSEMBLY 85
SPECIAL TOOLS 88
BEVEL PINION SUPPORT 89
EXPLODED VIEW 89
DISASSEMBLY 90
ASSEMBLY 91
SPECIAL TOOLS 92
4″ INCOMING BRAKE (2 AND 3 FUNCTION VERSIONS) 95
EXPLODED VIEW 95
DISASSEMBLY 96
ASSEMBLY 100
SPECIAL TOOLS 106
7″ COMBINED BRAKE 109
EXPLODED VIEW 109
DISASSEMBLY 110
ASSEMBLY 113
RELEASE 117
SPECIAL TOOLS 118
T1 118
T2 119
ASM-0004E – 112 Axle Service Manual Dana Holding Corporation 5
NORMAL DIFFERENTIAL UNIT 121
EXPLODED VIEW 121
DISASSEMBLY 122
ASSEMBLY 124
SPECIAL TOOLS 127
LIMITED SLIP DIFFERENTIAL UNIT (25% AND 45%) 131
EXPLODED VIEW 131
DISASSEMBLY 132
ASSEMBLY 135
SPECIAL TOOLS 138
HYDRAULIC DIFFERENTIAL LOCK 141
EXPLODED VIEW 141
DISASSEMBLY 142
ASSEMBLY 145
SPECIAL TOOLS 147
T1 147
T2 147
HYDRAULIC NEGATIVE BRAKE 149
EXPLODED VIEW 149
DISASSEMBLY 150
ASSEMBLY 153
VIDEO PREVIEW OF THE MANUAL:
PLEASE NOTE:
This is not a physical manual but a digital manual – meaning no physical copy will be couriered to you. The manual can be yours in the next 2 mins as once you make the payment, you will be directed to the download page IMMEDIATELY.
This is the same manual used by the dealers inorder to diagnose your vehicle of its faults.
Require some other service manual or have any queries: please WRITE to us at [email protected]
S.V