Lull Jlg 644b 844c 1044c Service Manual
FILE DETAILS:
LANGUAGE:ENGLISH
PAGES:636
DOWNLOADABLE:YES
FILE TYPE:PDF
VIDEO PREVIEW OF THE MANUAL:
IMAGES PREVIEW OF THE MANUAL: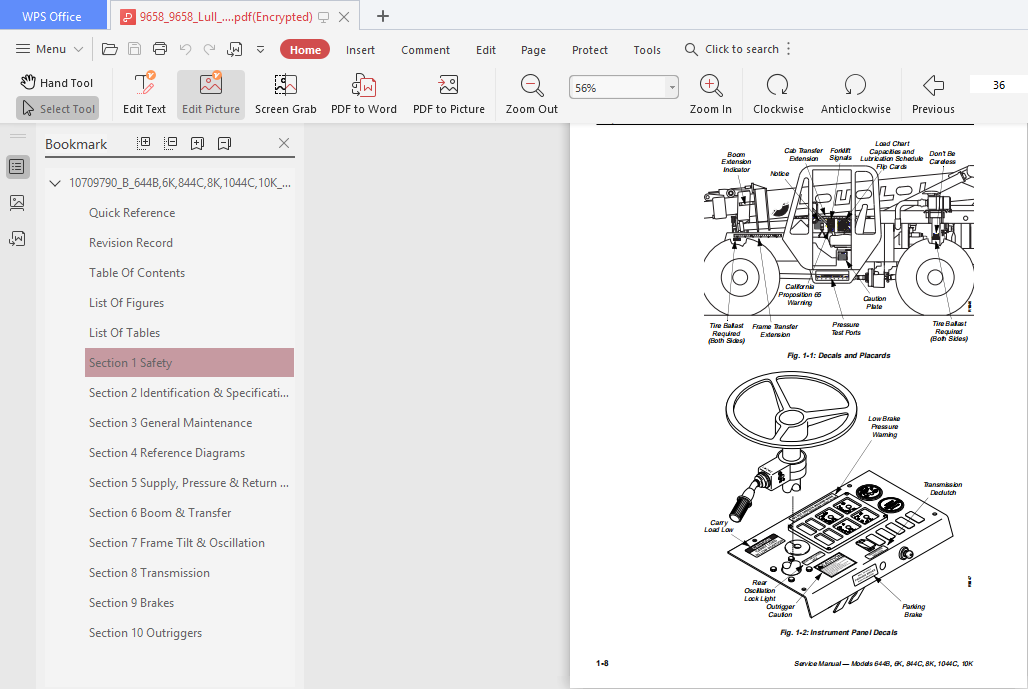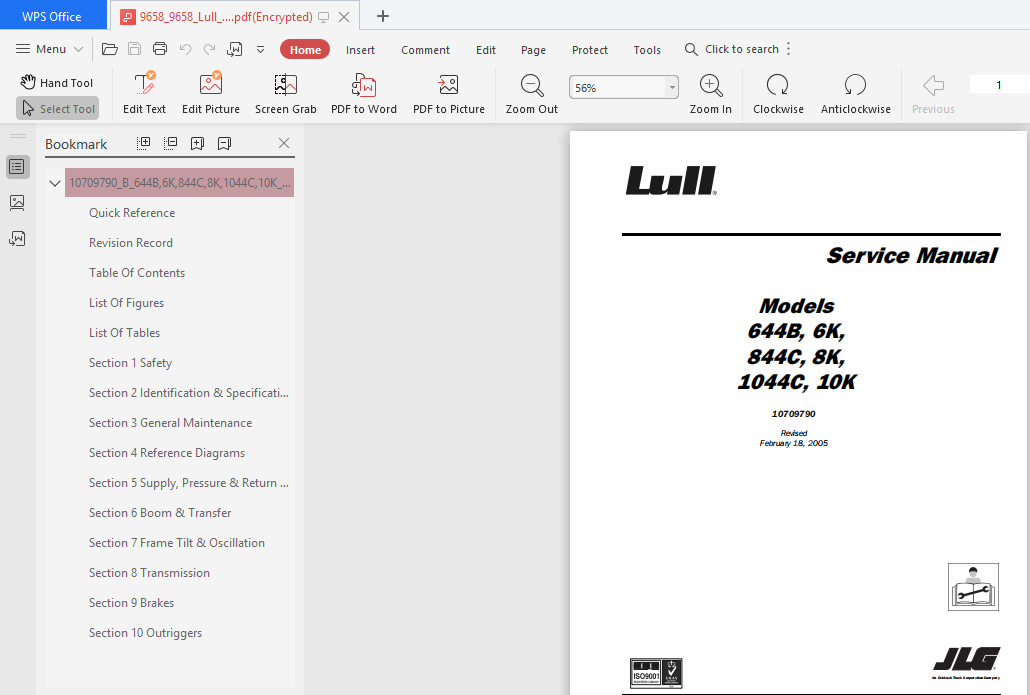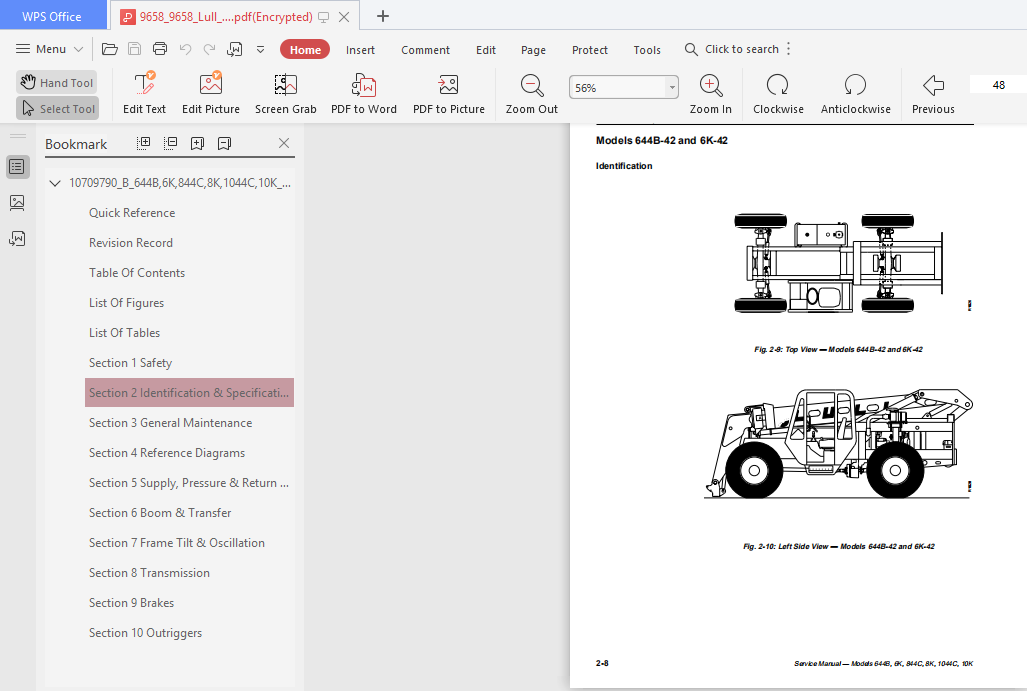 DESCRIPTION:
Lull Jlg 644b 844c 1044c Service Manual
General Instructions: Performance of your machine is dependent on proper maintenance and lubrication at designated intervals. Proper operating procedures and a regularly scheduled maintenance and lubrication program will increase the life of machine components and reduce machine down time. Should a defect or failure occur to your machine, take it out of service immediately. The machine must not continue to operate under any circumstances as serious damage to the machine or personal injury may result. Attach a warning tag to the steering wheel of the forklift. If the forklift should not be started, remove the ignition key. Before doing any maintenance or repair work, get permission.
Do not perform any maintenance without authorization. If you have been authorized to do maintenance, read the service manual, study the instructions, and examine all the instructions and messages on the machine. When performing inspection, maintenance, lubrication, or adjustments to the machine, be alert to evidence of excessive wear including odors and noises that may indicate damage, malfunction, or other maintenance problems. Service Preparation Procedures
 Choose a clean, level work area. Check clearances and make sure you have sufficient room. Make certain there is adequate light and ventilation. • Park machine on level surface, set the parking brake, level the frame, and shut off the engine.
 Clean the walking and working surfaces. Remove oil, grease, ice, snow, mud, and water to eliminate slippery areas. Sand any remaining slippery areas. • Make sure you have the correct tools. Keep tools clean and inspect power cords.
 Make sure jacks and hoists are available and in good condition. Never use jacks with cracked, bent, or twisted parts. Never use frayed, twisted, or pinched cables. Never use bent or distorted hooks.
 Make use of mechanical assists. To protect your back from possible injury, use proper lifting methods.
TABLE OF CONTENTS:
Lull Jlg 644b 844c 1044c Service Manual
Section 1 — Safety
General1-1
Caution, Warning, and Danger1-1
Safety Standard 1-2
Maintenance Safety 1-2
General 1-2
Mounting and Dismounting1-2
Before Servicing the Machine1-2
Fuel Hazards 1-3
Engine Coolant Hazards1-3
Hydraulic System Hazards 1-4
Electrical System Hazards 1-4
Tire and Wheels Hazards 1-5
Rollover Protective Structure (ROPS) and Falling Object Protective Structure (FOPS)1-6
Decals and Placards1-6
General 1-6
Cleaning Decals 1-6
Attaching Decals1-7
Decal Locations 1-7
Section 2 — Identification and Specifications
Serial Number Locations2-1
Machine Serial Number 2-1
Engine Serial Number, John Deere2-2
Engine Serial Number, Cummins2-2
Axle Serial Number2-3
Attachment Serial Number Plate2-3
Models 644B-37 and 6K-372-4
Identification2-4
Specifications 2-5
Models 644B-42 and 6K-422-8
Identification2-8
Specifications 2-9
Models 844C-42 and 8K-42 2-12
Identification 2-12
Specifications2-13
Models 1044C-42 and 10K-42 2-16
Identification 2-16
Specifications2-17
Models 1044C-54 and 10K-54 2-20
Identification 2-20
Specifications2-21
2 Service Manual — Models 644B, 6K, 844C, 8K, 1044C, 10K
Table of Contents
Engine Specifications2-24
John Deere 4039D2-24
John Deere 4039T2-24
John Deere 4045T2-24
John Deere 6068D2-25
Cummins 4B392-25
Cummins 4BT39 2-25
Cummins 4BT39 (EPA)2-26
Cummins 6B592-26
Section 3 — General Maintenance
General Instructions3-1
Service Preparation Procedures 3-1
Service And Repair Procedures3-2
Replacement Parts 3-3
General 3-3
Lubrication3-3
General 3-3
Fluid and Lubricant Specifications 3-4
General Specifications3-4
Engine Oil Specifications3-4
Transmission Oil Specifications 3-5
Fuel Requirements 3-6
Grease3-6
Hydraulic Oil3-7
Care and Cleaning3-7
Cleaning Exterior Surfaces3-7
Cleaning the Cab3-8
Cleaning Decals 3-8
Attaching Decals3-8
Storage3-9
Preparing the Machine for Long-Term Storage 3-9
Preparing the Machine After Long-Term Storage 3-9
Torque Specifications3-10
General Torques for Standard Bolts, Capscrews, and Nuts 3-10
Hydraulic Fitting Torques 3-13
Jump Starting Procedures 3-15
Conversion Charts 3-17
Service Manual — Models 644B, 6K, 844C, 8K, 1044C, 10K 3
Table of Contents
Section 4 — Reference Diagrams
Schematic, Model 644B w/ Naturally Aspirated Engine, Control Manifold Hydraulic System Diagram 1
Schematic, Model 644B w/ Naturally Aspirated Engine, Mid-Inlet Hydraulic SystemDiagram 2
Pump Unloader Valve Operation, Mid-Inlet Hydraulic System Diagram 3
Schematic, Models 644B, 844C, 1044C-42 w/ Turbocharged Engine, Mid-Inlet Hydraulic Sys Diagram 4
Schematic, Model 1044C-54, Mid-Inlet Hydraulic SystemDiagram 5
Electrical Diagram, Models 644B and 6K w/ Control Manifold Hydraulic SystemDiagram 6
Rear Oscillation Lock System Operation, Control Manifold Hydraulic System Diagram 7
Boom/Transfer Extend Lockout Circuit Operation, Control Manifold Hydraulic SystemDiagram 8
Rear Oscillation Lock System Operation, Mid-Inlet Hydraulic System Diagram 9
Rear Axle Stabilizer Control Valve Operation, Mid-Inlet Hydraulic SystemDiagram 10
Boom/Transfer Extend Lockout Circuit Operation, Mid-Inlet Hydraulic System Diagram 11
Electrical Diagram, ZF DW-2/EST-19 System Harness Diagram 12
Electrical Diagram, ZF DW-3 System HarnessDiagram 13
Section 5 — Supply, Pressure, and Return Hydraulics
General5-1
Major System Components5-1
General Description5-1
Hydraulic Systems 5-3
General Hydraulic Maintenance Practices5-4
Safe Maintenance Practices 5-4
Cleanliness5-5
Checking Hydraulic Lines5-5
Hydraulic Reservoir 5-6
Description 5-6
Filling Hydraulic Reservoir 5-8
Reservoir Drain and Refill5-11
Removal5-13
Installation5-15
Sight Gauge 5-16
Description5-16
Removal5-17
Installation5-18
Suction Strainer 5-19
Description5-19
Removal and Cleaning 5-20
Installation5-21
Hydraulic Return Filter 5-22
Description5-22
Checking Filter Condition 5-22
Replacing Return Filter Element 5-23
Removal5-26
Installation5-27
4 Service Manual — Models 644B, 6K, 844C, 8K, 1044C, 10K
Table of Contents
Reservoir Breather5-27
Description5-27
Removal and Installation 5-28
Hydraulic Pressure Filter 5-28
Description5-28
Checking Filter Element Condition5-29
Replacing Pressure Filter Element 5-30
Removal5-31
Installation5-32
Hydraulic Pump 5-33
Description5-33
Troubleshooting Pump Problems 5-34
Removal5-35
Installation5-40
Checking Pump Flow Rate5-43
Multi-Spool Control Valve5-45
Description5-45
Removal5-49
Installation5-49
Overhaul5-50
Hydraulic Control Manifold 5-64
Description5-64
Control Valve Functions5-67
Hydraulic Manifold Assembly Functions5-70
Removal5-71
Overhaul5-72
Installation5-76
Pump Unloader Valve5-77
General5-77
Removal5-78
Overhaul5-79
Mid-Inlet Control Valve 5-81
Description5-81
Removal5-85
Installation5-86
Rear Axle Stabilizer Control Valve5-86
Description5-86
Removal, Rear Axle Stabilizer Control Valve5-89
Boom Extend Lockout Valve5-91
Description5-91
Hydraulic Diagnostic Ports 5-91
General5-91
Roll-Back Hose Tray 5-93
General5-93
Removal5-94
Installation5-97
Service Manual — Models 644B, 6K, 844C, 8K, 1044C, 10K 5
Table of Contents
Section 6 — Boom and Transfer
Boom and Transfer Hydraulics6-1
General Description6-1
Joystick Controls 6-2
General Description6-2
Removal 6-3
Installation 6-4
Disassembly6-5
Hydraulic Cylinders 6-9
Description 6-9
Checking Cylinder Condition6-10
Boom Hoist Cylinder 6-11
Description6-11
Removal6-12
Installation6-13
Overhaul6-14
Front Carriage Tilt Cylinder 6-17
Description6-17
Removal6-18
Installation6-19
Overhaul6-20
Rear Carriage Tilt Cylinder 6-23
Description6-23
Removal6-24
Installation6-25
Overhaul6-26
Boom Hydraulic Control Valve (Control Manifold System)6-28
Description6-28
Removal6-29
Installation6-31
Overhaul6-31
Selector Valve (Control Manifold System) 6-38
Description6-38
Removal6-39
Installation6-40
Overhaul6-41
Selector Valve (Mid-Inlet System) 6-43
Description6-43
Removal6-44
Installation6-45
Overhaul6-45
Troubleshooting 6-47
6 Service Manual — Models 644B, 6K, 844C, 8K, 1044C, 10K
Table of Contents
Boom Slide Pads — General6-48
Description6-48
Slide Pad Inspection6-48
Lubrication6-50
Slide Area Surface Finish 6-50
Replacing and Shimming Boom Slide Pads — General 6-52
Quick Attach6-54
Description6-54
Disconnecting an Attachment 6-54
Connecting an Attachment6-56
Removal6-58
Installation6-59
Boom Angle Inclinometer6-60
Description6-60
Replacement6-60
2-Section Boom 6-61
Description6-61
Shimming Procedures 6-61
Inspection Procedures 6-67
Removal6-69
Installation6-72
Disassembly 6-73
Assembly 6-79
Extension Cylinder6-80
3-Section Boom 6-90
Description6-90
Shimming Procedures 6-91
Inspection Procedures 6-97
Removal and Disassembly6-98
Assembly and Installation 6-118
Extension Cylinder 6-139
4-Section Boom6-145
Description 6-145
Shimming Procedures6-146
Inspection Procedures6-151
Boom Removal6-153
installation 6-160
Boom Disassembly6-161
Assembly6-182
Extension Cylinder 6-207
Boom Extension Proximity Switch 6-213
Description 6-213
Removal 6-214
Installation 6-215
Adjustments6-215
Service Manual — Models 644B, 6K, 844C, 8K, 1044C, 10K 7
Table of Contents
Transfer Carriage 6-216
Description 6-216
Removal 6-217
Installation 6-223
Rollers, Bushings, and Shims6-225
Boom Cradle 6-231
Description 6-231
Removal 6-231
Installation 6-237
Shims and Bushings 6-238
Transfer Cylinder 6-243
Description 6-243
Removal 6-244
Installation 6-245
Overhaul 6-246
Section 7 — Frame Tilt and Oscillation
Frame Tilt System7-1
General Description7-1
Circuit Description 7-2
Frame Tilt Control Valve 7-3
Description 7-3
Removal 7-4
Installation 7-5
Overhaul 7-6
Frame Tilt Cylinder 7-9
Description 7-9
Removal7-10
Installation7-11
Overhaul7-13
Counterbalance Valve Cartridge 7-16
Frame Level Indicator7-17
Description7-17
Adjustment7-17
Rear Oscillation Lock System7-18
General Description, Models with Control Manifold Hydraulics7-18
Theory of Operation and Circuit Logic 7-19
Testing Rear Oscillation Lock Circuit7-23
Rear Oscillation Lock Cylinder 7-24
Description7-24
Removal7-25
Installation7-26
Overhaul7-28
8 Service Manual — Models 644B, 6K, 844C, 8K, 1044C, 10K
Table of Contents
Oscillation Control Block 7-31
Description7-31
Removal7-33
Installation7-35
Overhaul7-36
Frame Tilt Lockout Valve 7-39
Description7-39
Removal7-40
Installation7-41
Overhaul7-41
Boom Elevation Proximity Switch 7-43
Description7-43
Removal7-44
Installation7-44
Adjustment7-45
Section 8 — Transmission
Description8-1
ZF Transmission with DW-2 Shifter8-1
ZF Transmission with DW-3 Shifter8-2
Troubleshooting and Test Procedures8-4
Troubleshooting Options8-4
Testing ZF Transmission Electrical System8-6
DW-2 Shifter System Tests8-7
DW-3 Shifter System Tests 8-10
Park Brake Pressure Switch8-17
Service Brake Pressure Switch8-18
Rear Oscillation Lock Proximity Switch and Relay8-20
ZF Transmission Pressure Checks 8-23
Section 9 — Brakes
Service Brakes 9-1
Description, Models with Control Manifold Hydraulics9-1
Brake Testing and Bleeding9-2
Service Brake Pedal and Valve 9-6
Adjustment 9-6
Removal 9-9
Disassembly 9-11
Reassembly 9-12
Service Brake Adjustment Procedures9-13
Service Brake Pressure Switch Replacement 9-16
Service Manual — Models 644B, 6K, 844C, 8K, 1044C, 10K 9
Table of Contents
Accumulator9-18
General9-18
Precautions 9-19
Pre-Charging Accumulator9-19
Checking Pre-charge9-21
Removal9-23
Overhaul9-25
Installation9-27
Park Brake9-28
Inspection 9-29
Park Brake Pressure Switch9-30
Installation, Park Brake Pressure Switch 9-32
Valve Removal, Park Brake 9-33
Valve Installation, Park Brake9-35
Cylinder Removal 9-36
Cylinder Installation 9-39
Adjustment, Park Brake9-40
Drum Brake Repair/Replacement9-42
Section 10 — Outriggers
Outriggers10-1
General10-1
Removal10-2
Installation10-3
Outrigger Cylinders10-5
General10-5
Removal10-6
Installation10-7
Overhaul10-8
Differential Pressure Switch 10-10
Description 10-10
Boom Extension Proximity Switch 10-11
Description 10-11
Removal 10-12
Installation 10-13
Adjustments10-13
Outrigger Control Valves10-14
Description 10-14
Removal 10-15
Installation 10-16
PLEASE NOTE:
This is the same manual used by the DEALERSHIPS to SERVICE your vehicle.
The manual can be all yours – Once payment is complete, you will be taken to the download page from where you can download the manual. All in 2-5 minutes time!!
Need any other service / repair / parts manual, please feel free to contact us at heydownloadss @gmail.com . We may surprise you with a nice offer