Linkbelt 135 SPIN ACE TIER III OPERATOR'S MANUAL 1207 – PDF DOWNLOAD
IMAGES PREVIEW OF THE MANUAL: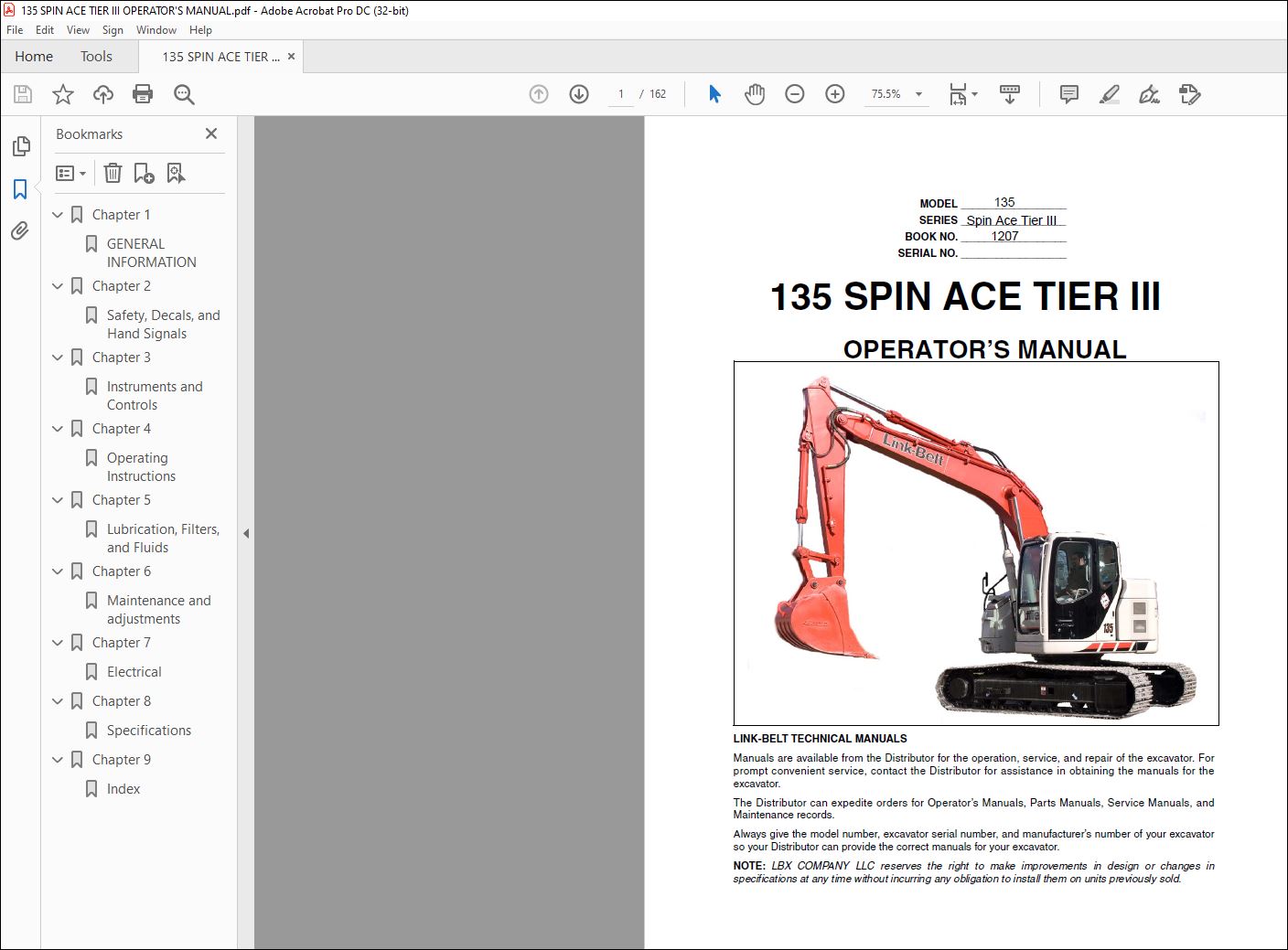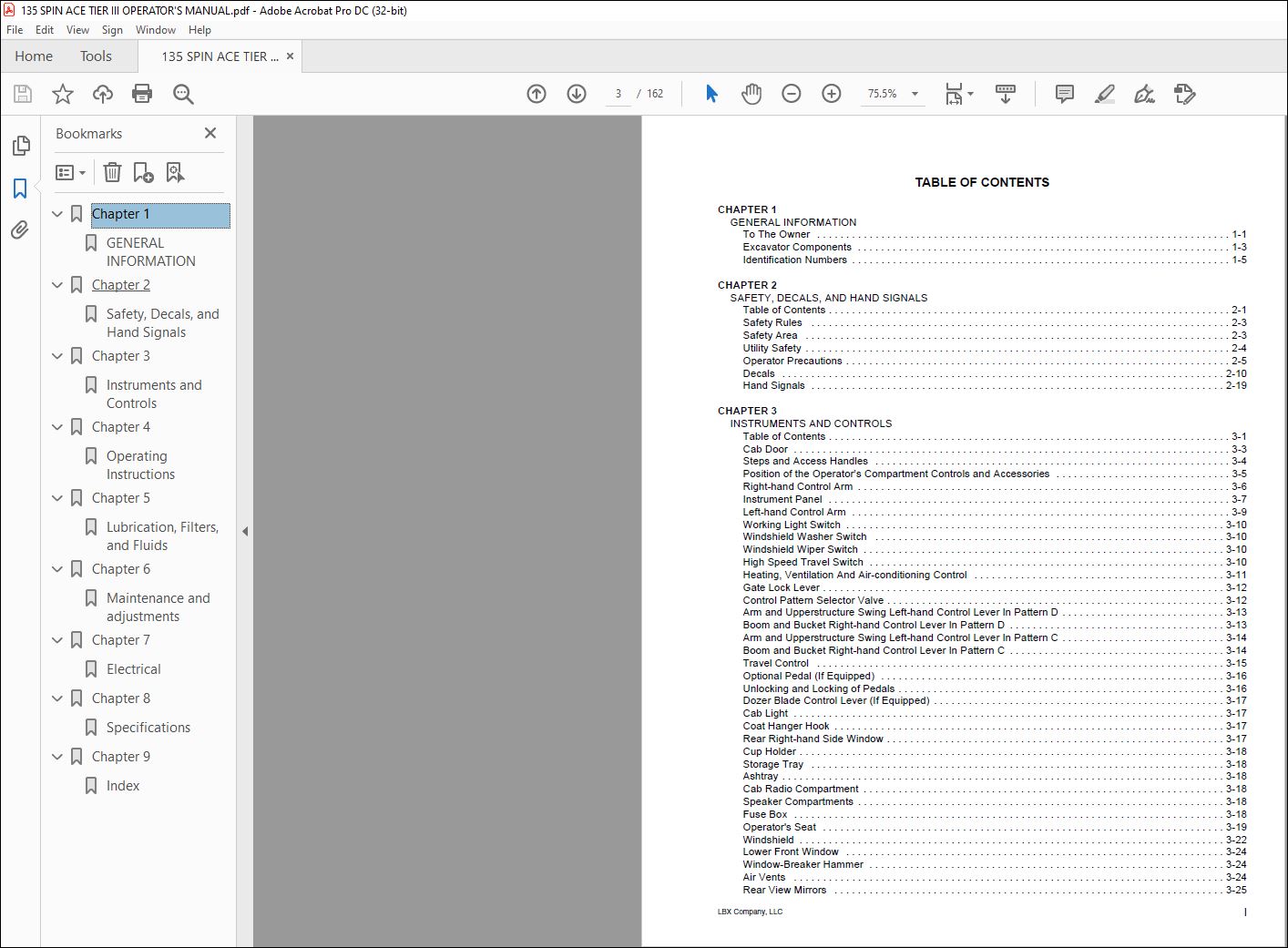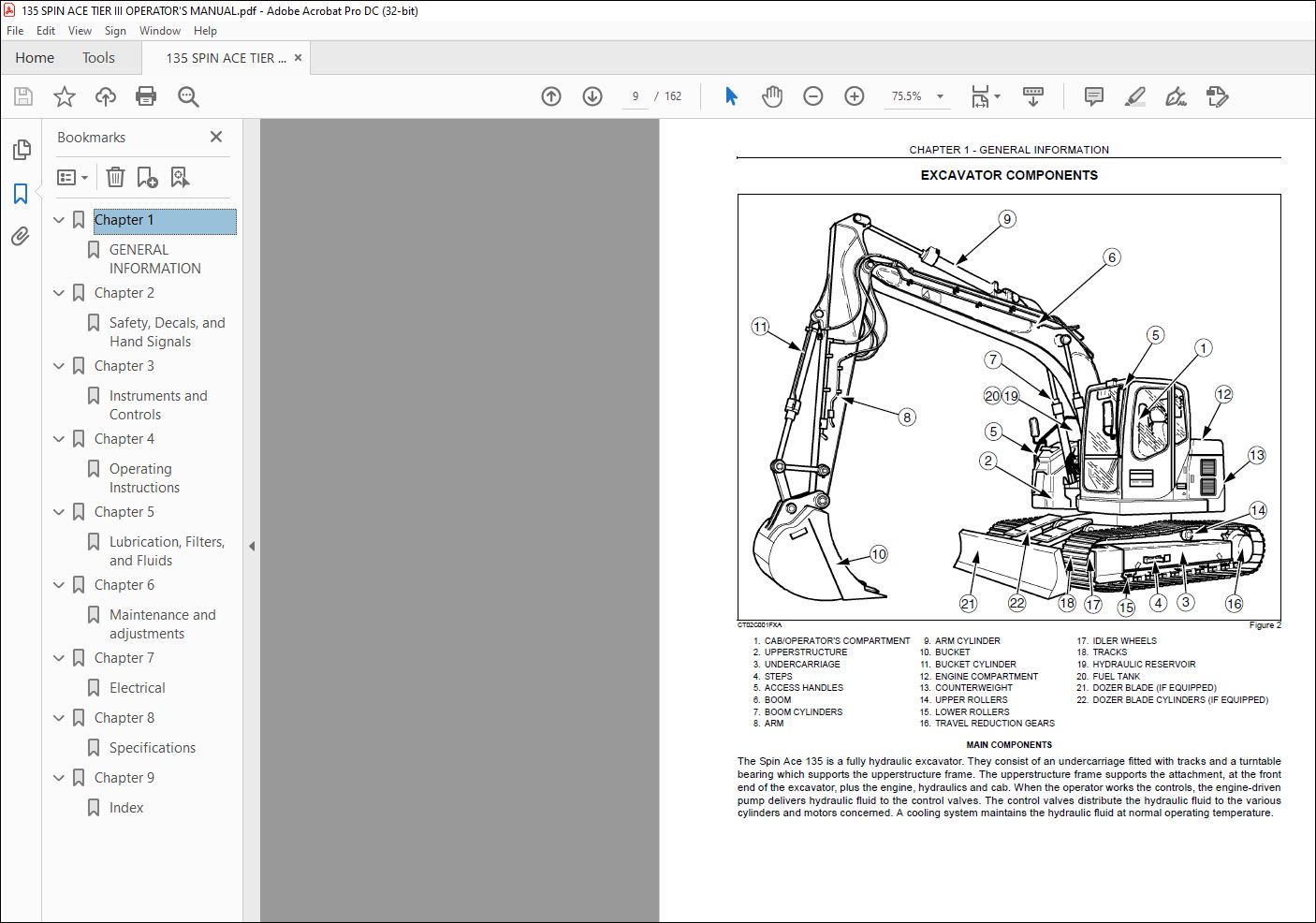 DESCRIPTION:
Linkbelt 135 SPIN ACE TIER III OPERATOR'S MANUAL 1207 – PDF DOWNLOAD
GENERAL INFORMATION
TO THE OWNER:
HYDRAULIC CRAWLER EXCAVATOR SPIN ACE 135
This excavator has been designed and built to the highest standards of quality. It conforms to all current safety
regulations. However, the risk of accidents can never be completely excluded. That is why it is essential to observe
elementary safety rules and precautions.
Read this manual carefully, paying particular attention to the instructions concerning safety, operation and
maintenance so as to avoid the risk of injury while operating or servicing the excavator.
The standard attachments and tools of this excavator are designed to carry out all kinds of earthmoving and
rehandling operations. If you want to use this excavator to handle a load (pipes, culverts, formwork, etc.), make
sure that it is designed to carry out this kind of work.
Do not use this excavator for any application or purpose other than those described in this manual. If the excavator
is to be used for work involving the use of special attachments, accessories or equipment, consult your LBX
Link-Belt dealer in order to make sure that any adaptations or modifications made are in keeping with the
excavator's technical specifications and with prevailing safety requirements.
Any modification or adaptation which is not approved by the manufacturer may invalidate the excavator's initial
conformity with safety requirements.
The excavator must undergo regular inspections, the frequency of which varies according to the type of use.
Consult your LBX Link-Belt dealer.
TABLE OF CONTENTS:
Linkbelt 135 SPIN ACE TIER III OPERATOR'S MANUAL 1207 – PDF DOWNLOAD
CHAPTER 1
GENERAL INFORMATION
To The Owner1-1
Excavator Components 1-3
Identification Numbers1-5
CHAPTER 2
SAFETY, DECALS, AND HAND SIGNALS
Table of Contents 2-1
Safety Rules 2-3
Safety Area 2-3
Utility Safety 2-4
Operator Precautions 2-5
Decals 2-10
Hand Signals2-19
CHAPTER 3
INSTRUMENTS AND CONTROLS
Table of Contents 3-1
Cab Door 3-3
Steps and Access Handles 3-4
Position of the Operator's Compartment Controls and Accessories 3-5
Right-hand Control Arm 3-6
Instrument Panel 3-7
Left-hand Control Arm3-9
Working Light Switch3-10
Windshield Washer Switch 3-10
Windshield Wiper Switch3-10
High Speed Travel Switch 3-10
Heating, Ventilation And Air-conditioning Control 3-11
Gate Lock Lever 3-12
Control Pattern Selector Valve 3-12
Arm and Upperstructure Swing Left-hand Control Lever In Pattern D 3-13
Boom and Bucket Right-hand Control Lever In Pattern D 3-13
Arm and Upperstructure Swing Left-hand Control Lever In Pattern C 3-14
Boom and Bucket Right-hand Control Lever In Pattern C 3-14
Travel Control 3-15
Optional Pedal (If Equipped)3-16
Unlocking and Locking of Pedals3-16
Dozer Blade Control Lever (If Equipped)3-17
Cab Light3-17
Coat Hanger Hook 3-17
Rear Right-hand Side Window 3-17
Cup Holder 3-18
Storage Tray3-18
Ashtray 3-18
Cab Radio Compartment3-18
Speaker Compartments 3-18
Fuse Box3-18
Operator's Seat 3-19
Windshield 3-22
Lower Front Window3-24
Window-Breaker Hammer 3-24
Air Vents3-24
Rear View Mirrors 3-25
II LBX Company, LLC
Fuel Tank 3-25
Engine Hood3-25
Side Doors 3-26
Right-hand Front Side Door3-26
Rotating Beacon Cable 3-27
Towing Point3-27
Lifting Eyes 3-27
Windshield Washer Reservoir 3-27
Tool Supply Valves (Optional) 3-28
Tool Flow Selector Valve (Optional)3-28
CHAPTER 4
OPERATING INSTRUCTIONS
Table of Contents4-1
Before Operating the Excavator 4-3
Operating the excavator 4-3
Run-in Period4-4
Starting the Engine 4-4
Bringing the excavator up to Operating Temperature4-6
Engine Operation4-6
Stopping the Engine 4-7
Operating the Excavator in Cold Weather 4-8
Operating the Excavator in Hot Weather4-8
Basic Operation 4-8
Excavator Travel 4-9
Transport Position For 285 M Arm 4-11
Transporting the Excavator 4-12
Handling the Excavator 4-15
Operating the Excavator In Water 4-15
Parking the Excavator 4-15
Operating the Excavator on Sloping Ground 4-16
Towing the Excavator 4-17
Operating the Bucket 4-18
Lowering The Attachment In The Event Of A Excavator Failure 4-18
Excavator Storage 4-21
CHAPTER 5
LUBRICATION, FILTERS, AND FLUIDS
Table of Contents5-1
Servicing Instructions5-3
Daily Inspections 5-4
Hourmeter5-4
Lubrication Chart For 135 Spin Ace With Blade 5-5
Lubrication Chart For 135 Spin Ace Without Blade 5-6
Fluids and Lubricants5-7
Fluid and Lubricant Capacities and Specifications 5-9
Greasing the Turntable Teeth 5-12
Fluid Levels 5-13
Engine 5-14
Level5-14
Cooling System 5-15
Fuel System5-17
Releasing Pressure in the Hydraulic System 5-22
Hydraulic System 5-23
Air Filter 5-30
Swing Reduction Gear 5-33
Travel Reduction Gears5-34
LBX Company, LLC III
CHAPTER 6
MAINTENANCE AND ADJUSTMENTS
Table of Contents 6-1
Tracks6-3
Checking the Condition of Rubber Tracks (If Equipped) 6-6
Replacing the Rubber Tracks6-6
Track Rollers and Idler Wheels 6-8
Radiator and Oil Cooler 6-9
Fan and Alternator Drive Belt6-10
Fuel Tank Filter 6-11
Inspecting and Cleaning the Excavator 6-11
Checking for Cylinder Leakage 6-11
Replacing a Bucket 6-12
Fire Extinguisher (Not Supplied)6-13
Welding on the Excavator 6-13
Plastic and Resin Parts 6-13
Air Conditioning 6-14
Hardware Torque Inspection6-16
CHAPTER 7
ELECTRICAL
Table of Contents 7-1
Fuses 7-3
Battery7-4
Connecting One Or Two Booster Batteries 7-6
Alternator 7-6
Starter Motor 7-6
Replacing a Bulb 7-7
Adjusting The Working Lights7-8
CHAPTER 8
SPECIFICATIONS
Table of Contents 8-1
Engine8-3
Electrical Systems8-3
Hydraulic System 8-3
Undercarriage8-4
Capacity of Systems and Components 8-4
Weights 8-4
Boom 8-4
Arms 8-4
Digging Force8-4
Excavator Overall Dimensions8-5
Working Range 8-7
Lifting Capacities 8-9
CHAPTER 9
INDEX
VIDEO PREVIEW OF THE MANUAL:
PLEASE NOTE:
This is the SAME exact manual used by your dealers to fix your vehicle.
The same can be yours in the next 2-3 mins as you will be directed to the download page immediately after paying for the manual.
Any queries / doubts regarding your purchase, please feel free to contact [email protected]
I.G