Linkbelt 130-160 LX EXCAVATOR OPERATOR'S MANUAL – PDF DOWNLOAD
IMAGES PREVIEW OF THE MANUAL: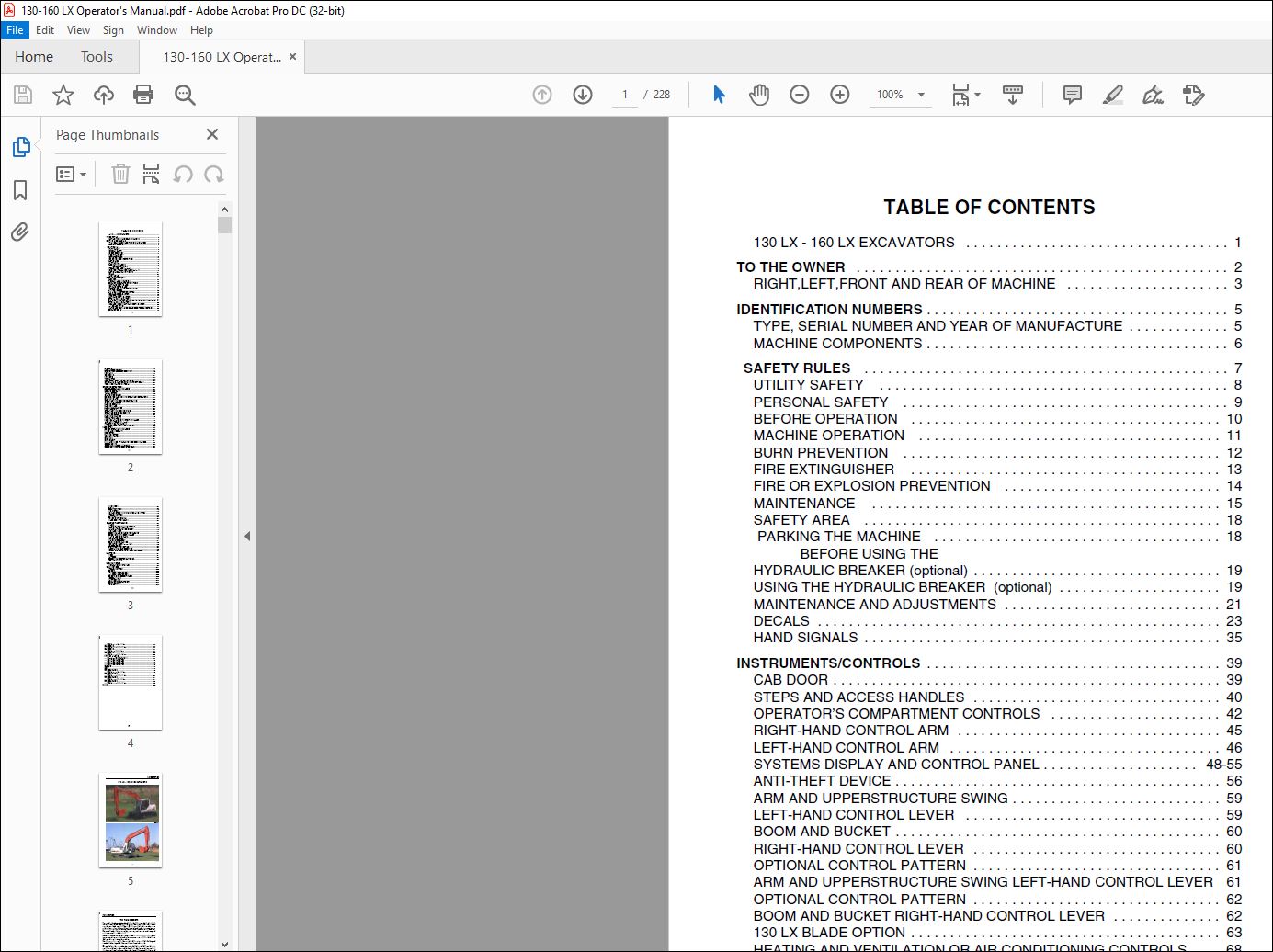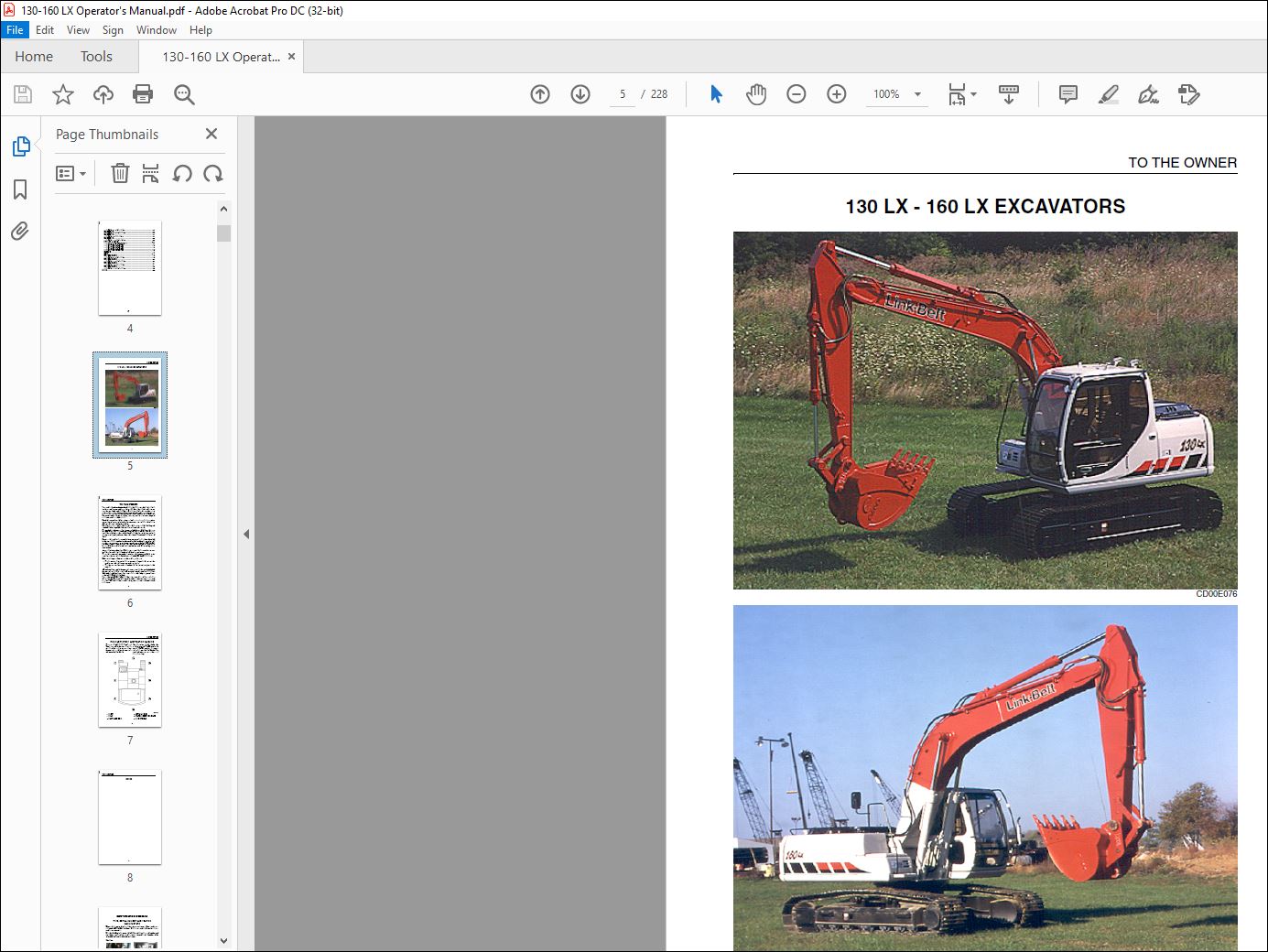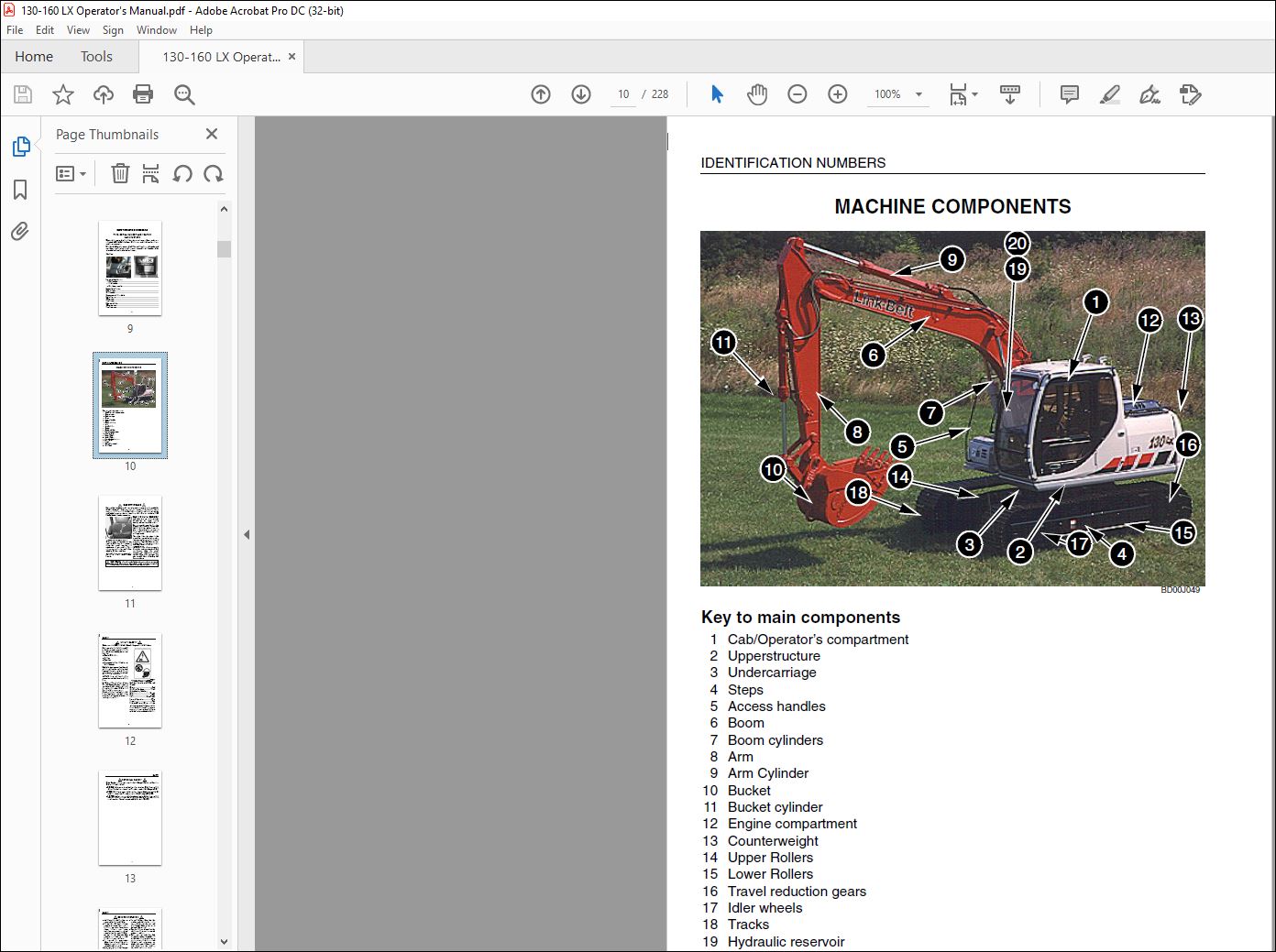 DESCRIPTION:
Linkbelt 130-160 LX EXCAVATOR OPERATOR'S MANUAL – PDF DOWNLOAD
TO THE OWNER:
Your machine has been designed and built to the highest standards of quality. It
conforms to all current safety regulations. However, the risk of accidents can
never be completely excluded. That is why it is essential to observe elementary
safety rules and precautions. Hazard control and accident prevention are
dependent upon the awareness, concern and prudence of the operator.
Personnel involved in the operation, transport, maintenance and storage of
equipment must be sutiably trained.
Read this manual carefully, paying particular attention to the instructions
concerning safety, operation and maintenance so as to avoid the risk of injury
while operating or servicing the machine.
Use this manual as a guide. Your machine will remain a reliable working tool
provided it is kept in good working condition and serviced properly.
The standard attachments and equipment available for use with this machine are
intended for general earthmoving purposes, material rehandling, ditch cleaning,
etc. If the machine is to be used for handling loads, (concrete pipe sections,
shoring material, etc.), make sure the machine is suitably equipped for this type of
work.
Do not use this machine for any application or purpose other than those described
in this manual. If the machine is to be used for work involving the use of special
attachments, accessories or equipment, consult your authorized LBX Link-Belt
distributor in order to make sure that any adaptations or modifications made are in
keeping with the machine's technical specifications and with prevailing safety
requirements.
Any modification or adaptation which is not approved by the manufacturer may
invalidate the machine's initial conformity with safety requirements.
The machine must undergo regular inspections, the frequency of which varies
according to the type of use. Consult your authorized LBX Link-Belt distributor.
Before permitting a new operator on this machine, make sure:
1. That the operator has received the necessary training on how to operate the
machine correctly and from an approved organization
2. That the operator has read and understood the instructions given in this
manual.
Always keep this manual in the operator's compartment (in the seat back, behind
the operator's seat). Make sure it is always complete and in good condition. If you
wish to obtain additional manuals, or manuals in another language, consult your
authorized LBX Link-Belt distributor.
Your authorized LBX Link-Belt distributor is at your disposal for any further
information. He will also provide any after-sales service you may require, and
genuine LBX Link-Belt parts and service, your guarantee of quality and
performance.
TABLE OF CONTENTS:
Linkbelt 130-160 LX EXCAVATOR OPERATOR'S MANUAL – PDF DOWNLOAD
130 LX – 160 LX EXCAVATORS 1
TO THE OWNER 2
RIGHT,LEFT,FRONT AND REAR OF MACHINE 3
IDENTIFICATION NUMBERS 5
TYPE, SERIAL NUMBER AND YEAR OF MANUFACTURE 5
MACHINE COMPONENTS 6
SAFETY RULES7
UTILITY SAFETY 8
PERSONAL SAFETY 9
BEFORE OPERATION 10
MACHINE OPERATION 11
BURN PREVENTION12
FIRE EXTINGUISHER 13
FIRE OR EXPLOSION PREVENTION 14
MAINTENANCE 15
SAFETY AREA 18
PARKING THE MACHINE 18
BEFORE USING THE
HYDRAULIC BREAKER (optional)19
USING THE HYDRAULIC BREAKER (optional) 19
MAINTENANCE AND ADJUSTMENTS 21
DECALS 23
HAND SIGNALS 35
INSTRUMENTS/CONTROLS39
CAB DOOR39
STEPS AND ACCESS HANDLES40
OPERATOR'S COMPARTMENT CONTROLS 42
RIGHT-HAND CONTROL ARM 45
LEFT-HAND CONTROL ARM46
SYSTEMS DISPLAY AND CONTROL PANEL48-55
ANTI-THEFT DEVICE 56
ARM AND UPPERSTRUCTURE SWING 59
LEFT-HAND CONTROL LEVER 59
BOOM AND BUCKET 60
RIGHT-HAND CONTROL LEVER60
OPTIONAL CONTROL PATTERN61
ARM AND UPPERSTRUCTURE SWING LEFT-HAND CONTROL LEVER 61
OPTIONAL CONTROL PATTERN62
BOOM AND BUCKET RIGHT-HAND CONTROL LEVER62
130 LX BLADE OPTION 63
HEATING AND VENTILATION OR AIR CONDITIONING CONTROLS 68
OPERATOR'S SEAT 72
WINDSHIELD 75
LOWER FRONT WINDOW 77
REAR WINDOW AND EMERGENCY EXIT 78
FUEL TANK 79
SIDE DOORS 81
LIFTING EYE 84
TOWING EYES 85
HOSE BURST CHECK VALVES (OPTIONAL) 86
OPTIONAL TOOL FLOW SELECTOR VALVE (OPTIONAL))86
TOOL SUPPLY VALVES (OPTIONAL) 87
OPERATING INSTRUCTIONS 89
BEFORE OPERATING THE MACHINE 89
MACHINE OPERATION 90
BREAK-IN PERIOD 92
VANDAL COVERS93
STARTING THE ENGINE 94
BRINGING THE MACHINE UP TO OPERATING TEMPERATURE 97
ENGINE OPERATION98
OPERATING THE MACHINE IN COLD WEATHER 99
STOPPING THE ENGINE 100
MACHINE OPERATION 101
MACHINE TRAVEL 103
HANDLING THE MACHINE 106
LOAD HANDLING 106
OPERATING THE MACHINE IN WATER 108
OPERATING ON SLOPING GROUND 108
FILLING THE BUCKET 109
PARKING THE MACHINE 110
TOWING THE MACHINE111
LOWERING ATTACHMENT IN EVENT OF FAILURE 112
AUXILIARY HYDRAULIC (optional) 113
TRANSPORTING THE MACHINE 118
130 LX LONG ARM TRANSPORT POSITION 123
LUBRICATION 125
BEFORE OPERATING THE MACHINE 125
FLUIDS AND LUBRICANTS 125
HOURMETER127
DAILY INSPECTION127
SERVICE INTERVALS 129
ENGINE OIL 131
ENVIRONMENT 131
FLUID AND LUBRICANT CAPACITIES AND SPECIFICATIONS 132
GREASE POINTS 133
GREASING THE TURNTABLE TEETH 136
GREASING THE SWING REDUCTION GEAR 136
III
FLUID LEVELS 137
ENGINE 139
COOLING SYSTEM 142
FUEL SYSTEM 145
RELEASING PRESSURE IN THE HYDRAULIC SYSTEM 147
HYDRAULIC SYSTEM 149
AIR FILTER 160
SWING REDUCTION GEAR164
TRAVEL REDUCTION GEARS 167
ADJUSTMENT/MAINTENANCE 169
TRACKS 169
TRACK ROLLERS AND IDLER WHEELS 173
RADIATOR AND OIL COOLER 174
FAN AND ALTERNATOR DRIVE BELT 175
FUEL TANK FILTER 177
INSPECTING AND CLEANING THE MACHINE177
CHECKING FOR CYLINDER LEAKAGE178
PLASTIC AND RESIN PARTS 178
REPLACING A BUCKET179
SHIMMING THE BUCKET 181
WELDING ON THE MACHINE 182
FIRE EXTINGUISHER (not supplied)182
AIR CONDITIONING183
ENGINE TROUBLESHOOTING 186
HARDWARE TORQUE INSPECTION 188
TORQUE AND SPECIFICATIONS PER COMPONENT189
ELECTRICAL 191
FUSES 191
BATTERIES 193
CONNECTING BOOSTER BATTERIES195
REPLACING A BULB196
MACHINE STORAGE 199
PREPARATION FOR STORAGE199
SPECIFICATIONS 201
HYDRAULIC SYSTEM 202
WEIGHTS202
130 LX OPERATING WEIGHT 202
160 LX OPERATING WEIGHT 202
WEIGHTS OF COMPONENT PARTS 202
UNDERCARRIAGE 203
SAFETY DEVICES 203
OPERATOR'S COMPARTMENT203
OPERATOR'S CAB 204
DIMENSIONS205
IV
130 LX with 250 m (8ft 2in) Arm205
DIMENSIONS206
130 LX with 306 m (10ft 2in) Arm 206
DIMENSIONS207
160 LX with 270 (8ft 10in)Arm 207
DIMENSIONS208
160 LX with 310 m (10ft 2 in) arm 208
LIFTING CAPACITIES 209
130 LX and 160 LX EXCAVATORS 209
130 LX LIFTING CAPACITIES 210
130 LX LIFTING CAPACITIES 212
160 LX LIFTING CAPACITIES 214
160 LX LIFTING CAPACITIES 216
BUCKETS218
ESCO218
WORKING RANGE 219
130 LX with 250 m (8ft 2in) Arm219
WORKING RANGE 220
130 LX with 306 m (10ft 0in) Arm 220
WORKING RANGE 221
160 LX with 27 m (8ft 10in) Arm221
WORKING RANGE 222
160 LX with 310 m (10ft 0in) Arm 222
INDEX 223
VIDEO PREVIEW OF THE MANUAL:
PLEASE NOTE:
This is the SAME exact manual used by your dealers to fix your vehicle.
The same can be yours in the next 2-3 mins as you will be directed to the download page immediately after paying for the manual.
Any queries / doubts regarding your purchase, please feel free to contact [email protected]
I.G