Link Belt 290X2 Forestry Machines Operator's Manual – PDF DOWNLOAD
IMAGES PREVIEW OF THE MANUAL: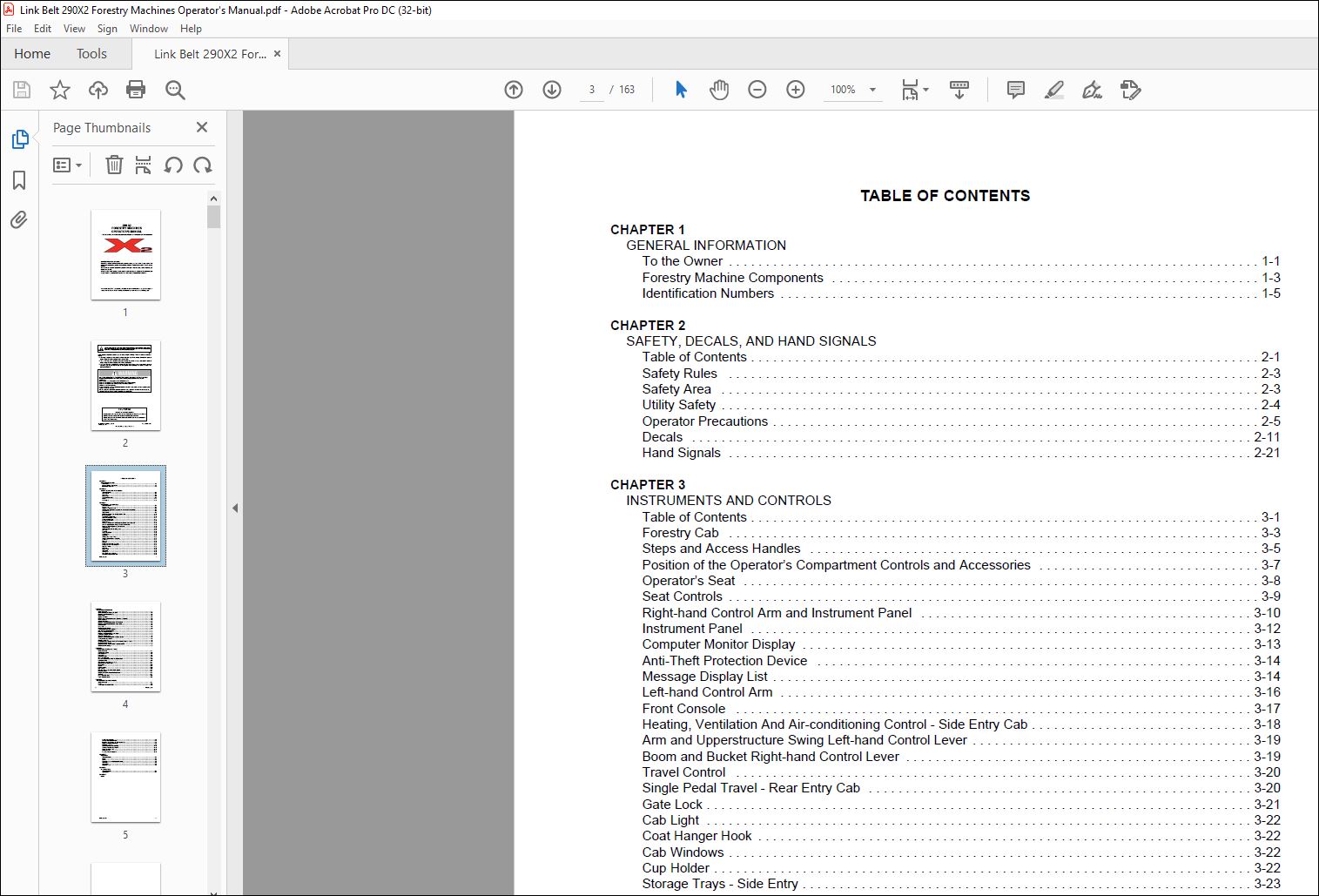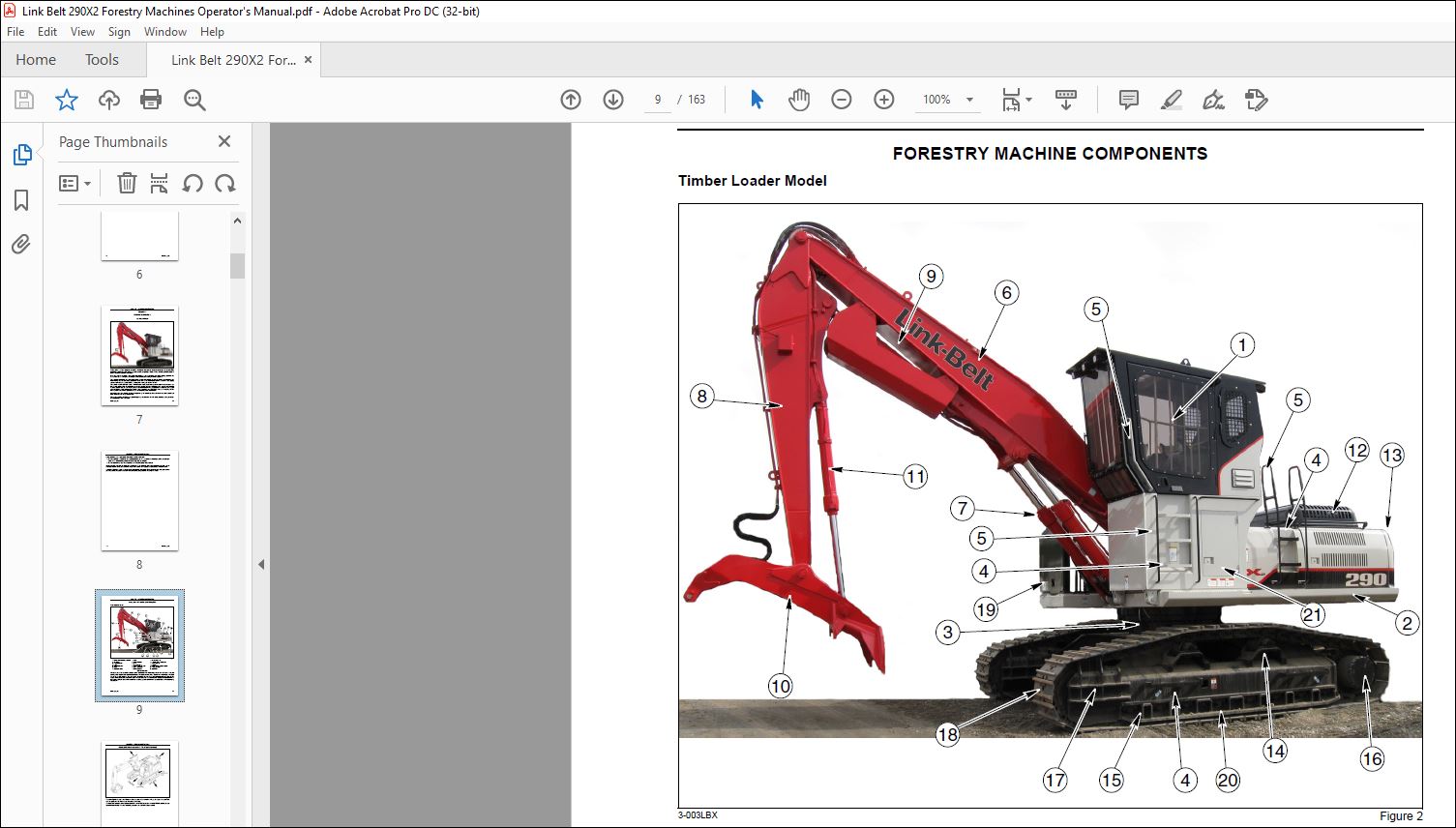 DESCRIPTION:
Link Belt 290X2 Forestry Machines Operator's Manual – PDF DOWNLOAD
LINK-BELT TECHNICAL MANUALS:
Manuals are available from the Dealer for the operation, service, and repair of the forestry machine. For
prompt convenient service, contact the Dealer for assistance in obtaining the manuals for the forestry
machine.
The Dealer can expedite orders for Operator's Manuals, Parts Manuals, Service Manuals, and
Maintenance records.
Always give the model number, forestry machine serial number, and manufacturer's number of your
forestry machine so your Dealer can provide the correct manuals for your forestry machine.
TABLE OF CONTENTS:
Link Belt 290X2 Forestry Machines Operator's Manual – PDF DOWNLOAD
CHAPTER 1
GENERAL INFORMATION
To the Owner 1-1
Forestry Machine Components 1-3
Identification Numbers 1-5
CHAPTER 2
SAFETY, DECALS, AND HAND SIGNALS
Table of Contents 2-1
Safety Rules 2-3
Safety Area 2-3
Utility Safety 2-4
Operator Precautions 2-5
Decals 2-11
Hand Signals 2-21
CHAPTER 3
INSTRUMENTS AND CONTROLS
Table of Contents 3-1
Forestry Cab 3-3
Steps and Access Handles 3-5
Position of the Operator's Compartment Controls and Accessories 3-7
Operator's Seat 3-8
Seat Controls 3-9
Right-hand Control Arm and Instrument Panel 3-10
Instrument Panel 3-12
Computer Monitor Display 3-13
Anti-Theft Protection Device 3-14
Message Display List 3-14
Left-hand Control Arm 3-16
Front Console 3-17
Heating, Ventilation And Air-conditioning Control – Side Entry Cab 3-18
Arm and Upperstructure Swing Left-hand Control Lever 3-19
Boom and Bucket Right-hand Control Lever 3-19
Travel Control 3-20
Single Pedal Travel – Rear Entry Cab 3-20
Gate Lock 3-21
Cab Light 3-22
Coat Hanger Hook 3-22
Cab Windows 3-22
Cup Holder 3-22
Storage Trays – Side Entry 3-23
Storage Compartments – Side Entry 3-23
Cab Radio 3-23
Fuse Box 3-24
Air Vents 3-24
Emergency Exit – Side Entry Cab 3-25
Emergency Exit – Rear Entry Cab 3-25
Rear View Mirror 3-25
Fuel Tank 3-26
Engine Hood 3-26
Side Doors 3-27
Towing Point 3-28
Lifting Eyes – Road Builders 3-28
Windshield Washer Reservoir 3-28
II LBX Company, LLC
CHAPTER 4
OPERATING INSTRUCTIONS
Table of Contents 4-1
Before Operating the Forestry Machine 4-3
Operating the Forestry Machine 4-3
Run-in Period 4-4
Starting the Engine 4-4
Bringing the Forestry Machine up to Operating Temperature 4-6
Engine Operation 4-6
Stopping the Engine 4-7
Operating the Forestry Machine in Cold Weather 4-8
Operating the Forestry Machine in Hot Weather 4-8
Basic Operation 4-8
Swing Lock 4-8
Forestry Machine Travel 4-9
Transporting the Forestry Machine 4-11
Unloading the Forestry Machine 4-11
Lifting the Forestry Machine 4-12
Operating the Forestry Machine in Water 4-12
Parking the Forestry Machine 4-12
Tilting The Forestry Cab 4-13
Operating the Forestry Machine on Sloping Ground 4-14
Towing the Forestry Machine 4-14
Operating the Bucket 4-15
Lowering the Attachment in the Event of a Forestry Machine Failure 4-16
Auxiliary Hydraulic Circuits 4-17
Hydraulic Forestry Machine Quick Coupler Operation 4-20
Forestry Machine Storage 4-26
CHAPTER 5
LUBRICATION, FILTERS, AND FLUIDS
Table of Contents 5-1
Servicing Instructions 5-3
Daily Inspections 5-4
Hourmeter 5-4
Lubrication Chart 5-5
Fluids and Lubricants 5-7
Fluid and Lubricant Capacities and Specifications 5-9
Lubrication Points 5-10
Greasing the Swing Reduction Gear 5-11
Greasing the Turntable Teeth 5-12
Fluid Levels 5-13
Engines 5-14
Cooling System 5-16
Fuel System 5-18
Releasing Pressure in the Hydraulic System 5-23
Hydraulic System 5-24
Bleeding Air from the Hydraulic Components 5-28
Air Filter 5-31
Swing Reduction Gear 5-33
Travel Reduction Gears 5-34
CHAPTER 6
MAINTENANCE AND ADJUSTMENTS
Table of Contents 6-1
Tracks 6-3
Track Rollers and Idler Wheels 6-5
LBX Company, LLC III
Radiator and Oil Cooler 6-6
Fan and Alternator Drive Belt 6-7
Inspecting and Cleaning the Forestry Machine 6-8
Checking for Cylinder Leakage 6-8
Replacing a Bucket 6-9
Fire Extinguisher (Not Supplied) 6-10
Welding on the Forestry Machine 6-10
Plastic and Resin Parts 6-10
Air Conditioning 6-11
Hardware Torque Inspection 6-13
CHAPTER 7
ELECTRICAL
Table of Contents 7-1
Fuses 7-3
Battery 7-5
Connecting One or Two Booster Batteries 7-7
Alternator 7-7
Starter Motor 7-7
Replacing a Bulb 7-8
CHAPTER 8
SPECIFICATIONS
Table of Contents 8-1
Specifications 8-3
CHAPTER 9
INDEX
VIDEO PREVIEW OF THE MANUAL:
PLEASE NOTE:
This is the SAME manual used by the dealers to troubleshoot any faults in your vehicle. This can be yours in 2 minutes after the payment is made.
Contact us at [email protected] should you have any queries before your purchase or that you need any other service / repair / parts operators manual.
S.V