Liebherr Wheel Loader L507 Stereo Operating manual 427 8500 – PDF DOWNLOAD
FILE DETAILS:
Liebherr Wheel Loader L507 Stereo Operating manual 427 8500 – PDF DOWNLOAD
Language : English
Pages :194 
Downloadable : Yes
File Type : PDF
Size:3.50 MB
DESCRIPTION:
Liebherr Wheel Loader L507 Stereo Operating manual 427 8500 – PDF DOWNLOAD
Foreword:
This operating manual is intended for both the driver and maintenance personnel of the vehicle. It contains information on:
Technical data
Safety provisions
Control and operation
Maintenance
This manual must be carefully read before commissioning the vehicle and should be referred to at regular intervals by anyone responsible for work on or with the vehicle. Work on or with the vehicle includes:
Operation, including rigging work, troubleshooting during operation, removal of operational waste, maintenance, and disposal of operating and auxiliary materials
Servicing, including maintenance, inspection, and repair work
Transport or loading of the machine
This manual makes it easier for the driver to become familiar with the vehicle and avoid malfunctions resulting from improper operation. Maintenance personnel must observe the operating instructions to:
Improve operational reliability
Extend the service life of the machine
Reduce repair costs and downtimes
This manual should be kept with the vehicle, and a copy should be placed in the glove compartment of the driver's cab. The operating manual should be supplemented with instructions based on existing national accident prevention and environmental protection regulations. In addition to the operating manual and the applicable national and local legal requirements for accident prevention, recognized technical regulations for safe and professional operation should be observed.
This operating manual contains all necessary information for the operation and maintenance of the vehicle. If you require more detailed explanations or information, our technical information and production quality (TIP), technical documentation, and customer service departments are available to assist.
Please note that we cannot accept guarantee claims in the event of improper operation, insufficient maintenance, the use of unauthorized operating materials, or non-observance of safety regulations.
IMAGES PREVIEW OF THE MANUAL: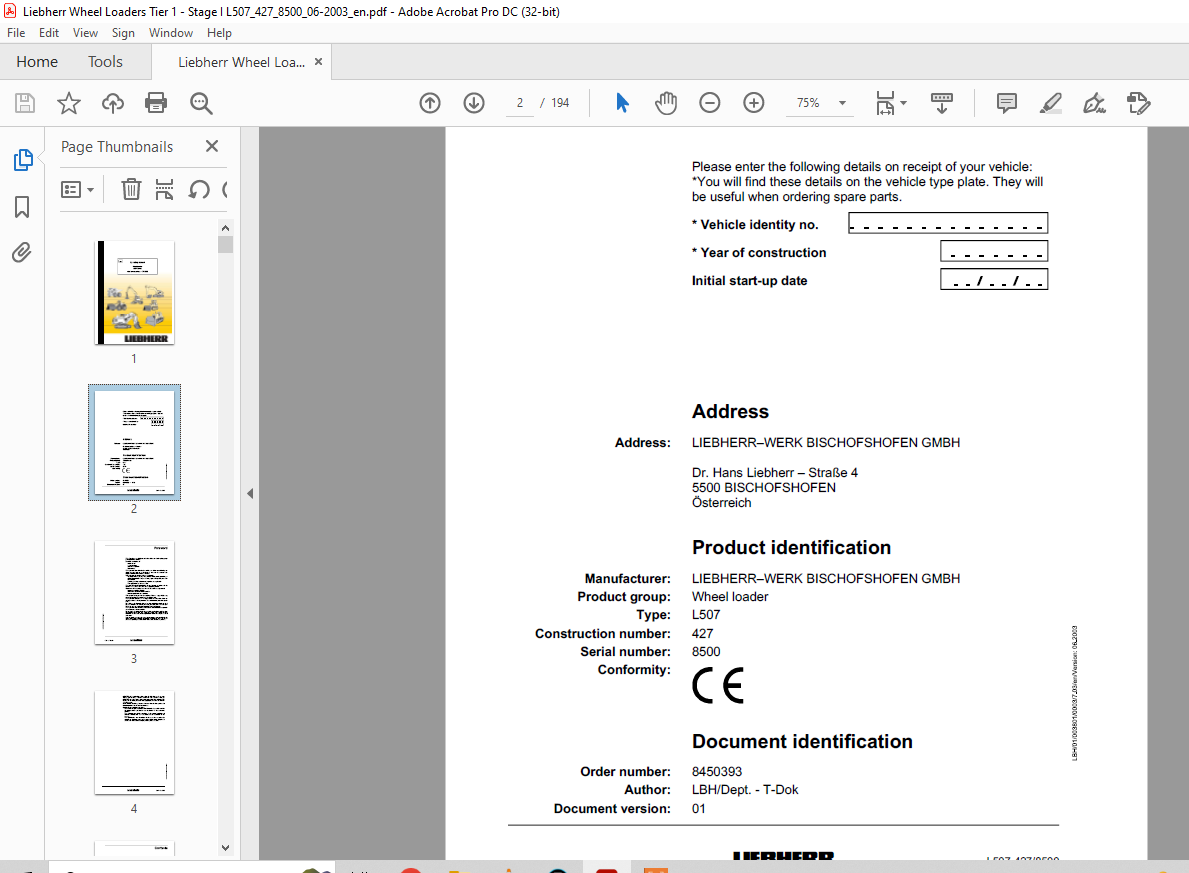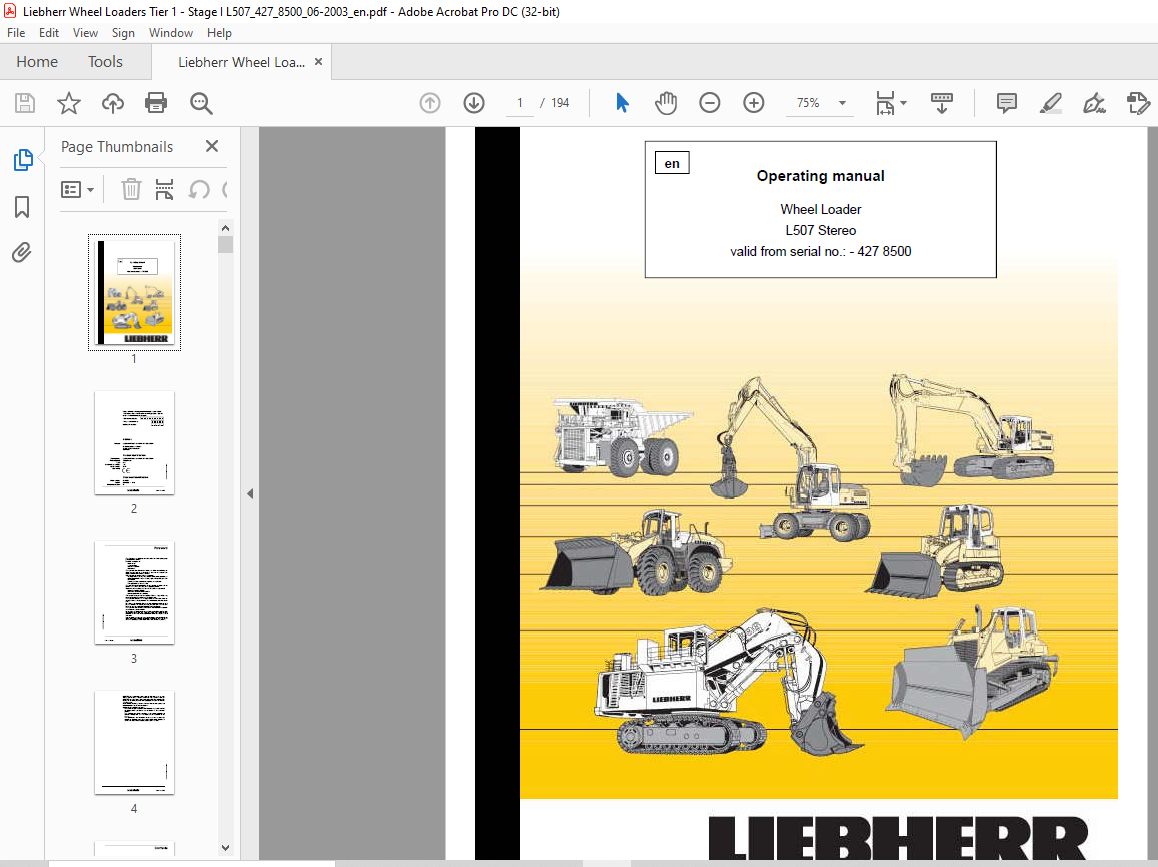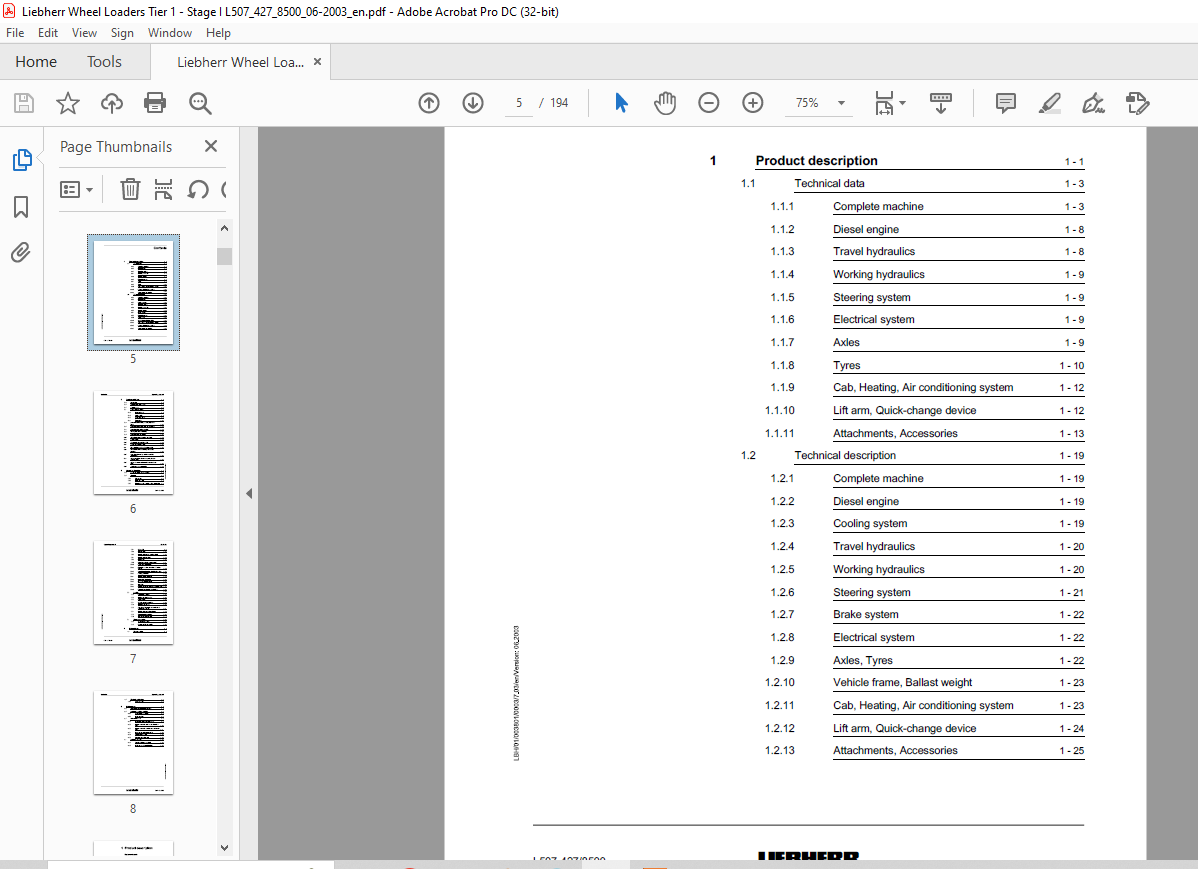 TABLE OF CONTENTS:
Liebherr Wheel Loader L507 Stereo Operating manual 427 8500 – PDF DOWNLOAD
1
Product description
Technical data
Basic machine
Diesel engine, Pump distributor gear
Travel hydraulics
Working hydraulics
Stooring system
Braking system
Electrical system
Transfer gear
Axles
Tyres
Vehicle frame, Ballast weight
Cab, Heating, Air conditioning system
Lift arm, Quick-change device
Attachments, Accessories
Technical description
Basic machine
Diesel engine, Pump distributor gear
Cooling system
Travel hydraulics
Working hydraulics
Stooring system
Braking system
Electrical system
Transfer gear
Axles, Tyres
Vehicle frame, Ballast weight
Central lubrication system
LIEBHERR
Cab, Heating, Air conditioning system
Lift arm, Quick-change device
Atachments, Accessories
Safety regulations
Introduction
General safety precautions
Correct usage
Decals on the machin
Layout of decals
Safety decal
Information decals
Type plates
Instructions for avoiding crushing injuries and bums
Instructions for avoiding fires and explosions
Safety instructions for driving on slopes
Parking safely
Instructions for starting up safely
Safety precautions at start-up
Instructions for safe working
Transporting the machine safely
Towing the machine safely
Measures for ensuring safe maintenance
Safety instructions for welding work on the machine
Instructions for working safely on machine
attachments
Safety regulations when transporting the ma- chine by crane
Safe maintenance of hydraulic hoses and hose lines
Attachments and accessories
Operation, Handling
Layout of controls and instruments
Operation
Cab access
Emergency axit
Driver's seat with pneumatic suspension
Driver's seat with gas-filled spring suspension 3-8
Safety bolt
Starter switch
Steering column and steering whool
Stooring column switch
Display unit
Display unit
Mechanical hour motor
Control unit
Control unit
Control element
LIEBHERR control lover
Controllover for optional working functions
Heating, Ventilation
Air-conditioning system
Intamal cab illumination
Inside and outside mirrors
Sun visor
Electric windshield wiper and washer system 3-42
Reservoir for windshield washer fluid
Automatic central lubrication system
Acoustic reverse waming device
Optical reverse warning device
Handling
Dally start-up routine
Operation with diesel particle filter
Starting the diesel engine
Driving mode
Shutting down the machine
Operating the lift arm
Operation of the hydraulic quick-change de- vice (alectro-hydraulic actuation without com- fort control)
Working with optional equipment
General working methods
Transporting the machine
Emergency operation
Towing the machine
Procedure for jump starting
Malfunctions
Error code tables
Error code-indication on the display
Error code (supplementary)–Indication on
the display
Acoustic waming signals
Malfunction rectification
Changing fuses
Maintenance
Maintenance and inspection schedule
Lubricant chart, Filling quanties
Table of filing quantios
Lubricant chart
Maintenance tasks
Preparatory tasks for maintenance hours
Maintenance tasks (daily) every 10 service
Maintenance tasks (wookly) avery 50 service
Unscheduled maintenance tasks
Cleaning the machine
Corrosion protection work
Lubricants and fuels
Handing lubricants and fuels
Lubricant and fuel specifications
 VIDEO PREVIEW OF THE MANUAL:
PLEASE NOTE:
 This is the SAME exact manual used by your dealers to fix your vehicle.
The same can be yours in the next 2-3 mins as you will be directed to the download page immediately after paying for the manual.
Any queries / doubts regarding your purchase, please feel free to contact [email protected]
S.M