Liebherr Tractor RL4 44 64 Pipe Layers Series 4 Service Manual – PDF DOWNLOAD
FILE DETAILS:
Liebherr Tractor RL4 44 64 Pipe Layers Series 4 Service Manual – PDF DOWNLOAD
Language : English
Pages : 1525
Downloadable : Yes
File Type : PDF
Size: 232 MB
DESCRIPTION:
Liebherr Tractor RL4 44 64 Pipe Layers Series 4 Service Manual – PDF DOWNLOAD
Foreword and explanation
For information:
This manual contains technical data, design and functional descriptions, work and adjustment
instructions as well as numerous drawings, functional views and illustrations for the
This manual should simplify competent customer service of our products, however, it does not
replace expert and qualified user training and attendance of our factory training classes.
Generally valid technical basic information is not listed. Refer to separate documentation for
operational and spare parts information.
The manual will be updated and expanded as necessary when changes occur in series.
For all tasks on the machine, accident prevention guidelines and safety guidelines must be
strictly observed.
Safety guidelines
Introduction
Prior and during the performance of tests / inspections, adjustments and repairs, it is
imperative that the following safety guidelines are observed:
Any type of work may only be carried out by qualified expert personnel or under their guidance
and supervision.
Qualified expert personnel are persons, who, based on their specialized training and experience,
have sufficient knowledge in the area of earthmoving equipment and the specific technology of
our machines in particular and who are familiar with all applicable laws and general work
protection regulations, accident prevention guidelines, regulations, guidelines and generally
approved rules concerning technology so that they are able to evaluate if the earthmoving
equipment is safe to operate and if the necessary work can be performed without endangering
themselves or third persons.
Machines with raised operator's platform may not be driven! The machine may only be operated
from a lowered and secured operator's platform!
Always adhere to the adjustment values noted in the LIEBHERR documentation when
performing adjustment work.
At the delivery of a machine, the operating personnel must be trained using the current operating
instructions. The safety guidelines noted in the instructions must be particularly observed.
These safety guidelines must also be observed during inspection, adjustment or repair work.
However, there are special repair and / or inspection work which require qualified personnel to
follow another procedure than that noted in the safety guidelines. In such cases, qualified
personnel or individuals performing the work under the supervision of such personnel should
assure that additional safety precautions necessary to insure the safety of those involved in the
repair are taken.
IMAGES PREVIEW OF THE MANUAL: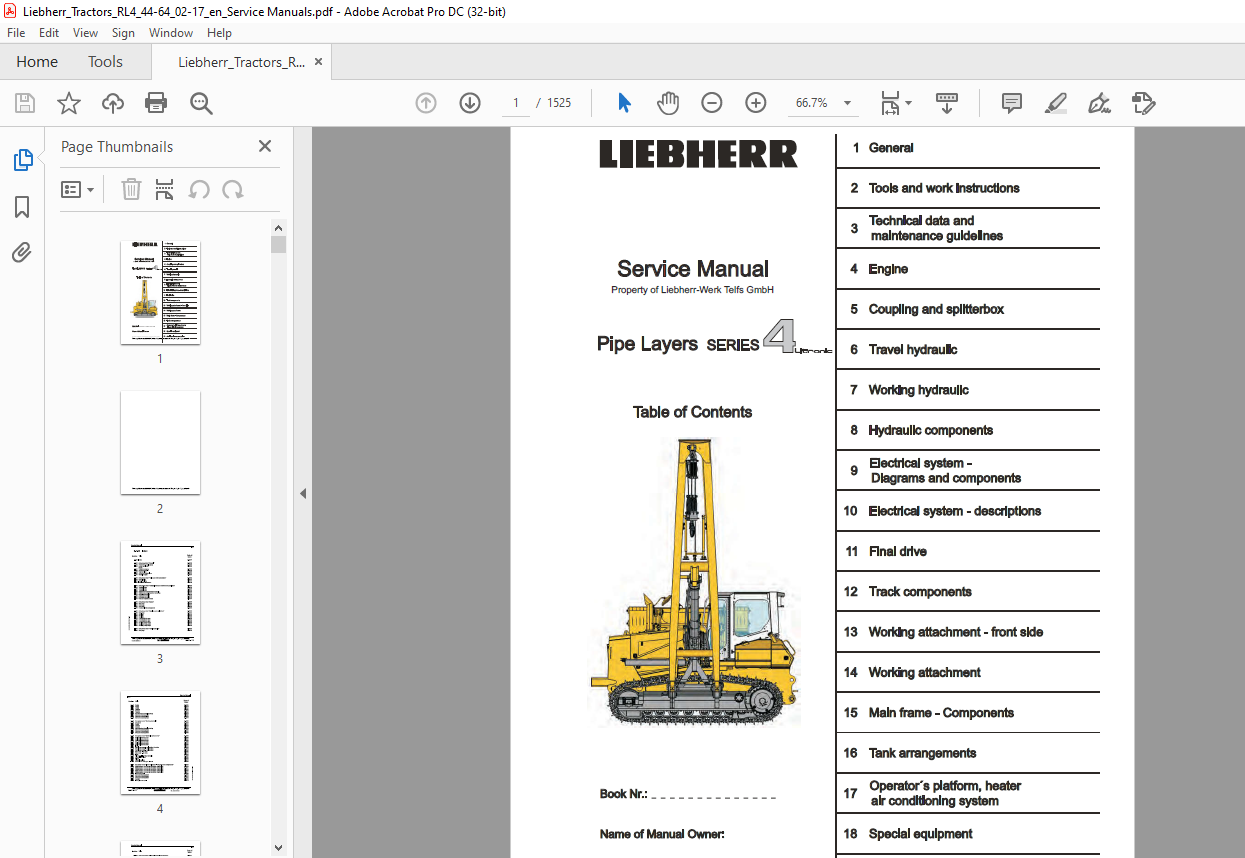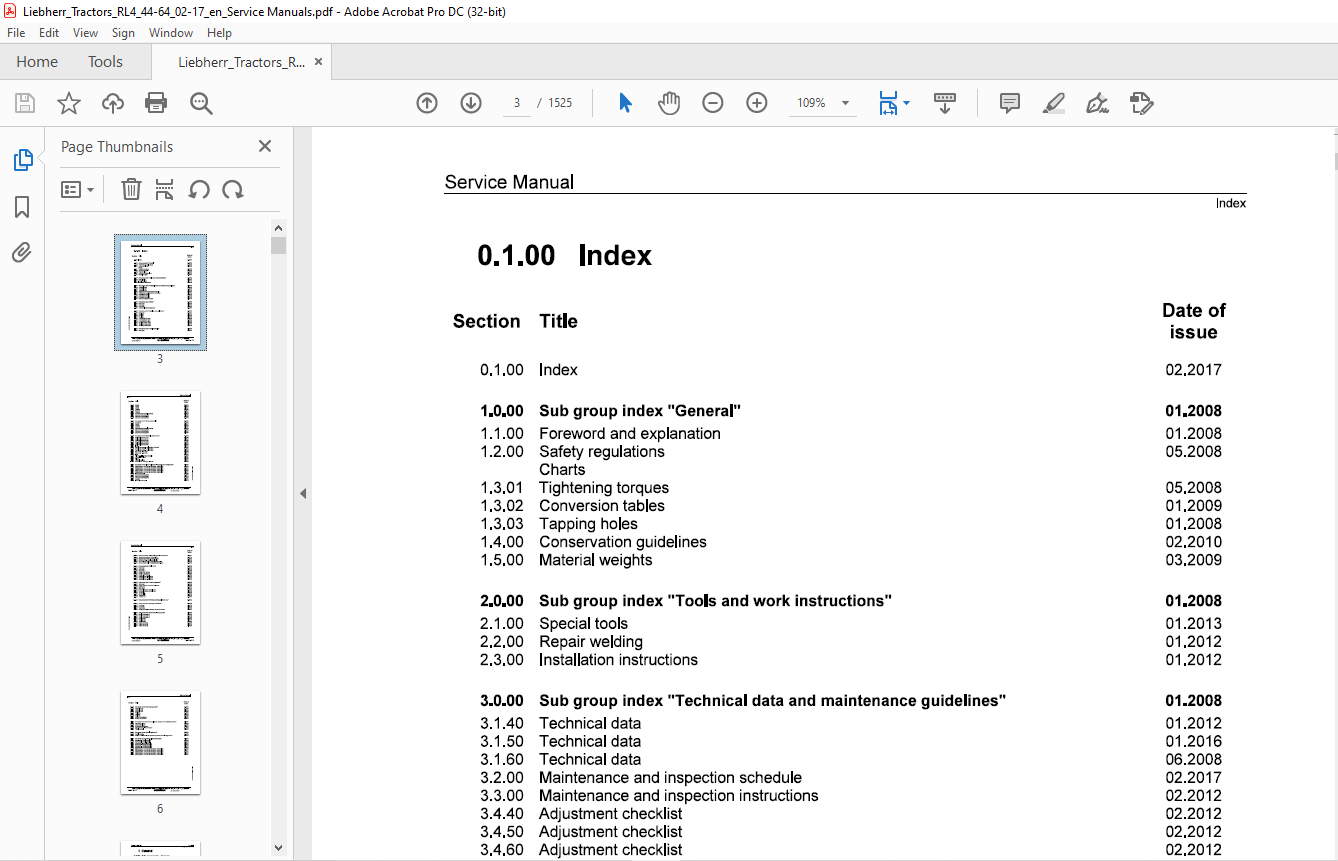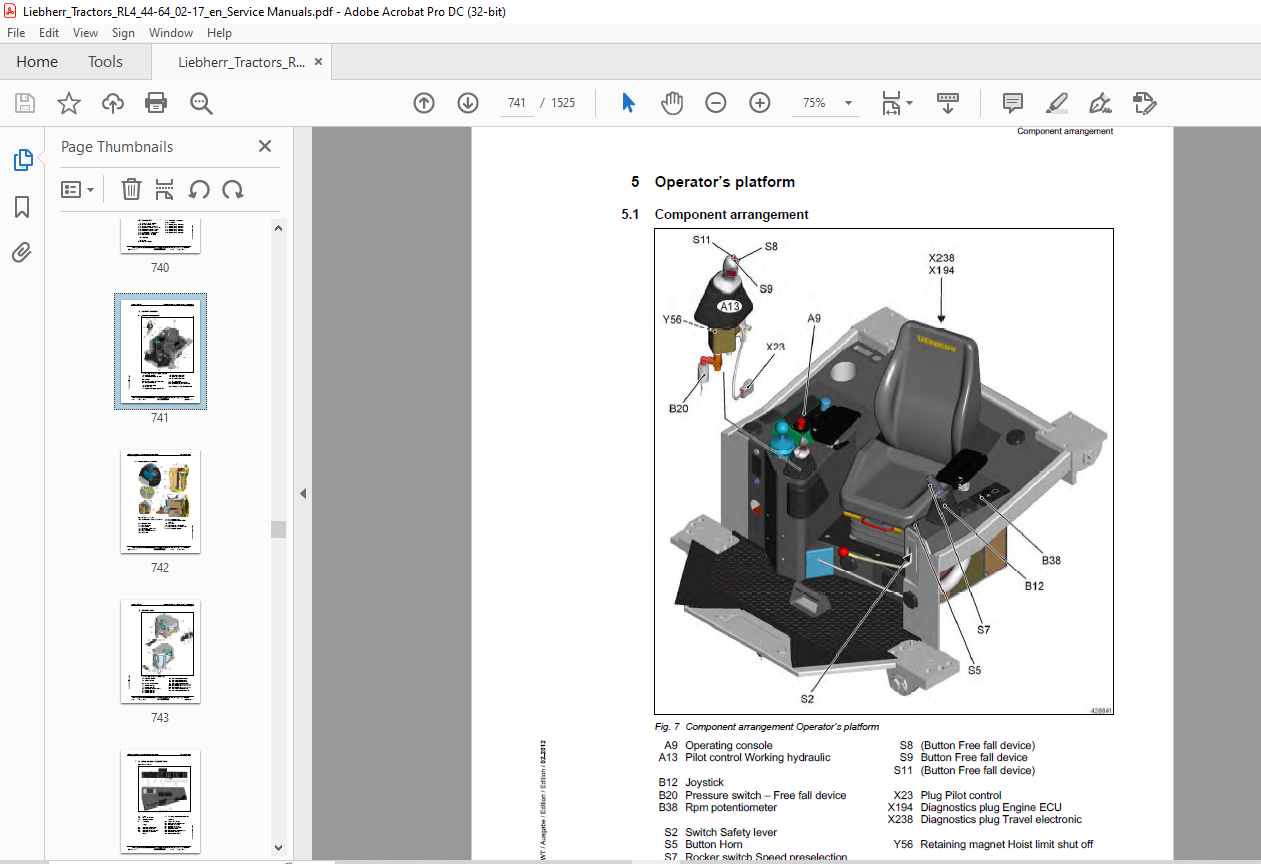 TABLE OF CONTENTS:
Liebherr Tractor RL4 44 64 Pipe Layers Series 4 Service Manual – PDF DOWNLOAD
Index
Sub group index "General
Foreword and explanation
Safety regulations
Charts
Tightening torques
Conversion tables
Tapping holes
Conservation guidelines
Material weights
Sub group index "Tools and work instructions"
Special tools
Repair welding
Installation instructions
Sub group index "Technical data and maintenance guidelines"
Technical data
Technical data
Technical data
Maintenance and inspection schedule
Maintenance and inspection instructions
Adjustment checklist
Adjustment checklist
Adjustment checklist
Test and adjustment tasks
Sub group index "Engine"
Data page
Data page
Data page
Fan and cylinder arrangement
Sub group index "Coupling and splitterbox"
Data page
Coupling
Coupling
Coupling
Pump distributor gear
Pump distributor gear
Pump distributor gear
Coupling Pump output
Coupling Pump output
Coupling Pump output
Sub group index "Travel hydraulic"
Data page
Index
6.2.40 Design 06.2008
6.2.50 Design 02.2012
6.2.60 Design 06.2008
6.3.40 Function 01.2009
6.3.50 Function 02.2012
6.3.60 Function 01.2009
6.4.00 Repair work and troubleshooting 02.2012
6.5.40 Component arrangement 01.2008
6.5.50 Component arrangement 02.2012
6.5.60 Component arrangement 02.2012
7.0.00 Sub group index "Working hydraulic" 01.2008
7.1.00 Data page 02.2012
7.2.00 Design 02.2012
7.3.40 Function 02.2012
7.3.50 Function 02.2012
7.4.00 Repair work and troubleshooting 02.2012
7.5.40 Component arrangement 01.2008
7.5.50 Component arrangement 02.2012
7.5.60 Component arrangement 05.2008
8.0.00 Sub group index "Hydraulic components" 01.2008
8.1.40 Var. displacement pump 01.2008
8.1.50 Var. displacement pump 02.2012
8.1.60 Var. displacement pump 01.2009
8.2.40 Var. displacement motor 01.2008
8.2.50 Var. displacement motor 02.2012
8.2.60 Var. displacement motor 05.2008
8.3.00 Index 02.2012
8.4.40 Double gear pump — replenishing / fan drive 05.2008
8.4.50 Double gear pump — replenishing 02.2012
8.4.60 Double gear pump — replenishing 05.2008
8.5.40 Gear motor — fan drive 05.2008
8.5.50 Gear motor — fan drive 02.2012
8.5.51 Index 02.2012
8.6.00 Pilot control — working hydraulic 01.2008
8.7.00 Control valve block 05.2008
8.8.00 Valves 02.2009
8.9.00 Hydraulic cylinder 01.2013
8.10.00 Control motor hoist gear — winch 05.2008
9.0.00 Sub group index "Electrical system — Diagrams and components™ 05.2008
9.1.40 Wiring diagram, component description, function list 01.2010
9.1.41 Wiring diagram, component description, function list 01.2011
9.1.50 Wiring diagram, component description, function list 02.2012
9.1.60 Wiring diagram, component description, function list 01.2010
9.1.61 Wiring diagram, component description, function list 01.2011
9.2.00 Instrument panel 05.2008
9.3.40 Component arrangement 01.2012
9.3.50 Component arrangement 02.2012
9.3.60 Component arrangement 02.2010
9.4.00 Joystick 02.2010
9.5.00 Inching- / brake pedal 02.2012
10.0.00 Sub group index "Electrical system – descriptions" 01.2011
10.1.00 Diagnostics software LinDiag 2.25i 02.2012
10.1.01 Diagnostics software LinDiag V2.62a 01.2013
10.2.00 Software PDL — Diesel particle filter 02.2012
10.3.00 Service Code List — LinDiag Software 2.25i 02.2012
10.3.01 Service Code List — LinDiag Software V2.62a 01.2013
11.0.00 Sub group index "Final drive" 01.2008
11.1.40 Data page 01.2012
11.1.50 Data page 02.2012
11.1.60 Data page 05.2008
11.2.40 Design and Function 01.2008
11.2.50 Design and Function 02.2012
11.2.60 Design and Function 05.2008
11.3.40 Sectional view – final drive 01.2008
11.3.50 Sectional view – final drive 02.2012
11.3.60 Sectional view – final drive 01.2009
12.0.00 Sub group index "Track components" 01.2008
12.1.00 Data page 02.2012
12.2.00 Design, function, wear and evaluation 01.2008
12.3.00 Test report 01.2010
12.3.01 Wear chart 02.2012
12.4.40 Track roller frame and idler unit 05.2008
12.460 Track roller frame and idler unit 01.2012
12.5.00 Track roller 01.2008
12.6.00 Carrier roller 01.2008
12.7.40 Tension unit 06.2008
12.7.60 Tension unit 01.2012
13.0.00 Sub group index "Working attachment — front side" 01.2008
14.0.00 Sub group index "Working attachment" 01.2008
14.1.40 Hoist gear 02.2012
14.1.50 Hoist gear 02.2012
14.2.00 Rope winch 02.2009
14.3.50 Putting the overload warning device into service 02.2017
156.0.00 Sub group index "Main frame — Components" 01.2008
15.1.40 Cooler arrangement 01.2008
15.1.50 Cooler arrangement 02.2012
15.1.60 Cooler arrangement 05.2008
15.2.40 Equalizer bar 01.2008
15.2.50 Equalizer bar 02.2012
15.2.60 Equalizer bar 05.2008
156.3.40 Engine mounting 01.2008
16.3.50 Engine mounting 02.2012
156.3.60 Engine mounting 05.2008
16.0.00 Sub group index "Tank arrangements" 01.2008
16.1.40 Hydraulic tank 05.2008
16.1.50 Hydraulic tank 02.2012
16.1.60 Hydraulic tank 05.2008
16.2.40 Fuel tank 01.2008
16.2.50 Fuel tank 02.2012
16.2.60 Fuel tank 05.2008
16.3.40 Battery compartment 01.2008
16.3.50 Battery compartment 02.2012
17.0.00 Sub group index "Operator's platform, heater, air conditioning system" 01.2008
17.1.00 Operator's platform 01.2008
17.2.00 Heater with blower 01.2008
17.3.00 Air conditioning system 01.2008
17.4.00 Operator's seat — air cushioned 01.2008
17.5.00 Throttle control 05.2008
18.0.00 Sub group index "Special equipment" 01.2009
18.1.00 Refueling pump 03.2009
18.3.00 Add-on installations — Pipe chamfering device and welding generator 02.2012
19.0.00 Sub group index "Additional documentation 01.2008
6.3.40 Schematic — Travel hydraulic 05.2008
6.3.50 Schematic — Travel hydraulic 02.2012
6.3.60 Schematics — Travel hydraulic 05.2008
7.3.40 Schematic — Working hydraulic 01.2012
7.3.50 Schematic — Working hydraulic 02.2012
7.3.60 Schematic — Working hydraulic 01.2012
9.1.40 Wiring diagram, component description, function list 01.2010
9.1.41 Wiring diagram, component description, function list 01.2011
9.1.50 Wiring diagram, component description, function list 02.2012
9.1.60 Wiring diagram, component description, function list 01.2010
9.1.61 Wiring diagram, component description, function list 01.2011
VIDEO PREVIEW OF THE MANUAL:
PLEASE NOTE:
This is the SAME exact manual used by your dealers to fix your vehicle.
The same can be yours in the next 2-3 mins as you will be directed to the download page immediately after paying for the manual.
Any queries / doubts regarding your purchase, please feel free to contact [email protected]
S.V