Liebherr Tiltrotator TR 20, TR 25 Operator's manual – PDF DOWNLOAD
IMAGES PREVIEW OF THE MANUAL: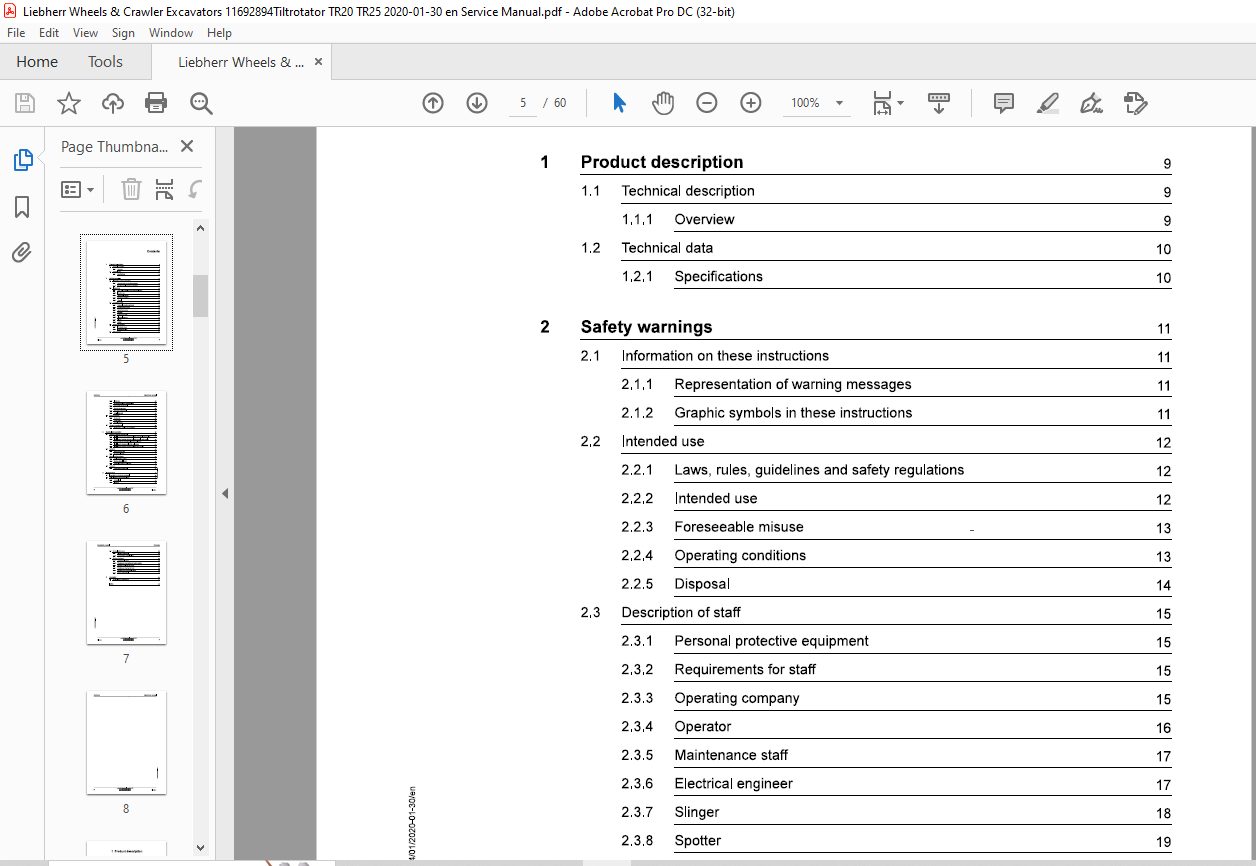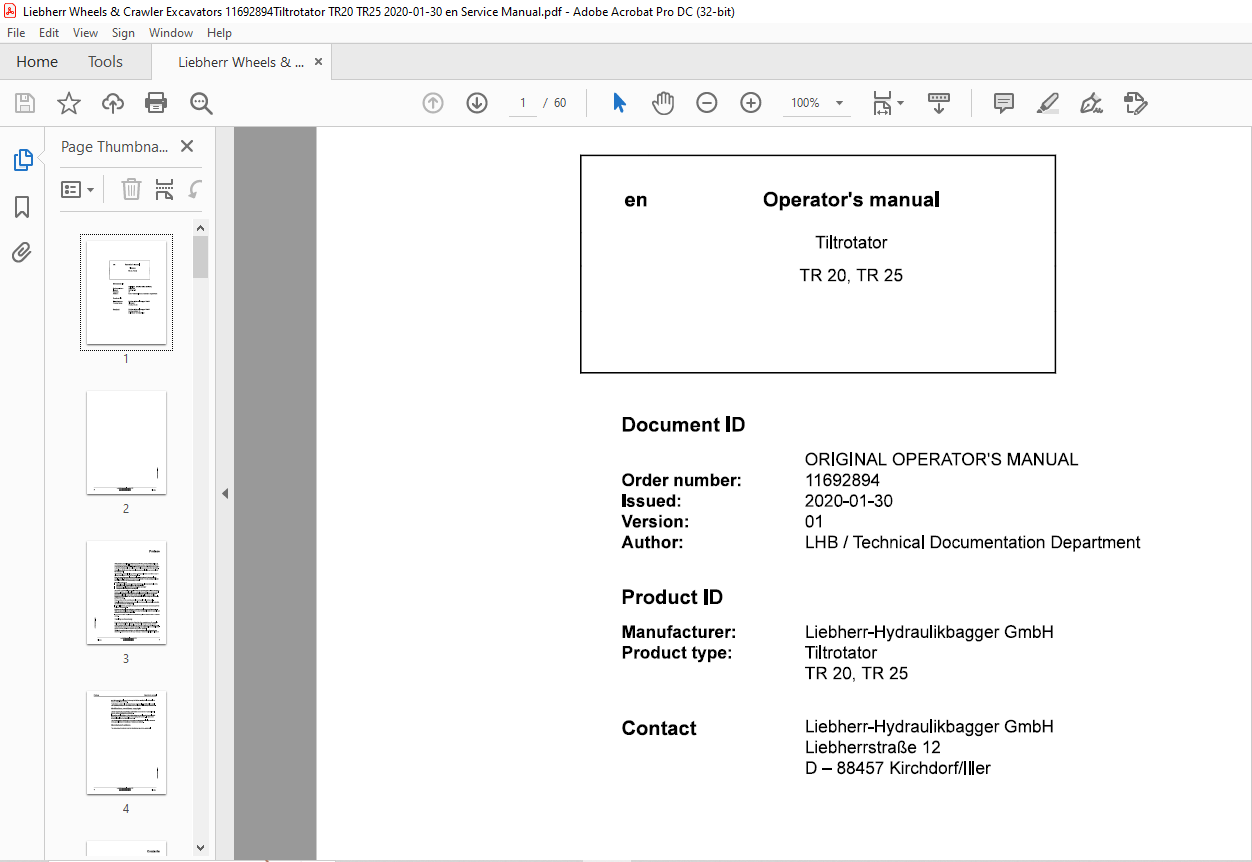 FILE DETAILS:
Liebherr Tiltrotator TR 20 TR 25 Operator's manual – PDF DOWNLOAD
Language : English
Pages :60
Downloadable : Yes
File Type : PDF
Size:12.3 MB
DESCRIPTION:
Liebherr Tiltrotator TR 20 TR 25 Operator's manual – PDF DOWNLOAD
Preface:
This operating manual is intended for you as the user of the working tool or as maintenance personnel. It contains warnings, important information, and tips for working with the working tool. It simplifies the process of familiarization and getting to know the working tool and helps to avoid faults caused by incorrect operation. Compliance with the operating manual increases the reliability and service life of the working tool.
The operating manual belongs to the working tool. Make sure that a copy is always kept close at hand at the workplace.
Read the operating manual before initial commissioning and subsequently at regular intervals. Everyone who carries out work with or on the working tool must be familiar with and use this operating manual.
Examples of this work:
Operation, including setup and fitting attachments, elimination of faults, care, disposal of fuels, operating fluids, and consumables
Maintenance, including servicing, inspection, and repair
Transport or loading of the working tool
The owner is responsible for supplementing the operating manual with instructions based on existing national regulations on accident prevention and environmental protection. In addition to this operating manual and the regulations on accident prevention applicable in the user's country and at the place of use, it is also necessary to comply with the recognized technical rules on safety and technically proficient working.
Some sections of this operating manual do not apply to all working tools.
Some illustrations in this operator's manual may show details and implements that are different from your working tool.
In some illustrations, protective devices and covers have been removed to provide a clearer representation.
Liebherr working tools are subject to continuous development and improvement. This may have resulted in modifications to your working tool that are possibly not referred to in this operator's manual.
If you require further explanations or information, please contact Liebherr customer service.
TABLE OF CONTENTS:
Liebherr Tiltrotator TR 20 TR 25 Operator's manual – PDF DOWNLOAD
1 Product description 9
1.1 Technical description 9
1.1.1 Overview 9
1.2 Technical data 10
1.2.1 Specifications 10
2 Safety warnings 11
2.1 Information on these instructions 11
2.1.1 Representation of warning messages 11
2.1.2 Graphic symbols in these instructions 11
2.2 Intended use 12
2.2.1 Laws, rules, guidelines and safety regulations 12
2.2.2 Intended use 12
2.2.3 Foreseeable misuse 13
2.2.4 Operating conditions 13
2.2.5 Disposal 14
2.3 Description of staff 15
2.3.1 Personal protective equipment 15
2.3.2 Requirements for staff 15
2.3.3 Operating company 15
2.3.4 Operator 16
2.3.5 Maintenance staff 17
2.4.2 Identification plate 21
2.5 Safe operation 22
copyright© Liebherr-Hydraulikbagger GmbH 2020
Tiltrotator llEBHERR 5
Contents Operator's manual
2.5.1 Intoxicants 22
2.5.2 Dangerous fuels and operating fluids 22
2.5.3 Transporting working tool 22
2.5.4 Machine danger zone 23
2.5.5 Operating working tool 23
2.5.6 Load-lifting work 25
2.6 Safe maintenance 25
2.6.1 Spare parts 25
2.6.2 Heavy parts 25
2.6.3 Regular checks 26
2.7 Changes to working tool 26
2.7.1 Modifications, add-ons and retrofittings 26
3 Control and operation 27
3.1 Fitting and removing working tool 27
3.1.1 Installing and removing working tool with mechanical quick coupler 27
3.1.2 Installing and removing working tool with hydraulic quick coupler 32
3.1.3 Requirements for operating pallet fork on tiltrotator 37
3.1.4 Installing and removing pallet fork on tiltrotator 37
3.1.5 Installing and removing working tool with quick coupler 39
3.2 Operation 40
3.2.1 Before starting work 40
3.2.2 Operating tiltrotator 40
3.3 General working methods 43
3.3.1 Tool-protecting working 43
3.3.2 Working with pallet fork 43
3.3.3 Putting load down on pallet fork 46
3.4 Transport 47
4.2.1 Hydraulic oil 51
4.2.2 Greases 51
copyright© Liebherr-Hydraulikbagger GmbH 2020
6 llEBHERR Tiltrotator
Operator's manual Contents
4.3 General maintenance 52
4.3.1 Cleaning working tool 52
4.3.2 Depressurising hydraulic lines 53
4.4 Working attachment 54
4.4.1 Lubricating tilt rotator 54
4.4.2 Checking pin connections for secure seating 55
4.4.3 Checking steel parts for cracks 55
4.4.4 Checking pin bearings for wear 56
4.4.5 Checking state of hydraulic hoses 56
4.4.6 Storing working tool 56
5 Appendix 57
5.1 EU Declaration of Conformity 57
Index 59
PLEASE NOTE:
This is the SAME exact manual used by your dealers to fix your vehicle.
The same can be yours in the next 2-3 mins as you will be directed to the download page immediately after paying for the manual.
Any queries / doubts regarding your purchase, please feel free to contact [email protected]
S.M