Liebherr PR 736-1736_05_G8.0 16834 PR 736-1736_4F_G8.0 16834 Crawler Dozer Service Manual – PDF DOWNLOAD
FILE DETAILS:
Liebherr PR 736-1736_05_G8.0 16834 PR 736-1736_4F_G8.0 16834 Crawler Dozer Service Manual – PDF DOWNLOAD
Language : English
Pages : 860
Downloadable : Yes
File Type : PDF
Size: 189 MB
DESCRIPTION:
Liebherr PR 736-1736_05_G8.0 16834 PR 736-1736_4F_G8.0 16834 Crawler Dozer Service Manual – PDF DOWNLOAD
Product ID
Manufacturer: Liebherr-Werk Telfs GmbH
Valid for:
PR 736-1736 05 G8.0 16834
PR 736-1736 4F G8.0 16834
Foreword:
Notes for the user:
This Service manual is intended for trained specialist staff in the Liebherr organization
and its dealers.
The Service manual provides specific knowledge for the maintenance of Liebherr
construction machinery. Basic technical knowledge of electrics, hydraulics,
mechanics and Diesel engine technology are not detailed in this Service manual. A
subject-based, qualified training is therefore necessary. Liebherr recommends
participation on the Liebherr Training program for construction machinery.
In this Service manual you find information about:
– Special tools
– Technical data
– Maintenance intervals and maintenance tasks
– Adjustment procedure
– Design and functional descriptions
– Removal and installation tasks
– Wiring diagrams, hydraulic schematics and technical drawings
For information relating to control and operation refer to the operator's manual. For information relating to spare parts refer to the Spare parts catalog. Observe the locally applicable accident prevention regulations.
Safety instructions:
General safety instructions:
1. Please familiarize yourself with operator's manual before putting machine
into service.
Make sure that you have obtained, read and understand any additional instructions
relating to special accessories for machine.
2. Only explicitly authorized personnel may operate, maintain or repair the
machine.
Observe the permissible minimum legal age limit!
3. Use only trained or instructed personnel, clearly determine the responsibility of
the personnel for operation, set up, maintenance and repairs.
4. Determine machine operator responsibility (also in regards to traffic regulations)
and allow him to refuse unsafe instructions from third persons.
5. Do not allow any person either still to be trained or already in training to
operate or work on machine unless under constant supervision and guidance
of an experienced instructor or operator.
6. Check and observe any person working or operating machine at least periodically
if they observe safety instructions and guidelines given in operator's
manual.
7. Always wear proper work clothing when operating or working on machine.
Avoid wearing rings, watches, ties, scarves, open jackets, loose clothing, etc.
There is a danger of injury, as they can get stuck or be pulled in.
Prescribed for specific tasks: safety glasses, safety shoes, safety helmet, work
gloves, reflective vest, ear protection, …
8. Consult supervisor at jobsite for special safety instructions and regulations.
9. When entering and exiting the machine, maintain three-point contact.
10. When entering or exiting, never use joysticks as handholds.
This could trigger inadvertent movement of machine and cause serious accidents.
11. Never jump off the machine. When climbing on or off machine, use intended
steps, ladders and catwalks and handles. Use both hands for support and face
machine.
12. Keep steps, ladders and handles free of oil, grease, mud, snow and ice. These
precautions will minimize the danger of slipping, stumbling or falling.
13. Make yourself familiar with emergency exit.
14. If no other instructions are given, proceed as follows for maintenance and repair work.
Procedure:
• Park the machine on solid and level ground. .1l
• Bring all control levers to neutral position. :g
• Set parking switch to park position. :~;:1
• Turn engine off and pull ignition key. "'
• Actuate control levers several times to relieve pressure in servo lines. 1..,,
• Bring all control levers to neutral position.
15. Before working on hydraulic circuit, with engine turned off and with ignition key ~
in contact position, move all pilot controls uoysticks and pedals) in both direc- ftl
tions to relieve servo pressure and remaining back pressures in working ~
circuits. Then release internal hydraulic tank pressure. ~
16. Before leaving operator's seat, switch parking switch to Park position. '"'
17. Secure all loose parts on machine.
18. Never operate a machine without a complete walk around inspection. Check if
all warning signs are on the machine and if they are all legible.
19. Observe all signs with danger and safety instructions.
TABLE OF CONTENTS:
Liebherr PR 736-1736_05_G8.0 16834 PR 736-1736_4F_G8.0 16834 Crawler Dozer Service Manual – PDF DOWNLOAD
010 Introduction 010-1
010.1 Safety instructions 010-4
010.1.1 General safety instructions 010-4
010.1.2 Safety guidelines for crushing and burn prevention 010-5
010.1.3 Safety guidelines for fire and explosion prevention 010-5
010.1.4 Safety instructions for machine start up 010-6
010.1.5 Safety guidelines for start up 010-6
010.1.6 Safety guidelines for working 010-6
010.1.7 Safety guidelines for turning machine off 010-8
010.1.8 Safety instructions for transporting machine 010-8
010.1.9 Safety instructions for towing machine 010-8
010.1.10 Safety instructions for maintenance 010-9
010.1.11 Safety guidelines for welding work on machine 010-11
010.1.12 Safety guidelines for working on attachment 010-11
010.1.13 Safety guidelines for loading machine with a crane 010-12
010.1.14 Safety notes for maintenance of hydraulic hoses and hose lines 010-12
010.1.15 Safety guidelines for maintenance work on machines with hydro
accumulators 010-13
010.1.16 Roll over protection (ROPS) and falling object protection (FOPS) 010-13
010.1.16.1 Avoid accidents 010-13
010.1.16.2 Avoid injuries 010-14
C: .1l 010.1.17 Equipment and attachment parts 010-14
010.1.18 Protection from vibrations 010-14
0 010.1.19 See and be seen 010-15 "0 '
010.1.19.1 Field of vision 010-16
010.1.19.2 Measures before and during operation 010-16 f,'I
010.1.20 Safety notes for Diesel engines with electronic control units 010-17 ~
010.1.21 Safety notes for working on Common Rail System of Diesel engine!{)10-17
010.2 Special tools for maintenance and repair work 010-19
010.2.1 Tools – Diesel engine 010-19
010.2.2 Tools – Hydraulic system 010-21
010.2.3 Tools – Hydraulic cylinder 010-25
010.2.4 Tools – Electrical system 010-26
010.2.5 Tools – Travel gearbox 010-29
010.2.6 Tools – Travel gear 010-30
010.2.7 Tension unit tools 010-31
010.2.8 Tools Equalizer bar 010-31
010.2.9 Tools – Operator's cab 010-32
010.2.10 Tools – Diesel exhaust fluid system 010-32
010.2.11 Assistance system tools 010-33
Standards and specifications 010-34
010.3.1 Preload values and tightening torques for screws with standard and
fine metric thread according to DIN ISO 261 010-34
010.3.1.1 Scope of application and purpose 010-34
010.3.1.2 Further applicable documentation 010-34
010.3.1.3 Changes and descriptions 010-35
010.3.1.4 Tightening values 010-35
010.3.1.5 Flanges and half flanges for high pressure (standard
62) 010-41
010.3.1.6 Half flange for low pressure (standard 61) 010-41
010.3.1.7 Tightening torques for cutting edges, end bits and
adapters 010-41
010.3.2 Installation specifications 010-42
010.3.2.1 Duo cone slipring seals 010-42
010.3.3 Tapping bores 010-44
010.3.3.1 Tapping bores of metric ISO standard threads 010-44
010.3.3.2 Tapping bores of metric ISO fine threads 010-46
010.3.4 Conversion tables 010-49
Conservation guidelines 010-50
General 010-50
Taking the machine out of service for an unknown duration 010-50
Shut down of the machine 010-51
010.4.3.1 Shut down for up to 2 months 010-51
010.4.3.2 Shut down for up to 12 months 010-52
010.4.3.3 Shut down for longer than 12 months 010-53
Return to operation
010.4.4.1 After a shut down of 2 months 010-53
010.4.4.2 After a shut down of 12 months 010-53
010.4.4.3 After shut down of longer than 12 months 010-54
010.5 Repair welding 010-55
010.5.1 Preparation of cracked part 010-55
010.5.1 Preparation of a weld 010-56
010.5.1 Treatment of electrodes 010-56
010.5.1 Welding technique 010-56
010.5.1 Reinforcement of welding seam 010-57
010.5.1 General use of reinforcement sheeting 010-57
010.5.1.1 Form of sheeting 010-57
010.5.1.1 Thickness of sheeting 010-57
010.5.1.1 Material quality of sheeting 010-58
010.5.1.1 Application of reinforcement sheeting 010-58
010.5.1.1 Welding the reinforcement sheeting 010-58
010.5.1.1 Selection of correct welding electrodes 010-59
010.5.1.2 Electrode selection 010-59
010.5.1.2 Steel chart 010-60
010.5.1.2 Welding additives chart 010-61
010.6 Hydraulic symbols 010-65
010.7 Electrical symbols 010-75
010.8 Material weights 010-79
020 Technical data 020-1
Overall machine 020-3
020.1.1 Complete machine – Overview
PR736-1736-4F-G8. 0/16834; PR736-1736-05-G8. 0/16834; 020-3
Drive group 020-5
020.2.1 Diesel engine
PR736-1736-4F-G8. 0/16834; PR736-1736-05-G8. 0/16834; 020-5
Cooling system 020-7
020.3.1 Gear pump for cooling circuit
PR736-1736-4F-G8. 0/16834; PR736-1736-05-G8. 0/16834; 020-7
020.3.2 Fan drive gear motor for water, charge air and hydraulic oil cooler
PR736-1736-4F-G8. 0/16834; PR736-1736-05-G8. 0/16834; 020-7
Working hydraulics 020-8
020.4.1 Working hydraulics regulating pump
PR736-1736-4F-G8. 0/16834; PR736-1736-05-G8. 0/16834; 020-8
020.4.2 Proportional control valve block
PR736-1736-4F-G8. 0/16834; PR736-1736-05-G8. 0/16834; 020-8
020.4.3 Lift cylinder
PR736-1736-4F-G8. 0/16834; PR736-1736-05-G8. 0/16834; 020-8
020.4.4 Tilt cylinder
PR736-1736-4F-G8. 0/16834; PR736-1736-05-G8. 0/16834; 020-10
020.5 Travel hydraulics 020-12
020.5.1 Gear pump supply
PR736-1736-4F-G8. 0/16834; PR736-1736-05-G8. 0/16834; 020-12
020.5.2 Variable displacement pump
PR736-1736-4F-G8. 0/16834; PR736-1736-05-G8. 0/16834; 020-12
020.5.3 Variable displacement motor
PR736-1736-4F-G8. 0/16834; PR736-1736-05-G8. 0/16834; 020-12
020.6 Hydraulic components 020-13
020.6.1 Hydraulic tank
PR736-1736-4F-G8. 0/16834; PR736-1736-05-G8. 0/16834; 020-13
020.7 Electrical system 020-14
020.7.1 Batteries Installation
PR736-1736-4F-G8. 0/16834; PR736-1736-05-G8. 0/16834; 020-14
020.8 Travel gearbox 020-15
020.8.1 Travel gearbox
PR736-1736-4F-G8. 0/16834; PR736-1736-05-G8. 0/16834; 020-15
020.8.2 Brake system
PR736-1736-4F-G8. 0/16834; PR736-1736-05-G8. 0/16834; 020-16
020.9 Travel gear, axles, tyres, drive shafts 020-17
020.9.1 Travel gear frame
PR736-1736-4F-G8. 0/16834; PR736-1736-05-G8. 0/16834; 020-17
020.9.2 Idler
PR736-1736-4F-G8. 0/16834; PR736-1736-05-G8. 0/16834; 020-17
020.9.3 Tension unit
PR736-1736-4F-G8. 0/16834; PR736-1736-05-G8. 0/16834; 020-17
020.9.4 Track roller
PR736-1736-4F-G8. 0/16834; PR736-1736-05-G8. 0/16834; 020-17
020.9.5 Carrier roller
PR736-1736-4F-G8. 0/16834; PR736-1736-05-G8. 0/16834; 020-18
020.9.6 Track chain
PR736-1736-4F-G8. 0/16834; PR736-1736-05-G8. 0/16834; 020-18
020.9.7 Sprocket
PR736-1736-4F-G8. 0/16834; PR736-1736-05-G8. 0/16834; 020-19
020.10 Working attachment 020-20
020.10.1 Straight blade
PR736-1736-4F-G8. 0/16834; PR736-1736-05-G8. 0/16834;
020.10.2 6-way blade
PR736-1736-4F-G8. 0/16834; PR736-1736-05-G8. 0/16834;
020.10.3 Cutting angle adjustment for blade
PR736-1736-4F-G8. 0/16834; PR736-1736-05-G8. 0/16834;
020.10.4 Ripper
PR736-1736-4F-G8. 0/16834; PR736-1736-05-G8. 0/16834;
030 Maintenance
030.1 Maintenance and inspection schedule
030.2 Fill quantities, lubrication schedule
030.2.1 Recommended lubricants
PR736-1736-05-G8. 0/16834;
030.2.2 Recommended fuel and operating fluids
PR736-1736-05-G8. 0/16834;
030.2.3 Lubrication schedule
PR736-1736-4F-G8. 0/16834; PR736-1736-05-G8. 0/16834;
030.3 Lubricants and fuels
030.3.1 General information about lubricants and fuels
General Information
General questions
Safety data sheets
Technical data sheets
Specific Liebherr standards
030.3.2 Diesel fuels
PR736-1736-05-G8. 0/16834;
030.3.2.1 Liebherr recommendation
030.3.3 Engine oils
PR736-1736-05-G8. 0/16834;
030.3.3.1 Liebherr recommendations for stage IV/tier 4f and
stage V diesel engines 030-20
Liebherr recommendation for other emission stages 030-20
Minimum quality requirement
Aggravating circumstances
Coolant
Requirements for water used
Corrosion inhibitor
Liebherr recommendation
030.3.4.2 Anti-freeze and corrosion protection agent 030-22
030.3.4.2 Liebherr recommendation 030-22
030.3.4.2 Minimum quality requirement 030-23
030.3.5 Diesel exhaust fluids
PR736-1736-05-G8. 0/16834; 030-23
030.3.5.1 Liebherr recommendation 030-23
030.3.5.2 Minimum quality requirement 030-23
030.3.6 Hydraulic oils
PR736-1736-05-G8. 0/16834; 030-23
030.3.6.1 Liebherr recommendation 030-23
030.3.6.2 Minimum quality requirement 030-24
030.3.6.3 Oil analysis 030-24
030.3.6.4 Filter change 030-24
030.3.6.5 Oil change 030-25
030.3.7 Lube oils for travel gearbox
PR736-1736-05-G8. 0/16834; 030-25
030.3.7.1 Quality 030-25
030.3.7.2 Viscosity 030-26
030.3.7.3 Oil change 030-26
030.3.8 Oil for duo cone (slipring) seal Travel gear
PR736-1736-4F-G8. 0/16834; PR736-1736-05-G8. 0/16834; 030-26
030.3.9 Grease and other lubricants
PR736-1736-05-G8. 0/16834; 030-27
030.3.10 Oil for hinges and joints
PR736-1736-4F-G8. 0/16834; PR736-1736-05-G8. 0/16834; 030-28
030.3.11 Oil for axle bearing
PR736-1736-4F-G8. 0/16834; PR736-1736-05-G8. 0/16834; 030-29
Maintenance tasks 030-30
Safety instructions for maintenance
PR736-1736-4F-G8. 0/16834; PR736-1736-05-G8. 0/16834; 030-30
Maintenance – preparations
030.4.2.1 Maintenance position
PR736-1736-05-G8. 0/16834;
030.4.2.2 Lifting operator's cab
PR736-1736-05-G8. 0/16834;
030.4.2.3 Lowering the operator's cab
PR736-1736-05-G8. 0/16834;
Overall machine
Checking the machine for external damage, correct
maintenance and proper condition
PR736-1736-4F-GB. 0/16834; PR736-1736-05-
GB. 0/16834; 030-41
Lubricating all lube points according to lubrication
chart
PR736-1736-4F-GB. 0/16834; PR736-1736-05-
GB.0I16834; 030-41
Checking and changing the windscreen wiper blade
PR736-1736-05-GB. 0/16834; 030-41
Carrying out the maintenance and inspection for the
optional equipment in the scope of delivery according
to the manufacturer's operator's manual or manufacturer's
data
PR736-1736-05-GB. 0/16834; 030-42
Oil samples and oil analysis
PR736-1736-05-G8. 0/16834; 030-42
Wet cleaning machine
PR736-1736-05-GB. 0/16834; 030-46
Protecting the piston rods
PR736-1736-4F-GB. 0/16834; PR736-1736-05-
GB. 0/16834; 030-47
Taking the machine out of service
PR736-1736-4F-GB. 0/16834; PR736-1736-05-
GB.0I16834; 030-48
030-48
Diesel engine: checking oil level
PR736-1736-05-GB. 0/16834; 030-48
Changing engine oil
PR736-1736-05-G8. 0/16834; 030-49
Changing oil filter
PR736-1736-05-GB. 0/16834; 030-51
Checking the diesel engine configuration and the
belly pan for contamination and cleaning them
PR736-1736-05-G8. 0/16834; 030-52
Checking the ribbed V-belt and adjusting it if
necessary
PR736-1736-05-GB. 0/16834; 030-53
Checking and replacing belt drive
PR736-1736-05-G8. 0/16834; 030-56
Checking diesel engine configuration for leaks and
condition
PR736-1736-05-GB. 0/16834; 030-57
Checking suction lines and exhaust lines for damage,
leaks and tight seating
PR736-1736-05-GB. 0/16834;
Diesel engine: checking electrical system
030.4.4.10 Changing oil separator filter cartridge
PR736-1736-05-G8. 0/16834; 030-60
030.4.4.11 Checking and changing the heater flange
PR736-1736-05-G8. 0/16834; 030-61
030.4.4.12 Checking the engine mount, oil pan and engine
brackets for tight seating
PR736-1736-05-G8. 0/16834; 030-65
030.4.4.13 Checking speed according to adjustment checklist
PR736-1736-05-G8. 0/16834; 030-65
030.4.4.14 Checking valve clearance
PR736-1736-05-G8. 0/16834; 030-65
030.4.4.15 Checking intake system and exhaust treatment
system for leaks and hose installation for abrasion
PR736-1736-05-G8. 0/16834; 030-65
030.4.4.16 Checking the tightening torque of profile clamp
PR736-1736-05-G8. 0/16834; 030-65
030.4.4.17 Notes for working on the fuel system
PR736-1736-05-G8. 0/16834; 030-66
030.4.4.18 Draining fuel pre-filter condensation
PR736-1736-05-G8. 0/16834; 030-66
030.4.4.19 Fuel tank: draining condensation and sediment
PR736-1736-05-G8. 0/16834; 030-67
030.4.4.20 Changing the fuel pre-filter
PR736-1736-05-G8. 0/16834; 030-68
030.4.4.21 Changing fuel fine filter
PR736-1736-05-G8. 0/16834; 030-71
030.4.4.22 Checking fuel system for leaks and condition
PR736-1736-05-G8. 0/16834; 030-73
030.4.4.23 Emptying and cleaning the fuel tank
PR736-1736-05-G8. 0/16834; 030-73
030.4.4.24 Venting fuel pre-filter and fuel system
PR736-1736-05-G8. 0/16834; 030-76
030.4.4.25 Replacing the air filter
PR736-1736-05-G8. 0/16834; 030-78
030.4.4.26 Air filter: checking dust discharge
PR736-1736-05-G8. 0/16834; 030-82
030.4.4.27 Diesel particle filter: changing filter module
PR736-1736-05-G8. 0/16834; 030-82
Cooling system 030-92
030.4.5.1 Checking the coolant level
PR736-1736-05-G8. 0/16834; 030-92
030.4.5.2 Cleaning the cooling system
PR736-1736-05-G8. 0/16834; 030-94
030.4.5.3 Checking cooling system for leaks and damage
PR736-1736-05-G8. 0/16834;
030.4.5.4 Checking anti-freeze concentration of the coolant
PR736-1736-05-G8. 0/16834; 030-99
030.4.5.5 Changing coolant
PR736-1736-05-G8. 0/16834; 030-106
Travel hydraulics 030-109
030.4.6.1 Changing supply circuit filter cartridge
PR736-1736-05-G8. 0/16834; 030-109
Hydraulic components 030-113
030.4.7.1 Checking oil level in the hydraulic tank and topping
up oil
PR736-1736-05-G8. 0/16834; 030-113
030.4.7.2 Cleaning magnetic rod of the hydraulic tank
PR736-1736-05-G8. 0/16834; 030-116
030.4.7.3 Checking hydraulic system for function and leaks
PR736-1736-05-G8. 0/16834; 030-117
030.4.7.4 Changing hydraulic oil
PR736-1736-05-G8. 0/16834; 030-118
030.4.7.5 Checking and adjusting hydraulic pressures as per
adjustment checklist
PR736-1736-05-G8. 0/16834; 030-120
030.4.7.6 Changing return filter cartridge
PR736-1736-05-G8. 0/16834; 030-120
Electrical system 030-122
030.4.8.1 Lighting: checking for correct function
PR736-1736-05-G8. 0/16834; 030-122
030.4.8.2 Checking the batteries
PR736-1736-05-G8. 0/16834; 030-123
030.4.8.3 Checking cable routings and connections
PR736-1736-05-G8. 0/16834; 030-125
030.4.8.4 Checking and adjusting travel drive control system as
per adjustment checklist
PR736-1736-05-G8. 0/16834; 030-125
Travel gearbox 030-125
030.4.9.1 Travel gearbox: checking the condition
PR736-1736-4F-G8. 0/16834; PR736-1736-05-
GB. 0/16834; 030-125
030.4.9.2 Checking oil level and cleaning magnetic plug
PR736-1736-05-G8. 0/16834; 030-125
030.4.9.3 Travel gearbox: changing oil and cleaning magnetic
plugs
PR736-1736-05-G8. 0/16834; 030-126
030.4.9.4 Checking oil level in duo cone (slip ring) area
PR736-1736-05-G8. 0/16834; 030-128
030.4.9.5 Flushing duo cone (slip ring) area and replacing oil in
this area
PR736-1736-05-G8. 0/16834; 030-130
Travel gear, axles, tyres, drive shafts 030-135
030.4.10.1 Checking that the nuts and bolts of the travel gear
components are firmly seated
PR736-1736-05-G8. 0/16834; 030-135
030.4.10.2 Checking the carrier rollers, track rollers and idlers
for tightness
PR736-1736-4F-G8. 0/16834; PR736-1736-05-
G8.0/16834; 030-137
030.4.10.3 Checking idler guides and adjusting, if necessary
PR736-1736-05-G8. 0/16834; 030-137
030.4.10.4 Checking the track tension and adjusting, if
necessary
PR736-1736-05-G8. 0/16834; 030-141
030.4.10.5 Checking the travel gear wear
PR736-1736-4F-G8. 0/16834; PR736-1736-05-
G8.0/16834; 030-144
030.4.10.6 Axle bearing: checking oil level and topping up
PR736-1736-05-G8. 0/16834; 030-144
Working attachment 030-145
030.4.11.1 Checking the cutting edges, corners and ripper teeth
for wear
PR736-1736-4F-G8. 0/16834; PR736-1736-05-
G8.0/16834; 030-145
030.4.11.2 Blade: checking the centre position
PR736-1736-05-G8. 0/16834; 030-146
030.4.11.3 Checking the bearing points of the working attachment
for play and wear
PR736-1736-4F-G8. 0/16834; PR736-1736-05-
G8.0/16834; 030-147
030.4.11.4 Checking the mounting screws and pin retainers of
the working attachment for tight seating
PR736-1736-4F-G8. 0/16834; PR736-1736-05-
G8.0/16834; 030-148
030.4.11.5 Removing and installing the ripper tooth tips
PR736-1736-05-G8. 0/16834; 030-149
Operator's cab, heating, air conditioning 030-152
030.4.12.1 Checking heating and air conditioning for function
and leaks
PR736-1736-05-G8. 0/16834; 030-152
030.4.12.2 Cleaning recirculated air fresh air filter and changing
it if necessary
PR736-1736-05-G8. 0/16834;
030.4.12.3 Inspection of the air conditioning system by HVAC
specialist staff
PR736-1736-05-G8. 0/16834; 030-154
030.4.12.4 Checking the condenser
PR736-1736-05-G8.0/16834; 030-154
030.5 Testing and adjustment checklist
PR736-1736-4F-G8. 0/16834; PR736-1736-05-G8. 0/16834;
030.5.1 Adjustment checklist
030.5.2 Track Components Check List
030.6 Check and adjustment tasks 030-175
030.6.1 Safety instructions
PR736-1736-4F-G8. 0/16834; PR736-1736-05-G8. 0/16834;
030.6.2 Overall machine
Preparations for adjustment procedures
PR736-1736-4F-G8. 0/16834; PR736-1736-05-
G8. 0116834;
Visual inspection and maintenance
PR736-1736-4F-G8. 0/16834; PR736-1736-05-
G8. 0/16834;
Bringing machine to operating temperature
PR736-1736-4F-G8.0/16834; PR736-1736-05-
030.6.2.3 Various procedures can be selected for reaching the
operating temperature:
PR736-1736-4F-G8. 0/16834; PR736-1736-05-
G8. 0/16834; 030-179
030.6.3 Drive group
030.6.3.1 Engine speed controller of diesel engine – determining
adjustment range
PR736-1736-4F-G8.0/16834; PR736-1736-05-
030-181
G8.0/16834; 030-181
030.6.4
030.6.5
Cooling system
030.6.4.1
030.6.4.2
Checking the stand-by pressure for the fan control
PR736-1736-4F-G8. 0/16834; PR736-1736-05-
G8. 0/16834;
Checking pressure relief valve – fan motor and fan
control
PR736-1736-4F-G8. 0/16834; PR736-1736-05-
G8. 0116834;
Working hydraulics
030.6.5.1 Checking the standby pressure
PR736-1736-4F-G8.0/16834; PR736-1736-05-
G8.0/16834;
030.6.5.2 Checking operating pressure for working hydraulics
PR736-1736-4F-G8. 0/16834; PR736-1736-05-
G8.0/16834; 030-194
030.6.5.3 Checking the primary pressure relief valve on the
control valve block
PR736-1736-4F-G8. 0/16834; PR736-1736-05-
G8.0/16834; 030-195
030.6.5.4 Checking the secondary pressure relief valves on the
control valve block
PR736-1736-4F-G8. 0/16834; PR736-1736-05-
G8.0/16834; 030-196
030.6.5.5 Checking pressure cut off valves 106 on regulating
pump and pressure relief valve – pressure cut off 144
on control valve block
PR736-1736-4F-G8. 0/16834; PR736-1736-05-
G8.0/16834; 030-197
030.6.5.6 Checking nitrogen fill in the hydro accumulator
PR736-1736-4F-G8. 0/16834; PR736-1736-05-
G8.0/16834; 030-200
Travel hydraulics 030-201
030.6.6.1 Checking supply pressure of variable displacement
pump
PR736-1736-4F-G8. 0/16834; PR736-1736-05-
G8.0/16834; 030-201
030.6.6.2 Checking hydraulic neutral position of variable
displacement pump
PR736-1736-4F-G8. 0/16834; PR736-1736-05-
G8.0/16834; 030-203
030.6.6.3 Checking the pressure limitation for high pressure
PR736-1736-4F-G8. 0/16834; PR736-1736-05-
G8.0/16834; 030-205
030.6.6.4 Checking the pressure regulator
PR736-1736-4F-G8. 0/16834; PR736-1736-05-
G8.0/16834; 030-206
Electrical system 030-209
030.6.7.1 Calibrating the hydrostat
PR736-1736-4F-G8. 0/16834; PR736-1736-05-
G8.0/16834; 030-209
030.6.7.2 Checking travel joystick
PR736-1736-4F-G8. 0/16834; PR736-1736-05-
G8.0/16834; 030-220
030.6.7.3 Calibrating inching brake pedal
PR736-1736-4F-G8. 0/16834; PR736-1736-05-
G8.0/16834; 030-222
030.6.7.4 Brake test
PR736-1736-4F-G8. 0/16834; PR736-1736-05-
G8.0/16834; 030-230
Overspeed safety test (option)
PR736-1736-4F-G8. 0/16834; PR736-1736-05-
G8. 0116834;
Parameter adjustment options
PR736-1736-4F-G8. 0/16834; PR736-1736-05-
G8. 0/16834;
Addressing CAN modules
PR736-1736-4F-G8. 0/16834; PR736-1736-05-
Central control (Master5): connecting the Sculi diagnostics
software
PR736-1736-4F-G8. 0/16834; PR736-1736-05-
G8. 0/16834; 030-243
Central control (Master5): connecting the LiFT function
PR736-1736-4F-G8. 0/16834; PR736-1736-05-
G8. 0/16834; 030-246
030.6. 7 .10 Central control (Master5): software update
PR736-1736-4F-G8. 0/16834; PR736-1736-05-
G8. 0116834; 030-247
030.6. 7 .11 Central control (Master5): resetting to factory settings
PR736-1736-4F-G8. 0/16834; PR736-1736-05-
G8. 0/16834; 030-250
030.6.7.12 Free Grade and Definition Grade – calibration
PR736-1736-4F-G8. 0/16834; PR736-1736-05-
G8. 0/16834; 030-252
030.6. 7 .13 Entry and exit lighting – setting the lighting duration
PR736-1736-4F-G8. 0/16834; PR736-1736-05-
G8. 0/16834; 030-256
040 Drive group 040-1
040.1 Diesel engine 040-2
PR736-1736_ 4F G8.0,
PR736-1736_05_G8.0 / 16834
040.1.1 Diesel engine – Full overview
PR736-1736-4F-G8. 0/16834; PR736-1736-05-G8. 0/16834;
040.1.2 Fuel system
Fuel system
PR736-1736-4F-G8.0/16834; PR736-1736-05-
G8.0/16834;
Fuel quantity sensor
PR736-1736-4F-G8. 0/16834; PR736-1736-05-
G8. 0/16834;
Fuel filter
PR736-1736-4F-G8. 0/16834; PR736-1736-05-
G8. 0/16834;
Fuel tank
PR736-1736-4F-G8. 0/16834; PR736-1736-05-
G8. 0116834;
Service manual
040.1.3 Air filter system
040.1.3.1 Air filter system
PR736-1736-4F-G8. 0/16834; PR736-1736-05-
G8. 0/16834;
040.1.4 Exhaust system
040.1.4.1 Exhaust system – Full overview
PR736-1736-4F-G8. 0/16834; PR736-1736-05-
G8. 0/16834;
040.1.5 Diesel engine mounting
PR736-1736-4F-G8. 0/16834; PR736-1736-05-G8. 0/16834;
040.2 Clutch
PR736-1736-4F-G8. 0/16834; PR736-1736-05-G8. 0/16834;
050 Cooling system
050.1 Complete cooling system
PR736-1736-4F-G8. 0/16834; PR736-1736-05-G8. 0/16834;
050.2 Cooler arrangement
050.2.1 Cambi cooler
PR736-1736-4F-G8. 0/16834; PR736-1736-05-G8. 0/16834;
050.3 Hydraulic
050.3.1 Gear pump
PR736-1736-4F-G8. 0/16834; PR736-1736-05-G8. 0/16834;
050.3.2 Gear motor
PR736-1736-4F-G8. 0/16834; PR736-1736-05-G8. 0/16834;
060 Working hydraulics
060.1 Working hydraulics – Full overview
PR736-1736-4F-G8. 0/16834; PR736-1736-05-G8. 0/16834;
060.2 Regulating pump
060.2.1 Regulating pump – full overview
PR736-1736-4F-G8. 0/16834; PR736-1736-05-G8. 0/16834;
060.3 Proportional control valve block
060.3.1 Proportional control valve block – Full overview
PR736-1736-4F-G8. 0/16834; PR736-1736-05-G8. 0/16834;
060.4 Hydraulic cylinder
060.4.1 Lift cylinder
PR736-1736-4F-G8. 0/16834; PR736-1736-05-G8. 0/16834;
060.4.2 Tilt cylinder
PR736-1736-4F-G8. 0/16834; PR736-1736-05-G8. 0/16834;
070 Travel hydraulics
070.1 Complete travel hydraulics
PR736-1736-4F-G8. 0/16834; PR736-1736-05-G8. 0/16834;
070.2 Variable displacement pump
PR736-1736-4F-G8. 0/16834; PR736-1736-05-G8. 0/16834;
070.3 Variable displacement motors
070.3.1 Variable displacement motors – full overview
PR736-1736-4F-G8. 0/16834; PR736-1736-05-G8. 0/16834;
080 Hydraulic components
080.1 Hydraulic cylinder
080.1.1 Lift cylinder
PR736-1736-4F-G8. 0/16834; PR736-1736-05-G8. 0/16834;
080.1.2 Tilt cylinder and swing cylinder
PR736-1736-4F-G8. 0/16834; PR736-1736-05-G8. 0/16834;
080.1.3 Ripper cylinder
PR736-1736-4F-G8. 0/16834; PR736-1736-05-G8. 0/16834;
080.1.4 Cutting angle control cylinder for blade
PR736-1736-4F-G8. 0/16834; PR736-1736-05-G8. 0/16834;
080.2 Hydraulic tank
080.2.1 Hydraulic tank
PR736-1736-4F-G8. 0/16834; PR736-1736-05-G8. 0/16834;
100 Brake system
100.1 Inching brake pedal
100.1.1 Speed reduction pedal
PR736-1736-4F-G8. 0/16834; PR736-1736-05-G8. 0/16834; 100-2
110 Electrical system
110. 1 Electrical system – Full overview
PR736-1736-4F-G8. 0/16834; PR736-1736-05-G8. 0/16834;
110.2 Lighting system
PR736-1736-4F-G8. 0/16834; PR736-1736-05-G8. 0/16834;
110.3 Circuit diagrams
PR736-1736-4F-G8. 0/16834; PR736-1736-05-G8. 0/16834;
110.4 Electrical components of operator's cab
PR736-1736_ 4F G8.0,
PR736-1736_05_G8.0 / 16834
110.4.1 Cab electrical components – Full overview
PR736-1736-4F-G8. 0/16834; PR736-1736-05-G8. 0/16834;
110.4.2 Central control (Master 105)
PR736-1736-4F-G8. 0/16834; PR736-1736-05-G8. 0/16834;
110.4.3 Compact control (A 120)
PR736-1736-4F-G8. 0/16834; PR736-1736-05-G8. 0/16834;
110.4.4 Travel joystick
PR736-1736-4F-G8. 0/16834; PR736-1736-05-G8. 0/16834;
110.4.5 Speed control
PR736-1736-4F-G8. 0/16834; PR736-1736-05-G8. 0/16834;
110.5 Electrical components – Diesel engine
PR736-1736-4F-G8. 0/16834; PR736-1736-05-G8. 0/16834; 110-21
110.6 Electrical components – Main frame
PR736-1736-4F-G8. 0/16834; PR736-1736-05-G8. 0/16834; 110-25
110.7 Electrical components Compartments 110-30
110.7.1 Battery compartment
PR736-1736-4F-G8. 0/16834; PR736-1736-05-G8. 0/16834; 110-30
110.7.2 Fuel tank
PR736-1736-4F-G8. 0/16834; PR736-1736-05-G8. 0/16834; 110-32
110.7.3 Central electrical system compartment
PR736-1736-4F-G8. 0/16834; PR736-1736-05-G8. 0/16834; 110-34
110.7.4 Hydraulic tank
PR736-1736-4F-G8. 0/16834; PR736-1736-05-G8. 0/16834; 110-39
110.8 Display unit
PR736-1736-4F-G8. 0/16834; PR736-1736-05-G8. 0/16834; 110-41
110.9 Electrical components – Lidat
PR736-1736-4F-G8. 0/16834; PR736-1736-05-G8. 0/16834; 110-42
110.10 Electrical components – Assistance systems 110-43
110.10.1 Calibrating Free Grade and Definition Grade
PR736-1736-4F-G8. 0/16834; PR736-1736-05-G8. 0/16834; 110-43
110.11 Electrical components of machine control 110-45
110.11.1 Electrical components of machine control Trimble
PR736-1736-4F-G8. 0/16834; PR736-1736-05-G8. 0/16834; 110-45
110.11.2 Electrical components of machine control Leica
PR736-1736-4F-G8. 0/16834; PR736-1736-05-G8. 0/16834; 110-51
110.11.3 Electrical components of machine control Topcon
PR736-1736-4F-G8. 0/16834; PR736-1736-05-G8. 0/16834; 110-55
Travel gearbox 120-1
120.1 Travel gearbox, overall
PR736-1736-4F-G8. 0/16834; PR736-1736-05-G8. 0/16834; 120-2
120.2 Brake system
PR736-1736-4F-G8. 0/16834; PR736-1736-05-G8. 0/16834; 120-9
120.3 Duo cone slipring seal
PR736-1736-4F-G8. 0/16834; PR736-1736-05-G8. 0/16834; 120-10
120.4 External oil supply
PR736-1736-4F-G8. 0/16834; PR736-1736-05-G8. 0/16834; 120-11
Travel gear, axles, tyres, drive shafts 130-1
130.1 Travel gear frame 130-3
130.1.1 Support frame
PR736-1736-4F-G8. 0/16834; PR736-1736-05-G8. 0/16834; 130-3
130.2 Idler
PR736-1736-4F-G8. 0/16834; PR736-1736-05-G8. 0/16834;
130.3 Tension unit
PR736-1736-4F-G8. 0/16834; PR736-1736-05-G8. 0/16834;
130.4 Tension unit – removal
PR736-1736-4F-G8. 0/16834; PR736-1736-05-G8. 0/16834;
130.4.1.1 Remove the cover on the track roller frame
130.4.1.2 Position of tension unit grease nipple
130.4.1.3 Push the pin in
130.4.1.4 Removal of cover
130.4.1.5 Grease nipple with twist guard
130.4.1.6 Place a mark
130.4.1.7 Installation of the assembly tool
130.4.1.8 Adjust the assembly tool
130.4.1.9 Clamp on the assembly tool
130.4.1.10 Press in the tension unit
130.4.1.11 Removal of the tension unit
130.5 Tension unit – installation
PR736-1736-4F-G8. 0/16834; PR736-1736-05-G8. 0/16834;
130.5.1.1 Installation
130.5.1.2 Positioning of left and right travel gear
130.5.1.3 Press in the tension unit
130.5.1.4 Venting the tension unit
130.5.1.5 Installation of cover
130.5.1.6 Install the cover on the track roller frame
130.6 Track roller
PR736-1736-4F-G8. 0/16834; PR736-1736-05-G8. 0/16834;
130.7 Carrier roller
PR736-1736-4F-G8. 0/16834; PR736-1736-05-G8. 0/16834;
130.8 Function, wear and evaluation
PR736-1736-4F-G8. 0/16834; PR736-1736-05-G8. 0/16834;
140 Steel components Basic machine
PR736-1736_ 4F G8.0,
PR736-1736_05_G8.0 / 16834
Lift cylinder suspension
PR736-1736-4F-G8. 0/16834; PR736-1736-05-G8. 0/16834;
Equaliser bar
PR736-1736-4F-G8. 0/16834; PR736-1736-05-G8. 0/16834;
Push frame (inside)
PR736-1736-4F-G8. 0/16834; PR736-1736-05-G8. 0/16834;
140.4 Push frame (outside)
PR736-1736-4F-G8. 0/16834; PR736-1736-05-G8. 0/16834; 140-9
Working attachment 150-1
150.1 Straight blade
PR736-1736-4F-G8. 0/16834; PR736-1736-05-G8. 0/16834; 150-2
150.2 6-way blade
PR736-1736-4F-G8. 0/16834; PR736-1736-05-G8. 0/16834; 150-3
150.3 Ripper
PR736-1736-4F-G8. 0/16834; PR736-1736-05-G8. 0/16834; 150-14
150.4 Ripper for front equipment, semi-LI-blade
PR736-1736-4F-G8. 0/16834; PR736-1736-05-G8. 0/16834; 150-15
150.5 Ripper for front equipment 6-way blade
PR736-1736-4F-G8. 0/16834; PR736-1736-05-G8. 0/16834; 150-21
Operator's cab, heating, air conditioning 160-1
160.1 Operator's platform 160-2
160.1.1 Operator's platform installations
PR736-1736-4F-G8. 0/16834; PR736-1736-05-G8. 0/16834; 160-2
160.1.2 Operator's platform bearing
PR736-1736-4F-G8. 0/16834; PR736-1736-05-G8. 0/16834; 160-3
160.1.3 Support cylinder
PR736-1736-4F-G8. 0/16834; PR736-1736-05-G8. 0/16834; 160-6
160.2 Operator's cab 160-11
160.2.1 Operator's seat with pneumatic comfort suspension
PR736-1736-4F-G8. 0/16834; PR736-1736-05-G8. 0/16834; 160-11
160.3 Heating, ventilation, air conditioning 160-12
160.3.1 Heating and air conditioning system 160-12
160.3.1.1 Heating, air conditioning and ventilation
PR736-1736-4F-G8. 0/16834; PR736-1736-05-
G8.0/16834; 160-12
Options 190-1
190.1 Refuelling pump
PR736-1736-4F-G8. 0/16834; PR736-1736-05-G8. 0/16834; 190-2
190.2 Reversible fan drive
PR736-1736-4F-G8. 0/16834; PR736-1736-05-G8. 0/16834; 190-9
Service codes, Diagnostics 200-1
200.2 Testing and adjustment software 200-2
200.2.1 Wizard test and adjustment software 200-2
200.2.1.1 General 200-2
200.2.1.2 Symbols
IMAGES PREVIEW OF THE MANUAL: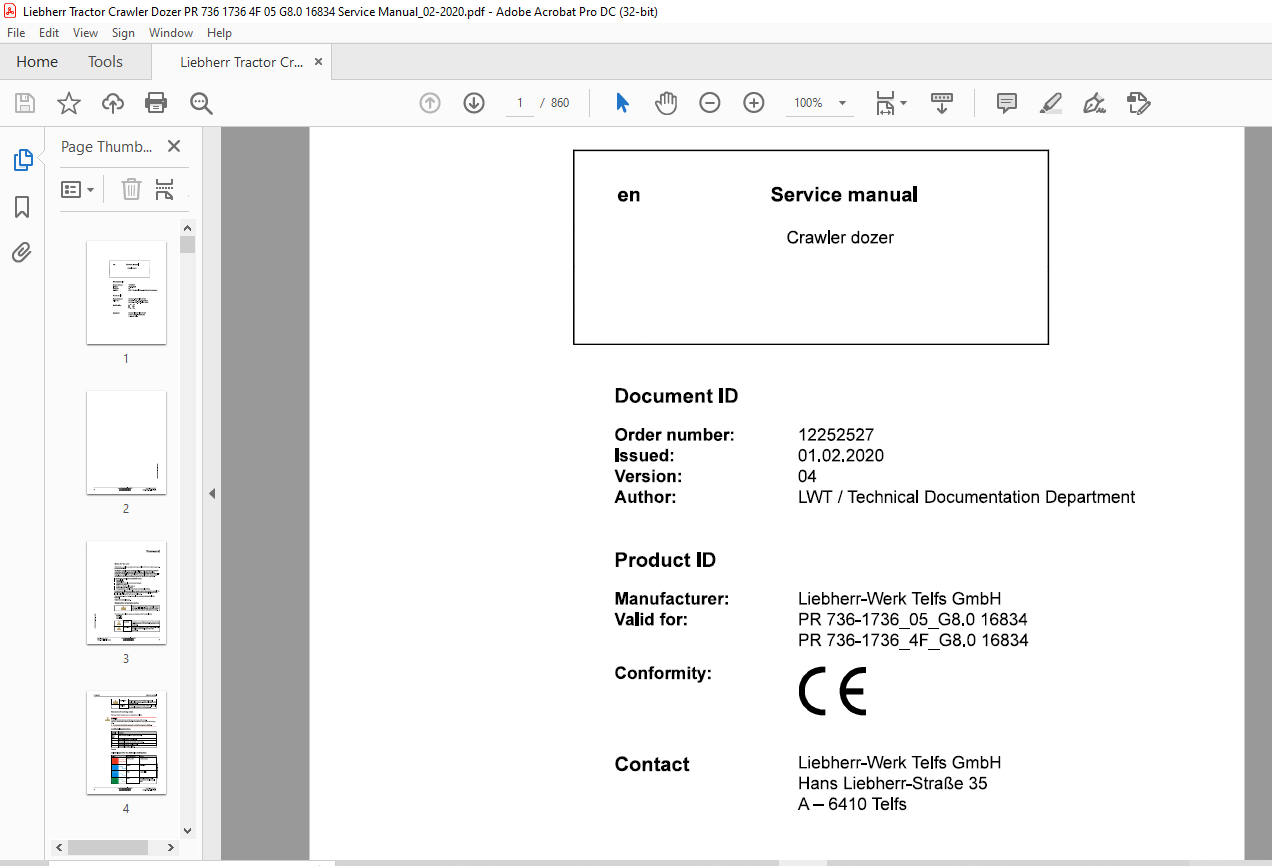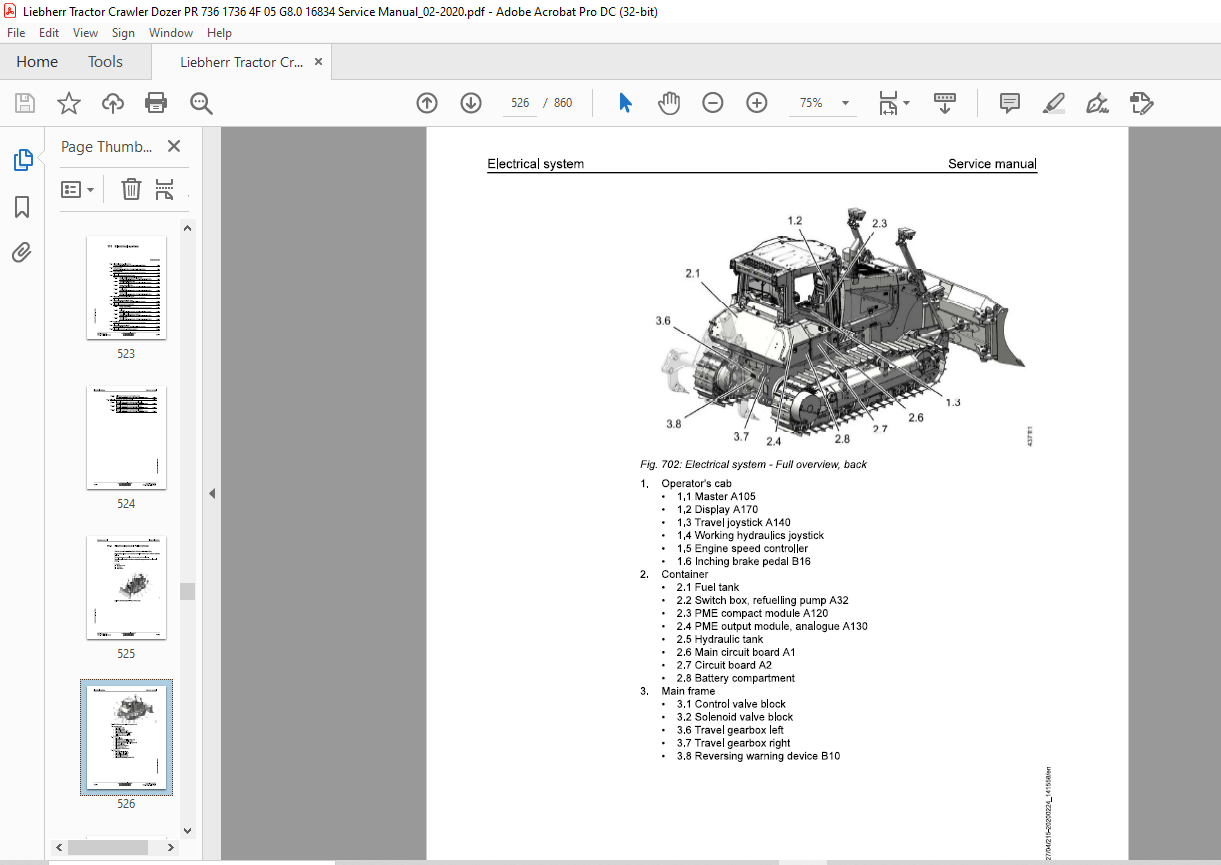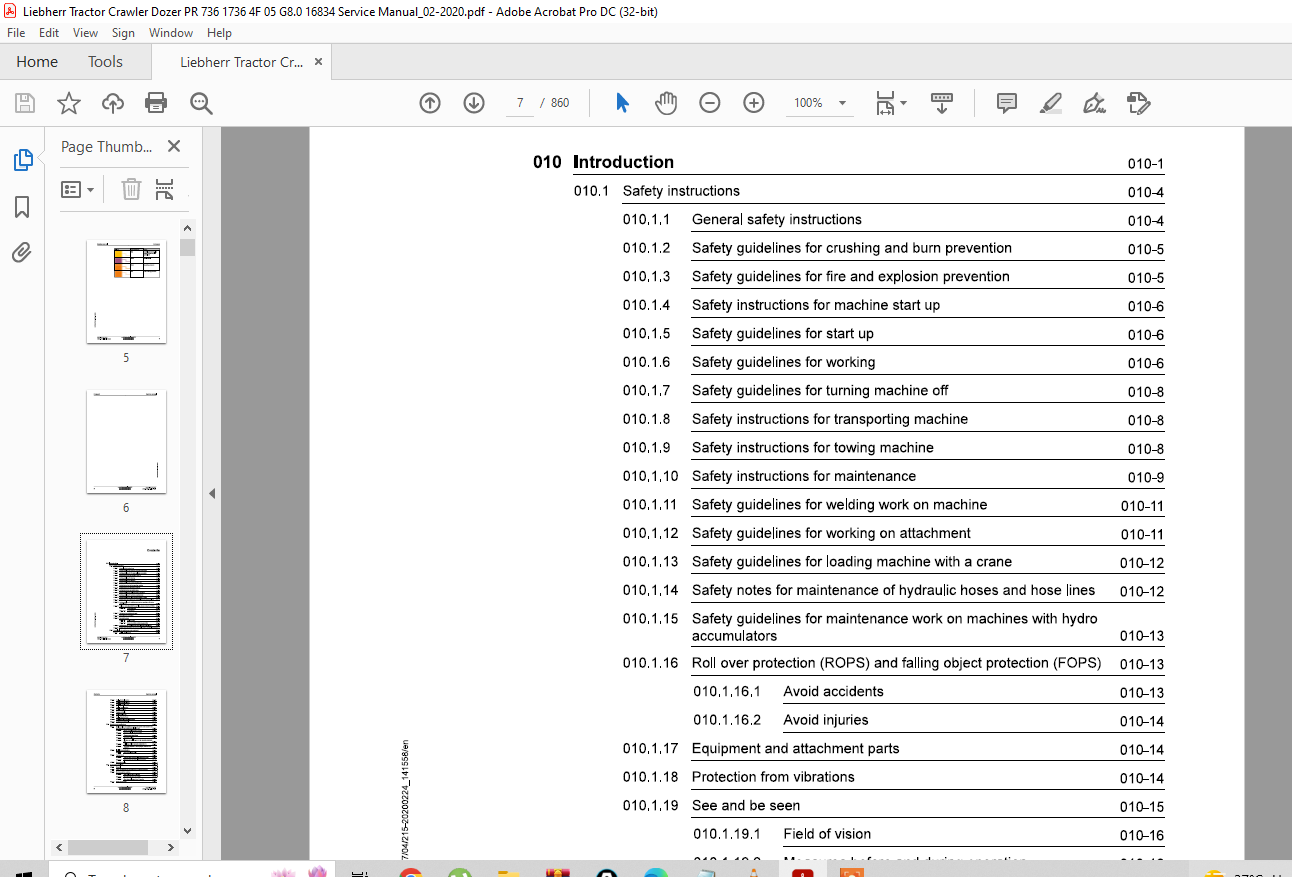 VIDEO PREVIEW OF THE MANUAL:
PLEASE NOTE:
This is the SAME MANUAL used by the dealerships to diagnose your vehicle
No waiting for couriers / posts as this is a PDF manual and you can download it within 2 minutes time once you make the payment.
Your payment is all safe and the delivery of the manual is INSTANT – You will be taken to the DOWNLOAD PAGE.
So have no hesitations whatsoever and write to us about any queries you may have : heydownloadss @gmail.com
S.V