Liebherr LR 624 with steering pedal 997 Crawler Loader Operating Manual SN 12474 – PDF DOWNLOAD
FILE DETAILS:
Liebherr LR 624 with steering pedal 997 Crawler Loader Operating Manual SN 12474 – PDF DOWNLOAD
Language : English
Pages : 306
Downloadable : Yes
File Type : PDF
Size: 25.2 MB
DESCRIPTION:
Liebherr LR 624 with steering pedal 997 Crawler Loader Operating Manual SN 12474 – PDF DOWNLOAD
Document identification
Id. No.: 9085298
Issue: 09/2013
Valid for: LR 624 from S/N. 12474 with steering pedal
Product identification
Manufacturer: Liebherr Werk Telfs GMBH
Type: LR 624
Type No.: 997
Foreword
These Operating Instructions have been written for the operator and for the maintenance personnel of the machine.
They contain the descriptions for:
Technical data
Safety guidelines
Control and operation
Maintenance
Instructions for special equipment
The operating instructions must be read carefully before the initial operation and later in regular intervals by every person who is instructed to work with/on the machine.
Work with or on the machine is, for example:
Operation, including set up, troubleshooting during work process, removal of by-products, care, disposal of service and auxiliary materials.
Upkeep, including maintenance, inspection, repair.
Transport or loading of the machine.
This simplifies the familiarization process for the operator for his machine and avoids problems due to improper operation.
Observation of the operating instructions by maintenance personnel:
increases reliability during application,
extends the service life of your machine,
reduces repair costs and downtime.
The operating instructions belong with the machine. Make sure that there is always one copy ready for use in the compartment in the operator's cab.
The operating instructions must be supplemented with the instructions due to existing national regulations for accident prevention and environmental protection. In addition to operating instructions and the valid regulations for accident prevention in the user country and on the job site, the accepted technical regulations for safe and proper working procedures must also be observed.
These operating instructions contain all necessary information for control, operation, and maintenance of your machine.
Some illustrations in these operating instructions may show details and working attachments, which might differ from those on your machine.
In some illustrations, protective devices and covers have been removed in the interests of better presentation.
Improvements, which are constantly carried out on our machines can result in changes on your machine, which might not have been mentioned yet in these operating instructions.
Should you require any explanations or details above and beyond, please don't hesitate to contact the Technical Documentation Dept. and the Service Dept.
In case of extreme conditions, it might be necessary to carry out maintenance more frequently than noted in the inspection schedule.
Liability and warranty
Due to the variety of products offered by other manufacturers (for example Service items, lubricants, attachments and spare parts), Liebherr cannot check the suitability and error-free function of third-party products in or on Liebherr products in general. The same applies to possible interactions of third-party products with Liebherr products.
The use of third-party products in or on Liebherr machines is at the discretion of the user. Liebherr denies any warranty or liability for damages of any kind for failures or damages on Liebherr machines, which were caused by third-party products.
In addition, Liebherr will not approve any warranty claims, which were caused by improper operation, insufficient maintenance or non-observation of safety guidelines.
Modifications, conditions, copyright:
We reserve the right to make changes of technical details on the machine as compared to those noted or illustrated in the present documentation.
Data and illustrations in these operating instructions may neither be copied and distributed nor used for purposes of trade competition. All rights are expressly reserved in accordance with copyright laws.
Machine data: Component relevant machine data is recorded in part by the system. The saved data is used by the manufacturer for continued improvement of function and reliability.
Warranty and liability conditions of the general business conditions of Liebherr are not expanded by the previous remarks.
IMAGES PREVIEW OF THE MANUAL: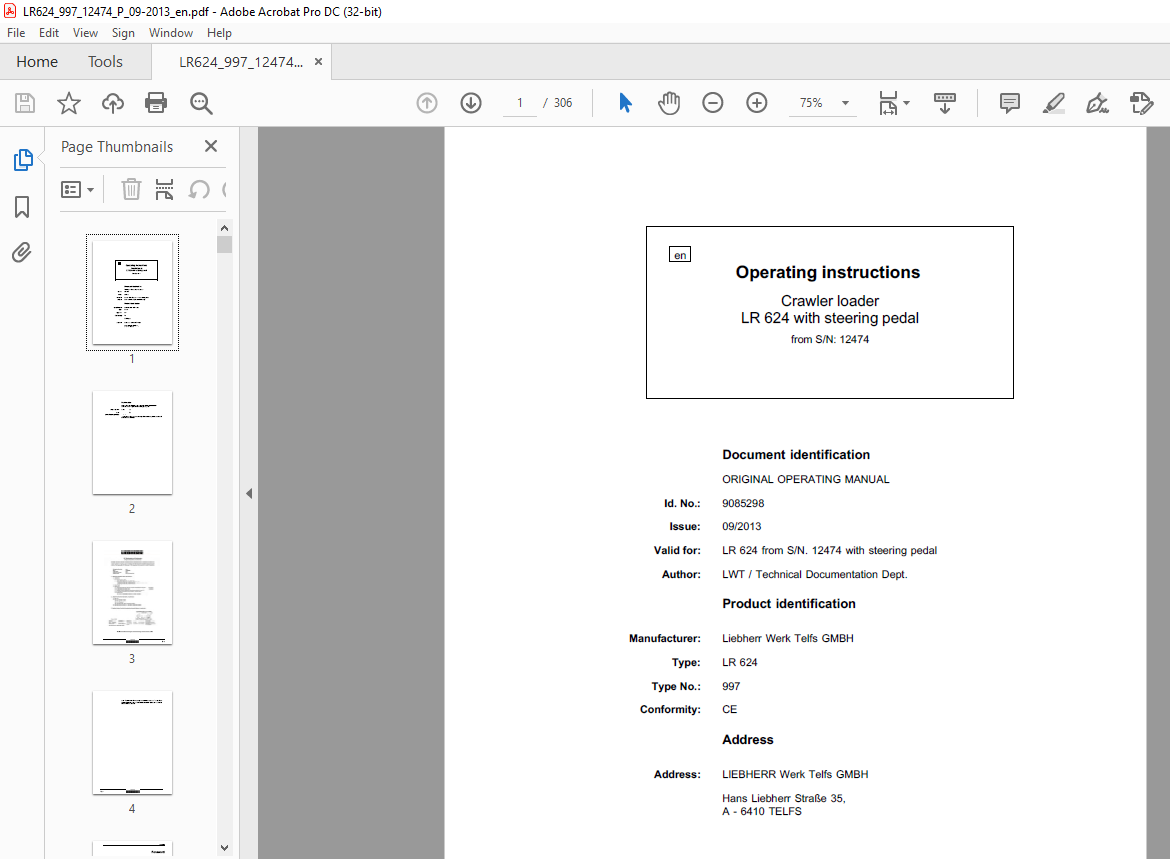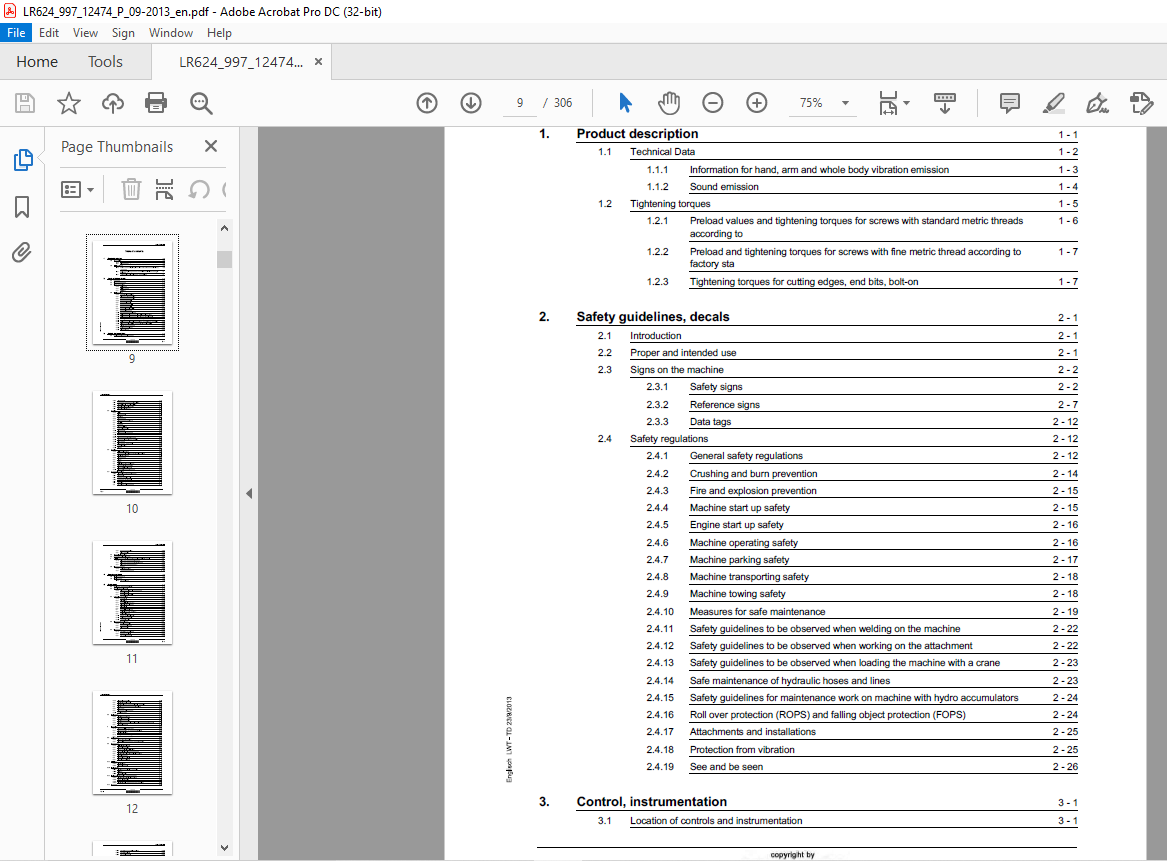 TABLE OF CONTENTS:
Liebherr LR 624 with steering pedal 997 Crawler Loader Operating Manual SN 12474 – PDF DOWNLOAD
1. Product description 1-1
1.1 Technical Data 1-2
1.1.1 Information for hand, arm and whole body vibration emission 1-3
1.1.2 Sound emission 1-4
1.2 Tightening torques 1-5
1.21 Preload values and tightening torques for screws with standard metric threads 1-6
according to
1.2.2 Preload and tightening torques for screws with fine metric thread according to 1-7
factory sta
1.23 Tightening torques for cutting edges, end bits, bolt-on 1-7
2, Safety guidelines, decals 2-1
21 Introduction 2-1
2.2 Proper and intended use 2-1
2.3 Signs on the machine 2-2
2.31 Safety signs 2-2
2.32 Reference signs 2-7
2.33 Data tags 2-12
24 Safety regulations 2-12
2.41 General safety regulations 2-12
2.4.2 Crushing and burn prevention 2-14
2.4.3 Fire and explosion prevention 2-15
244 Machine start up safety 2-15
2.4.5 Engine start up safety 2-16
2.46 Machine operating safety 2-16
247 Machine parking safety 2-17
2.4.8 Machine transporting safety 2-18
2.49 Machine towing safety 2-18
24.10 Measures for safe maintenance 2-19
2.4.11 Safety guidelines to be observed when welding on the machine 2-22
2.412 Safety guidelines to be observed when working on the attachment 2-22
2.413 Safety guidelines to be observed when loading the machine with a crane 2-23
2.414 Safe maintenance of hydraulic hoses and lines 2-23
2.415 Safety guidelines for maintenance work on machine with hydro accumulators 2-24
2.416 Roll over protection (ROPS) and falling object protection (FOPS) 2-24
2.417 Attachments and installations 2-25
2.4.18 Protection from vibration 2-25
2419 See and be seen 2-26
3. Control, instrumentation -1
3.1 Location of controls and instrumentation 3-1
3.1.1 Operator's cab 3-2
3.1.2 Indicator elements on the operator's platform 3-4
3.1.3 Control elements — operator's platform 3-10
3.14 Hydraulic oil temperature display 3-15
3.15 Hydraulic oil level monitor 3-15
3.2 Operation 3-16
3.2.1 Entry 3-16
3.22 Emergency exit 3-16
3.23 Door lock 3-17
3.24 Operator's seat 3-18
3.25 Operator's seat – air cushioned 3-21
3.26 Seatbelt 3-24
3.27 Arm rests 3-26
3.28 Heater, ventilation 3-26
3.29 Air conditioning system 3-28
3.2.10 Sliding window 3-30
3.2.11 Cab interior light – reading lamp 3-30
3.2.12 Rear view mirror 3-31
3.2.13 Electrical windshield wipe and washer system 3-31
3.2.14 Reservoir for windshield washer fluid 3-33
3.2.15 Compartment for machine documentation 3-34
3.2.16 Back-up alarm 3-35
3.2.17 Back-up alarm – disengageable 3-35
3.2.18 Fire extinguisher 3-36
3.2.19 Beacon 3-37
3.3 Operation 3-38
3.31 Daily operational tasks 3-38
3.3.2 Machine operation at low or high ambient temperatures 3-44
3.33 Start the Diesel engine 3-45
3.34 Travel operation 3-50
3.35 Travel 3-52
3.3.6 Brakes 3-55
3.37 Taking the machine out of service 3-57
3.38 Guidelines for working in water 3-61
3.39 Working with the attachment 3-62
3.3.10 Working with optional attachments 3-69
3.4 General working methods 3-72
3.41 Transporting and handling of material 3-72
3.4.2 Dozing work 3-74
3.4.3 Loading material from a pile 3-74
3.44 Loading from a bank or wall 3-75
3.45 Loading of transport vehicles 3-76
3.4.6 Excavation 3-78
3.4.7 Example: Foundation excavation 3-79
3.4.8 Land clearing operation 3-80
3.4.9 Ripper operation 3-82
3.5 Transporting the machine 3-83
3.6 Loading the machine with a crane 3-86
3.7 Installation instructions for the removal and installation of attachment parts 3-87
3.71 Removal and installation of the bucket 3-87
3.7.2 Removal and installation of the 4 in 1 bucket 3-89
3.7.3 Removal and installation of ripper 3-91
3.8 Emergency operation 3-94
3.8.1 Towing the machine 3-94
3.8.2 Auxiliary starting procedure 3-101
4, Operating problems –
4.1 Problems and remedy –
4.2 Problem remedy –
4.21 Change the fuse 4-8
5. Maintenance 5-1
5.1 Maintenance and inspection schedule 5-1
5.2 Quantities, Lubrication chart 5-6
5.2.1 Recommended lubricants and service items 5-6
5.22 Lubrication chart 5-7
5.23 Lubrication chart symbols 5-9
53 Lubricants and service fluids 5-10
5.3.1 General data 5-10
5.3.2 Diesel fuels 5-10
5.33 Lube oils for Diesel engines 5-11
5.34 Coolant for Diesel engines 5-13
5.35 Hydraulic oil 5-15
5.36 Lube oils for splitterboxes 5-20
5.37 Lube oils for travel gears 5-20
5.3.8 Qil for slipring seal — travel gear 5-21
5.3.9 Qil for axle bearing 5-21
5.3.10 Grease and other lubricants 5-21
5.3.11 Oil for hinges and joints 5-22
5.3.12 Taking oil samples 5-23
5.4 Preparations for maintenance 5-27
5.4.1 Maintenance position 5-28
54.2 Open the cooler guard 5-31
5.4.3 Electrical system 5-32
5.5 Diesel engine 5-32
5.51 Check the engine oil level 5-32
5.5.2 Engine compartment 5-33
553 Change the engine oil 5-34
554 Change the lube oil filter 5-36
5.5.5 Check / change the V-belt 5-37
5.56 Check the Diesel engine location for leaks and condition 5-38
557 Check mounting of air intake and exhaust lines 5-38
55.8 Qil separator 5-39
5.59 Diesel engine – Electrical system 5-39
5.5.10 Vibration damper 5-40
5.6 Cooling system 5-41
5.6.1 Check the coolant level 5-41
5.6.2 Clean the cooling system 5-43
5.6.3 Check the cooling system 5-44
5.6.4 Check the corrosion inhibitor / antifreeze fluid concentration in the coolant 5-45
5.6.5 Change the coolant 5-49
57 Fuel system 5-50
5.71 Drain the fuel filter condensation 5-51
57.2 Drain condensation and sediments from fuel tank 5-52
57.3 Empty the fuel tank 5-52
57.4 Change the fuel filter cartridges 5-55
57.5 Bleed the fuel filter / fuel system 5-57
5.8 Air filter system 5-62
5.8.1 Clean / change the air filter 5-62
5.8.2 Clean air filter service cover and dust discharge valve 5-64
5.9 Hydraulic system 5-65
5.91 Qil level in hydraulic tank 5-65
59.2 Change the return filter 5-67
59.3 Clean magnetic plug in filter block 5-68
594 Change the filter in the replenishing circuit 5-69
5.9.5 Check the hydraulic system for function and leaks 5-70
5.9.6 Clean the oil cooler 5-70
5.97 Change the hydraulic cil 5-71
5.9.8 Clean the hydraulic tank 5-72
5.10 Splitterbox 5-73
5.10.1 Check oil level 5-73
5.10.2 Change the gear oil 5-74
5.11 Electrical system 5-75
5.11.1 Check the indicator lights and illumination 5-76
5.11.2 Batteries 5-76
5.11.3 Change the bulbs 5-78
5.12 Heating and fresh air system, air conditioning system 5-79
5.12.1 Check the heater for function and leaks 5-79
5.12.2 Heater — fresh air filter 5-80
5.12.3 Air conditioning system 5-81
5.124 Check / clean the air conditioner''s water drain valves 5-84
5.13 Travel gear 5-84
5.13.1 Check the condition of the travel gear 5-84
5.13.2 Check the oil level 5-85
5.13.3 Change the gear oil 5-85
5.13.4 Travel gear – slip ring area 5-87
5.14 Track components 5-93
5.14.1 Check screws and nuts on track components for tight seating 5-93
5.14.2 Check the seal on the carrier rollers, track rollers and idlers 5-94
5.14.3 Idler guide 5-94
5.144 Chain tension 5-97
5.14.5 Changing the chain 5-100
5.14.6 Clean the tracks 5-106
5.14.7 Check track wear 5-106
5.14.8 Lubricate the equalizer bar bearing 5-107
5.14.9 Axle bearing – oil filling 5-107
5.15 Working attachment 5-109
5.15.1 Check the attachments 5-109
5.15.2 Change the teeth 5-109
5.15.3 Change the screwed on tooth retainer 5-110
5.15.4 Lubricate the attachment bearing points 5-111
5.15.5 Check the bearing play 5-112
5.15.6 Bucket – stops 5-113
5.16 Total machine 5-114
5.16.1 Check the machine for external damage 5-114
5.16.2 Windshield wiper 5-114
5.16.3 Piston rod preservation 5-115
5.16.4 Taking the machine out of service 5-116
5.17 Cab – tilting device 5-116
517.1 Raise the operator's platform 5-116
5.17.2 Lower the operator's platform 5-118
5.18 Cleaning the machine 5-120
5.181 Wet clean the machine 5-120
5.18.2 Clean the Diesel engine 5-121
5.18.3 Clean the track components 5-121
VIDEO PREVIEW OF THE MANUAL:
PLEASE NOTE:
This is the SAME exact manual used by your dealers to fix your vehicle.
The same can be yours in the next 2-3 mins as you will be directed to the download page immediately after paying for the manual.
Any queries / doubts regarding your purchase, please feel free to contact [email protected]
S.V