Liebherr LR 622B Litronic 392 Crawler Loader Operating Manual SN 6833 – PDF DOWNLOAD
FILE DETAILS:
Liebherr LR 622B Litronic 392 Crawler Loader Operating Manual SN 6833 – PDF DOWNLOAD
Language : English
Pages : 259
Downloadable : Yes
File Type : PDF
Size: 29.7 MB
DESCRIPTION:
Liebherr LR 622B Litronic 392 Crawler Loader Operating Manual SN 6833 – PDF DOWNLOAD
Document identification
Id. No.: 9084188
Issue: 04/2004
Valid for: LR 622 B from S/N 6833
Product identification
Manufacturer: LIEBHERR Werk Telfs GMBH
Type: LR 622 B
Type No.: 392
Foreword:
This operating manual has been written for the operator and for the maintenance personnel of this machine.
This manual contains descriptions for:
— Technical Data
— Safety information
— Operating instructions and guidelines
— Maintenance
— Instructions for special / optional equipment
This operating manual should be given to the operator and the maintenance personnel and any other person who works on the machine, who should read it carefully at regular intervals and before operating or servicing the machine.
Work with or on the machine is, for example:
— Operation, including set up, trouble shooting during operation, re- moval of debris, service, removal of oil, lubricants, fuels and operating fluids.
— Maintenance, including inspection, upkeep and / or repair.
— Transportation or loading the machine.
Reading this manual will familiarize the operator with the machine and prevent problems due to improper operation.
Following the operation and maintenance guidelines by maintenance personnel will:
— increase reliable service,
— increase the service life expectancy of your machine,
— reduce repair costs and downtime.
The Operating Manual is part of the machine. Keep a copy of this manual in the glove compartment in the operator's cab to assure that it can be consulted and referred to at any time.
Any existing federal, state and local safety requirements governing ac- cident prevention and environmental safety must be added to this Op- erating Manual, in addition to safety and accident prevention regulations applicable to the country and job site you operate in, including any technical rules and regulations to assure safe and proper operation must be followed.
This Operating Manual includes the necessary information to operate and maintain your machine.
— Some illustrations in this manual might show details and machines which differ from your machine.
— For some illustrations, covers and protective devices were removed to provide a better view.
— Continuing improvements on our machines might result in changes, which are not reflected in this Operation and Maintenance Manual.
If you need any additional information and / or clarification, please don't hesitate to contact LIEBHERR's Technical Documentation Department, Customer Service School or Service Department.
We hope you understand that LIEBHERR cannot honor warranty claims resulting from improper operation, inadequate maintenance, use of wrong and unauthorized oils, lubricants, fuels and operating fluids and / or from disregard of safety information and guidelines.
LIEBHERR reserves the right to reject any warranty claims, service contracts or agreements established by LIEBHERR and / or any of its dealers without prior notice if any other than Original LIEBHERR parts or parts sold by LIEBHERR are being or have been used for maintenance and repair.
Under extreme conditions, it might be necessary to increase maintenance intervals as compared to those listed in the inspection schedule.
Changes, conditions, copyright:
— We reserve the right to make changes of technical details on the machine which differ from the wording and illustrations in this manual.
— No part of this manual, technical or otherwise, may be reproduced nor copied in any form or used for competitive purposes in the market place. All rights reserved.
— Above and the following remarks will not expand LIEBHERR's gen- eral business conditions regarding warranties and liability.
IMAGES PREVIEW OF THE MANUAL: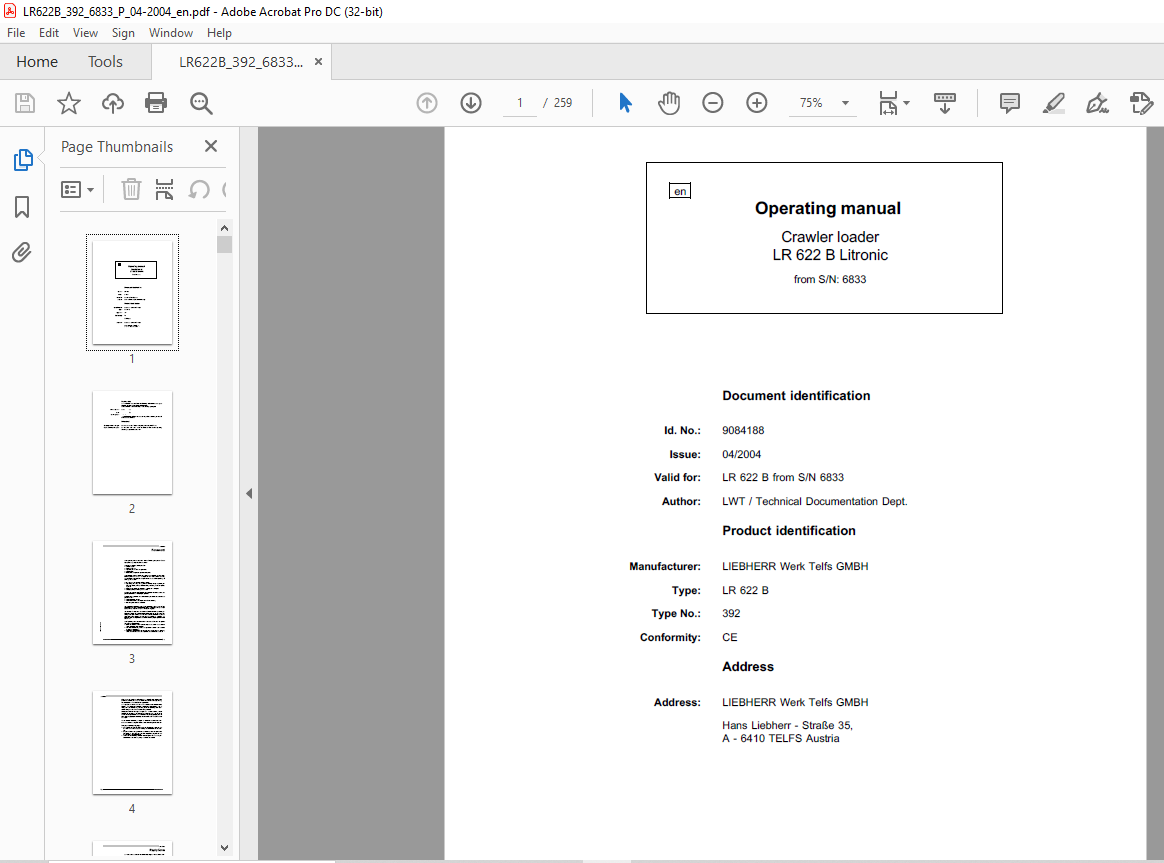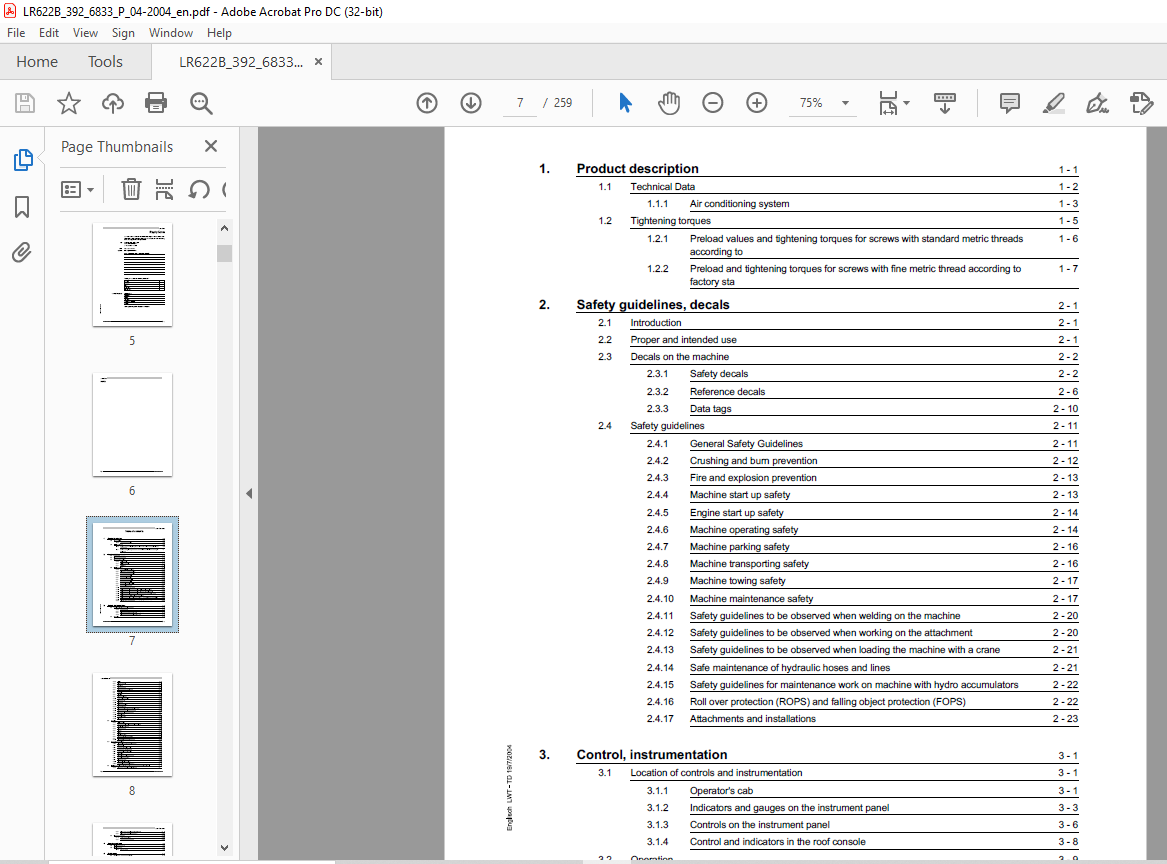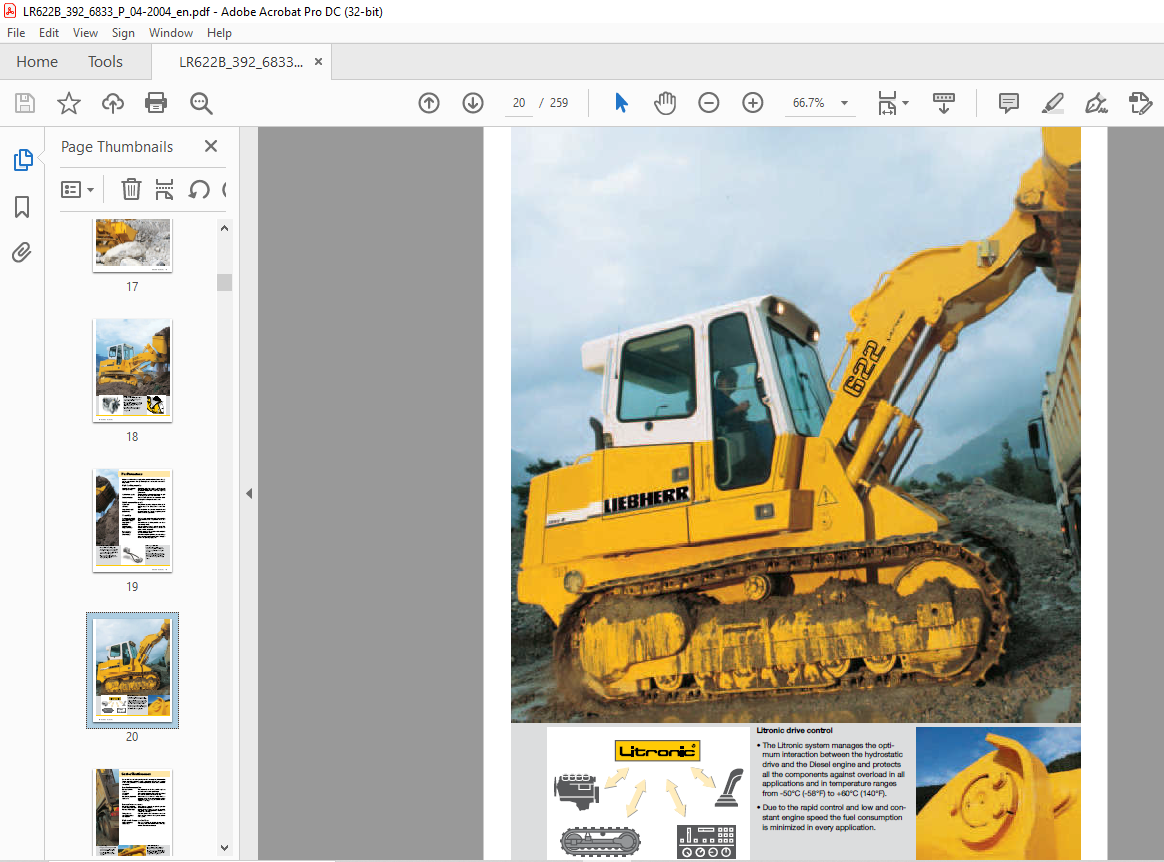 TABLE OF CONTENTS:
Liebherr LR 622B Litronic 392 Crawler Loader Operating Manual SN 6833 – PDF DOWNLOAD
1. Product description 1-1
1.1 Technical Data 1-2
1.1.1 Air conditioning system 1-3
1.2 Tightening torques 1-5
1.21 Preload values and tightening torques for screws with standard metric threads 1-6
according to
12.2 Preload and tightening torques for screws with fine metric thread according to 1-7
factory sta
2. Safety guidelines, decals 2-1
21 Introduction 2-1
22 Proper and intended use 2-1
23 Decals on the machine 2-2
2.3.1 Safety decals 2-2
232 Reference decals 2-6
233 Data tags 2-10
24 Safety guidelines 2-11
241 General Safety Guidelines 2-11
242 Crushing and burn prevention 2-12
24.3 Fire and explosion prevention 2-13
24.4 Machine start up safety 2-13
24.5 Engine start up safety 2-14
246 Machine operating safety 2-14
247 Machine parking safety 2-16
24.8 Machine transporting safety 2-16
24.9 Machine towing safety 2-17
24.10 Machine maintenance safety 2-17
24.11 Safety guidelines to be observed when welding on the machine 2-20
24.12 Safety guidelines to be observed when working on the attachment 2-20
24.13 Safety guidelines to be observed when loading the machine with a crane 2-21
24.14 Safe maintenance of hydraulic hoses and lines 2-21
24.15 Safety guidelines for maintenance work on machine with hydro accumulators 2-22
24.16 Roll over protection (ROPS) and falling object protection (FOPS) 2-22
2417 Attachments and installations 2-23
3. Control, instrumentation –
3.1 Location of controls and instrumentation 3-1
3.1.1 Operator's cab –
3.1.2 Indicators and gauges on the instrument panel 3-3
3.1.3 Controls on the instrument panel 3-
3.14 Control and indicators in the roof console 3-8
3.2 Operation 3
3.21 Entry 3-9
3.22 Emergency exit 3-10
3.23 Door lock 3-11
3.24 Operator's seat 3-12
3.25 Operator's seat – air cushioned 3-14
3.26 Vibration absorber 3-17
3.27 Armrests 3-17
3.28 Seatbelt 3-18
3.29 Heater, ventilation 3-20
3.2.10 Air conditioning system 3-22
3.2.11 Sliding window 3-24
3.212 Sun shade 3-24
3.2.13 Cab interior lighting 3-24
3.2.14 Rear view mirror 3-25
3.2.15 Electric windshield wiper and washer system 3-25
3.2.16 Reservoir for windshield washer fluid 3-26
3.2.17 Compartment for documentation 3-27
3.2.18 Back-Up Alarm 3-27
3.2.19 Fire extinguisher 3-28
3.220 Beacon 3-28
3.3 Operation 3-29
3.31 Daily operation 3-29
3.32 Machine operation in low ambient temperatures 3-32
3.33 Start the Diesel engine 3-32
3.34 Travel operation 3-38
3.35 Travel 3-39
3.3.6 Brakes 3-42
3.37 Stop the machine 3-45
3.3.8 Guidelines for working in water 3-48
3.3.9 Working with the attachment 3-48
3.3.10 Working with optional attachments 3-55
3.4 General working methods 3-57
3.4.1 Transporting and handling of material 3-58
34.2 Dozing work 3-59
34.3 Loading material from a pile 3-60
344 Loading from a bank or wall 3-61
345 Loading of transport vehicles 3-62
3.4.6 Excavation 3-64
34.7 Example: Foundation excavation 3-65
34.8 Land clearing operation 3-66
34.9 Ripping operation 3-68
3.4.10 Transporting the machine 3-69
3.4.11 Loading the machine with a crane 3-75
3.5 Installation guidelines to be observed for removal and installation of attachments 3-76
3.5.1 Removal and installation of the bucket 3-77
3.5.2 Removal and installation of 4 in 1 bucket 3-78
3.5.3 Removal and installation of ripper 3-80
3.6 Emergency operation 3-83
3.6.1 Towing the machine 3-84
3.6.2 Auxiliary starting procedure 3-89
4. Operating problems –
4.1 Problems and remedy –
4.2 Problem remedy –
4.21 Change a fuse –
5. Maintenance 5-1
5.1 Maintenance and inspection schedule 5-2
52 Lubrication chart 5-6
53 Lubricants and service fluids 5-8
5.31 Handling lubricants and service fluids 5-8
53.2 Lubricant and service fluid specifications, filling quantities 5-8
53.3 Change from mineral oils to environmentally friendly hydraulic fluids 5-15
5.34 Timely oil diagnostics – Analysis 5-15
54 Preparations for maintenance 5-19
54.1 Maintenance position 5-19
54.2 Electrical system 5-22
55 Diesel engine 5-22
55.1 Check the engine oil level 5-23
55.2 Check the engine oil pressure 5-23
55.3 Engine compartment 5-24
554 Change the engine oil 5-24
55.5 Change the lube oil filter 5-26
55.6 Check / change the V-belt 5-27
557 Check the Diesel engine area for leaks and condition 5-28
55.8 Check the mounting of intake and exhaust lines 5-28
559 Oil separator 5-29
5.6 Cooling system 5-29
5.6.1 Check the coolant level 5-30
5.6.2 Clean the cooling system 5-31
56.3 Check the cooling system for leaks 5-32
56.4 Change the coolant filter 5-33
56.5 Check the antifreeze and DCA-4 concentration in the coolant 5-34
56.6 Change the coolant 5-34
57 Fuel system 5-36
5741 Drain the fuel separator condensation 5-37
57.2 Drain water and contaminants in the fuel tank 5-37
57.3 Empty the fuel tank 5-38
57.4 Change fuel filter cartridges 5-39
57.5 Clean the fuel separator 5-41
57.6 Bleed the fuel system 5-42
5.8 Air filter system 5-43
5.8.1 Clean / change the air filter 5-43
5.9 Hydraulic system 5-46
5.91 Oil level in hydraulic tank 5-46
5.9.2 Clean the magnetic rod on the hydraulic tank 5-48
59.3 Change the return filter insert 5-49
594 Change the replenishing oil filter 5-51
59.5 Check the hydraulic system for function and leaks 5-52
5.9.6 Clean the oil cooler 5-52
597 Change the hydraulic cil 5-53
5.10 Splitterbox 5-55
5.10.1 Check the oil level 5-585
5.10.2 Change the gear oil 5-55
5.11 Electrical system 5-57
5.11.1 Check indicator lights and illumination 5-58
5.11.2 Batteries 5-58
5.11.3 Change bulbs 5-60
5.12 Heating and fresh air system, air conditioning system 5-61
5.12.1 Check the heater for function and for leaks 5-62
5.12.2 Heater – fresh air filter 5-62
5.12.3 Air conditioning system 5-63
5.13 Travel gear 5-67
5.13.1 Check the condition of the travel gear 5-67
5.13.2 Check the oil level 5-67
5.13.3 Change the gear oil 5-67
5.13.4 Travel gear – lifetime seal area 5-68
5.14 Track components 5-75
5.14.1 Check the screws on nuts on the track components for tight seating 5-75
5.14.2 Check the seal on the carrier rollers, track rollers and idlers 5-76
5.14.3 Idler guide 5-76
5.14.4 Chain tension 5-78
5.14.5 Changing the chain 5-81
5.14.6 Clean the tracks 5-88
5.14.7 Check track wear 5-89
5.15 Working attachment 5-89
5.15.1 Check the attachment 5-89
5.15.2 Replace teeth 5-89
5.15.3 Lubricate the attachment bearing points 5-90
5.15.4 Check the bearing play 5-91
5.15.5 Bucket stops 5-91
5.16 Total machine 5-92
5.16.1 Check the machine for external damage 5-92
5.16.2 Operator's cab – lubricate door hinges 5-93
5.16.3 Windshield wiper 5-93
5.16.4 Piston rod preservation 5-94
5.16.5 Taking the machine out of service 5-95
517 Cab – tilting device 5-95
5171 To raise the cab 5-95
517.2 Lower the cab 5-97
VIDEO PREVIEW OF THE MANUAL:
PLEASE NOTE:
This is the SAME exact manual used by your dealers to fix your vehicle.
The same can be yours in the next 2-3 mins as you will be directed to the download page immediately after paying for the manual.
Any queries / doubts regarding your purchase, please feel free to contact [email protected]
S.V