Liebherr LH 80 M Litronic 1205 Machine for Industrial Applications Operator's Manual SN 89398 – PDF DOWNLOAD
FILE DETAILS:
Liebherr LH 80 M Litronic 1205 Machine for Industrial Applications Operator's Manual SN 89398 – PDF DOWNLOAD
Language : English
Pages : 326
Downloadable : Yes
File Type : PDF
DESCRIPTION:
Liebherr LH 80 M Litronic 1205 Machine for Industrial Applications Operator's Manual SN 89398 – PDF DOWNLOAD
Product ID
Manufacturer: Liebherr Hydraulikbagger GmbH
Type: LH 80 M Litronic
Type no.: 1205
From Serial no.: 89398
Preface:
This operating manual is intended for you as the machine operator or as a member of the maintenance personnel. It contains warnings, important information and tips for working with the machine. It simplifies the process of familiarisation and getting to know the machine, and helps to avoid faults caused by incorrect operation.
Compliance with the operating manual increases the reliability and service life of the machine.
The operating manual must be kept with the machine. Make sure that a copy is always kept close to hand at the workplace.
Read the operating manual before initial commissioning and subsequently at regular intervals. Everyone who carries out work with or on the machine must be familiar with and use this operating manual.
Examples of this work:
– Operation including setup and fitting attachments, elimination of faults, care,
disposal of service products and consumables
– Maintenance including servicing, inspection and repair
– Transporting or loading the machine
The owner is responsible for supplementing the operating manual with instructions based on existing national regulations on accident prevention and environmental protection. In addition to this operating manual and the regulations on accident prevention applicable in the user's country and at the place of use, it is also necessary to comply with the recognised technical rules on safety and technically proficient working.
Some sections of this operating manual do not apply to all machines.
Some illustrations in this operating manual may show details and implements that are different from your machine.
In some illustrations, protective devices and covers have been removed to provide a clearer representation.
Liebherr machines are subject to continuous development and improvement. This may have resulted in modifications to your machine which are possibly not referred to in this operating manual.
If you require further explanations or information, please contact Liebherr customer service.
Liability and warranty:
Due to the wide variety of products offered by other manufacturers (e.g. service products, lubricants, tool attachments and spare parts), Liebherr cannot examine the general suitability and absence of defects in third-party products which are used in or on Liebherr products. The same applies to possible interactions between third-party products and Liebherr products.
Third-party products are used in or on Liebherr machines at the user's own discretion.
Liebherr does not offer any warranty or accept any liability for losses of anykind caused by failures of or damage to Liebherr machines attributable to the use of third-party products.
Furthermore, Liebherr will not recognise any warranty claims attributable to incorrect operation, inadequate maintenance or the failure to follow safety instructions.
Modifications, conditions, copyright:
Liebherr reserves the right to make modifications in the course of technical development, without issuing prior notification.
Information and illustrations in these instructions are not allowed to be duplicated, distributed or used for the purposes of competing with Liebherr. All rights under copyright legislation are expressly reserved.
The aforementioned provisions do not extend the warranty and liability conditions in the general terms and conditions of business of Liebherr.
TABLE OF CONTENTS:
Liebherr LH 80 M Litronic 1205 Machine for Industrial Applications Operator's Manual SN 89398 – PDF DOWNLOAD
1 Product description 19
1.1 Technical description 20
1.1.1 General overview 20
1.1.2 Uppercarriage 21
1.1.2 Undercarriage 22
1.1.3 Energy recuperation cylinder (option) 23
1.2 Technical data 24
1.2.1 Vibration emission 24
1.2.2 Sound level 24
1.2.3 Specifications 24
2 Safety warnings 25
2.1 Information on these instructions 25
21.1 Representation of warning messages 25
2.1.2 Graphic symbols in these instructions 25
2.2 Intended use 26
2.21 Laws, rules, guidelines and safety regulations 26
2.22 Intended use 26
2.2.3 Foreseeable misuse 27
2.2.4 Operating conditions 27
22.5 Disposal 28
2.3 Description of staff 29
2.3.1 Personal protective equipment 29
2.3.2 Requirements for staff 29
2.3.3 Operating company 30
2.3.4 Operator 30
2.3.5 Maintenance staff 31
2.3.6 Electrical engineer 32
2.3.7 Refrigeration technician 32
2.3.8 Rigger 33
23.9 Spotter 34
2.4 Signs on the machine 35
2.41 Warning signs 35
2.42 Information signs 39
2.4.3 Control description sticker 43
2.4.4 Identification plate 44
2.5 Protective devices on the machine 44
2.51 Safety lever or folding console 44
2.5.2 Operator's cab 44
2.5.3 Height-adjustable operator's cab 45
2.5.4 Roll over protective structure (ROPS) 45
2.5.5 Falling object protective structures (FOPS and FGPS) 46
2.6 Emergency equipment on the machine 46
2.6.1 Emergency exit (standard) 46
2.6.2 Fire extinguisher (option) 46
2.6.3 Emergency command devices of machine 47
2.6.4 Emergency stop function of machine 47
2.7 Safe operation 47
2.7.1 Intoxicants 47
2.7.2 Dangerous fuels and operating fluids 48
2.7.3 Transporting machine 48
2.7.4 Access to machine 49
2.7.5 Machine danger zone 50
2.7.6 Visibility 50
2.7.7 Protection against vibration 51
2.7.8 Operation of machine 52
2.7.9 Load-lifting work 54
2.8 Safe work 55
2.8.1 Machines with height adjustable cab 55
2.9 Safe maintenance 55
2.9.1 Spare parts 55
29.2 Heavy parts 56
2.9.3 Regular checks 56
2.10 Modifications to the machine 56
2.10.1 Modifications, add-ons and retrofittings 56
3 Control and operation 59
3.1 Control and operating elements 59
3.1.1 Overview of operator's platform 59
3.1.2 Control unit A 61
3.1.3 Control unit B 62
3.1.4 Further control units 62
3.2 Display 63
3.2.1 Display 63
3.2.2 Status symbols 64
3.2.3 Start page menu 78
3.24 Camera menu 78
3.2.5 Automatic air conditioning 80
3.2.6 System settings menu 84
3.2.7 Operating hour meter and kilometre counter submenu 85
3.2.8 Windscreen wiper interval submenu 86
3.2.9 Radio remote control submenu 86
3.2.10 Teleservice submenu 87
3.2.11 Display brightness submenu 88
3.2.12 Camera submenu 88
3.2.13 Unit selection submenu 89
3.2.14 System diagnosis submenu 90
3.2.15 Time zone and time submenu 90
3.2.16 Language selection submenu 91
3.2.17 Function settings menu 92
3.2.18 Central lubrication system submenu 94
3.2.19 Maintenance submenu 94
3.2.20 Sensor-controlled low idle automatic submenu (option) 95
3.2.21 Idling time until engine stop submenu (option) g5
3.2.22 SF submenu 95
3.2.23 User profile submenu 98
3.2.24 Diesel particulate filter submenu 99
3.2.25 Stick cylinder shut-off submenu (option) 99
3.2.26 Hoist cylinder shut-off submenu (option) 100
3.2.27 Workspace limitation submenu (option) 100
3.2.28 Automatic reversible fan drive submenu (option) 101
3.2.29 Bleeding hydraulic circuit submenu 101
3.2.30 Information menu 102
3.2.31 Operating time submenu 103
3.2.32 Fuel consumption submenu 103
3.2.33 Key assignment submenu 104
3.2.34 Electrical outputs submenu 105
3.2.35 Electrical inputs submenu 105
3.2.36 Tool Control menu 106
3.2.37 Service codes menu 106
3.3 Control 108
3.3.1 Battery main switch 108
3.3.2 Entering and exiting machine 109
3.3.3 Step lighting (option) 110
3.3.4 Emergency exit 11
3.3.5 Fire extinguisher (option) 11
3.3.6 Folding console 112
3.3.7 Operator's seat 113
3.3.8 Safety belt 119
3.3.9 Exit protection (option) 120
3.3.10 Steering wheel 121
3.3.11 Ignition key 121
3.3.12 Confirmation button 122
3.3.13 Horn 123
3.3.14 Raising and lowering operator's cab (option) 124
3.3.16 Windscreen 126
3.3.16 Sun blind 128
3.3.17 Viewing devices 129
3.3.18 Lighting 131
3.3.19 Cab lighting system 132
3.3.20 Beacon (option) 133
3.3.21 Windscreen wipers 134
3.3.22 Windscreen washer system 134
3.3.23 Auxiliary heater (option) 135
3.3.24 LiDAT (option) 135
Operation 136
3.4.1 Inspection tour before putting into service 136
3.4.2 Refuelling 137
3.4.3 Refuelling with electric refuelling pump (option) 138
3.44 Preheating system (option) 139
3.45 Immobiliser (option) 141
3.46 Preparing machine for dust intensive application 142
3.4.7 Preparing machine for use in biologically sensitive areas 143
3.4.8 Operator code (option) 143
3.49 Starting diesel engine 144
3.4.10 Bringing machine to operating temperature 145
3.4.11 Engine speed and operating mode 145
3.4.12 After starting 147
3.4.13 Sensor-controlled low idle automatic 148
3.4.14 Automatic engine shut-off after idling (option) 148
3.4.15 Shutting off diesel engine 149
3.4.16 Travelling and braking 149
3.4.17 Joystick steering 152
3.4.18 Travel alarm (option) 153
3.4.19 Locking and unlocking oscillating axle 154
3.4.20 Supporting machine 165
3.4.21 Controlling working attachment 158
3.4.22 Turning and braking uppercarriage 159
3.4.23 Slewing brake 159
3.4.24 Positioning slewing brake 160
3.4.25 Hoist cylinder pressure warning device (option) 160
3.4.26 Lowering boom actively (option) 161
3.4.27 Lowering stick actively (option) 161
3.4.28 Selecting the working tool 161
3.4.29 Controlling special working attachment with mini-joystick 162
3.4.30 Changing over control of right mini-joystick (option) 163
3.4.31 Grapple priority (option) 164
3.4.32 AutoLift (Option) 165
3.4.33 Magnet system (option) 165
LH 80 M Litronic – 1205 / 89398
3.4.34 Reversible fan drive for radiator cleaning (option) 167
3.5 Shut-off functions 170
3.5.1 Stick cylinder shut-off (option) 170
3.5.2 Height limitation 173
3.56.3 Overload warning system (option) 182
3.6 General working methods 185
3.6.1 Working without damaging the machine 185
3.6.2 Putting machine in working position 186
3.6.3 Travelling at operating location 187
3.6.4 Travelling with load at operating location 187
3.6.5 Travelling under obstacles 188
3.6.6 Transferring loads 189
3.6.7 Loading transport vehicle 189
3.6.8 Lifting loads 190
3.6.9 Use of banksmen 190
3.6.10 Working in windy conditions 191
3.7 Installing and removing working attachment 193
3.7.1 Using quick coupler 193
3.7.2 Installing and removing grapple on industrial stick 193
3.7.3 Installing and removing boom 196
3.8 Parking machine 197
3.9 Transport 198
3.9.1 Preparatory activities 198
3.9.2 Driving machine onto low-loader 198
3.9.3 Lifting machine 199
3.9.4 Tying down machine 200
3.10 Emergency operation 201
3.10.1 Jump starting 201
3.10.2 Lowering working attachment when engine is shut off 202
3.10.3 Lowering operator's cab in an emergency (option) 202
3.10.4 Towing the machine 203
4 Malfunctions 205
4.1 Service code tables 205
4.1.1 Warning symbols 205
4.2 Fault – Cause – Remedy 212
421 Diesel engine and fuel system 212
4.2.2 Hydraulic system 215
4.2.3 Electrical system 216
4.24 Heating, ventilation and air conditioning unit 216
425 Working attachment 217
4.3 Problem remedy 218
4.3.1 Uppercarriage fuses and relays 218
4.3.2 Operator's platform fuses and relays 225
5 Maintenance 231
5.1 Inspection and maintenance schedule 231
5.2 Filling quantities and lubrication chart 238
5.2.1 Filling quantities 238
5.2.2 Lubricating chart 240
5.3 Fuels, lubricants and operating fluids 242
6.3.1 Diesel fuels 242
5.3.2 Engine oils 242
5.3.3 Refrigerant 243
5.3.4 Coolant 243
5.3.5 Hydraulic oils 244
5.3.6 Axle oils 246
5.3.7 Gearoils 247
5.3.8 Pump distributor gear oils 247
5.3.9 Energy recuperation cylinder oils 248
5.3.10 Greases 249
5.3.11 Windscreen washer fluid 249
5.3.12 Lubricants and care products for electrical and mechanical systems 249
5.4 Preparing for maintenance 250
5.4.1 Preparing for maintenance 250
5.5 General maintenance 252
5.5.1 Welding 252
5.5.3 Corrosion-proofing piston rods 252
5.5.4 Cleaning the machine 253
5.5.5 Cleaning the fan and radiator 255
Complete machine 256
5.6.1 Checking machine for proper condition and tightness 256
5.6.2 Checking components for cracks 256
5.6.3 Lubricating hinges, locks and gas pressure springs of doors, hoods and
windows 256
5.6.4 Cleaning and treating rubber seals on doors and hoods 256
5.6.5 Checking rescue system (option) 257
Drive group 258
5.7.1 Diesel engine: Bringing into maintenance position 258
5.7.2 Diesel engine: Checking oil level 258
5.7.3 Diesel engine: Checking condition, tightness and cleanliness 259
5.7.4 Fuel pre-filter: Draining water 260
5.7.5 Air filter: Emptying dust collecting tank 261
5.7.6 Air filter: Replacing main filter cartridge 262
5.7.7 Air filter: Replacing safety filter cartridge 264
5.7.8 Air filter and air lines: Checking tightness and condition 265
5.7.9 Diesel particulate filter (option): Activating and deactivating
regeneration 267
Cooling system 273
5.8.1 Checking coolant level 273
5.8.2 Checking cooling system and heat exchanger for contamination and
cleaning 274
Working hydraulics 276
5.9.1 Depressurising hydraulic system 276
5.9.2 Hydraulic tank: Checking oil level 276
5.9.3 Hydraulic tank: Draining water and sediments 279
5.9.4 Return filter: Checking and cleaning magnetic rod 280
5.9.5 Bypass filter (option): Checking degree of contamination of filter
cartridge 281
Electrical system 283
5.10.1 General information 283
Axles 284
5.11.1 Lubricating axles 284
5.11.2 Tyres: checking foam-filled tyres 285
5.11.3 Wheels: Checking mounting of wheel nuts 285
Working attachment 287
5.12.1 Lubricating working tool 287
5.12.2 Checking pin connections for secure seating 287
5.12.3 Checking steel parts for cracks 287
5.12.4 Pin bearing: checking for wear 288
5.12.5 Energy recuperation cylinder: Performing visual inspection 288
5.13 Operator's cab, heating and air conditioning 289
5.13.1 Filling with windscreen washer fluid 289
5.13.2 Heating: Checking function 289
5.13.3 Auxiliary heater (option): Checking function 291
5.13.4 Switching on air conditioning unit 291
5.13.5 Checking and cleaning condenser 291
5.14 Lubrication system 293
5.14.1 Checking lubrication of bearings (grease collar) 293
5.14.2 Pipes, hoses and lubricating points: Checking tightness and condition 293
5.15 Slewing gearbox and slewing ring 294
5.15.1 Slewing gearbox: Checking oil level 294
6 Appendix 297
Index 299
IMAGES PREVIEW OF THE MANUAL: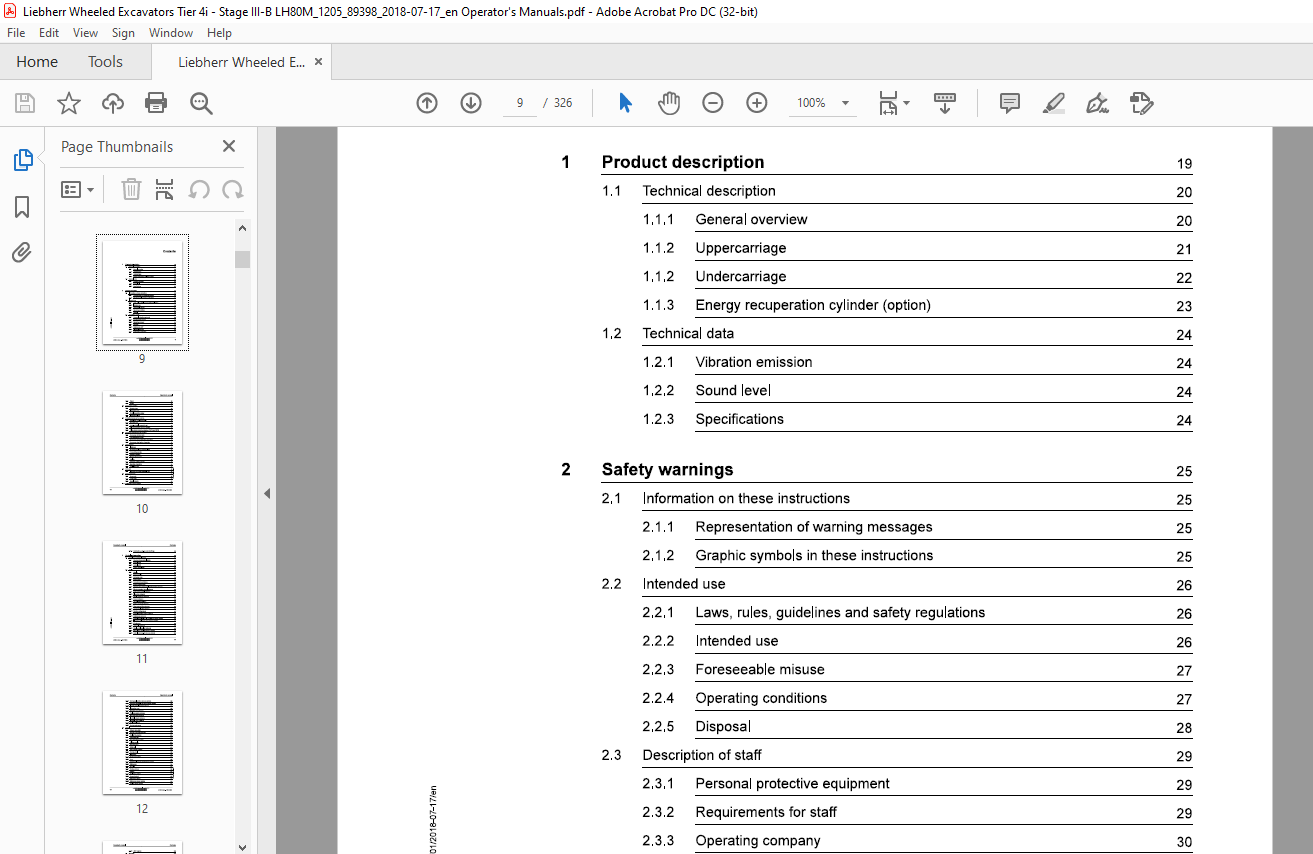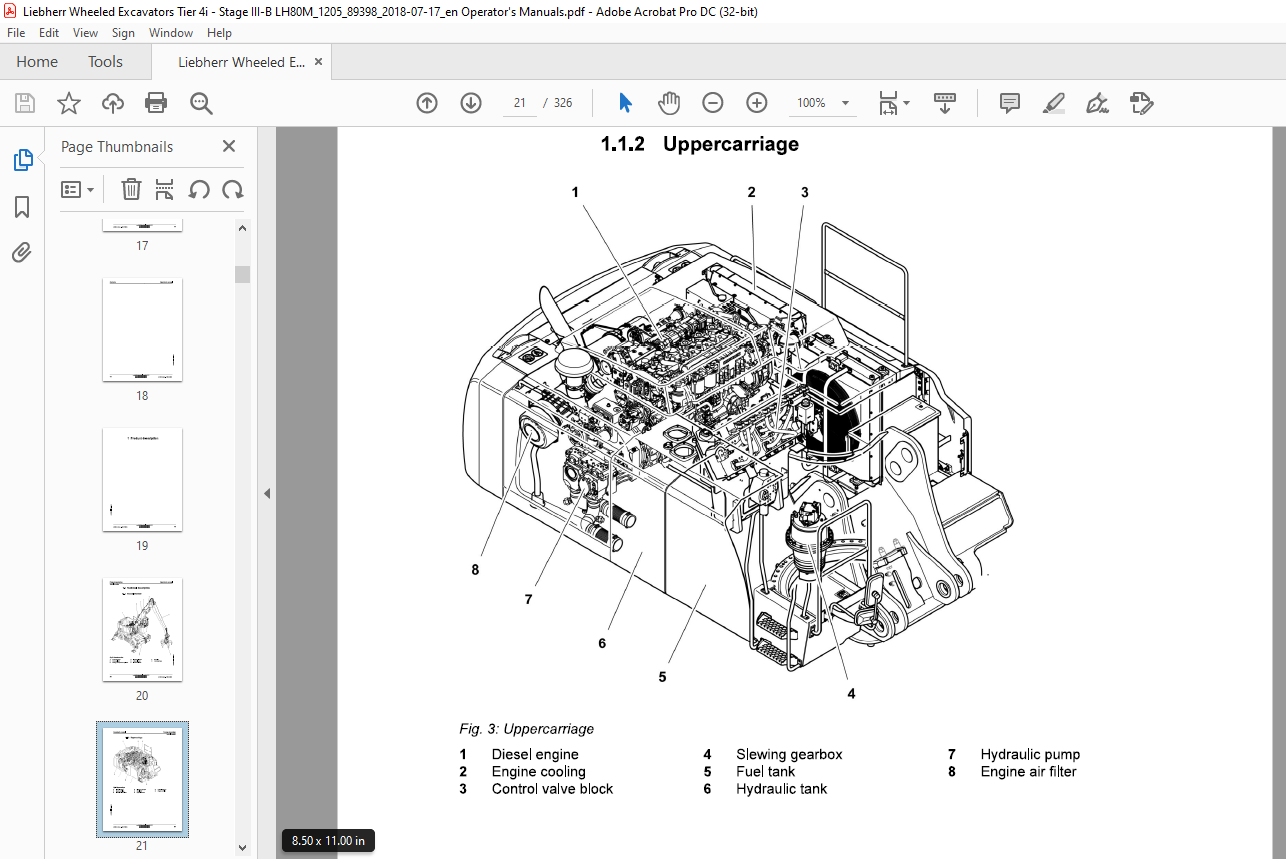 VIDEO PREVIEW OF THE MANUAL:
PLEASE NOTE:
This is the SAME exact manual used by your dealers to fix your vehicle.
The same can be yours in the next 2-3 mins as you will be directed to the download page immediately after paying for the manual.
Any queries / doubts regarding your purchase, please feel free to contact [email protected]
S.V