Liebherr L512 – L514 Stereo Wheel Loader Service Manual – PDF DOWNLOAD
FILE DETAILS:
Liebherr L512 – L514 Stereo Wheel Loader Service Manual – PDF DOWNLOAD
Language : English
Pages : 529
Downloadable : Yes
File Type : PDF
Size: 15.9 MB
DESCRIPTION:
Liebherr L512 – L514 Stereo Wheel Loader Service Manual – PDF DOWNLOAD
Product identification
Manufacturer: LIEBHERR-WERK BISCHOFSHOFEN GMBH
Product group: Wheel loader
Type:L512 L514
Construction number: 466 467
Serial number: from 0501 from 0501
How to use this manual
Working instructions
Foreword
This Service Manual has been written for those whose job it is to make
sure that the machines remain operational on a daily basis. This specifi-
cally includes the mechanics and workshop specialists at Liebherr dealers
and Liebherr branch offices.
In the first chapter you will find information about safety regulations as well
as specifications of the special tools needed for maintenance and repair.
Chapter 2 provides an overview of all important technical data for the
entire machine and the individual assemblies.
The following chapter, entitled Maintenance, contains the maintenance and
inspection schedule, inspection and setting logs, lubrication schedules and
filling quantity tables, a description of maintenance procedures and speci-
fications for prescribed lubricants and fuels.
The technical description of the machine in the following chapters is
divided into 15 functional groups. The design, function, and technical data
for each group, components and parts will be explained.
This manual does not contain repair instructions. Repair manuals for
individual components are available upon request.
This manual describes a variety of types and finished forms. In general,
this information applies to the types and serial number groups specified in
the footnotes. One exception is that specific type and serial number data
are indicated at the beginning of each section (e.g. the technical specifica-
tions of the components).
Whenever possible, parts and components are supplemented by indication
of the identification number in the heading.
This manual is available in German, English and French.
It is imperative that safety regulations be observed with all tasks done on
the machine. You will find information on this in the "General
Information" chapter.
A complete set of tools in perfect condition is required for work on the
machine, along with any special tools that might be needed. Absolute
cleanliness must be observed with all tasks!
Sealing material such as O-rings and surface seals should be replaced
whenever repairs are carried out.
IMAGES PREVIEW OF THE MANUAL: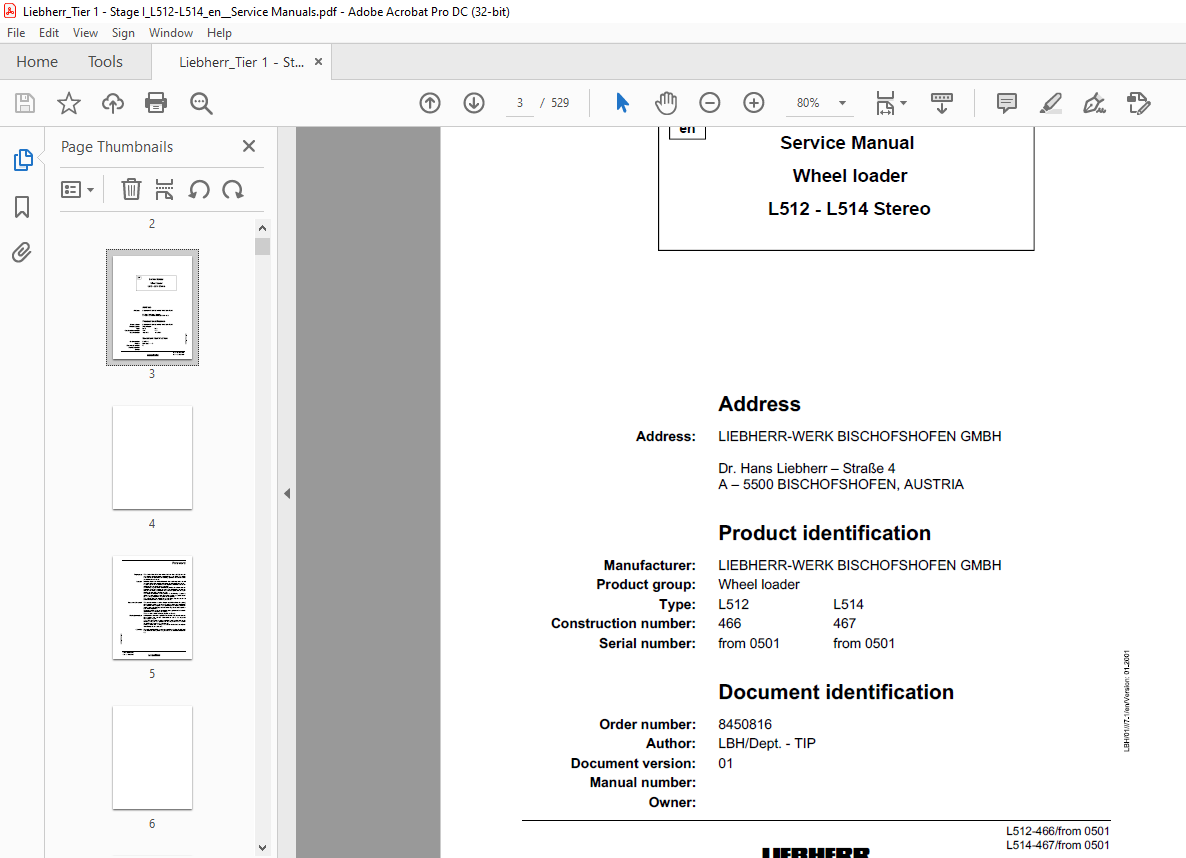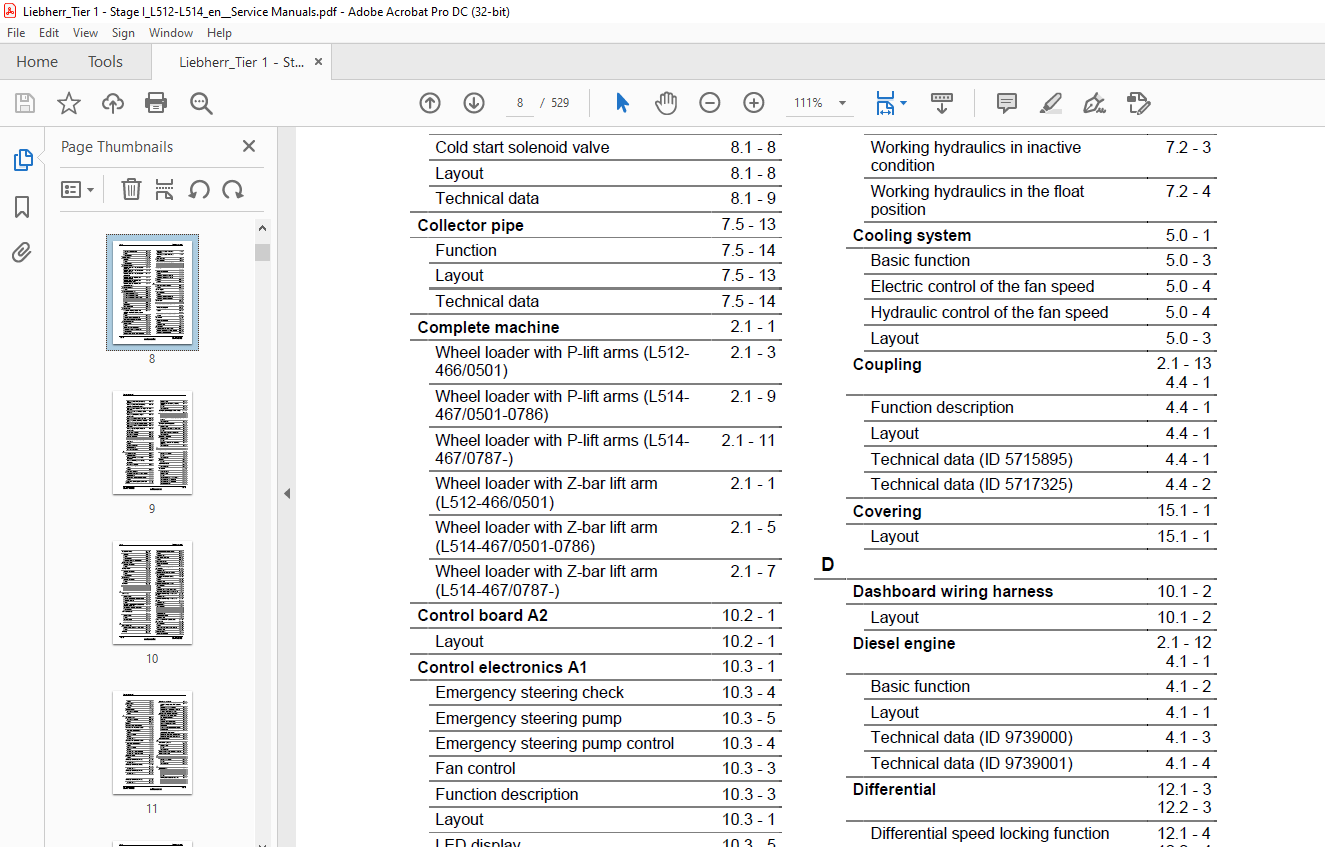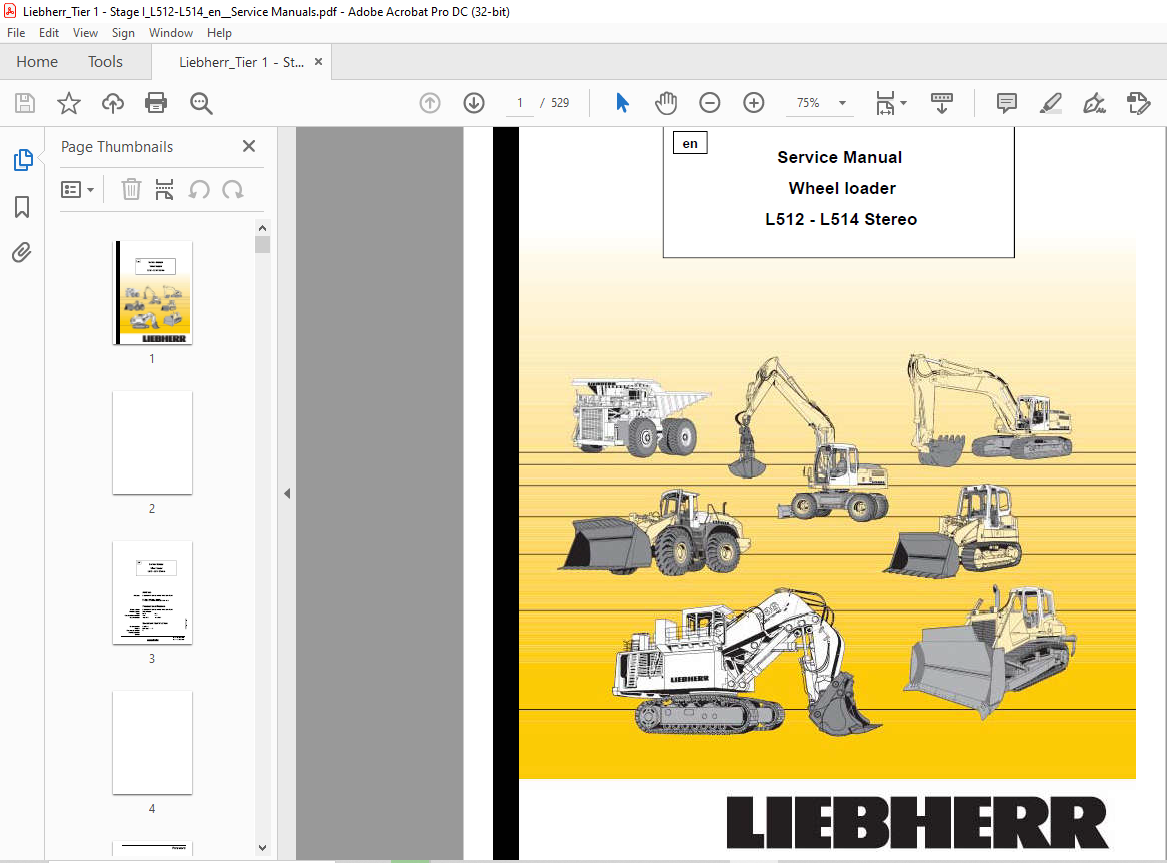 TABLE OF CONTENTS:
Liebherr L512 – L514 Stereo Wheel Loader Service Manual – PDF DOWNLOAD
Index
A Switching on the brake lights 91-5
Accessories 18.0- 1 Technical data 91-5
Air filter 16.2- 4 Brake system 9.0-1
Function description 162-5 Basic function 9.0-4
Layout 16.2-5 Layout 9.0-3
Technical data 16.2-5 Bucket bearing 171-5
Air filter system 43-1 Bearing sealing 171-5
Function description 43-1 Function description 171-5
Layout 43-1 Layout 171-5
Technical data 43-2 4-in-1 bucket 183-1
Air-conditioning system 21-20 Function description 183-1
16.3-1 Layout 183-1
Basic refrigeration function 163-2 4-in-1 bucket (optional) 21-23
Layout 16.3 – 1 (ID 9607757) 183-2
Re-heat mode 16.3-3 Technical data 183-2
Technical data 16.3-3 4-in-1 bucket (optional) 21-23
(ID 9607758) 183-3
Temperature control 163-3 –
" Technical data 183-3
Articulation lock 13.3-1
Basic function 13.3-1
Layout 133-1 Cab 16.0-1
Attachments 18.0-1 Cab windows 16.0-4
B Layout 16.0-1
Ballast weight 24-20 Cab access 15.2-1
13.4 -1 Layout 15.2-1
Layout 13.4 -1 Cab roof wiring harness 101-5
Technical data (ID 9654274) 13.4 -1 Layout 101-5
Technical data (ID 9654275) 13.4 -1 Cab wiring harness 101-3
Batteries 10.4 – 1 Layout 101-3
Layout 10.4 – 1 Cardan shafts 123-1
Battery 21-18 Central lubrication 14.1 -1
10.4-1 Basic function 141-1
Technical data 10.4 -1 Layout 14.1 -1
Bleeder filter 75-12 Central lubrication system 14.0-1
Function 75-13 Central wiring harness 101-6
Layout 75-12 Layout 101-6
Technical data 75-13 Cold start solenoid valve 81-6
Blower 21-20 (ID 5716155)
16.2-2 Basic function 81-6
Basic function 16.2-3 Cold start solenoid valve 81-6
Layout 16.2-2 Layout 81-6
Technical data 162-3 Technical data 81-7
Brake light pressure switch 91-4 Cold start solenoid valve 81-8
Basic function 91-5 (ID 5716694)
Layout 91-4 Basic function 81-8
512-466 / from 0501 10f10
Index Service manual
Cold start solenoid valve 81-8 Working hydraulics in inactive 72-3
Layout 81-8 condition
Technical data 81-9 Working hydraulics in the float 72-4
– – position
Kd pipe Cooling system 50-1
en 5 – 13 Basic function 50-3
ayout > Electric control of the fan speed 50-4
Technical data 75-14 Hydraulic control of the fan speed 50-4
Complete machine 21-1
Layout 50-3
Wheel loader with P-lift arms (L512- 21-3 .
Wheel load ith P-lift L514- 21-9 —
46710501 0786) fit arm ( Function description 44-1
Wheel loader with P-lift arms (L514- 2.1 -11 Layout 44-1
467/0787-) Technical data (ID 5715895) 4.4-1
Wheel loader with Z-bar lift arm 21-1 Technical data (ID 5717325) 44-2
(L512-466/0501) Covering 15.1 -1
Wheel loader with Z-bar lift arm 21-5 Lavout 15.1 -1
(L514-467/0501-0786) y :
Wheel loader with Z-bar lift arm 21-7 D
(L514-467/0787-) Dashboard wiring harness 101-2
Control board A2 102-1 Layout 101-2
Layout 10.2-1 Diesel engine 21-12
Control electronics A1 10.3 -1 41-1
Emergency steering check 10.3 – 4 Basic function 41-2
Emergency steering pump 103-5 Layout 41-1
Emergency steering pump control 103-4 Technical data (ID 9739000) 41-3
Fan control 103-3 Technical data (ID 9739001) 41-4
Function description 10.3-3 Differential 1 – 3
Layout 103-1 Differential d locking functi 12.1 4
; ifferential speed locking function A-
LED display 103-5 12.2 _ 4
Plug assignment 103-2 Function description 121-4
Control panel 16.1 -1 122-4
Adjustable steering column with 16.1 -1 Layout 121-3
steering wheel and steering column 122-3
switch Speed balance of the right and left 121-4
Layout 16.1 -1 wheels 122-4
Rear part of the control panel 16.1-2 Disc brake 21-18
Right side cover (control panel) 16.1 -1 93-1
Control valve block 70.14 Function description 93-1
Basic function 72-2 Layout 93-1
Layout 751 Technical data 93-2
Primary pressure relief valve 72-5 Display unit a . 16.1-2
Secondary pressure relief valves 79.5 Air filter contamination display 16.1-11
Technical data 79.5 Coolant temperature display function 16.1 -6
Working hydraulics in active condition ~~ 7.2-3 Direction indicator display 161-11
20f10 L512-466/ab 0501
LIEBHERR L514-467/ab 0501
Service manual
514-467 / from 0501
Displaying / reporting emergency 16.1-10 Basic function 84-7
steering Checking the emergency steering 84-7
Displaying / reporting the braking 16.1-11 system
system accumulator pressure Layout 84-6
Displaying and reporting the engine oil 16.1 -7 Technical data 84-7
pressure – – –
Displaying forward / reverse travel 161-7 Emergency steering pressure switch 2
direction – – :
Displaying or reporting engine 16.1-9 Basic function 84-6
overheating Layout 8.4-5
Displaying parking brake activation 16.1-8 Switching on the emergency steering 84-6
: : : function
Displaying speed, operating hoursor 16.1 -6
time Technical data 84-6
Displaying the battery charge control 16.1 -7 Emergency steering pump 21-17
Displaying working hydraulics lockout 16.1 -9 84-3
activation Basic function 84-4
Displaying/reporting hydraulic oil 16.1-8 Gear pump with pressure relief valve 84-4
overheating Layout 84-3
Fuel supply indicator 161-5 Relay and overheating protection 84-4
Function description 16.1-4 Technical data 84-5
High beam display 16.1-11 Equalising reservoir 91-3
Instruction to use the safety belt 16.1-9 Basic function 91-4
Lamp check during the starting 16.1-5 Layout 91-3
rocedure :
P Pressure balance in the equalising 91-4
Layout 16.1-2 reservoir
Preglow monitoring 16.1-10 Technical data 91-4
Special function 16.1-9
Travel range display 16.1-8 Fine fuel filter 51-13
42-6
Electrical system 10.0-1 Function description 42-6
Circuit diagrams 10.0-1 Layout 42-6
Electric switching of the travel 100-5 Technical data 42-7
hydraulics Forklift 182-1
Electric switching of the working 10.0-10 Layout 182-1
hydraulics – – 5 ; ~
Function description 100-2 Forklift (optional) 18.2 PY
How the parking brake switch S17 100-7 Technical data 182-2
works –
Layout 10.0 – 1 Front axle 2 " ®
Emergency steering 84-1 Axle lubrication 121-2
Activated emergency steering system 84-2 Basic function 121-2
Basic function 84-1 Layout 121-1
Emergency steering function check 84-2 Service brake and parking brake 121-2
Layout 84-1 Technical data (ID 5716735) 121-2
Emergency steering check pressure 21-17 Technical data (ID 5716736) 121-2
switch 84-6
Wheel attachment 121-2
Front drive shaft 21-19 Heater/ventilation basic function 16.2-2
123-1 Layout 16.2-1
Function 123-1 Technical data 16.2-2
Layout 123-1 Heating wiring harness 101 – 4
Technical data 12.3 -1 Layout 101-4
Uniformity of torque transmission 123-1 High dump bucket 18.5 – 1
Fuel level sensor 42-3 Function description 185-2
Function description 42-3 Layout 18.5 – 1
Layout 42-3 High dump bucket (optional) 21-23
Fuel pre-filter 21-13 (ID 9608916) 185-3
42-5 Technical data 185-3
Function description 42-5 Hydraulic oil temperature switch 75-14
Layout 42-5 Basic function 75-15
Technical data 42-5 Hydraulic oil overheat warning 75-15
Fuel system 42-1 function
Function description 42-1 Layout 75-14
Layout 42-1 Technical data 75-15
Fuel tank 21-13 Hydraulic quick-change device 76-1
42-2 Basic function 76-1
Layout 42-2 Layout 76-1
Technical data 42-2 Releasing the quick-change device 76-2
The quick-change device when locked 7.6-2
Gear motor 21-14 Hydraulic quick-change device for P- 2.1 – 21
52-1 lift arm 173-3
Basic function 52-2 Technical data 173-3
Fail-safe function (breakdown safety) ~~ 5.2-3 Hydraulic quick-change device for Z- 2.1 -21
Fan speed control 52-3 lift arm 17.3-2
Layout 52-1 Technical data 173-2
Pressure control with the proportional ~~ 52-3 Hydraulic tank 75-1
pressure relief valve Basic function 75-1
Proportional pressure relief valve 52-2 Bleeder filter 75-2
Technical data 52-4 Collector pipe 75-2
Gearwheel pump 21-14 Layout 75-1
51-1 Return strainer 75-2
Basic function 51-1 Return suction filter 75-1
Layout 51-1 Technical data 75-2
Pressure relief 51-2 Hydro accumulator — pilot control 21-15
Technical data 51-2 (ID 5719063) 73-13
Basic function 73-13
Heat exchanger 16.2-3 Layout 73-13
Basic function of the heat exchanger 16.2-3 Storing pressure for the pilot control 73-14
Layout 16.2-3 Technical data 73-14
Heating 21-20 Inching function 6.3-1
16.2-1 Function description 6.3-1
40f10 L512-466/ab 0501
L514-467/ab 0501
Service manual
Layout 6.3-1 Lubricants and fuels 37-1
Inching valve 63-2 Conversion from mineral oils to 37-1
Function 63-3 environmentally compatible hydraulic
Layout 63-2 Disposing of used materials 3.7-1
Injection pump 41-5 Environmental protection measures 3.7-1
Function description 41-5 Handling lubricants and fuels 37-1
Layout 41-5 Lubricant and fuel specifications 37-2
L Anti-seize agent for bolt fitting 37-9
LH control lever 16.1-15 Bl * standard lubricants 37-9
Function description 16.117 Brake oil 37-7
Layout 16.1-15 Coolants for diesel engines 37-5
Lift arm 17.0-1 Corrosion protection grease 37-9
Lift cylinder and tilt cylinder 74-1 Diesel fuels 37-4
Lift cylinder / P-bar kinematics 21-16 Grease for general lubrication points 37-8
74-3 Hydraulic oils 37-6
Extending and retracting 74-3 Lubricant grease for the automatic 37-8
Layout 74-3 central lubrication system
Piston rod guide 74-3 Lubricating oils for the diesel engine 37-2
Sealing 74-3 Lubricating oils for the transmission 37-8
Technical data 74-4 Lubrication chart 34-4
Lift cylinder / Z-bar kinematics 21-16
74-1 Main brake cylinder 21-18
Extending and retracting 74-1 91-3
Layout 7.4-1 Basic function 91-3
Piston rod guide 7.4-1 Layout 91-3
Sealing 74-2 Technical data 91-3
Technical data (ID 9913473) 74-2 Maintenance and inspection schedule 3.1 -1
Technical data (ID 9925130) 74-2 Maintenance tasks 35-1
Loading bucket 18.1 -1
Layout 18.1-1 Oscillating axle mount 132-1
Loading bucket (ID 9657896) a 1 2 Function description 132-2
Technical data 181-2 Layout 13.2-1
– Technical data 132-2
Loading bucket (ID 9608528) 21-22
181-3
Technical data 181-3 Parking brake 92-1
Loading bucket (ID 9657894) 21-22 Basic function 92-2
181-4 How the parking brake switch works 92-3
Technical data 181-4 Hydraulic tank 92-3
Layout 92-1
Parking brake solenoid valve and 92-4
Loading bucket (ID 9657898) 21-22 hydro accumulator
181-5 Valve block 92-3
Technical data 181-5 Working hydraulics pump 92-3
512-466 / from 0501 50f10
514-467 / from 0501
Index
Service manual
Parking brake hydro accumulator 92-5
Basic function 92-5
Layout 92-5
Storing pressure for the parking brake 9.2-5
Technical data 92-6
Parking brake pressure switch 21-18
92-11
Basic function 92-11
Layout 92-11
Parking brake monitoring function 92-11
Technical data 92-11
Parking brake solenoid valve 92-7
(ID 5716155)
Basic function 92-7
Layout 92-7
Parking brake solenoid valve 92-7
Technical data 92-8
Parking brake solenoid valve 92-9
(ID 5716694)
Basic function 92-9
Layout 92-9
Parking brake solenoid valve 92-9
Technical data 92-10
P-bar lift arm 21-21
172-1
Basic function 172-2
Layout 172-1
Movements of the bucket arm 172-2
Movements of the working attachment 17.2-2
Technical data (ID 9658040) 172-4
Technical data (ID 9658060) 172-3
Pilot control 7.3-1
Basic function 73-2
Control valve block 73-3
Hydro accumulator with check valve 73-4
Layout 73-1
Pilot control solenoid valve 73-4
Pilot control solenoid valve and hydro 73-4
accumulator
Pilot control unit 73-3
Variable displacement pump with 73-3
replenishing pump
Pilot control unit 21-15
73-5
Basic function 73-7
Electromagnetic lock 73-8
Layout 73-5
Regulating phase 73-8
Resting condition 73-7
Technical data 73-8
Pilot control solenoid valve 73-9
(ID 5716155)
Basic function 73-9
Layout 73-9
Pilot control solenoid valve 73-9
Technical data 73-10
Pilot control solenoid valve 73-11
(ID 5716694)
Basic function 73-11
Layout 73-11
Pilot control solenoid valve 73-11
Technical data 73-12
Quick-change device 17.3 -1
Function description 173-2
Layout 173-1
Quick-change device cylinder 76-5
Extending and retracting 76-5
Layout 76-5
Piston rod guide 76-6
Sealing 76-6
Technical data 76-6
Quick-change device pressure switch 76-4
Basic function 76-4
Layout 76-4
Quick-change device monitoring 76-4
function
Technical data 76-5
Quick-change device solenoid valve 76-2
Basic function 76-3
Hydraulic quick-change device 76-3
solenoid valve
Layout 76-2
Technical data 76-3
Rear axle 21-19
122-1
Axle lubrication 122-2
Basic function 122-2
60f 10
L512-466/ab 0501
L514-467/ab 0501
Service manual
Layout 122-1 Replenishing function 82-4
Technical data (ID 5716858) 122-2 Steering in active condition 82-3
Technical data (ID 5716862) 122-2 Steering in inactive condition 82-2
Return strainer 21-16 Technical data 82-4
– – 75-1 Side cover switch wiring harness 10.1 -1
Basic function 75-12 Layout 101 – 1
Layout 75-11 Side dump bucket 18.4- 1
Technical data 75-12 Function description 18.4 -1
Return suction filter (ID 7621815) 21.12 Layout 18.4 -1
– – : } Side dump bucket (optional) 21-23
Basic function 75-5 (ID 9608605) 184-2
Layout 75-3 Technical data 18.4-2
Frossure preloading on the suction 75-5 Side dump bucket (optional) 21-23
– (ID 9608985) 184-3
Pressure relief by the bypass valve 75-5 Technical data 184-3
Technical data 75-5 Special tools for maintenance and 12-1
Return suction filter (ID 7623206) 75-7 repair work
Basic function 75-9 Special electrical fools 12-1
Layout 75-7 Special tools for Liebherr diesel 12-2
– – engines
Pressure preloading on the suction 75-9 – –
side and replenishing function Special tools for the hydraulic 12-2
Pressure relief by the bypass valve 75-10 o in oo is for ZF ax] 12.3
Technical data 75-10 pecta foots Bor =F axes a
Special tools, general 12-1
RPM sensor 21-19 –
111-2 Steering axle wheel hub 122-5
Basic function 11.1-3 Layout 122-5
Layout 111-2 Wheel attachment 122-5
Technical data 111-3 Steering cylinder 21-17
Ss 83-1
– TTT Extending and retracting 83-1
Safety regulations A= Layout 83.1
Introduction – 11-1 Piston rod guide 83-1
Overview of safety regulations 11-2 Sealing 83-1
meee ome = – Technical data 83-2
asic function —- Steering pump 81-1
Disc brake 9.1-2 – :
— – Steering system oil supply 81-1
Equalising reservoir 91-2 .
3 " 91-1 Steering system 8.0-1
a ve oviind or – 5 Basic function 80-5
ain brake cylinder — Emergency steering function 80-7
Servostat 21-17 –
82 1 Emergency steering pump 80-7
Basic function 82-2 Hydraulic tank 80-6
Flow demand control (load sensing) 82-2 Layout 80-3
Layout 82 1 Servostat 80-7
Pressure relief 82-3 Steering cylinder 8.0-7
Valve block 8.0-6
512-466 / from 0501 7 of 10
514-467 / from 0501
Index
Service manual
Working hydraulics pump 80-6 Layout 6.0-3
Switches on the instrument panel 16.1-12 Variable displacement motor 6.0-6
Engaging and releasing the parking 16.1-13 Variable displacement pump 6.0-5
brake Vv
Function description 16.1-13 Valve block 21-17
Layout 16.1-12 74-2
Switches on the side cover 16.1-14 8.1-1
Layout 16.1-14 92-4
Basic function 71-2
T 81-2
Table of filling quantities (L512- 34-1 92-4
466/0501) Charging the accumulator for the 92-4
Table of filling quantities (L514- 34-2 parking brake
467/0501) Diesel engine starting procedure 81-3
Temperature sensor 53-1 Distribution of the oil flow in the 74-2
Function description 53-1 working hydraulics pump 81-2
Layout 53-1 Filling the parking brake hydro 81-4
Technical data 53-1 aceumulator
Temperature measurement 53-1 Layout 8.1-1
. Pressure relief for the steering 81-4
Tests, adjustments 36-1 –
Testing and adjustment checklists 33-1 Technical data 81-5
. . Variable displacement motor 21-15
Testing and adjustment plan 32-1 62-1
Tilt cylinder / P-bar kinematics 21-16 Basic function 62-4
Extending and retracting iy } ° Cooling by the discharge valve 6.2-6
Layout 74-6 Layout 6.2-1
Piston rod guide 74-6 Machine in travel range 1 62-5
Sealing 74-6 Speed-dependent control (DA control) 6.2-5
Technical data 74-7 Technical data (ID 5716672) 62-6
Tilt cylinder / Z-bar kinematics 21-16 Technical data (ID 5716674) 62-7
74-4 Variable displacement pump 21-14
Extending and retracting 74-5 61-1
Layout 74-4 Basic function 6.1-5
Piston rod guide 74.5 Control by the operating pressure 6.1-8
Sealing 74.5 Control of the pump 6.1-7
Technical data (ID 9913469) 74-5 Layout 6.1-1
Transfer gear 51-18 Pressure cut-off 6.1-10
111-1 Pressure relief and replenishing valve 6.1 -11
Layout 11.1 -1 Replenishing pressure relief valve 6.1-10
Basic function 111-2 Replenishing pump 6.1-9
Technical data 111-2 Servo piston and swash plate 6.1-6
Travel hydraulics 6.0-1 Speed-dependent control (DA control) 6.1-7
Basic function 6.0-4 Technical data (ID 5716673) 6.1-12
Hydraulic tank 6.0-6 Technical data (ID 5717296) 6.1-12
Inching valve 6.0-6 Travel direction valve 6.1-9
80of 10 L512-466/ab 0501
L514-467/ab 0501
Service manual
Vehicle frame 13.1 -1 Technical data (ID 9657855) 171-4
Basic function 13.1-1 Technical data (ID 9657865) 171-3
Layout 13.1-1
Ventilation 21-20
16.2-1
Heater/ventilation basic function 16.2-2
Layout 16.2-1
Technical data 162-2
w
Water valve 16.2-4
Function description 162-4
Layout 16.2-4
Wheel hub 121-5
121-6
Windscreen wiper and washer system 16.4 -1
Front and rear windshield washer 16.4 -1
system
Function description 16.4-2
Layout 16.4 -1
Wiring harnesses 10.1 -1
Working hydraulics 7.0-1
Basic function 70-4
Control valve block 70-6
Hydraulic quick-change device 70-7
Hydraulic tank 70-6
Layout 70-3
Oil cooler 70-6
Pilot control 70-7
Valve block 70-6
Working hydraulics pump 70-6
Working hydraulics pump 21-15
74-1
Basic function 71-1
Layout 71-1
Oil supply for the working hydraulics, 71-1
steering system and brake system
Technical data 71-2
Zz
Z-bar lift arm 21-21
17.1 -1
Basic function 171-2
Layout 171-1
Movements of the bucket arm 171-2
Movements of the working attachment 17.1 -2
VIDEO PREVIEW OF THE MANUAL:
PLEASE NOTE:
This is not a physical manual but a digital manual – meaning no physical copy will be couriered to you. The manual can be yours in the next 2 mins as once you make the payment, you will be directed to the download page IMMEDIATELY.
This is the same manual used by the dealers inorder to diagnose your vehicle of its faults.
Require some other service manual or have any queries: please WRITE to us at [email protected]
S.V