Liebherr L504 L522 Wheel Loader Service Manual – PDF DOWNLOAD
FILE DETAILS:
Liebherr L504 L522 Wheel Loader Service Manual – PDF DOWNLOAD
Language : English
Pages : 655
Downloadable : Yes
File Type : PDF
Size: 13.1 MB
DESCRIPTION:
Liebherr L504 L522 Wheel Loader Service Manual – PDF DOWNLOAD
Product identification
Manufacturer:LIEBHERR-WERK BISCHOFSHOFEN GMBH
Product Group: Wheel loader
Type                                 :   L504 L506 L507 L508 L509 L512
Construction Number  :   424    426   427  428   429    430
Serial Number                :  0101 0101 0101 0101 0101 0101
FOREWORD:
This manual has been issued to provide you with technical information regarding the design, function,
disassembly, adjusting work and troubleshooting on the components and models of the Liebherr wheel
loaders.
The descriptions are brief but precise and are supported by photographs, notes, drawings, hydraulic and
electrical schematics, as well as exploded and sectional drawings. All this information is intended to
simplify any necessary repair work which can be performed on Liebherr wheel loaders.
We deliberately avoided full photographic details of each repair stage, since only skilled mechanics
already familiar with most repair work described in this manual should perform repair work. This manual
also contains information about adjusting work and valuable reference data for such adjustment values.
Instructions on regular care and maintenance is excluded from this manual, since they are covered in the
individual operation and maintenance manuals.
For all maintenance and repair work on wheel loaders, all accident prevention guidelines must be strictly
observed. To perform all repairs listed in this manual, a complete set of standard tools, as well as the
special tools and fixtures shown and listed are necessary. It is essential to keep all equipment, tools and
working areas clean and tidy.
No special emphasis is put on replacing sealing components, such as O-rings, gaskets, etc. as we
assume that these items are replaced during any repair. Unless specific values are given, all threaded
connections should be tightened according to the required tightening torques listed on torque charts.
IMAGES PREVIEW OF THE MANUAL: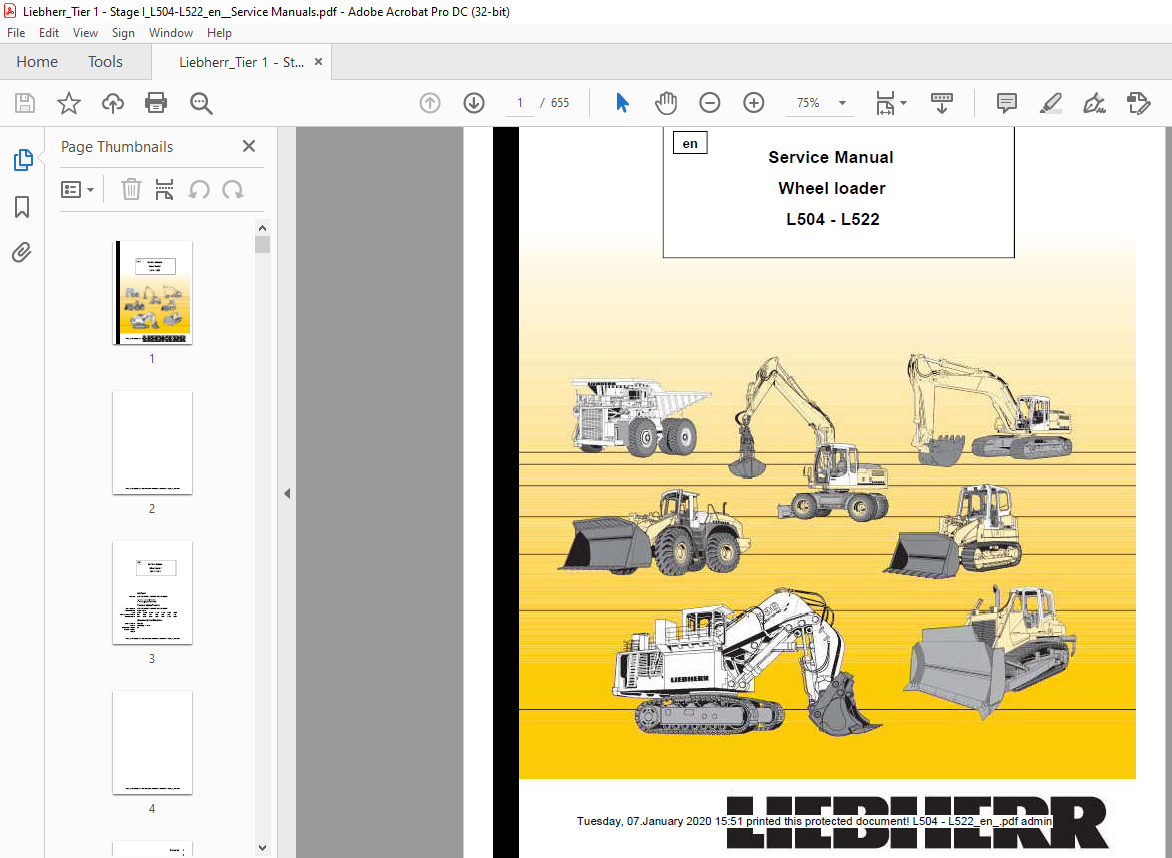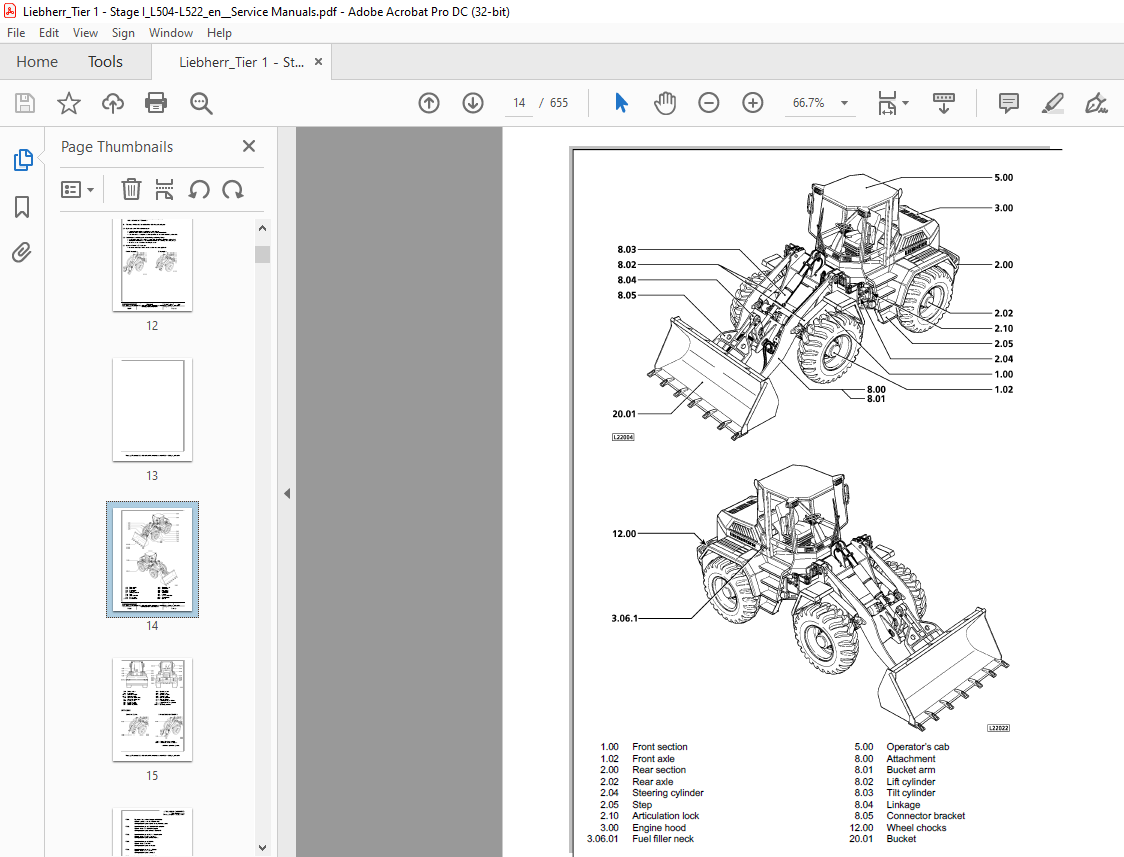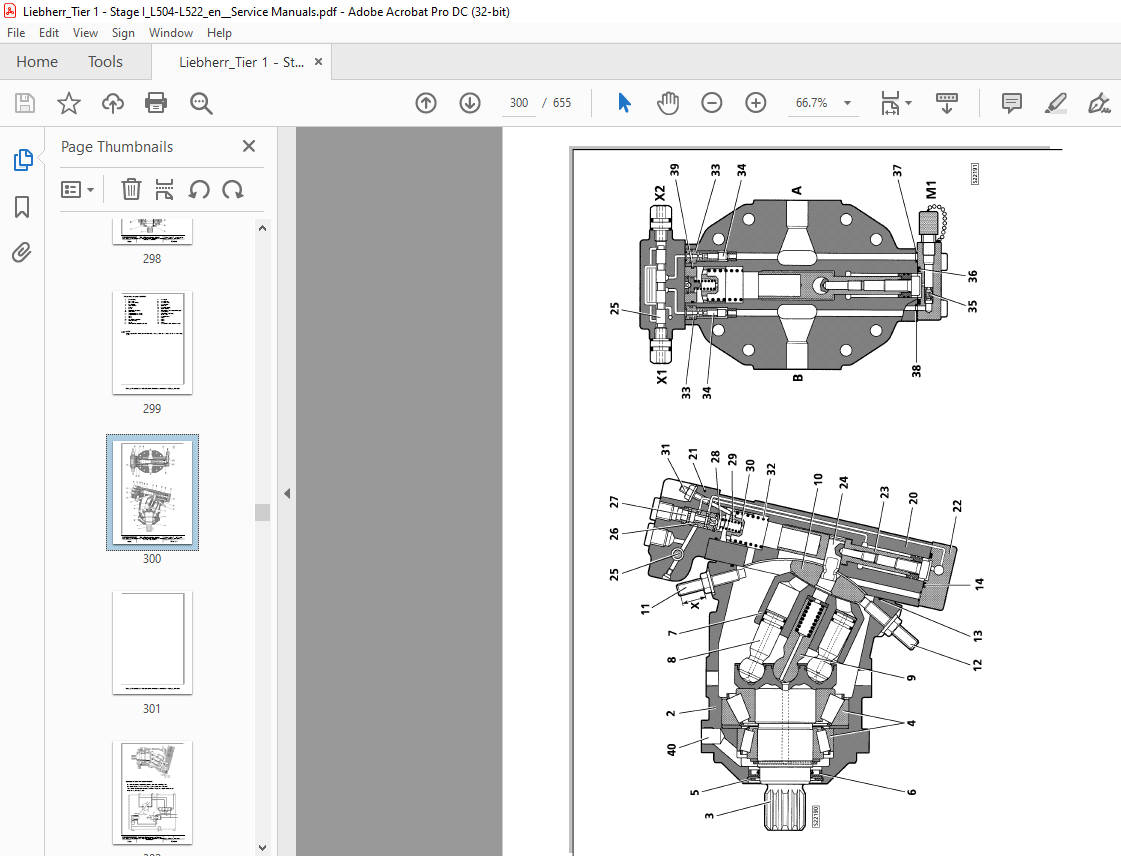 TABLE OF CONTENTS:
Liebherr L504 L522 Wheel Loader Service Manual – PDF DOWNLOAD
General
Special Tools
Lubricants
Technical Data- Inspection Plans
Engine
Travel Hydraulic
Working Hydraulic
Electrical System
Heating, Air conditioning System
Travel Gear
Axles
Steering
Brakes
Main Frame / Cab
Hoist Frame / Accessories
Special Installations
VIDEO PREVIEW OF THE MANUAL:
PLEASE NOTE:
This is the same manual used by the DEALERSHIPS to SERVICE your vehicle.
The manual can be all yours – Once payment is complete, you will be taken to the download page from where you can download the manual. All in 2-5 minutes time!!
Need any other service / repair / parts manual, please feel free to contact us at heydownloadss @gmail.com . We may surprise you with a nice offer
S.V