Liebherr L 507 1579 Wheel Loader Service Manual – PDF DOWNLOAD
FILE DETAILS:
Liebherr L 507 1579 Wheel Loader Service Manual – PDF DOWNLOAD
Language : English
Pages : 726
Downloadable : Yes
File Type : PDF
Size: 146 MB
DESCRIPTION:
Liebherr L 507 1579 Wheel Loader Service Manual – PDF DOWNLOAD
Preface
Notes for users
This service manual is designed for trained specialist staff of the Liebherr organisation and their dealers.
This service manual contains specialist knowledge for repairing Liebherr construc- tion machines. Basic specialist knowledge on electronics, hydraulics, mechanics and engine technology is not contained in this service manual. Therefore special- ized training and qualifications are necessary. Liebherr recommends participating in the Liebherr training program for construction machines.
In this service manual you will find information on:
— Special tools
— Technical data
— Maintenance intervals and maintenance tasks
— Adjustment procedures
— Structure and function descriptions
— Removal and installation tasks
— Circuit diagrams, hydraulic plans and technical drawings
You will find information on controls and operation in the operator's manual. Information on spare parts are in the spare parts catalogue. Please observe the local accident prevention laws.
You can find information on repairs of machine parts in the service documentation under "Wheel loader – repair instructions".
Introduction:
Intended Use:
1.1. Laws, Rules, Guidelines and Safety Regulations
To ensure safe operation:
Consult with the worksite manager about safety regulations at the place of use.
Adhere to safety regulations at the place of use.
Follow traffic regulations.
Adhere to valid guidelines provided by insurers (for example, employers' professional liability insurance companies, accident insurance, etc.).
Avoid working methods that can endanger safety.
Adhere all intervals specified for recurrent checks and inspections as outlined in this operator's manual.
1.2. Intended Use of Wheel Loader
The wheel loader is used to pick up, move, and dump the following materials:
Soil
Stones
Broken rocks
Bulk materials
This applies to a standard machine under normal operating conditions. Special applications are described in a separate options operator's manual.
To ensure the intended use:
Adhere to the operator's manual.
Follow maintenance intervals.
Carry out inspection and maintenance tasks.
Follow the specifications in the technical data.
When using the machine on public roads, ensure it complies with applicable national regulations.
Only lift loads with intended working attachments (fork prongs, crane boom), which must be properly fitted and functioning.
Ensure that machines used underground (for mining and tunnel construction) are fitted with systems to reduce exhaust emissions (such as diesel particulate filters).
Adhere to the requirements of each individual country for underground operation.
For special uses, use special working attachments and, if necessary, special safety equipment.
Exclusively mount and use special working attachments with approval and as per the stipulations of the manufacturer of the basic machine.
TABLE OF CONTENTS:
Liebherr L 507 1579 Wheel Loader Service Manual – PDF DOWNLOAD
010 Introduction 010-1
010.1 Safety instructions 010-4
010.1.1 Information on these instructions 010-4
010.1.1.1 Representation of warning messages 010-4
010.1.1.2 Graphic symbols in these instructions 010-4
010.1.2 Intended use 010-5
010.1.2.1 Laws, rules, guidelines and safety regulations 010-5
010.1.2.2 Intended use 010-5
010.1.2.3 Foreseeable misuse 010-6
010.1.2.4 Operating conditions 010-6
010.1.2.5 Disposal 010-7
010.1.3 Description of staff 010-7
010.1.3.1 Personal protective equipment 010-7
010.1.3.2 Requirements for staff 010-8
010.1.3.3 Operator 010-8
010.1.3.4 Operator 010-9
010.1.3.5 Maintenance staff 010-9
010.1.3.6 Refrigeration technician 010-10
010.1.3.7 Slinger 010-11
010.1.3.8 Spotter 010-12
0101.4 Protective devices on the machine 010-12
010.1.4.1 Operator's cab 010-12
010.1.4.2 Roll over protective structure (ROPS) 010-13
010.1.4.3 Falling object protective structures (FOPS) 010-13
0101.5 Emergency equipment on the machine 010-13
010.1.5.1 Emergency exit (standard) 010-13
010.1.5.2 Fire extinguisher (option) 010-14
010.1.6 Safe operation 010-14
010.1.6.1 Intoxicants 010-14
010.1.6.2 Dangerous fuels and operating fluids 010-14
010.1.6.3 Transporting machine 010-15
010.1.6.4 Access to machine 010-15
010.1.6.5 Machine danger zone 010-16
010.1.6.6 Visibility 010-16
010.1.6.7 Protection against vibration 010-17
010.1.6.8 Operation of machine 010-18
010.1.7 Safe maintenance 010-21
010.1.7.1 Spare parts 010-21
010.1.7.2 Heavy parts 010-21
010.1.7.3 Regular checks 010-22
010.1.8 Modifications to the machine 010-22
010.1.8.1 Modifications, add-ons and retrofittings 010-22
Special tools for maintenance and repair work 010-23
010.21 Special tools, general 010-23
010.2.2 Special tools for diesel engine 010-25
010.2.3 Special tools for lift cylinders 010-26
010.2.4 Special tools for tilt cylinders 010-26
010.25 Special tools for steering wheel 010-27
010.2.6 Special tools for steering cylinders 010-27
010.2.7 Special tools for the electrical system 010-28
010.2.8 Special tools for the air conditioning system 010-29
010.2.9 Special tools for cab glazing 010-31
010.2.10 Special tools for the central lubrication system (Liebherr) 010-31
Standards and regulations 010-32
010.3.1 Prestressing forces and tightening torques for bolts with metric
standard and fine threads as per DIN ISO 261 010-32
010.3.1.1 Range of application and purpose 010-32
010.3.1.2 Other applicable documents 010-32
010.3.1.3 Modifications and descriptions 010-33
010.3.1.4 Tightening torques 010-33
010.3.2 Liebherr standards for assembly instructions and tightening torques010-39
Preservation guidelines 010-40
010.4.1 General information 010-40
010.4.2 Machine out of service for an unknown period of time 010-40
copyright ® Liebher-Werk Bischofshofen GmbH 2019
L507-1579
LBH/M2234434/08/211-20190801_070018/en
LBH/M2234434/06/211-20190801_070019/en
Service manual
Contents
0104.3 Putting the machine out of service 010-41
010.4.3.1 Out of service for up to 2 months 010-41
010.4.3.2 Out of service for up to 12 months 010-42
010.4.3.3 Out of service for longer than 12 months 010-43
010.44 Putting back into service 010-43
010.4.4.1 After being out of service for 2 months 010-43
010.4.4.2 After being out of service for 12 months 010-44
010.4.4.3 After being out of service for longer than 12 months 010-44
020 Technical data 020-1
020.1 Overall machine 020-4
020.1.1 Complete machine with bucket (z-bar kinematics)
L507-1579; 020-4
0201.2 Working attachment: light material bucket
L507-1579; 020-5
020.1.3 Working attachment: 4 in 1 bucket
L507-1579; 020-6
020.1.4 Working attachment: forklift
L507-1579; 020-8
020.2 Drive group 020-10
020.2.1 Diesel engine
L507-1579/0-53994; 020-10
0202.2 Diesel engine
L507-1579/53995-; 020-11
020.2.3 Fuel tank
L507-1579; 020-12
020.24 Fuel level sensor
L507-1579; 020-13
020.3 Cooling system 020-14
020.3.1 Fan pump
L507-1579; 020-14
020.3.2 Fan motor
L507-1579; 020-14
020.3.3 Hydraulic oil temperature sensor B8
L507-1579; 020-14
020.4 Working hydraulics 020-15
0204.1 Working pump
L507-1579; 020-15
0204.2 Control block
L507-1579; 020-15
020.4.3 Pilot control unit
L507-1579; 020-15
020.4.4 Pilot control hydro accumulator
1507-1579; 020-15
020.4.5 Stabilisation module
L507-1579; 020-15
020.4.6 Ride control hydro accumulator
1507-1579; 020-16
020.4.7 Lift cylinder
L507-1579; 020-16
020.4.8 Tilt cylinder
1507-1579; 020-16
020.49 Working pump
L507-1579; 020-17
Travel hydraulics 020-18
020.5.1 Travel pump
1507-1579; 020-18
020.5.2 Travel pump high pressure sensor B45
L507-1579; 020-18
020.5.3 Travel motor
1507-1579; 020-18
Hydraulic components 020-20
020.6.1 Return suction filter
1507-1579; 020-20
020.6.2 Breather filter with filler strainer
L507-1579; 020-20
Steering system 020-21
020.7.1 Servostat
1507-1579; 020-21
020.7.2 Steering cylinder
L507-1579; 020-21
Brake system 020-22
020.8.1 Drum brake
1507-1579; 020-22
020.8.2 Inch/brake unit
1507-1579; 020-22
020.8.3 Brake light pressure switch B12
L507-1579; 020-22
Electrical system 020-23
020.9.1 Central control unit (Master 4)
1507-1579; 020-23
020.9.2 Compact module
L507-1579; 020-23
020.10 Gearbox
Battery
L507-1579; 020-23
Voltage transformer
L507-1579; 020-24
020-25
020.10.1 Transmission
L507-1579; 020-25
020.10.2 Output B101 speed sensor
L507-1579; 020-25
020.10.3 Hydro accumulator for external servo pressure and service brake
L507-1579; 020-25
020.11 Axles and drive shafts 020-26
020.11.1 Front axle with engageable differential lockout
L507-1579; 020-26
020.11.2 Rear axle when front axle has engageable differential lockout
L507-1579; 020-26
020.11.3 Drive shaft
L507-1579; 020-26
020.11.4 Tyres
L507-1579; 020-26
020.11.4.2 Special tyres 020-28
020.12 Working attachment 020-29
020.12.1 Quick coupler locking hydraulic cylinder
L507-1579; 020-29
020.13 Operator's cab, heating and air conditioning 020-30
020.13.1 Dryer
L507-1579; 020-30
020.13.2 Pressure switches
L507-1579; 020-30
020.14 Lubrication system 020-31
020.14.1 Central lubrication pump EP1
L507-1579; 020-31
020.14.2 Progressive distributor
L507-1579; 020-31
020.1421 MX-F 020-31
020.1422 MX-F 25 020-31
020.14.2.3 MX-F 45 020-31
020.14.24 MX-F75 020-32
020.14.25 MX-F105 020-32
Service manual
030 Maintenance 030-1
030.1 Maintenance and inspection schedule 030-9
030.2 Filling quantities and lubrication chart 030-14
030.2.1 Recommended lubricants
L507-1579; 030-14
030.2.2 Recommended operating fluids
L507-1579; 030-15
030.3 Lubricants and fuels 030-16
030.3.1 General information on lubricants and fuels 030-16
030.3.1.1 General questions 030-16
030.3.1.2 Safety data sheets 030-16
030.3.1.3 Technical data sheets 030-16
030.3.1.4 Specific Liebherr standards 030-16
030.3.2 General information on changing lubricants and fuels 030-16
030.3.3 Converting hydraulic system from mineral oils to biodegradable
hydraulic fluids 030-17
030.3.4 Diesel fuels
L507-1579; 030-17
030.3.4.1 Minimum quality requirement 030-17
030.3.4.2 Operating temperatures of diesel fuels 030-17
030.3.4.3 Minimum quality requirement 030-18
030.3.5 Engine oils
L507-1579; 030-18
030.3.5.1 Liebherr recommendation 030-18
030.3.5.3 Minimum quality requirement 030-18
030.3.6 Refrigerant
L507-1579; 030-19
030.3.7 Coolant
L507-1579; 030-19
030.3.7.1 Requirements for the water used 030-19
030.3.7.2 Antifreeze and corrosion inhibitor 030-19
030.3.7.3 Minimum quality requirement 030-19
030.3.8 Hydraulic oil
L507-1579; 030-20
030.3.8.1 Liebherr recommendation 030-20
030.3.8.2 Minimum quality requirement 030-20
030.3.8.3 Oil analysis 030-20
030.3.8.4 Oil change 030-20
10
copyright ® Liebher-Werk Bischofshofen GmbH 2019
L507-1579
LBH/M2234434/08/211-20190801_070018/en
LBH/M2234434/06/211-20190801_070019/en
Service manual Contents
030.3.9 Transmission
L507-1579; 030-21
030.3.9.1 Liebherr recommendation 030-21
030.3.9.2 Minimum quality requirement 030-21
030.3.10 Axle oil
L507-1579; 030-21
030.3.10.1 Liebherr recommendation 030-21
030.3.10.2 Minimum quality requirement 030-21
030.3.11 Brake oil
L507-1579; 030-22
030.3.11.1 Liebherr recommendation 030-22
030.3.12 Lubrication grease
L507-1579; 030-22
030.3.12.1 Liebherr recommendation 030-22
030.3.12.2 Minimum quality requirement 030-22
030.4 Maintenance tasks 030-23
0304.1 Safety precautions
L507-1579; 030-23
0304.2 Preparatory tasks for maintenance 030-23
030.4.2.1 Maintenance positions
L507-1579; 030-24
030.4.2.2 Opening service hatches
L 507-1579; 030-25
030.4.2.3 Turning off battery main switch
L507-1579; 030-26
0304.3 Overall machine 030-27
030.4.3.1 Checking machine is in proper condition
L507-1579; 030-27
030.4.3.2 Removing loose parts, dirt, ice and snow from
machine
L507-1579; 030-29
030.4.3.3 Cleaning machine
L507-1579; 030-29
030.4.3.4 Replacing VCI capsules
L507-1579; 030-32
030.4.3.5 Qil analyses
L507-1579; 030-35
030.44 Drive group 030-42
030.4.4.1 Checking diesel engine oil level
L507-1579; 030-42
030.4.4.2 Diesel engine: changing diesel engine oil
L 507-1579; 030-43
copyright ® Liebherr-Werk Bischofshofen GmbH 2019
L507-1579 LIEBHERR 1″
Contents Service manual
0304.43 Diesel engine: changing oil filter
L507-1579; 030-45
0304.4.4 Diesel engine: checking V-belt
L507-1579; 030-47
0304.4.5 Diesel engine: changing V-belt
L507-1579; 030-49
030.4.4.6 Checking diesel engine valve clearance
L507-1579; 030-50
030.447 Draining condensate and sediment from the fuel tank
L507-1579; 030-54
030.4.4.8 Draining off condensate from fuel pre-filter
L507-1579; 030-55
030.4.4.9 Changing fuel pre-filter element
L507-1579; 030-56
030.4.4.10 Changing fuel fine filter element
L507-1579; 030-57
030.4.4.11 Cleaning service cover and dust discharge valve of
air filter system
L507-1579; 030-59
030.4.4.12 Checking air filter vacuum switch function
L507-1579; 030-60
030.4.4.13 Cleaning or changing main element of air filter
system
L507-1579; 030-61
030.4.4.14 Changing safety element of air filter system
L507-1579; 030-64
030.4.4.15 Checking that diesel engine intake and exhaust
system is in good condition and not loose or leaking
L507-1579; 030-65
030.4.4.16 Cleaning or changing diesel particulate filter
L507-1579; 030-68
030.4.5 Cooling system 030-74
030.4.5.1 Checking coolant level in cooling system
L507-1579; 030-74
030.4.5.2 Checking coolant antifreeze and corrosion inhibitor
concentration
L507-1579; 030-76
0304.53 Cleaning cooling system
L507-1579; 030-83
0304.5.4 Changing coolant in cooling system
L507-1579; 030-84
030.46 Working hydraulics 030-87
030.4.6.1 Cleaning and lubricating the pilot control unit
L507-1579; 030-87
030.4.7 Hydraulic components 030-87
copyright ® Liebher-Werk Bischofshofen GmbH 2019
12 LIEBHERR L507-1579
LBH/M2234434/08/211-20190801_070018/en
LBH/M2234434/06/211-20190801_070019/en
Service manual Contents
030.4.7.1 Checking oil level in hydraulic tank
L507-1579; 030-87
030.4.7.2 Draining off condensate and sediment from hydraulic
tank
1507-1579; 030-89
030.4.7.3 Changing the hydraulic tank return suction filter
cartridge
L507-1579; 030-80
030.4.7.4 Changing the hydraulic tank breather filter
L507-1579; 030-92
030.4.7.5 Hydraulic tank: analysing oil
1507-1579; 030-92
030.4.7.6 Hydraulic tank: changing oil
L507-1579; 030-94
030.4.8 Steering system 030-96
030.4.8.1 Steering: Checking the function
L507-1579; 030-96
030.4.8.2 Lubricating steering cylinder bearing
1507-1579; 030-96
0304.9 Brake system 030-97
030.4.9.1 Testing service brake and parking brake
L507-1579; 030-97
030.4.9.2 Checking the oil level in the brake system
1507-1579; 030-99
030.4.9.3 Checking gap and wear on service brake linings
L507-1579; 030-100
030.4.9.4 Checking service brake discs for wear
1507-1579; 030-102
0304.10 Electrical system 030-104
030.4.10.1 Checking function of lighting and horn
L507-1579; 030-104
030.4.10.2 Checking battery fluid levels and terminals
L507-1579; 030-105
030.4.10.3 Control lever: Change the travel direction switch
rocker and cap.
L507-1579; 030-107
030.4.11 Gearbox 030-109
030.4.11.1 Transmission: checking oil level
L507-1579; 030-109
030.4.11.2 Changing transmission oil
L507-1579; 030-110
0304.12 Axles and drive shafts 030-111
030.4.12.1 Checking the axle oil levels
L507-1579; 030-111
copyright ® Liebherr-Werk Bischofshofen GmbH 2019
L507-1579 LIEBHERR 13
Contents Service manual
030.4.12.2 Changing the axle oil
L507-1579; 030-113
0304.12.3 Lubricating rear axle kingpin bearings
L507-1579; 030-116
0304.12.4 Checking fitting of rear axle kingpin bearings and
steering rod taper connections
L507-1579; 030-116
0304.12.5 Checking tightening torque of front axle fastening
bolts
L507-1579; 030-117
0304.126 Checking and lubricating drive shaft
1507-1579; 030-118
030.4.12.7 Checking the tyre pressure
L507-1579; 030-119
030.4.12.8 Checking wheel tightness
L507-1579; 030-119
030.4.13 Steel parts of the basic machine 030-120
030.4.13.1 Lubricating articulated bearing
L507-1579; 030-120
0304.13.2 Lubricating articulation stops
L507-1579; 030-121
030.4.13.3 Lubricating the moving parts of the engine bonnet
with penetrating oil
L507-1579; 030-121
0304.13.4 Cleaning and maintaining seals of service hatches
L507-1579; 030-122
030.4.14 Working attachment 030-122
030.4.14.1 Lubricating lift arms and working attachment
L507-1579; 030-122
030.4.14.2 Checking lift arm bucket bearing bushings
1507-1579; 030-123
030.4.14.3 Checking the lift arm bucket stops
L507-1579; 030-124
030.4.14.4 Testing quick coupler
L507-1579; 030-125
030.4.15 Operator's cab, heating and air conditioning 030-126
030.4.15.1 Cleaning operator's cab air filter
1507-1579; 030-126
0304.15.2 Changing operator's cab air filter
L507-1579; 030-126
030.4.15.3 Safety belt: checking condition and function
1507-1579; 030-127
030.4.16.4 Testing the windscreen washer system
L507-1579; 030-128
030.4.15.6 Lubricating locking mechanism and cylinder of opera-
tor's cab with penetrating oil
L507-1579; 030-129
030.4.15.7 Cleaning and maintaining seals of operator's cab
L 507-1579; 030-129
030.4.15.8 Air conditioning: checking V-belt
L507-1579; 030-130
030.4.15.9 Air conditioning: changing V-belt
1507-1579; 030-132
030.4.15.10 Checking the indicator bead in the air conditioning
dryer-collector unit
L507-1579; 030-134
030.4.15.11 Heating and air conditioning unit: Testing function
1507-1579; 030-135
0304.16 Lubrication system 030-136
030.4.16.1 Checking the level in the grease reservoir of the
central lubrication system
L507-1579; 030-136
030.4.16.2 Central lubrication system: Checking the pipes,
hoses and lubrication points for leaks and damage
L 507-1579;
030-137
030.4.16.3 Central lubrication system: Checking the lubrication
of the bearings
1507-1579; 030-138
030.5 Testing and adjustment checklist
L507-1579; 030-139
030.6 Testing and adjustment tasks 030-143
0306.1 Safety precautions
L507-1579; 030-143
030.6.2 Overall machine 030-143
030.6.2.1 Preparing for adjustment procedures
1507-1579; 030-143
030.6.2.2 Hydraulic oil and coolant: operating temperature
1507-1579; 030-145
030.6.3 Drive group 030-146
030.6.3.1 Pedals: calibration
1507-1579; 030-146
030.6.3.2 Diesel engine speed
L507-1579; 030-147
030.6.3.3 Reading the diesel engine service files
1507-1579; 030-148
030.6.3.4 Performing a service regeneration on diesel particu-
late filter
L507-1579; 030-150
030.6.3.5 Diesel engine: changing engine control unit (ECU)
L507-1579; 030-151
Cooling system 030-161
030.6.4.1 Fan motor: fan speed proportional solenoid
L507-1579; 030-161
Working hydraulics 030-164
030.6.5.1 Control valve block: secondary pressure relief valves
L507-1579; 030-164
030.6.5.2 Control valve block: primary pressure relief valve
L507-1579; 030-166
0306.5.3 Control block: reduction of tilt-out speed (option)
L507-1579; 030-168
030.6.5.4 Stabilisation module (option), safety valve
L507-1579; 030-169
030.6.5.5 Ride control hydro accumulator (option): nitrogen
filling
L507-1579; 030-171
Hydraulic components 030-173
030.6.6.1 Checking the hydraulic lines for damage
L507-1579; 030-173
Travel hydraulics 030-178
030.6.7.1 Travel pump high pressure sensor B102: Deviation
L507-1579; 030-178
030.6.7.2 Travel pump replenishing pressure relief valve
L507-1579; 030-179
030.6.7.3 Travel pump: high pressure relief valves
L507-1579; 030-181
030.6.7.4 Travel pump: pressure cut-off
L507-1579; 030-184
030.6.7.5 Travel pump: manual block curve calibration (up to
software version 013, from software version 017)
L507-1579; 030-186
030.6.7.6 Travel pump: manual block curve calibration (from
software version 014 to 016)
L507-1579; 030-187
030.6.7.7 Travel pump: automatic block curve calibration (from
software version 018)
L507-1579; 030-190
0306.7.8 Travel motor: manual calibration (maximum swivel
angle)
030.6.7.9 = Travel motor; manual calibration (minimum swivel
angle)
L 507-1579; 030-192
030.6.8 Brake system 030-194
030.6.8.1 Inching brake pedal: basic setting
1507-1579; 030-194
030.6.8.2 Angle sensor for inching function: checking basic
setting
L 507-1579; 030-195
030.6.8.3 Service brake: brake pressure in 1st brake circuit
1507-1579; 030-196
0306.9 Electrical system 030-198
030.6.9.1 Central control unit (Master4) Creating a Servicefile
L507-1579; 030-198
030.6.9.2 Updating the central controller software
1507-1579; 030-201
030.6.9.3 Setting the IP addresses of the central control unit
(Master4)
L507-1579; 030-203
030.6.9.4 Resetting the central control unit (Master4)
L507-1579; 030-206
030.6.9.5 Addressing CAN module and checking system infor-
mation
1507-1579; 030-207
0306.10 Gearbox 030-209
030.6.10.1 Gearbox: external servo pressure reducing valve
L507-1579; 030-209
030.6.10.2 External servo pressure hydro accumulator nitrogen
filling
1507-1579; 030-211
030.6.11 Axles and drive shafts 030-214
030.6.11.1 Tyres: setting radius
L507-1579; 030-214
s 040 Drive group 040-1
– 040.1 Engine 040-2
z 040.1.1 Diesel engine overview
5 L507-1579; 040-2
3 040.1.2 Electrical components of diesel engine
a L507-1579; 040-10
3 040.1.3 Fuel system 040-11
040.1.3.1 Overview of fuel system
1507-1579; 040-12
040.1.3.2 Fuel level sensor
L507-1579; 040-14
040.1.3.3 Fuel pre-filter
L507-1579; 040-15
040.1.3.4 Fuel fine filter
L507-1579; 040-16
040.1.4 Air filter system 040-17
040.1.4.1 Air filter
L507-1579; 040-17
040.1.4.2 Vacuum switch for air filter
L507-1579; 040-18
040.1.5 Exhaust system 040-18
040.1.5.1 Overview of diesel particulate filter
L507-1579; 040-19
050 Cooling system 050-1
050.1 Overview of cooling system
L507-1579; 050-2
050.2 Cooling system hydraulics 050-3
050.2.1 Overview of cooling system hydraulics
L 507-1579; 050-3
050.22 Fan pump
L507-1579; 050-6
050.2.3 Fan motor
L507-1579; 050-7
050.3 Cooling system electronics 050-9
050.3.1 General overview of electronic control system
L 507-1579; 050-9
050.3.2 Hydraulic oil temperature sensor
L507-1579; 050-12
050.4 Cooler 050-14
050.4.1 Cooler unit
1507-1579; 050-14
050.5 Reversible fan drive 050-15
050.5.1 Overview of reversible fan drive
L507-1579; 050-15
050.5.2 Fan reversal valve block
L507-1579; 050-18
060 Working hydraulics 060-1
060.1 Overview of working hydraulics
L507-1579; 060-3
060.2 Working pump
L507-1579; 060-9
060.3 Control block
L507-1579; 060-12
060.4 Pilot control 060-20
060.4.1 Overview of pilot control unit
L507-1579; 060-20
060.4.2 Pilot control unit
L507-1579; 060-24
060.4.3 Pilot pressure for solenoid valve
L507-1579; 060-26
060.5 Ride control 060-28
060.5.1 Overview of ride control system
L507-1579; 060-28
060.5.2 Stabilisation module
L507-1579; 060-32
060.6 Regulated flow rate 060-37
0606.1 Regulated flow rate: total overview
L507-1579; 060-37
0606.2 Valve block for regulated flow rate
L507-1579; 060-39
060.7 Pipe break protection 060-41
060.7.1 Pipe break protection: overview
L507-1579; 060-41
060.7.2 Valve block for pipe break protection
L507-1579; 060-43
060.7.3 Solenoid valve for release of the ride control
L507-1579; 060-44
060.8 High flow 060-46
060.8.1 High Flow: total overview
L507-1579; 060-46
060.8.2 High Flow pump
5 L507-1579; 060-49
3
8 060.8.3 Solenoid valve for High Flow
– L507-1579; 060-50
– 070 Travel hydraulics 070-1
3 070.1 Overview of travel hydraulics
§ L507-1579; 070-2
z 070.2 Travel pump
L507-1579; 070-9
070.3 Travel motors 070-25
070.3.1 Travel motor
L507-1579; 070-25
Hydraulic components 080-1
080.1 Hydraulic system: overview
L507-1579; 080-2
080.2 Hydraulic tank 080-5
080.2.1 Overview of the hydraulic tank
L507-1579; 080-5
080.2.2 Return suction filter
1507-1579; 080-7
080.2.3 Breather filter
L507-1579; 080-13
Steering system 090-1
090.1 Steering system overview
L507-1579; 090-2
090.2 Servostat
L507-1579; 090-6
Brake system 100-1
100.1 Overview of brake system
L507-1579; 100-2
100.2 Service brake 100-7
100.2.1 Inch/brake unit
L507-1579; 100-7
100.2.2 Inching function angle sensor
1507-1579; 100-13
100.2.3 Brake light pressure switch
L507-1579; 100-15
100.2.4 Drum brake
L507-1579; 100-16
100.3 Parking brake 100-21
100.3.1 Valve block for parking brake and differential lockout
1507-1579; 100-21
100.3.2 Orifice bypass solenoid valve
L507-1579; 100-23
Electrical system 110-1
110.1 Overview of electrical system
L507-1579; 110-2
110.2 Lighting
L507-1579; 110-5
110.3 Circuit diagrams
L507-1579; 110-7
110.4 Electronic control unit 110-9
110.4.1 General overview of electronic control system
L507-1579; 110-9
110.4.2 Central control unit (Master4)
L507-1579; 110-10
110.4.3 Modules 110-15
110.4.3.1 Compact module: overview
L507-1579; 110-15
110.4.3.2 Compact module
1507-1579; 110-16
110.5 Electrical components of the driver's cab 110-22
110.5.1 Fuse boards
L507-1579; 110-22
110.5.2 Door contact switch
L507-1579; 110-24
110.6 Electrical components in the rear section 110-25
110.6.1 Battery installation
L507-1579; 110-25
120 Gearbox 120-1
120.1 Overview of the transmission
L507-1579; 120-2
120.2 Transmission hydraulics 120-7
120.2.1 Overview of transmission hydraulics
L507-1579; 120-7
120.2.2 Gear shifting
L507-1579; 120-12
120.2.3 Valve block for external servo pressure
L507-1579; 120-14
120.24 Travel motor bypass solenoid valve
L507-1579; 120-16
120.3 Transmission electronics 120-18
120.3.1 Gearbox: electrical system
L507-1579; 120-18
120.3.2 Output speed sensor
L507-1579; 120-20
120.3.3 Hall sensor for gear indicator
L507-1579; 120-21
130 Axles and drive shafts 130-1
130.1 Axles 130-2
130.1.1 Front axle
L507-1579; 130-2
130.1.2 Rear axle
L507-1579; 1304
130.1.3 Engageable differential lockout 130-6
130.1.3.1 Overview of engageable differential lockout
L507-1579; 130-6
130.2 Cardan shafts 130-9
130.2.1 Drive shaft
L507-1579; 130-9
140 Steel parts of the basic machine 140-1
140.1 Vehicle frame 140-2
140.1.1 Articulation bearing
L507-1579; 140-2
140.1.2 Articulation lock
L507-1579; 140-3
150 Working attachment 150-1
150.1 Lift arms for Z kinematics 160-2
150.1.1 Lift arms for Z kinematics
L507-1579; 150-2
150.2 Quick coupler 150-4
150.2.1 Quick coupler
1507-1579; 150-4
150.2.2 Quick coupler hydraulics 150-5
150.2.2.1 Overview of quick coupler hydraulics
L507-1579; 150-6
150.2.2.2 Open solenoid valve for quick coupler
L507-1579; 150-8
160 Operator's cab, heating and air conditioning 160-1
160.1 Overview of operator's cab, heating and air conditioning unit
L507-1579; 160-2
160.2 Display and control elements 160-4
160.2.1 Display
1507-1579; 160-4
160.2.2 Control lever
L507-1579; 160-4
160.2.3 Accelerator pedal
L507-1579; 160-6
160.3 Heating, ventilation, air conditioning 160-8
160.3.1 Overview of heating, ventilation and air conditioning system
L507-1579; 160-8
160.3.2 Heating and air conditioning unit 160-14
160.3.2.1 Heating and air conditioning unit
1507-1579; 160-14
160.3.2.2 Blower
L507-1579; 160-17
160.4 Air conditioning 160-18
160.4.1 Air conditioning (optional)
L507-1579; 160-18
160.4.2 Compressor magnetic coupling
L507-1579; 160-19
160.4.3 Air conditioning condenser
L507-1579; 160-21
160.4.4 Dryer-collector unit
L507-1579; 160-21
160.4.5 Air conditioning pressure switch
L507-1579; 160-23
170 Lubrication system 170-1
170.1 Liebherr automatic central lubrication system 170-2
170.1.1 Automatic central lubrication system: overview
L507-1579; 170-2
170.1.2 Central lubrication pump EP-1
L507-1579; 170-6
170.1.3 Progressive distributor MX-F
L507-1579; 170-9
190 Options 190-1
190.1 LiDAT 190-2
190.1.1 Overview of LiDAT
L507-1579; 190-2
190.1.2 LiDAT on machine
L507-1579; 190-4
200 Diagnosis 200-1
200.1 Malfunctions 200-2
200.1.1 Warning symbols 200-2
200.1.2 Warning symbols 200-2
200.1.3 Service code indicator in display 200-3
200.2 Troubleshooting 200-6
200.2.1 Replacing fuses 200-6
200.2.1.1 Fuses on the fuse board in the cab 200-6
200.2.1.2 Fuses in right of engine compartment 200-9
VIDEO PREVIEW OF THE MANUAL:
IMAGES PREVIEW OF THE MANUAL: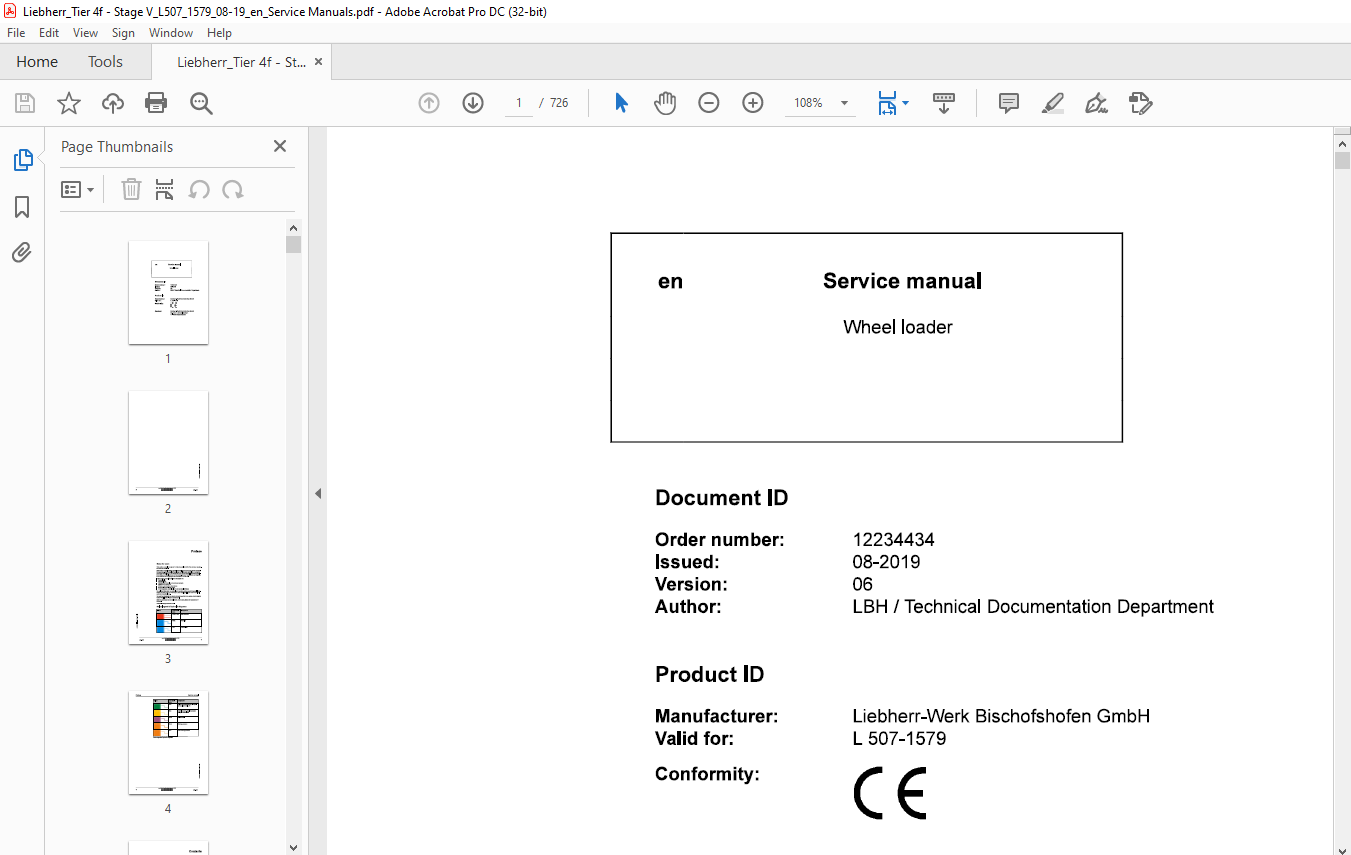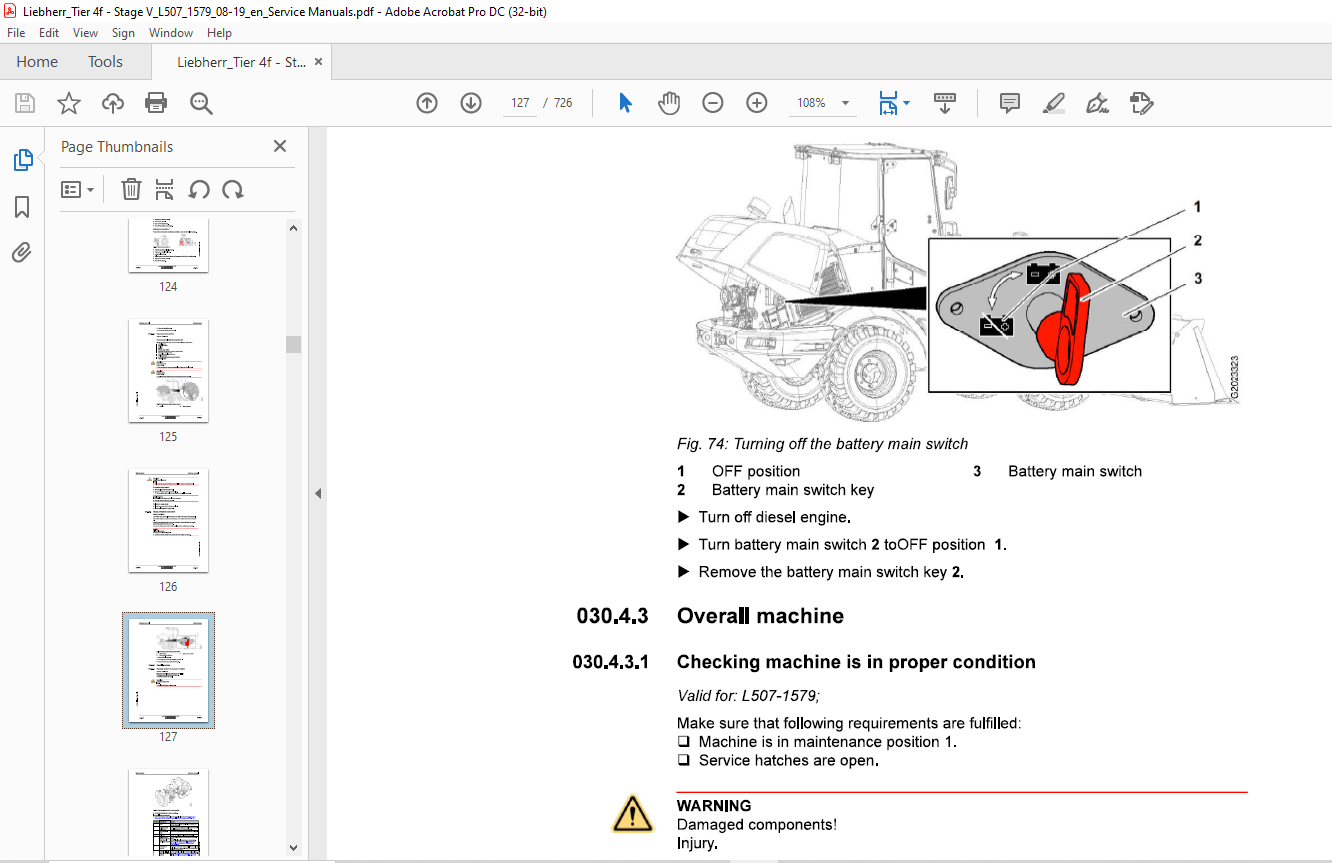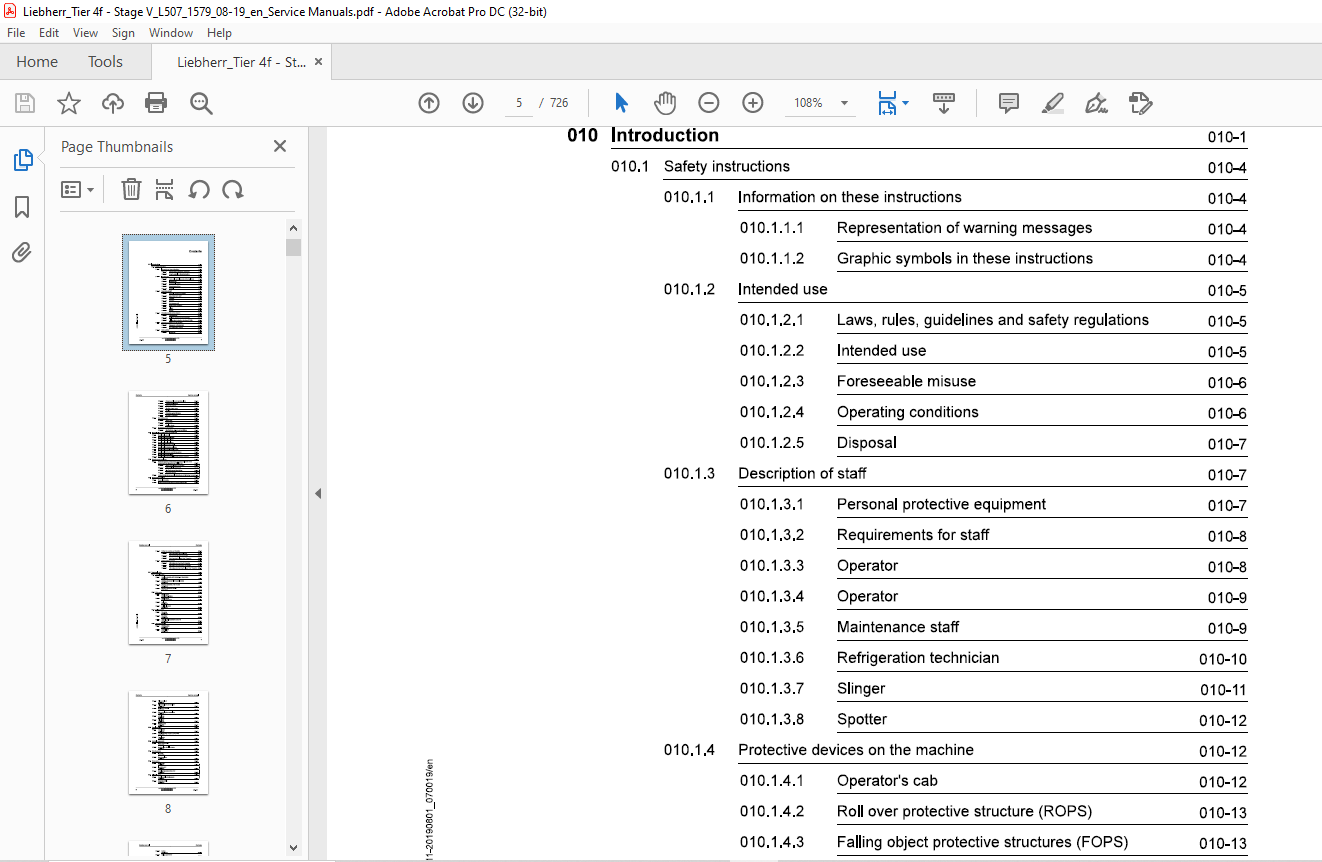 PLEASE NOTE:
This is the SAME exact manual used by your dealers to fix your vehicle.
The same can be yours in the next 2-3 mins as you will be directed to the download page immediately after paying for the manual.
Any queries / doubts regarding your purchase, please feel free to contact [email protected]
S.V