Liebherr L 506 1577 Wheel Loader Service Manual – PDF DOWNLOAD
FILE DETAILS:
Liebherr L 506 1577 Wheel Loader Service Manual – PDF DOWNLOAD
Language : English
Pages : 532
Downloadable : Yes
File Type : PDF
Size: 112 MB
DESCRIPTION:
Liebherr L 506 1577 Wheel Loader Service Manual – PDF DOWNLOAD
Preface
Notes for users
This service manual is designed for trained specialist staff of the Liebherr organisation and their dealers.
This service manual contains specialist knowledge for repairing Liebherr construc- tion machines. Basic specialist knowledge on electronics, hydraulics, mechanics and engine technology is not contained in this service manual. Therefore special- ized training and qualifications are necessary. Liebherr recommends participating in the Liebherr training program for construction machines.
In this service manual you will find information on:
— Special tools
— Technical data
— Maintenance intervals and maintenance tasks
— Adjustment procedures
— Structure and function descriptions
— Removal and installation tasks
— Circuit diagrams, hydraulic plans and technical drawings
You will find information on controls and operation in the operator's manual. Information on spare parts are in the spare parts catalogue. Please observe the local accident prevention laws.
You can find information on repairs of machine parts in the service documentation under "Wheel loader – repair instructions".
Safety instructions
General safety instructions
1. Familiarise yourself with the operator's manual before starting up the
machine.
Make sure that you are in possession of additional instructions for any special
equipment installed on your machine, and that you have read and understood
them.
2. Only expressly authorised personnel may operate, service or repair the
machine.
Observe the legal minimum ages.
3. Only trained or instructed personnel may operate the machine. Clearly assign
responsibility for operation, rigging, maintenance and repair work.
4. The operator of the machine must ensure that no persons are in the operating
area of the machine on the basis of a risk assessment conducted in respect of
the operating site.
5. Clearly establish the driver's responsibilities (also with respect to traffic regulations)
and authorise him to refuse to carry out unsafe instructions from third
parties.
6. Personnel undergoing training and instruction, or who are not yet fully qualified,
may only be allowed to work on the machine under constant supervision
by an experienced person.
7. Now and again, check that your personnel are working safely and are aware of
possible dangers in observance of the operator's manual.
8. Wear safe working clothes when working on the machine.
Do not wear rings, wristwatches, ties, scarves, unbuttoned jackets, loose
clothing or similar garments, as they can become caught in the machinery and
cause injury.
Certain tasks require: safety glasses, safety boots, hard hats, protective
gloves, reflective vests, ear protection etc.
9. Ask the site manager about any special safety regulations in force on the
construction site.
10. Do not hold onto the steering column, the control panel or the control levers
when getting on or off the machine.
You might inadvertently trigger movements which could lead to accidents.
11. Never jump down from the machine. Use the steps, ladders and platforms
provided for getting on and off.
12. Keep all handles, steps, rails, gangways, platforms and ladders free from oil,
grease, mud snow and ice. This reduces the risk of slipping, tripping up or
falling.
13. Familiarise yourself with the emergency exit through the right cab door and/or
the rear window.
14. Unless there are other instructions, perform maintenance and repair work as
follows:
Procedure:
• Park the machine on firm, level ground and lower the working attachment
to the ground.
• Move all control levers to neutral.
• Turn off the diesel engine and take out the ignition key.
15. Before all work on the hydraulic system, depressurise the hydraulic circuits
and the hydraulic tank as described in the operator's manual.
16. Lock the working hydraulics to prevent accidental actuation before leaving the
operator's seat.
IMAGES PREVIEW OF THE MANUAL: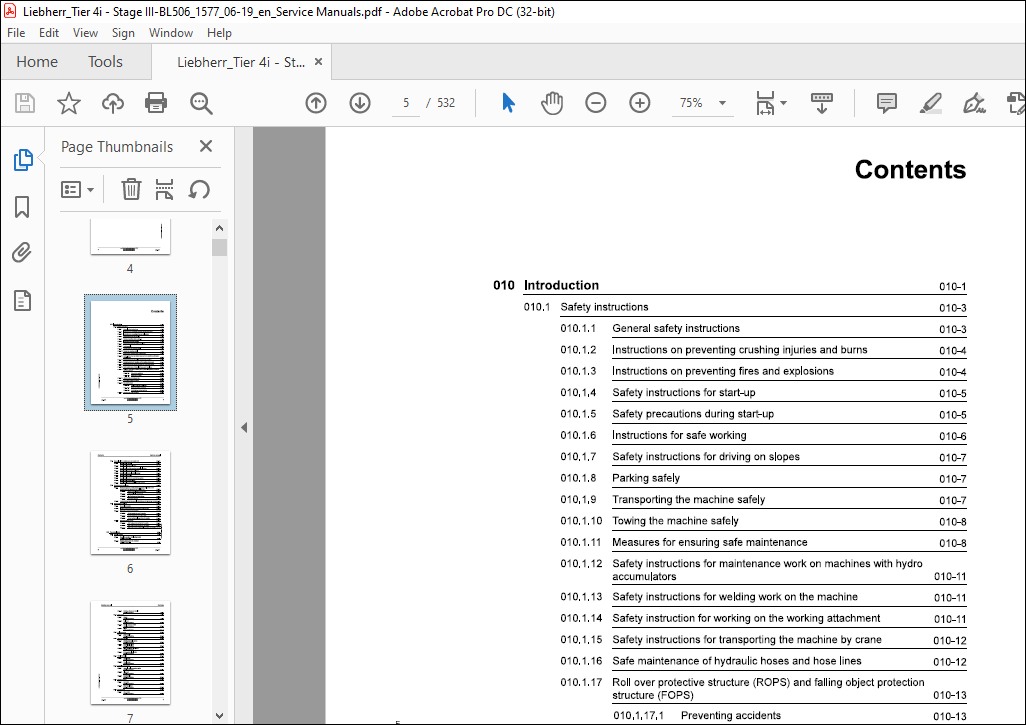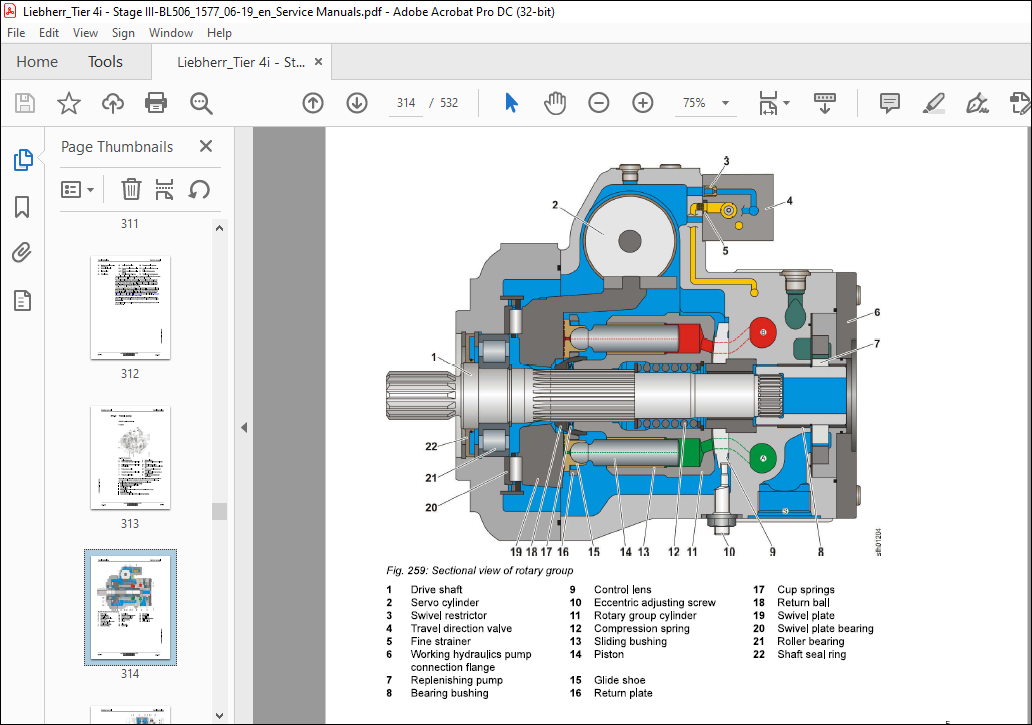 TABLE OF CONTENTS:
Liebherr L 506 1577 Wheel Loader Service Manual – PDF DOWNLOAD
010 Introduction 010-1
010.1 Safety instructions 010-3
0101.1 General safety instructions 010-3
010.1.2 Instructions on preventing crushing injuries and burns 010-4
010.1.3 Instructions on preventing fires and explosions 010-4
010.14 Safety instructions for start-up 010-6
0101.5 Safety precautions during start-up 010-5
010.1.6 Instructions for safe working 010-6
0101.7 Safety instructions for driving on slopes 010-7
0101.8 Parking safely 010-7
010.1.9 Transporting the machine safely 010-7
010.1.10 Towing the machine safely 010-8
010.1.11 Measures for ensuring safe maintenance 010-8
010.1.12 Safety instructions for maintenance work on machines with hydro
accumulators 010-11
010.1.13 Safety instructions for welding work on the machine 010-11
010.1.14 Safety instruction for working on the working attachment 010-11
010.1.15 Safety instructions for transporting the machine by crane 010-12
010.1.16 Safe maintenance of hydraulic hoses and hose lines 010-12
010.1.17 Roll over protective structure (ROPS) and falling object protection
structure (FOPS) 010-13
010.1.17.1 Preventing accidents 010-13
010.1.17.2 Preventing injuries 010-13
010.1.18 Attachments and accessories 010-13
010.1.19 Protection against vibrations 010-14
010.1.20 See and be seen 010-14
010.1.20.1 Field of view and visual aids 010-14
010.1.20.2 Measures during operation. 010-15
010.1.20.3 Modifications to the machine 010-15
010.1.21 Danger area of the machine 010-15
copyright ® Liebherr-Werk Bischofshofen GmbH 2019
L506-1677 LIEBHERR 5
Contents
Service manual
010.2 Special tools for maintenance and repair work 010-17
010.2.1 Special tools, general 010-17
010.22 Special tools for diesel engine 010-18
010.2.3 Special tools for Z kinematics hydraulic cylinders 010-19
010.24 Special tools for steering cylinders 010-20
010.2.5 Special tools for the electrical system 010-20
010.2.6 Special tools for axles 010-20
010.2.7 Special tools for the air conditioning system 010-21
010.2.8 Special tools for cab glazing 010-21
010.2.9 Special tools for the central lubrication system 010-21
010.3 Standards and regulations 010-23
010.3.1 Prestressing forces and tightening torques for bolts with metric
standard and fine threads as per DIN ISO 261 010-23
010.3.1.1 Range of application and purpose 010-23
010.3.1.2 Other applicable documents 010-23
010.3.1.3 Modifications and descriptions 010-24
010.3.1.4 Tightening torques 010-24
010.3.2 Liebherr standards for assembly instructions and tightening torques010-30
010.4 Preservation guidelines 010-31
010.4.1 General information 010-31
010.4.2 Machine out of service for an unknown period of time 010-31
010.4.3 Putting the machine out of service 010-32
010.4.3.1 Out of service for up to 2 months 010-32
010.4.3.2 Out of service for up to 12 months 010-33
010.4.3.3 Out of service for longer than 12 months 010-34
010.4.4 Putting back into service 010-34
010.441 After being out of service for 2 months 010-34
0104.4.2 After being out of service for 12 months
010-35
010.4.4.3 After being out of service for longer than 12 months 010-35
020 Technical data
020-1
020.1 Overall machine
020-4
020.1.1
020.1.2
Complete machine with loading bucket
L506-1577/34874-; 020-4
Working attachment: 4 in 1 bucket
L506-1577/34874-; 020-5
copyright ® Liebher-Werk Bischofshofen GmbH 2019
L506-1577
LBH/11827668/07/211-20180528_115753/en
LBH/M1827869/07/211-20190529_115753/en
Service manual
Contents
020.1.3 Working attachment: forklift
L506-1577/34874-; 020-7
020.2 Drive group 020-9
0202.1 Engine
L506-1577/34874-; 020-9
0202.2 Fuel tank
L506-1577/34874-; 020-10
020.2.3 Air filter vacuum switch
L506-1577/34874-; 020-10
020.24 Clutch
L506-1577/34874-; 020-10
020.3 Cooling system 020-12
020.3.1 Water cooler
L506-1577/34874-; 020-12
020.4 Working hydraulics 020-13
0204.1 Working hydraulics pump
L506-1577/34874-; 020-13
020.4.2 Control valve block
L506-1577/34874-; 020-13
0204.3 Z-bar kinematics lift cylinder
L506-1577/34874-; 020-14
020.44 Z kinematics tilt cylinder
L506-1577/34874-; 020-14
020.5 Travel hydraulics 020-15
020.5.1 Travel pump
L506-1577/34874-; 020-15
020.5.2 Travel motor
L506-1577/34874-; 020-16
020.6 Hydraulic components 020-17
0206.1 Hydraulic oil temperature switch
L506-1577/34874-; 020-17
020.6.2 Filter unit
L506-1577/34874-; 020-17
020.6.3 Breather filter
L506-1577/34874-; 020-17
020.7 Steering system 020-18
020.7.1 Servostat
L506-1577/34874-; 020-18
020.7.2 Steering cylinder
L506-1577/34874-; 020-18
020.8 Brake system 020-19
020.8.1 Drum brake
L506-1577/34874-; 020-19
copyright ® Liebherr-Werk Bischofshofen GmbH 2019
L506-1677 LIEBHERR 7
Service manual
020.8.2 Brake master cylinder
020.10 Gearbox
L506-1577/34874-; 020-19
020.8.3 Brake light pressure switch B12
L506-1577/34874-; 020-19
020.9 Electrical system 020-20
020.9.1 Battery
L506-1577/34874-; 020-20
020-21
020.10.1 Transmission
L506-1577/34874-; 020-21
020.11 Axles and drive shafts 020-22
020.11.1 Front axle
L506-1577/34874-; 020-22
020.11.2 Rear axle
L506-1577/34874-; 020-22
020.11.3 Drive shaft
L506-1577/34874-; 020-23
020.11.4 Tyres
L506-1577/34874-; 020-23
020.11.4.2 Special tyres 020-24
020.12 Steel parts of the basic machine 020-25
020.12.1 Ballast weight
L506-1577/34874-; 020-25
020.13 Working attachment 020-26
020.13.1 Lift arms for Z kinematics
L506-1577/34874-; 020-26
020.13.2 Quick coupler
L506-1577/34874-; 020-26
020.14 Operator's cab, heating and air conditioning 020-27
020.14.1 Heating, air conditioning
L506-1577/34874-; 020-27
020.14.2.1 Air conditioning 020-27
020.14.3.1 Air conditioning compressor 020-27
020.14.4.1 Dryer 020-28
020.14.5.1 Air conditioning pressure switch 020-28
020.14.6 Anti-icing thermostat
L506-1577/34874-; 020-28
020.15 Lubrication system 020-29
020.15.1 Central lubrication pump EP1
L506-1577/34874-; 020-29
020.15.2 Progressive distributor
L506-1577/34874-; 020-29
copyright ® Liebher-Werk Bischofshofen GmbH 2019
L506-1577
LBH/11827668/07/211-20180528_115753/en
LBH/M1827869/07/211-20190529_115753/en
Service manual Contents
020.15.2.1 MX-F 020-29
020.15.2.2 MX-F25 020-29
020.15.2.3 MX-F 45 020-30
020.15.24 MX-F75 020-30
020.156.2.5 MX-F105 020-30
030 Maintenance 030-1
030.1 Maintenance and inspection schedule 030-8
030.2 Filling quantities and lubrication chart 030-13
030.2.1 Recommended lubricants
L506-1577/34874-; 030-13
030.2.2 Recommended operating fluids
L506-1577/34874-; 030-13
030.3 Lubricants and fuels 030-15
030.3.1 General information on changing lubricants and fuels 030-15
030.3.2 Converting hydraulic system from mineral oils to biodegradable
hydraulic fluids 030-15
030.3.3 Diesel fuels
L506-1577; 030-16
030.3.3.1 Minimum quality requirement 030-16
030.3.3.2 Minimum quality requirement 030-16
030.34 Engine oils
L506-1577; 030-16
030.3.4.1 Liebherr recommendation 030-16
030.34.3 Minimum quality requirement 030-16
030.3.5 Refrigerant
L506-1577; 030-17
030.3.6 Coolant
L506-1577/34874-; 030-17
030.36.1 Requirements for the water used 030-17
030.3.6.2 Antifreeze and corrosion inhibitor 030-17
030.3.6.3 Minimum quality requirement 030-18
030.3.7 Hydraulic oil
L506-1577; 030-18
030.3.7.1 Liebherr recommendation 030-18
030.3.7.2 Minimum quality requirement 030-18
030.3.7.3 Oil analysis 030-18
030.3.7.4 Oil change 030-19
copyright ® Liebherr-Werk Bischofshofen GmbH 2019
L506-1677 LIEBHERR 9
Contents
Service manual
030.4
030.3.8 Transmission
L506-1577; 030-19
030.3.8.1 Liebherr recommendation 030-19
030.3.8.2 Minimum quality requirement 030-19
030.3.9 Axle oil
L506-1577; 030-20
030.3.9.1 Liebherr recommendation 030-20
030.3.9.2 Minimum quality requirement 030-20
030.3.10 Brake oil
L506-1577; 030-20
030.3.10.1 Liebherr recommendation 030-20
030.3.11 Lubrication grease
1506-1577; 030-20
030.3.11.1 Liebherr recommendation 030-20
030.3.11.2 Minimum quality requirement 030-21
Maintenance tasks 030-22
030.4.1 Safety precautions
L506-1577/34874-; 030-22
030.4.2 Preparatory tasks for maintenance 030-22
030.4.2.1 Maintenance positions
L506-1577/34874-; 030-23
030.4.2.2 Opening the service hatches
L506-1577/34874-; 030-24
0304.23 Turning off battery main switch
L506-1577/34874-; 030-25
030.4.3 Overall machine 030-26
030.4.3.1 Checking the machine for external damage
L506-1577/34874-; 030-26
030.4.3.2 Removing loose parts, dirt, ice and snow from the
machine
L506-1577/34874-; 030-26
0304.3.3 Cleaning the machine
L506-1577/34874-; 030-27
030.4.3.4 Checking the machine for leaks
L506-1577/34874-; 030-28
030.4.3.5 Making sure the bolted connections are tight
L506-1577/34874-; 030-28
030.4.3.6 Corrosion protection system for use with salt and arti-
ficial fertilisers (optional): Carrying out corrosion
protection
L506-1577/34874-; 030-29
030.4.3.7 Oil analyses
L506-1577/34874-; 030-29
10
copyright ® Liebher-Werk Bischofshofen GmbH 2019
L506-1577
LBH/11827668/07/211-20180528_115753/en
LBH/M1827869/07/211-20190529_115753/en
Service manual
Contents
0304.4 Drive group 030-36
030.4.4.1 Checking diesel engine oil level
L506-1577/34874-; 030-36
030.4.4.2 Changing diesel engine oil
L506-1577/34874-; 030-37
030.4.4.3 Changing the engine oil filter
L506-1577/34874-; 030-39
0304.44 Checking diesel engine V-belt
L506-1577/34874-; 030-40
030.4.4.5 Changing the engine V-belt
L506-1577/34874-; 030-43
030.4.4.6 Checking the engine valve clearance
L506-1577/34874-; 030-44
030.4.4.7 Draining condensate and sediment from fuel tank
L506-1577/34874-; 030-48
030.4.4.8 Draining off condensate from the fuel pre-filter
L506-1577/34874-; 030-49
030.4.4.9 Changing the fuel pre-filter insert
L506-1577/34874-; 030-50
030.4.4.10 Changing the fuel fine filter
L506-1577/34874-; 030-51
030.4.4.11 Cleaning service cover and dust discharge valve of
air filter system
L506-1577/34874-; 030-53
030.4.4.12 Checking the air suction system for leaks and tight
fitting
L506-1577/34874-; 030-54
030.4.4.13 Testing the air filter vacuum switch
L506-1577/34874-; 030-55
030.4.4.14 Cleaning or changing the main filter element
L506-1577/34874-; 030-56
030.4.4.15 Changing the air filter safety element
L506-1577/34874-; 030-59
030.4.4.16 Checking the exhaust system for leaks and tight
fitting
L506-1577/34874-; 030-60
030.4.4.17 Cleaning or changing the diesel particulate filter
L506-1577/34874-; 030-61
0304.5 Cooling system 030-69
030.4.5.1 Checking coolant level in cooling system
L506-1577/34874-; 030-69
030.4.5.2 Checking the coolant anti-freeze and corrosion inhib-
itor concentration
L506-1577/34874-; 030-70
copyright ® Liebherr-Werk Bischofshofen GmbH 2019
508-1577 LIEBHERR 1
Contents
Service manual
030.4.5.3 Cleaning the cooling system
L506-1577/34874-; 030-75
0304.5.4 Changing coolant (at least once a year)
L506-1577/34874-; 030-76
030.4.6 Hydraulic components 030-78
030.4.6.1 Checking oil level in hydraulic tank
L506-1577/34874-; 030-78
0304.6.2 Draining off condensate and sediment from the
hydraulic tank
L506-1577/34874-; 030-80
0304.6.3 Hydraulic tank – changing the return-suction filter
L506-1577/34874-; 030-81
0304.6.4 Changing the hydraulic tank breather filter
L506-1577/34874-; 030-83
030.4.6.5 Changing oil in hydraulic system
L506-1577/34874-; 030-83
030.4.7 Steering system 030-85
0304.71 Testing the steering
L506-1577/34874-; 030-85
030.4.7.2 Lubricating steering cylinder bearing
L506-1577/34874-; 030-86
030.4.8 Brake system 030-87
030.4.8.1 Testing service brake and parking brake
L506-1577/34874-; 030-87
030.4.8.2 Checking oil level in brake system
L506-1577/34874-; 030-88
030.4.8.3 Checking the gap and wear on the service brake
linings
L506-1577/34874-; 030-89
030.4.9 Electrical system 030-90
030.4.9.1 Checking the lights
L506-1577/34874-; 030-90
030.4.9.2 Checking the batteries, fluid level and terminals
L506-1577/34874-36021; 030-91
030.4.9.3 Checking the batteries, fluid level and terminals
L506-1577/36022-; 030-93
0304.9.4 Changing the travel direction rocker switch and cap
(optional) on the control lever
L506-1577/34874-; 030-96
030.4.10 Gearbox 030-98
030.4.10.1 Checking the transmission oil level
L506-1577/34874-; 030-98
030.4.10.2 Changing the transmission oil
L506-1577/34874-; 030-98
copyright ® Liebher-Werk Bischofshofen GmbH 2019
12 LIEBHERR L506-1577
LBH/11827668/07/211-20180528_115753/en
LBH/M1827869/07/211-20190529_115753/en
Service manual
Contents
030.4.11 Axles and drive shafts 030-99
030.4.11.1 Checking the axle oil levels
L506-1577/34874-; 030-99
030.4.11.2 Changing the axle oil
L506-1577/34874-; 030-100
030.4.11.3 Checking the tightening torque of the fastening bolts
L506-1577/34874-; 030-101
030.4.11.4 Checking the cardan shafts
L506-1577/34874-; 030-102
030.4.11.5 Checking the tyre pressure
L506-1577/34874-; 030-102
030.4.11.6 Checking the wheel tightness
L506-1577/34874-37498; 030-103
030.4.11.7 Checking wheel tightness
L506-1577/37499-; 030-103
0304.12 Steel parts of the basic machine 030-104
030.4.12.1 Lubricating articulated bearing
L506-1577/34874-; 030-104
030.4.12.2 Lubricating articulation stops
L506-1577/34874-; 030-105
030.4.12.3 Covering – lubricating locks and hinges
L506-1577/34874-; 030-105
030.4.13 Working attachment 030-106
030.4.13.1 Lubricating the lift arms and working attachment
L506-1577/34874-; 030-106
030.4.13.2 Checking the lift arm bearing bushings
L506-1577/34874-; 030-107
030.4.13.3 Checking the lift arm bucket stops
L506-1577/34874-; 030-107
030.4.13.4 Lubricating and testing the quick-change device
L506-1577/34874-; 030-108
0304.14 Operator's cab, heating and air conditioning 030-109
030.4.14.1 Cleaning operator's cab air filter
L506-1577/34874-; 030-109
030.4.14.2 Changing operator's cab air filter
L506-1577/34874-; 030-110
030.4.14.3 Checking the condition and function of the safety belt
L506-1577/34874-; 030-111
030.4.14.4 Filling windscreen washer fluid in windscreen washer
system
L506-1577/34874-; 030-112
030.4.14.5 Checking the seals on the driver's cab
L506-1577/34874-; 030-112
copyright ® Liebherr-Werk Bischofshofen GmbH 2019
L506-1577 LIEBHERR 13
Contents
Service manual
030.6
030.4.15
030.4.14.6 Air conditioning: draining condensate
L506-1577/34874-; 030-113
030.4.14.7 Testing the air conditioning unit
L506-1577/34874-; 030-113
Lubrication system 030-115
030.4.16.1 Checking central lubrication system grease reservoir
level
L506-1577/34874-; 030-115
030.4.15.2 Checking the pipes, hoses and lubrication points of
the lubrication system
L506-1577/34874-; 030-115
0304.15.3 Checking whether metered quantities are adequate
at the bearing points (grease collars) of the lubrica-
tion system
L506-1577/34874-; 030-116
030.5 Testing and adjustment checklist
L506-1577/34874-; 030-117
Testing and adjustment tasks 030-120
030.6.1 Safety precautions
L506-1577/34874-; 030-120
030.6.2 Overall machine 030-121
030.6.2.1 Testing and adjusting: Preparation
L506-1577/34874-; 030-121
0306.2.2 Hydraulic system: operating temperature
L506-1577/34874-; 030-122
030.6.3 Drive group 030-122
030.6.3.1 Diesel engine speed
L506-1577/34874-; 030-122
0306.3.2 Reading the diesel engine service files
L506-1577/34874-; 030-124
030.6.3.3 Performing a service regeneration on diesel particu-
late filter
L506-1577; 030-126
0306.3.4 Diesel engine: changing engine control unit (ECU)
L506-1577; 030-127
030.6.4 Working hydraulics 030-137
030.6.4.1 Control valve block: Primary pressure relief valve
L506-1577/34874-; 030-137
030.6.5 Hydraulic components 030-138
030.6.5.1 Checking the hydraulic lines for damage
L506-1577; 030-138
030.6.6 Travel hydraulics 030-143
030.6.6.1 Travel pump: Replenishing pressure relief valve
L506-1577/34874-; 030-143
14
copyright ® Liebher-Werk Bischofshofen GmbH 2019
LIEBHERR L506-1577
LBH/11827668/07/211-20180528_115753/en
LBH/M1827869/07/211-20190529_115753/en
Service manual
Contents
030.6.6.2 Blocked condition
L506-1577/34874-; 030-144
030.6.6.3 Travel pump: control valve
L506-1577/34874-; 030-145
030.6.6.4 Travel pump: pump power
L506-1577/34874-; 030-146
030.6.6.5 Travel pump: High pressure relief valves
L506-1577/34874-; 030-148
030.6.6.6 Travel pump: pressure cut-off
L506-1577/34874-; 030-150
030.6.6.7 Travel motor: regulation range
L506-1577/34874-; 030-151
030.6.7 Steering system 030-153
030.6.7.1 Servostat: LS pressure relief valve
L506-1577/34874-; 030-153
0306.8 Brake system 030-154
030.6.8.1 Inch/brake pedal: Idle path
L506-1577/34874-; 030-154
030.6.8.2 Inch/brake pedal: Inching valve leakage
L506-1577/34874-; 030-155
0306.9 Operator's cab, heating and air conditioning 030-155
030.6.9.1 Setting the service hours in the display
L506-1577/34874-; 030-155
040 Drive group 040-1
040.1 Engine 040-2
040.1.1 Engine: General overview
L506-1577/34874-; 040-2
0401.2 Electrical components of diesel engine
L506-1577/34874-; 040-10
040.1.3 Fuel system 040-11
040.1.3.1 Fuel system:: General overview
L506-1577/34874-; 040-12
040.1.3.2 Fuel level sensor
L506-1577/34874-; 040-14
040.1.3.3 Fuel pre-filter
L506-1577/34874-; 040-15
040.1.3.4 Fuel fine filter
L506-1577/34874-; 040-16
040.14 Air filter system 040-16
040.1.4.1 Air filter system: General overview
L506-1577/34874-; 040-17
copyright ® Liebherr-Werk Bischofshofen GmbH 2019
L506-1577 LIEBHERR 15
Contents
Service manual
040.1.4.2 Air filter
L506-1577/34874-; 040-18
040.1.4.3 Vacuum switch for air filter
L506-1577/34874-; 040-19
040.1.5 Exhaust system 040-19
040.1.5.1 Overview of diesel particulate filter
L506-1577/34874-; 040-20
050 Cooling system 050-1
050.1 Overview of the cooling system
L506-1577/34874-; 050-2
050.2 Cooler 050-3
050.2.1 Water cooler
L506-1577/34874-; 050-3
050.22 Hydraulic oil cooler
L506-1577/34874-; 050-5
050.2.3 Fuel cooler
L506-1577/34874-; 050-6
060 Working hydraulics 060-1
060.1 Overview of working hydraulics
L506-1577/34874-36840; 060-2
060.2 Overview of working hydraulics
L506-1577/36841-; 060-5
060.3 Working hydraulics pump
L506-1577/34874-; 060-8
060.4 Control valve block
L506-1577/34874-; 060-12
060.5 Ride control 060-22
060.5.1 Overview of the ride control system
L506-1577/36841-; 060-22
060.5.2 Stabilisation module
L506-1577/36841-; 060-23
060.5.3 Ride control hydro accumulator
L506-1577/36841-; 060-27
060.6 Hydraulic cylinders of the working hydraulics 060-28
060.6.1 Hydraulic cylinders for Z kinematics 060-28
060.6.1.1 Z kinematics lift cylinder
L506-1577/34874-; 060-28
060.6.1.2 Z kinematics tilt cylinder
L506-1577/34874-; 060-29
060.7 3. Function with electrohydraulic pilot control 060-31
16
copyright ® Liebher-Werk Bischofshofen GmbH 2019
L506-1577
LBH/11827668/07/211-20180528_115753/en
LBH/M1827869/07/211-20190529_115753/en
Service manual Contents
060.7.1 Electrical overview of the working hydraulics with 3rd function
L506-1577/36841-; 060-31
070 Travel hydraulics 070-1
070.1 Travel hydraulics overview
L506-1577/34874-; 070-2
070.2 Travel pump
L506-1577/34874-; 070-5
070.3 Travel motors 070-19
070.3.1 Travel motor
L506-1577/34874-; 070-19
080 Hydraulic components 080-1
080.1 Hydraulic tank 080-2
080.1.1 Overview of the hydraulic tank
L506-1577/34874-; 080-2
080.1.2 Filtration grade
L506-1577/34874-; 080-4
080.1.3 Breather filter
L506-1577/34874-; 080-10
090 Steering system 090-1
090.1 Steering system overview
L506-1577/34874-; 090-2
090.2 Servostat
L506-1577/34874-; 090-5
090.3 Steering cylinder 090-9
090.3.1 Steering cylinder overview
L506-1577/34874-; 090-9
100 Brake system 100-1
100.1 Overview of the brake system
L506-1577/34874-; 100-2
100.2 Service brake and parking brake 100-4
100.2.1 Drum brake
L506-1577/34874-; 100-4
100.3 Service brake 100-8
100.3.1 Overview of the service brake
L506-1577/34874-; 100-8
100.3.2 Inch/brake pedal
L506-1577/34874-; 100-10
copyright © Liebherr-Werk Bischofshofen GmbH 2018
L506-1577 LIEBHERR 17
Contents
Service manual
100.3.3 Inching valve
L506-1577/34874-; 100-11
100.3.4 Brake master cylinder
L506-1577/34874-; 100-13
100.3.5 Brake light pressure switch
L506-1577/34874-; 100-17
100.3.6 Brake fluid equalising reservoir
L506-1577/34874-; 100-18
100.4 Parking brake 100-19
100.4.1 Overview of the parking brake
L506-1577/34874-; 100-19
100.4.2 Parking brake switch
L506-1577/34874-; 100-20
110 Electrical system 110-1
110.1 Overview of the electrical system
L506-1577/34874-; 110-2
110.2 Lighting
L506-1577/34874-; 110-5
110.3 Circuit diagrams
L506-1577/34874-; 110-7
110.4 Electronic control unit 110-9
110.4.1 Overview of the electronic control system
L506-1577/34874-; 110-9
110.5 Electrical components of the driver's cab 110-11
110.5.1 Fuse and relay board
L506-1577/34874-; 110-12
110.6 Electrical components in the rear section 110-16
110.6.1 Battery installation
L506-1577/34874-; 110-16
120 Gearbox 120-1
120.1 Overview of the transmission
L506-1577/34874-; 120-2
130 Axles and drive shafts 130-1
130.1 Axles 130-2
130.1.1 Front axle
L506-1577/34874-; 130-2
130.1.2 Rear axle
L506-1577/34874-; 130-6
130.2 Cardan shafts 130-10
18
copyright ® Liebher-Werk Bischofshofen GmbH 2019
L506-1577
LBH/11827668/07/211-20180528_115753/en
LBH/M1827869/07/211-20190529_115753/en
Service manual
Contents
130.2.1 Cardan shait
L506-1577/34874-; 130-10
140 Steel parts of the basic machine 140-1
140.1 Vehicle frame 140-2
140.1.1 Articulation bearing
L506-1577/34874-; 140-2
140.1.2 Articulation lock
L506-1577/34874-; 140-3
1560 Working attachment 150-1
150.1 Lift arms for Z kinematics 150-2
150.1.1 Z kinematics lift arms
L506-1577/34874-; 150-2
150.2 Quick coupler 150-4
150.2.1 Quick coupler
L506-1577/34874-; 150-4
160 Operator's cab, heating and air conditioning 160-1
160.1 Overview of the cab, heating and air conditioning unit
L506-1577/34874-; 160-3
160.2 Display and control elements 160-5
160.2.1 Electrical components in the control panel 160-5
160.2.1.1 Starter switch
L506-1577/34874-; 160-5
160.2.2 Display
L506-1577/34874-; 160-7
160.2.3 Control lever
L506-1577/34874-; 160-11
160.24 Accelerator pedal
L506-1577/34874-; 160-12
160.3 Heating, ventilation, air conditioning 160-14
160.3.1 Overview of heating, ventilation and air conditioning system
L506-1577; 160-14
160.3.2 Heating and air conditioning unit 160-19
160.3.2.1 Heating and air conditioning unit
L506-1577/34874-; 160-20
160.3.2.2 Blower
L506-1577/34874-; 160-21
160.4 Air conditioning 160-23
160.4.1 Basic function of the air conditioning unit
L506-1577/34874-; 160-23
160.4.2 Air conditioning compressor
L506-1577/34874-; 160-24
160.4.3 Condenser
L506-1577/34874~; 160-29
160.44 Dryer
L506-1577; 160-29
160.4.5 Air conditioning pressure switch
L506-1577/34874-; 160-30
170 Lubrication system 170-1
170.1 Liebherr automatic central lubrication system 170-2
170.1.1 Automatic central lubrication system: overview
L506-1577/34874-; 170-2
170.1.2 Central lubrication pump EP-1
L506-1577/34874~; 170-6
170.1.3 Progressive distributor MX-F
L506-1577/34874~; 170-9
200 Diagnosis 200-1
200.1 Malfunctions 200-2
200.1.1 Warning symbols 200-2
200.1.2 Service code indicator in the display 200-2
200.2 Troubleshooting 200-5
200.2.1 Replacing fuses 200-5
200.2.1.1 Fuses on fuse board in operator's cab 200-5
200.2.1.2 Fuses in the battery compartment 200-7
200.21.3 Plug-in fuses for LiDAT 200-8
VIDEO PREVIEW OF THE MANUAL:
PLEASE NOTE:
This is the same manual used by the DEALERSHIPS to SERVICE your vehicle.
The manual can be all yours – Once payment is complete, you will be taken to the download page from where you can download the manual. All in 2-5 minutes time!!
Need any other service / repair / parts manual, please feel free to contact us at heydownloadss @gmail.com . We may surprise you with a nice offer
S.V