Liebherr L 506 1108 Wheel Loader Operating Manual SN 26361 – PDF DOWNLOAD
FILE DETAILS:
Liebherr L 506 1108 Wheel Loader Operating Manual SN 26361 – PDF DOWNLOAD
Language : English
Pages : 282
Downloadable : Yes
File Type : PDF
Size: 56 MB
DESCRIPTION:
Liebherr L 506 1108 Wheel Loader Operating Manual SN 26361 – PDF DOWNLOAD
Product ID
Manufacturer: Liebherr-Werk Bischofshofen GmbH
Type: L 550
Type no.: 1108
From Serial no.: 26361
Preface:
This operating manual has been written for the driver and maintenance personnel of the machine. It contains the following descriptions:
Chapter 1: Product description
Chapter 2: Safety regulations
Chapter 3: Handling and operation
Chapter 4: Malfunctions
Chapter 5: Maintenance
This operating manual must be carefully read before initial operation and should be read and used later at regular intervals by anyone who carries out work on the machine.
Working with or on the machine includes:
Operation: equipping, troubleshooting during operation, removing production debris, maintenance, and removing operating and auxiliary materials.
Servicing: maintenance, inspection, and repairs.
Transport or loading the machine.
This manual helps the driver become acquainted with the machine and prevents malfunctions due to incorrect operation.
Observation of the operating and maintenance manual by maintenance staff:
Increases reliability during operation
Extends the service life of your machine
Reduces repair costs and downtime
This manual must be kept with the machine. Make sure a copy is always kept in the glove compartment of the driver's cab.
In addition to the operating and maintenance manual, follow the instructions based on existing national accident prevention and environmental protection regulations. Also, observe recognized technical regulations for safe and correct operation in addition to applicable national and local legal accident prevention rules.
This operating and maintenance manual contains all the information you need to operate and service your machine.
– Some illustrations in this manual may show details and equipment that are different from those on your machine.
– In some pictures, protective devices and covers have been removed for a better view.
– We constantly make improvements to our machines, which means there may have been modifications to your machine that are not mentioned in this manual.
However, if you require explanations or information, the Liebherr technical information and customer services departments will be happy to provide assistance.
Liability and warranty:
Based on the many products offered by other manufacturers (e.g., fuels, lubricants, attachments, and replacement parts), Liebherr cannot generally test the suitability and faultless function of third-party products in or on Liebherr products. The same applies to the proper function of third-party products with Liebherr products.
The use of third-party products together with Liebherr products is at the risk of the operator. Liebherr accepts no warranty or liability for damage of any kind in the event of breakdowns or damage to Liebherr machines caused by the use of third-party products.
In addition, Liebherr will also reject any warranty claims for damage caused by improper use, insufficient maintenance, or failure to observe safety instructions.
Modifications, conditions, copyright:
We reserve the right to make changes without notice as a result of technological development.
The information and illustrations in this manual may not be reproduced, distributed, or used for commercial purposes. All rights under copyright law are expressly reserved.
The warranty and liability terms contained in Liebherr's general conditions of trade are not affected by the information in the manual.
IMAGES PREVIEW OF THE MANUAL: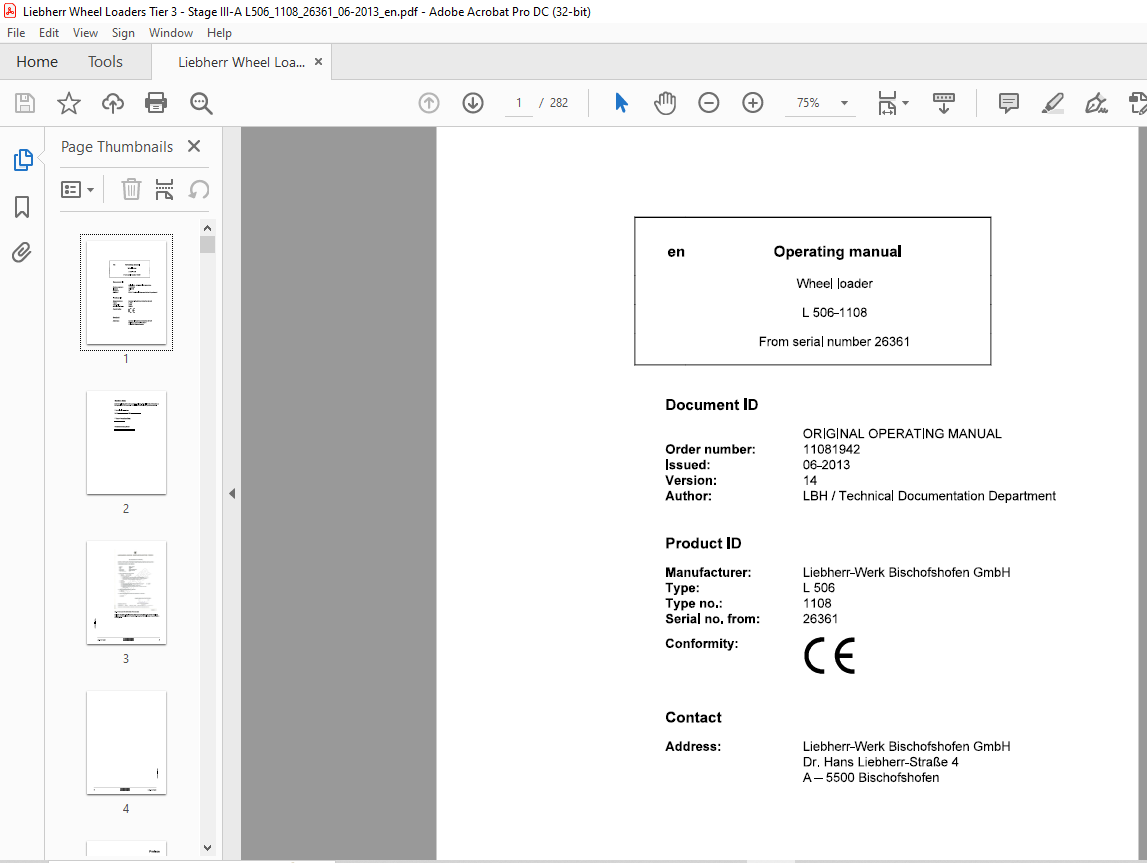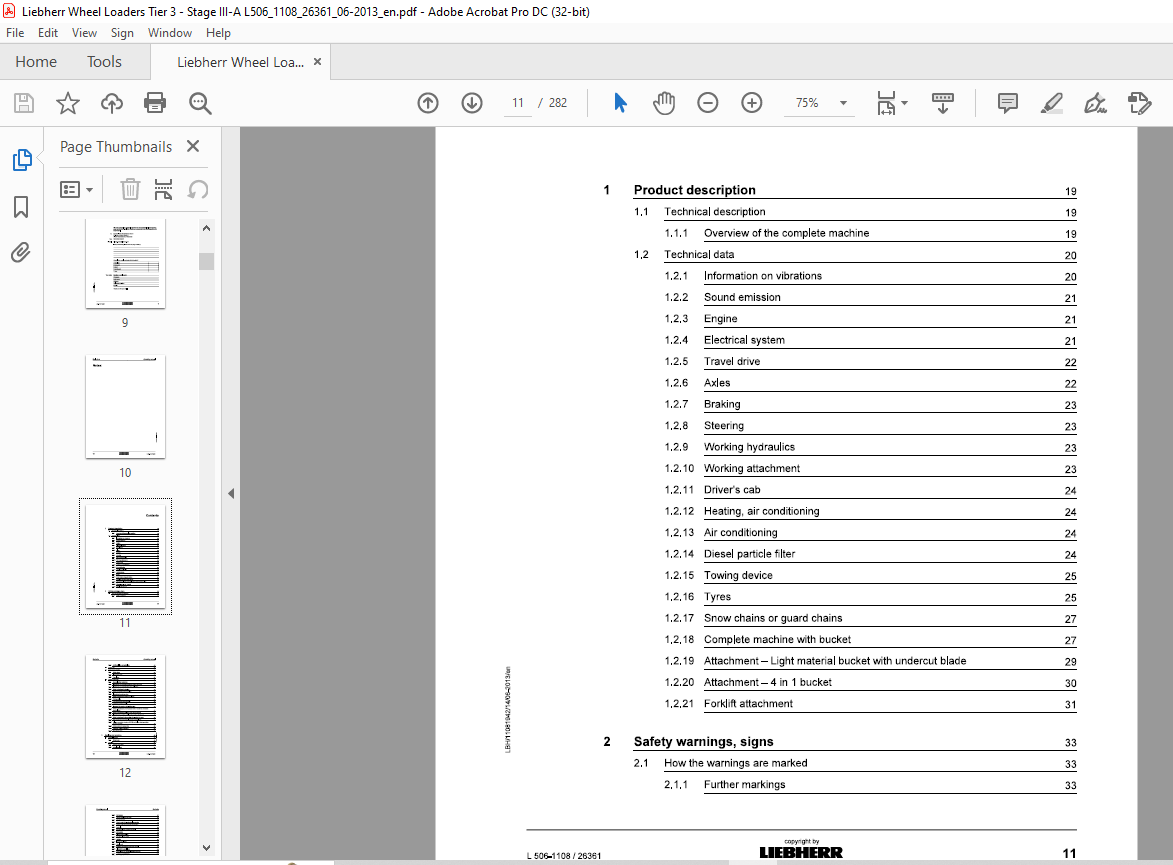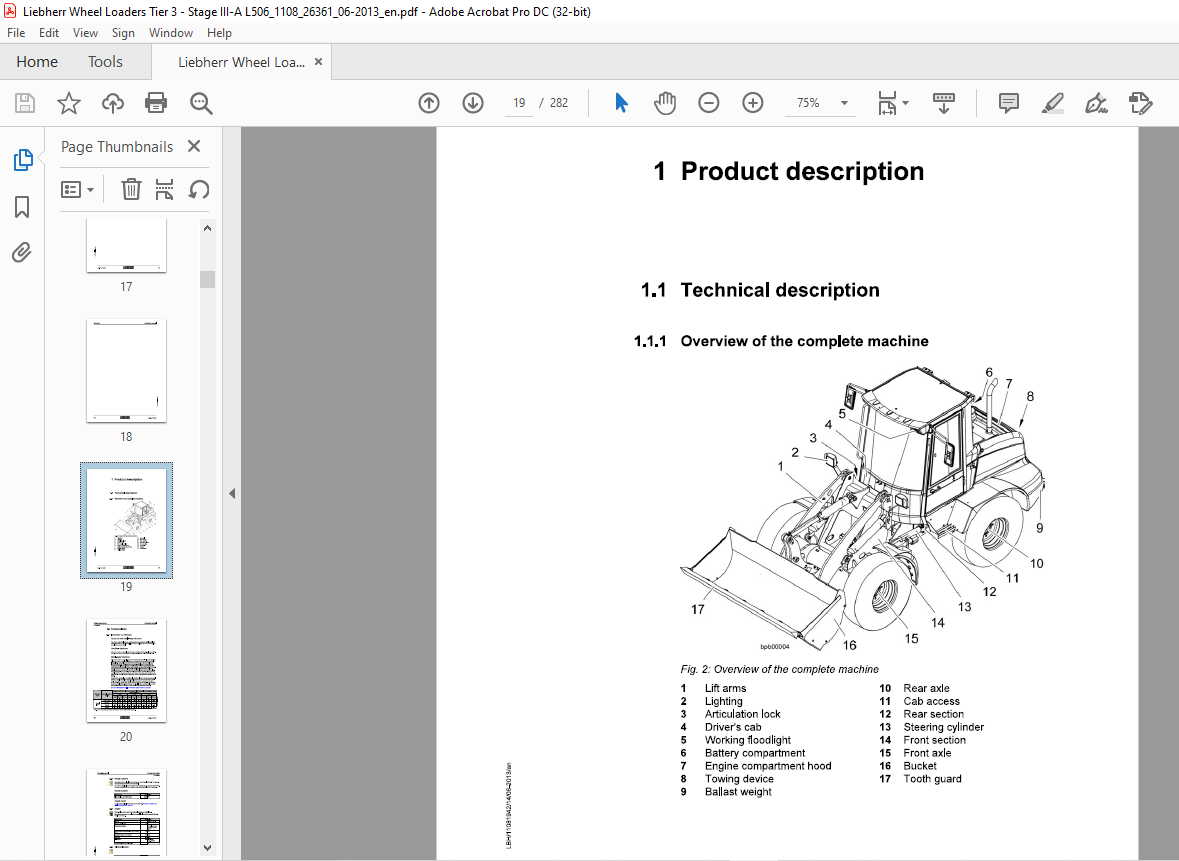 TABLE OF CONTENTS:
Liebherr L 506 1108 Wheel Loader Operating Manual SN 26361 – PDF DOWNLOAD
1 Product description 19
1.1 Technical description 19
1.1.1 Overview of the complete machine 19
1.2 Technical data 20
1.2.1 Information on vibrations 20
1.2.2 Sound emission 21
1.2.3 Engine 21
1.2.4 Electrical system 21
1.2.5 Travel drive 22
1.26 Axles 22
1.2.7 Braking 23
1.2.8 Steering 23
1.2.9 Working hydraulics 23
1.2.10 Working attachment 23
1.2.11 Driver's cab 24
1.2.12 Heating, air conditioning 24
1.2.13 Air conditioning 24
1.2.14 Diesel particle filter 24
1.2.15 Towing device 25
1.2.16 Tyres 25
1.2.17 Snow chains or guard chains 27
1.2.18 Complete machine with bucket 27
1.2.19 Attachment — Light material bucket with undercut blade 29
1.2.20 Attachment —4 in 1 bucket 30
1.2.21 Forklift attachment 3
2 Safety warnings, signs 33
21 How the warnings are marked 33
2.1.1 Further markings 33
2.1.2 Additional rules and guidelines 34
2.2 Proper use 34
2.3 Signs on the machine 34
2.3.1 Safety signs 34
2.3.2 Information signs 38
2.3.3 Type plates 47
2.4 Safety instructions 48
2.41 General safety instructions 48
2.4.2 Instructions on preventing crushing injuries and burns 50
2.4.3 Instructions on preventing fires and explosions 50
2.4.4 Safety instructions for start-up 51
2.45 Safety precautions during start-up 51
2.46 Instructions for safe working 51
2.47 Safety instructions for driving on slopes 53
2.4.8 Parking safely 53
2.49 Transporting the machine safely 53
2.410 Towing the machine safely 54
2.411 Measures for ensuring safe maintenance 54
2.412 Safety instructions for maintenance work on machines with hydro
accumulators 57
2.413 Safety instructions for welding work on the machine 57
2.4.14 Instructions for working safely on the working attachment 57
2.4.15 Safety instructions for transporting the machine by crane 58
2.416 Safe maintenance of hydraulic hoses and hose lines 58
2.4.17 Roll-over protection structure (ROPS) and falling object protection
structure (FOPS) 59
2.4.18 Attachments and accessories 60
2.4.19 Protection against vibrations 60
2.420 See and be seen 61
3 Handling and operation 63
3.1 Control elements 63
3.1.1 Driver's cab 63
3.2 Handling 65
3.2.1 Battery main switch 65
3.2.2 Articulation lock 65
3.2.3 Cab access 67
3.2.4 Hinged right-hand cab door 69
3.2.5 Emergency exit 70
3.26 Driver's seat with mechanical suspension 71
3.2.7 Driver's seat with pneumatic suspension 75
3.2.8 Seat belt 81
3.2.9 Steering column and steering wheel 82
3.2.10 Start switch 83
3.2.11 Electronic immobiliser 84
3.2.12 Steering column switch 86
3.2.13 Lighting 87
3.2.14 Interior cab lighting 91
3.2.15 Display unit 91
3.2.16 Switches and buttons on the side console 95
3.2.17 LIEBHERR control lever 102
3.2.18 Control lever for additional working functions 105
3.2.19 Heating, air conditioning 107
3.2.20 Air conditioning system 109
3.2.21 Interior and exterior mirrors 110
3.2.22 Sun visor 111
3.2.23 Radio 111
3.2.24 Windscreen wiper and washer system 112
3.2.25 Back-up alarm 113
3.2.26 Reversible fan drive 116
3.2.27 LIiDAT 117
3.3 Operation 118
3.3.1 Daily start-up 118
3.3.2 Starting the engine 120
3.3.3 Driving 125
3.3.4 Shutting down the machine 134
3.3.56 Automatic engine shutdown 137
3.3.6 Operating the lift arms 138
3.3.7 Diesel particulate filter 147
3.3.8 4in1 bucket 151
3.3.9 High dump bucket 153
3.3.10 Side dump bucket 156
3.3.11 Forklift 158
3.4 Working methods 161
3.4.1 Picking up and moving material 161
3.4.2 Transporting and moving material 162
3.4.3 Grading work 164
3.44 Loading a heap 165
3.4.5 Removing material from a slope or wall 167
3.4.6 Loading a transport vehicle 168
3.4.7 Excavation 172
3.5 Fitting and removing the attachment 175
3.5.1 Attaching and removing the quick-change device for working
attachments 175
3.6 Transport 185
3.6.1 Transporting the machine 185
3.6.2 Transport safety retainer 191
3.7 Emergency operation 193
3.7.1 Towing the machine 193
3.7.2 Jump starting 198
4 Malfunctions 201
4.1 Problems – Cause – Remedy 201
41.1 Visible and audible warning signals 201
41.2 Troubleshooting 202
4.2 Problem remedy 206
421 Replacing fuses 206
5 Maintenance 211
5.1 Maintenance and inspection schedule 211
5.2 Filling quantities and lubrication chart 215
52.1 Recommended lubricants 215
5.2.2 Recommended operating fluids 216
5.2.3 Lubrication chart 216
53 Lubricants and fuels 219
5.3.1 General information on changing lubricants and fuels 219
5.3.2 Converting the hydraulic system from mineral oils to environmentally
harmless hydraulic fluids 219
6.3.3 Diesel fuels 220
5.3.4 Lubricating oils for diesel engines 221
5.3.5 Coolants for diesel engines 223
5.3.6 Hydraulic oil 225
5.3.7 Lubricating oils for axles and transmissions 229
5.3.8 Brake oil 230
5.3.9 Lubrication grease and other lubricants 230
5.4 Preparatory tasks for maintenance 232
5.4.1 Safety precautions for maintenance 232
5.4.2 Maintenance positions 233
5.4.3 Opening the engine compartment hood and the cooling system grille 234
5.4.4 Switching off the battery main switch 236
5.5 Complete machine 237
5.5.1 Remove loose parts, dirt, ice and snow from the machine 237
5.5.2 Checking the machine for external damage 237
5.5.3 Making sure the bolted connections are tight 237
5.5.4 Sealing leaks 237
5.5.5 Carry out corrosion protection on machines that work with salt and
artificial fertilizers 237
5.5.6 Replacing VCI capsules 238
5.6 Engine 239
5.6.1 Check the engine oil level 239
5.6.2 Changing the engine oil 239
5.6.3 Changing the engine oil filter 239
5.6.4 Cleaning the fuel gauze filter and replace if necessary 240
5.6.5 Changing the fuel fine filter 241
5.6.6 Drain off condensate from the fuel fine filter 242
5.6.7 Bleeding the fuel system 242
5.6.8 Clean the air filter service cap and dust extraction valve 243
5.6.9 Changing the air filter main element 244
5.6.10 Changing the air filter secondary element 245
5.7 Diesel particulate filter 246
5.7.1 To drain the condensate separator 246
5.8 Cooling system 247
5.8.1 Check the coolant level 247
5.8.2 Checking the coolant antifreeze and corrosion inhibitor concentration 248
5.8.3 Cleaning the cooling system 251
Working hydraulics 252
5.9.1 Checking the oil level in the hydraulic tank 252
Steering system 253
5.10.1 Testing the steering 253
5.10.2 Lubricating the bearing points on the steering cylinders 253
Brake system 254
5.11.1 Testing the service brake and parking brake 254
5.11.2 Checking the gap and wear on the service and parking brake linings 255
5.11.3 Checking the oil level in the equalising reservoir of the brake system 256
Electrical system 257
5.12.1 Checking the indicator lamps 257
5.12.2 Checking the lights 257
Axles and tyres 258
5.13.1 Checking the tightness of the wheels (once after 50, 100 and 250 h) 258
5.13.2 Greasing the rear axle kingpin bearings 258
5.13.3 Checking and lubricating the cardan shaft(s) 259
5.13.4 Checking the tyre pressure 260
Machine frame and ballast weight 262
5.14.1 Lubricating the articulation bearing and rear oscillating bearing 262
5.14.2 Grease the contact faces of the articulation stops 263
Lubrication system 264
5.15.1 Checking the lubrication system grease reservoir level 264
5.15.2 Checking the pipes, hoses and lubrication points of the lubrication
system 264
5.15.3 Checking whether metered quantities are adequate at the bearing
points (grease collars) of the lubrication system 265
Cab, heating and air conditioning 266
5.16.1 Greasing the cab door hinges 266
5.16.2 Checking / topping up the windscreen washer reservoir 266
5.16.3 Cleaning the fresh air and recirculated air filter 267
5.16.4 Changing the fresh air and recirculated air filter 267
Lift arms and quick-change device 269
5.17.1 Lubricating the lift arms and attachment 269
5.17.2 Checking the lift arm bearing bushings 269
5.17.3 Lubricating and testing the quick-change device 270
5.18 Cleaning the machine 272
5.18.1 Washing the machine 272
5.19 Corrosion protection 274
5.19.1 Protecting the piston rods from corrosion 274
5.19.2 Protecting the fuel tank from corrosion 274
5.20 Deactivating the machine 275
Index 277
VIDEO PREVIEW OF THE MANUAL:
PLEASE NOTE:
This is the same manual used by the DEALERSHIPS to SERVICE your vehicle.
The manual can be all yours – Once payment is complete, you will be taken to the download page from where you can download the manual. All in 2-5 minutes time!!
Need any other service / repair / parts manual, please feel free to contact us at heydownloadss @gmail.com . We may surprise you with a nice offer
S.V