Liebherr Hydraulic excavator R944 C Operating manual – PDF DOWNLOAD
FILE DETAILS:
Liebherr Hydraulic excavator R944 C Operating manual – PDF DOWNLOAD
Language : English
Pages : 117 
Downloadable : Yes
File Type : PDF
Size: 30.1 MB
DESCRIPTION:
Liebherr Hydraulic excavator R944 C Operating manual – PDF DOWNLOAD
Preface:
These operating instructions have been written for the machine operator and for the maintenance personnel of the machine. They contain:
The technical data.
The safety requirements.
The operating instructions.
The maintenance instructions.
The operating instructions are to be read and used carefully by all persons who carry out work with or on the machine before putting the machine into service for the first time and later, at regular intervals.
Work with or on the machine includes, for example:
Operation, including setting up and equipping, rectifying malfunctions during the course of work, resolving production dropouts, care, disposal of operating and process materials.
Maintenance, including maintenance, inspection, and repair work.
Transportation or loading the machine.
The operating instructions allow the machine operator to familiarize themselves with the machine more easily and prevent malfunctions occurring due to improper operation.
The observance of the operating and maintenance instructions by maintenance personnel:
Increases reliability in use.
Extends the service life of your machine.
Reduces repair costs and downtime.
The operating instructions belong with the machine. Place a copy in an easily reached position on the cab storage shelf.
The operating and maintenance instructions should also incorporate information on current national regulations for accident prevention and protection. In addition to the operating instructions and legally binding regulations on accident prevention which apply in the user country and at the point of use, authorized specialist rules for safe and correct working procedures are also to be observed.
These operating and maintenance instructions contain all the information required for operating and maintaining your machine.
Some illustrations in these operating instructions may depict details and working devices that differ from your machine.
In some illustrations, protective devices and covers have been removed in the interests of better presentation.
Improvements, which are always being incorporated into our machines, may result in changes to your machine that are not yet indicated in these operating instructions.
However, should you require any further explanations or information, LIEBHERR's technical documentation, sales school, and customer service departments are available for your convenience.
You will appreciate that LIEBHERR warranty claims made on the basis of improper operation, unsatisfactory maintenance, use of unauthorized operating materials, or non-adherence to safety regulations cannot be recognized.
LIEBHERR will annul any and all obligations incurred by LIEBHERR and/or its dealerships, such as guarantee commitments, service contracts, etc., without prior notice in the event that replacement parts other than original LIEBHERR parts or parts purchased from LIEBHERR are used for maintenance or repair work.
Modifications, conditions, copyright:
We reserve the right to make modifications without prior notice in the course of technical developments.
The information and illustrations contained in these operating instructions may neither be copied and distributed nor used for the purposes of competition. All rights are expressly reserved in accordance with copyright laws.
The warranty and liability conditions of LIEBHERR's general business conditions will not be enlarged upon through the above information.
IMAGES PREVIEW OF THE MANUAL: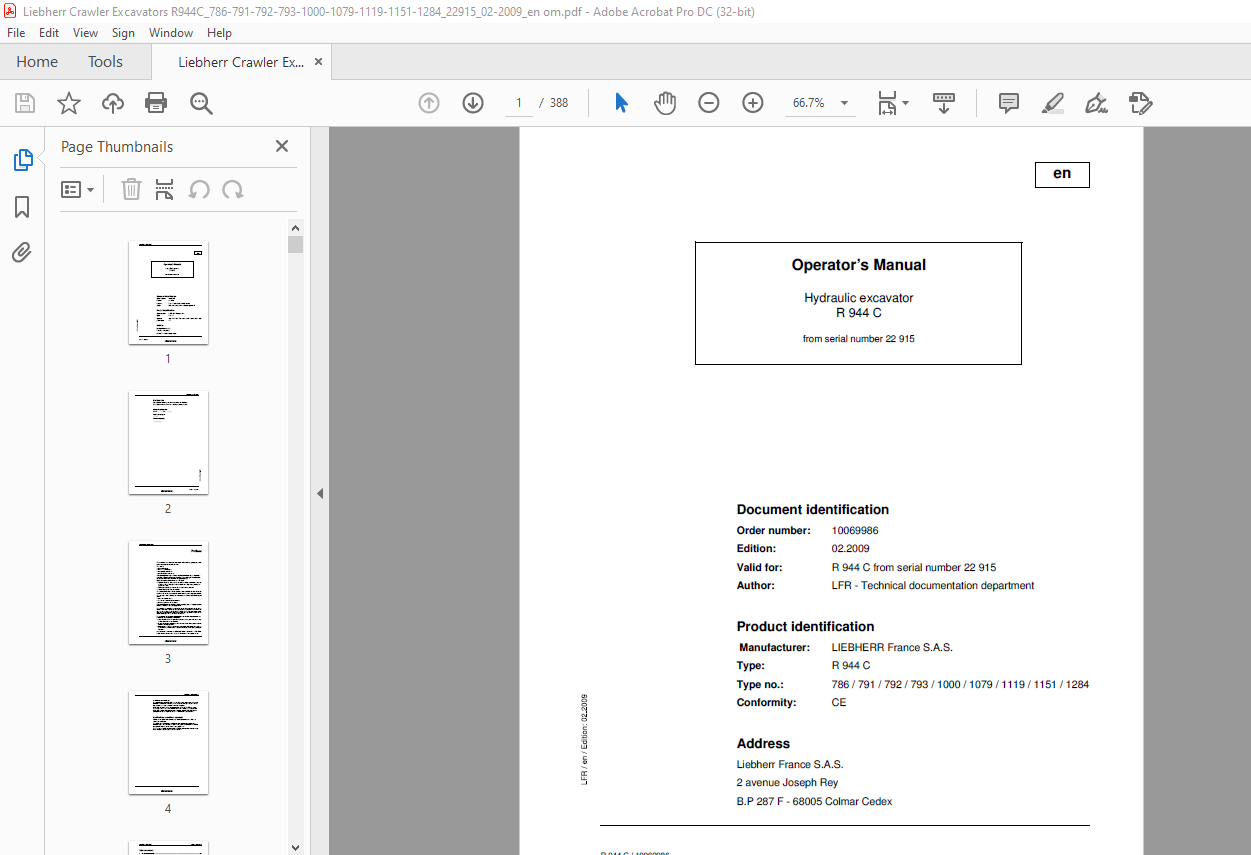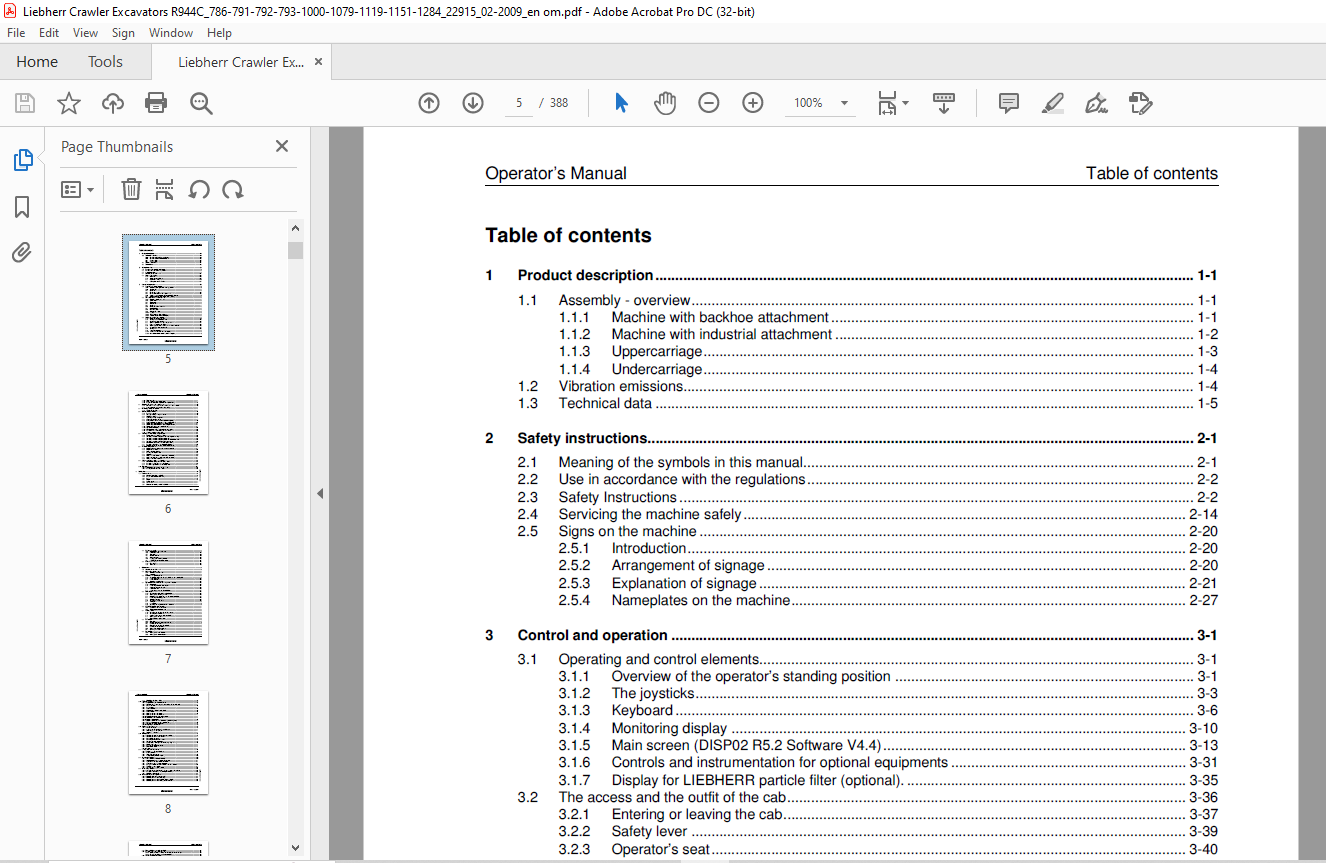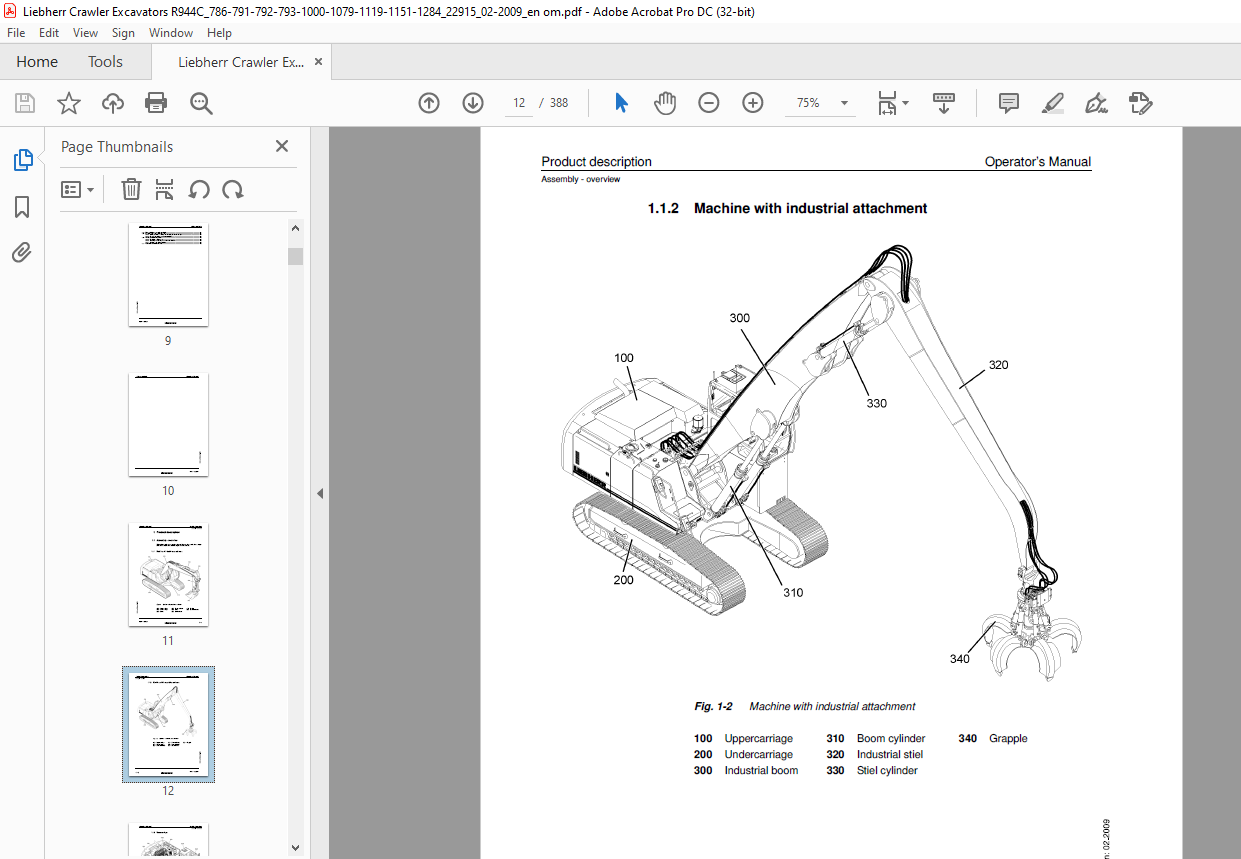 TABLE OF CONTENTS:
Liebherr Hydraulic excavator R944 C Operating manual – PDF DOWNLOAD
Operating instructions
1 Product desCriptioN
1 1 ASSEMDIY – OVEIVIEW   -1
1 1 1 Machine with backhoe attachment -1
1 1 2 Machine with industrial attachment 1-2
1 1 3 Uppercartiage cccoomvrivenininnnene 1-3
1 1 4 UNOEICAIIEGE
1 2 VIBration EMISSIONS
2 Safety INStIUCHIONS
2 1 Meaning of the symbols in this manual
2 2 Use in accordance with the regulations
2 3 Safety Instructions
2 4 Servicing the Machine Safely
2 5 Signs onthe Machine
2 5 1 Introduction a
2 5 2 Arrangement Of SIGNAGE
2 5 3 EXplanation of SIGNAGE
2 5 4 Nameplates onthe machine
3 Control and operation
Operating and control
3 1 1 Overview of the operator's standing POSItioN
3 1 2 The joysticks w
B13 KYO eee ees
3 1 4 MONItONING AISPIAY cove eeee
3 1 5 Main screen (DISP0O2 R5 2 Software V4 4) a
3 1 6 Controls and instrumentation for optional equIPMENts
3 1 7 Display for LIEBHERR particle filter (optional)
The access and the outfit of the cab 3-36
3 2 1 Entering or leaving the cab
3 2 2 Safety lever 3-39
3 2 3 Operator's seat 3-40
3 2 4 Windscreen 3-43
B25 SUNSNAUE
3 2 6 Emergency exit — rear WINAOW
3 2 7 Interior lighting ee
3 2 8 Fire extiNQUISNEr™ Lo eee 3-45
3 2 9 WINASCIEEN WIPE ities eee tee attests eae sree 3-46
3 2 10 Lighting –
3 2 11 The heater and air CONAItIONET
3 2 12 Additional standstill heater (Option)
Setting the machine into operation 3-59
3 3 1 Before starting the machine 3-61
3 3 2 Turning on the electrical system ee 3-62
3 3 3 Starting the Diesel engine cc coec 3-63
3 3 4 Speed adjustment and operating modes 3-64
3 3 5 Notes after starting the engine cociiiiiii ee 3-66
3 3 6 Warm-up phase for Diesel engine and hydraulic
3 3 7 Switching the Diesel engine off a
3 3 8 SHANG GOS
3 3 9 JUMP STAM PrOCEAUIE
3 3 10 Anti-theft device with code key (option) i
3 3 11 Immobilizer with electronic ignition key (Option)
3 3 12 Travel fUNCHONS Loco eee eee 3-73
3 3 13 Drive warning device (optional extra) cc cccevnunrne L377
3 3 14 Height and inclination adjustable cab (optional extra) 3-78
3 4 Operating the excavator in safety modes
3 41 Board E52 for safety mode of Diesel engine & servo control
3 42 Safety operation of the main working PUMPS
3 5 Recovering, towing the machine i
3 51 Towing the MACHINE
3 6 Working with the machine ee
3 6 1 Low idle automatic o
3 6 2 The uppercarriage SWiNg MOVEMENTS
3 6 3 WOIKING POSITION
3 6 4 Operating working equipment 3-95
3 6 5 Control of a rotating device cccocvviiieinnn 3-97
3 6 6 Lifting magnet control system (optional equipment) 3-99
3 6 7 Control of special equipments via the additional pedals 3-100
3 6 8 Transferring controls PCSA – LH (optional extra) 3-103
3 6 9 Transferring controls PCSA – J Deere (optional extra)
3 6 10 Transferring AHS controls (optional eXtra)
3 6 11 Special control (option)
3 6 12 Mechanical stanchion cylinder shut-down (Option)
3 6 13 Use of the excavator for lifting loads overhead
3 6 14 Overload warning device (Option)
3 7 Attaching and dismounting equUIPMENTt PAS
3 7 1 Removal and installation of @ BUCKET 3-113
3 7 2 Attaching and dismounting the bucket with improved sealing 3-115
3 7 3 Attaching and dismounting the grab on stick ccccooiin 3-117
3 7 4 Attaching and dismounting the grab on the industrial stanchion 3-120
3 7 5 Attaching and dismounting the stick to the boom 3-122
3 7 6 Mechanical quick-change adapter (optional extra) 3-124
3 7 7 Hydraulic quick-change adapter (optional extra)
3 7 8 LIKUFIX — hydraulic coupling system (optional @xtra)
3 8 General working methods
3 8 1 Minimum impact working methods for your machine
3 8 2 Preparatory aCtiVIties
3 8 3 Using a backhoe bucket
3 8 4 Loading a transport VEhICle
3 8 5 SKIMMING co
3 8 6 Using a clamshell bucket (earthmoving attachment) 3-142
3 8 7 Using a multiple tine grapple (industrial attachment) 3-144
3 8 8 Using an hydraulic hammer
3 9 Adjustment of undercarriage width (option) 3-146
3 9 1 Mechanic changing of undercarriage width 3-146
3 9 2 Hydraulic aided track gauge adjustment
3 9 3 Hydraulic adjustment of undercarriage width
3 10 Transport
3 10 1 Transporting the machine on alow loader
3 10 2 Loading the machine with @ crane 3-158
4 1 1 Machine Control system (BST)
4 1 2 Engine control system (PLD-CR)
41 3 Keypad –
4 1 4 Display
4 1 5 CONG BITON
4 1 6 Other errors
4 1 7 Error due to warning symbols in SY field
4 2 1 Diesel engine and fuel system
4 2 2 Hydraulic system
4 2 3 Transmission
4 2 4 EleCtiCal SYSTEM
4 2 5 WOIK @QUIDIMENT
4 2 6 Heating/air-conditioning system I
4 2 7 LIEBHERR particles filter System 4-14
4 3 FUSES ANU TEIAYS
4 3 1 Fuse box
4 3 2 ATOM Plate
Lo 1: T12(=T Ty Uo 5-1
5 1 Servicing the Machine Safely
5 2 Maintenance access doors o
5 2 1 OVErview Of ACCESS JOOIS oui
B 2 2 DOOKTOCK
5 3 Lubricants and operating fluids i
5 3 1 General information on changing lubricants and operating
5 3 2 Lubrication Chart 5-10
5 3 3 Lubricant chart 5-12
5 3 4 Operating material chart
5 4 Specifications for fuels, lubricants and process chemicals
5 4 1 Diesel fuels
5 4 2 Lubricating oil for the diesel engine
5 4 3 Coolant for the diesel ENGINE
5 4 4 Hydraulic QUIS
5 4 5 Lubricating grease and other lubricants
5 5 DIESEI ENGINE
5 5 1 Checking the cil level in the diesel engine
5 5 2 Changing the diesel engine oil
5 5 3 Belt for the A/C compressor and alternator installation
5 5 4 Lubricating Starter riNG GEA
5 5 5 Vibration damper 5-29
5 5 6 Checking mounting screws 5-29
5 5 7 Oil separator
55 8 Heaterflange
5 5 9 Checking and adjustment of valve clearance 5-31
5 6 LIEBHERR particles filter (In Option)
5 6 1 Drain the condensation Water: ooci iii
5 6 2 Water separator maintenance:
5 7 C00lNG SYSTEM
5 7 1 Checking and cleaning the cooling SYSTEM ccco iii 5-35
5 7 2 Checking the coolant level 5-36
5 7 3 Coolant antifreeze and anti-corrosion fluid 5-36
5 7 4 Changing the coolant 5-36
5 7 5 Reversible fan (optional extra) 5-39
5 8 Fuelsystem
5 8 1 Refuelling 5-40
5 8 2 Electrical refuelling pump (optional extra) 5-41
5 8 3 Draining the fuel tank c ccocenn 5-42
5 8 4 Emptying and cleaning the fuel tank cccooiiii ie 5-43
5 8 5 Draining the fuel prefilter c
5 8 6 Changing fuel filter cartridges –
5 8 7 Bleeding the fuel SyStem cco
5 9 DIY @IF IEE coe eee ees
5 9 1 Changing the main element a
5 9 2 Changing the safety element
5 9 3 Monitoring the filtered air INE oooiiiiii eee 5-52
Hydraulic system 5-52
5 10 1 Depressurizing the hydraulic system
5 10 2 Checking the oil level, emptying and refilling the hydraulic tank 5-63
5 10 3 Return-liNe fir c ooii eee 5-56
5 10 4 Leak Ol TIBI
5 10 5 Control oil filter –
5 10 6 Replenishing oil filter in SWING CIrCUIt
5 10 7 CONIOl CIFCUIL eiii
5 10 8 Bleeding the hydraulic pumps –
5 10 9 Bleeding the hydraulic Cylinders
5 10 10 Removing the intake hose to the PUMPS ccoiii 5-64
5 10 11 Vent filter on the hydraulic tank 5-65
5 10 12 Bypass oil filter (option)
5 10 13 Bypass oil filter for hydraulic system (Special equipment) 5-67
5 10 14 Return oil filter for hydraulic hammer (option) 5-69
5 10 15 Servicing the hydraulic cylinder 5-70
5 10 16 Replacing hydraulic ROSES
Qil changes on components
5 11 1 General information a
5 11 2 Swing gear – Oil level check and oil change 5-73
5 11 3 Travelling gear – changing the Oil c ooiii ee 5-74
5 11 4 Splitterbox – Qil change w
5 12 1 Checking the travel gear component Mountings
5 12 2 Checking the track chains tension 5-77
5 12 3 Retensioning the track 5-78
5 12 4 Releasing the track chain tension 5-79
5 12 5 Cleaning the track components
5 12 6 Undercarriage with adjustable track gauge (Typ VH-HD) 5-80
5 12 7 EleCtriCal SYSTEM occu ees 5-94
5 12 8 Notes on the electrical SyStemM cooi viii 5-94
5 12 9 Main battery switch –
B A2 10 BaAEIY
Heating/air-conditioning SYSIEM
5 13 1 Recirculated and fresh air filters we
5 13 2 Heating SYSTEM ui ieee ees
5 13 3 Air-conditioning SYSTEM
5 13 4 Cab pressuring system (in option)
Greasing the machine
5 14 1 The centralized lubrication system
5 14 2 Semiautomatic and full automatic systems 5-103
5 14 3 Operation of the semi automatic system 5-103
5 14 4 Operation of the full automatic System 5-104
5 14 5 Emergency lubrication with defective lubrication system 5-106
5 14 6 To refill a grease container
5 14 7 Greasing the grab (optional eXtra) 108
5 15 1 Greasing the mechanical quick-change adapter (optional extra) 5-108
5 15 2 Hydraulic quick-change adapter (optional extra) c 5-109
5 15 3 LIKUFIX (optional extra) 5-110
Check mounting bolts for tightness 5-111
5 16 1 Mounting bolts of the counterweight
5 16 2 Mounting screws of the swing ring
5 16 3 Mounting screws of the hydraulic oil and fuel tank
5 16 4 Mounting screws of the swing gear and MOTOr
Drive unit brakes and swing gear Brakes
Hydraulic removable counterweight
5 18 1 Safety guidelines for lifting and lowering the counterweight
5 18 2 Removal and lifting up of counterweight
General MaiNtENANCE POINTS
5 19 1 Replacing WOrKing Parts
5 19 2 Checking or replacing the teeth on the bucket
5 19 3 Welding work onthe Machine
VIDEO PREVIEW OF THE MANUAL:
PLEASE NOTE:
This is not a physical manual but a digital manual – meaning no physical copy will be couriered to you. The manual can be yours in the next 2 mins as once you make the payment, you will be directed to the download page IMMEDIATELY.
This is the same manual used by the dealers inorder to diagnose your vehicle of its faults.
Require some other service manual or have any queries: please WRITE to us at [email protected]
S.M