Liebherr Hydraulic excavator R 313 Litronic Operating manual – PDF DOWNLOAD
FILE DETAILS:
Liebherr Hydraulic excavator R 313 Litronic Operating manual – PDF DOWNLOAD
Language : English
Pages :245
Downloadable : Yes
File Type : PDF
Size: 9.39 MB
DESCRIPTION:
Product identification
Manufacturer: LIEBHERR Hydraulikbagger GmbH
Type: R 313 Litronic
Type no.: 1038
Conformity: CE
from serial number: 57082
Liebherr Hydraulic excavator R 313 Litronic Operating manual – PDF DOWNLOAD
Introduction:
This operating manual has been specifically devised for machine operators and maintenance personnel. It contains important warnings, information, and tips regarding the maintenance and proper operation of the machine. It assists you in becoming familiar with the functions and features of the machine and helps prevent incorrect operation.
By strictly adhering to the instructions in the operating manual, you can significantly enhance the reliability and service life of the machine.
The operating manual is an integral part of the scope of delivery of the machine. Ensure that a copy is at all times available in the storage compartment in the operator's cab.
Carefully read the operating manual before starting the machine and then regularly read it again. All persons carrying out work on or with the machine must be fully familiar with the content of the operating manual and must adhere to the instructions.
Such work includes:
Machine operation, including tooling, troubleshooting during work, general care and cleaning, disposal of fuels and lubricants.
Maintenance, including inspection, servicing, and repair.
Transport or loading of the machine.
The machine owner must ensure that this operating manual is complemented with the relevant statutory regulations for accident prevention and the protection of the environment. Apart from the instructions in this operating manual and the statutory accident prevention, health and safety regulations applicable in the country of operation, all personnel working on or with the machine must adhere to best practice for safe and proper operation.
Certain sections in this manual might not apply to your specific model. Some of the figures in this operating manual might show details or equipment that differ from those in your machine. Some of the figures show the equipment with guards or covers removed (for better depiction).
As our products are constantly being improved, certain changes might be made to the equipment which are not referred to specifically in this operating manual.
Should you require additional information or if you have any queries, please contact the LIEBHERR customer service department.
IMAGES PREVIEW OF THE MANUAL: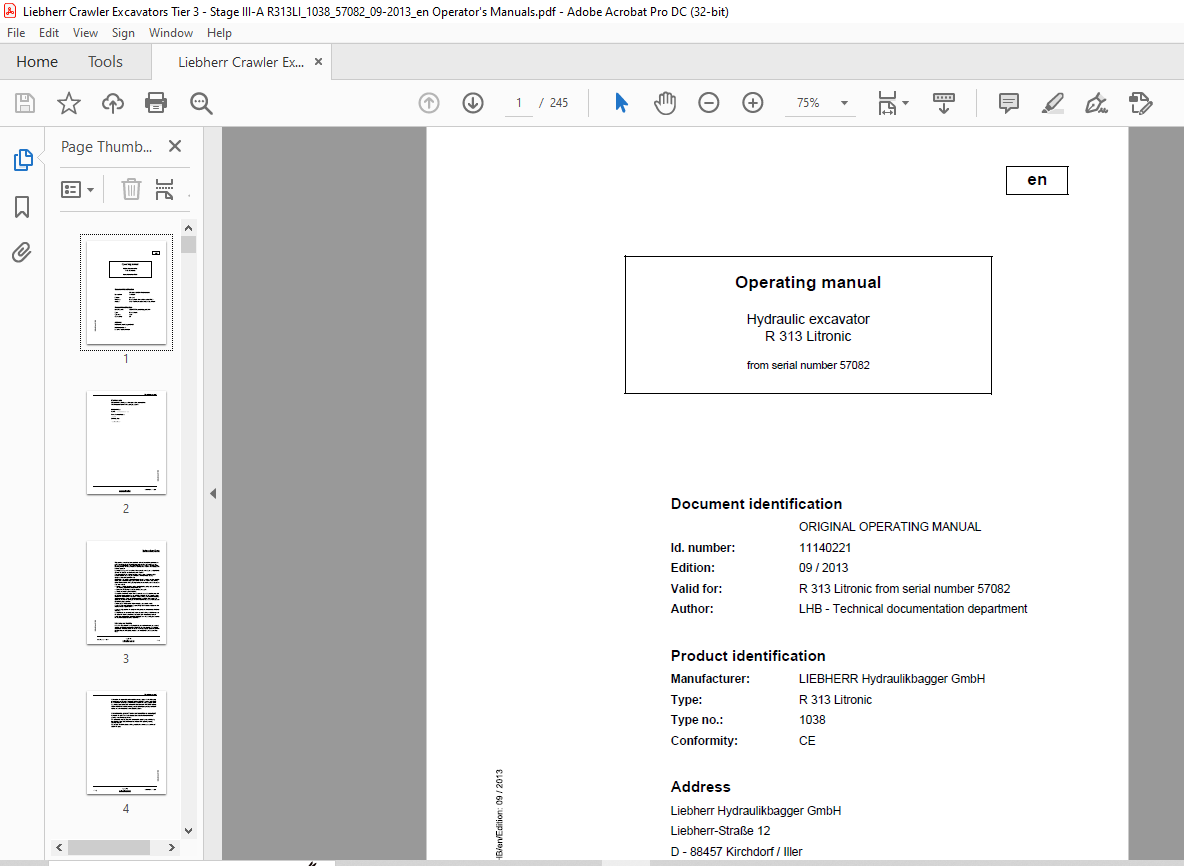 TABLE OF CONTENTS:
Liebherr Hydraulic excavator R 313 Litronic Operating manual – PDF DOWNLOAD
1 Product description 1-1
1 1 Design and overview 1-1
1 1 1 Machine with earth-moving attachment 1-1
1 1 2 Uppercarriage 1-2
1 1 3 Undercarriage 1-3
1 2 Vibration emissions 1-3
1 3 Sound emission 1-4
1 4 EC Declaration of Conformity 1-5
1 5 Technical data 1-6
2 Safety notes, signs 2-1
2 1 Symbols used in this operating manual 2-1
2 2 Proper use 2-2
2 3 Safety instructions 2-2
2 3 1 General safety instructions 2-2
2 3 2 Crushing and burn prevention 2-3
2 3 3 Fire and explosion prevention 2-4
2 4 Signs on the machine 2-4
2 4 1 Introduction 2-4
2 4 2 Safety and information signs 2-5
2 4 3 ID tag 2-10
3 Control, operation 3-1
3 1 Operating and control elements 3-1
3 1 1 Overview of operator's platform 3-1
3 1 2 Indicating elements 3-2
3 1 3 Control consoles 3-3
3 1 4 Control unit 3-7
3 1 5 Display and operator's menu 3-10
3 2 Control 3-21
3 2 1 Entering and exiting the operator's cab 3-21
3 2 2 Safety lever 3-23
3 2 3 Operator seat 3-23
3 2 4 Operator seat 3-31
3 2 5 Windscreen 3-35
3 2 6 Sun blind 3-36
3 2 7 Emergency exit through rear window 3-36
3 2 8 Inside lighting 3-37
3 2 9 Fire extinguisher (optional equipment)* 3-37
3 2 10 Windshield wiper 3-38
3 2 11 Lighting 3-39
3 2 12 Heating system 3-40
3 2 13 A/c system (optional equipment) 3-42
3 3 Operation 3-43
3 3 1 Safety instructions 3-43
3 3 2 To see and to be seen 3-44
3 3 3 Camera system (optional equipment) 3-45
3 3 4 Starting machine 3-46
3 3 5 Adjusting engine speed 3-50
3 3 6 Switching off the diesel engine 3-52
3 3 7 Starting aid (Optional extra) 3-52
3 3 8 Jump start procedure 3-52
3 3 9 Travel operation 3-53
3 3 10 Travel alarm system (optional equipment) 3-56
Operating manual
R 313 Litronic / 11140221 MJFCIFSS
copyright by
3 3 11 Blade support (optional equipment) 3-56
3 4 Working with the machine 3-57
3 4 1 Safety Instructions 3-57
3 4 2 Low idle automatic 3-61
3 4 3 Swivelling uppercarriage 3-61
3 4 4 Halting uppercarriage 3-62
3 4 5 Working position 3-63
3 4 6 Operating the working attachment 3-64
3 4 7 Moving the boom 3-65
3 4 8 Lowering the working attachment when diesel engine is shut off 3-66
3 4 9 Horizontal boom movement (optional equipment) 3-66
3 4 10 Swivelling uppercarriage 3-68
3 4 11 Halting uppercarriage 3-69
3 4 12 Adjustment of tool attachment 3-70
3 4 13 Operation of attachment (optional equipment) 3-70
3 4 14 Changeover of the control system (optional equipment) 3-72
3 4 15 Operating attachment tool (mini joystick control, optional equipment) 3-73
3 4 16 Changeover of joystick control (optional equipment) 3-75
3 4 17 Super Finish (optional equipment) 3-75
3 4 18 Attachments in continuous operation (optional equipment) 3-76
3 4 19 Stick cylinder shut-down function (optional equipment) 3-77
3 5 Installation and removal of attachment parts 3-80
3 5 1 Safety Instructions 3-80
3 5 2 Installation and removal of digging tool 3-81
3 5 3 Attachment of grapple to bucket stick 3-83
3 5 4 Mechanical quick-change adapter (optional equipment) 3-86
3 5 5 Hydraulic quick-change adapter (optional equipment) 3-90
3 5 6 Hydraulic quick-change adapter with LIKUFIX (optional equipment) 3-95
3 6 General working methods 3-96
3 6 1 Tips for the proper operation of the machine preventing damage and wear 3-96
3 6 2 Preparation 3-98
3 6 3 Working with the backhoe bucket 3-98
3 6 4 Loading transport vehicle 3-100
3 6 5 Grading work 3-101
3 6 6 Working with grapples 3-102
3 6 7 Excavating and moving material with grapples 3-102
3 6 8 Working with the hydraulic hammer 3-103
3 6 9 Load lifting operation 3-105
3 6 10 Use of quick-change adapter for load lifting operation 3-105
3 6 11 Overload warning system (optional equipment) 3-106
3 7 Parking and exiting machine 3-107
3 8 Transport 3-108
3 8 1 Safety instructions 3-108
3 8 2 Transportation on low-loader 3-108
3 8 3 Loading with crane 3-110
4 Malfunctions 4-1
4 1 Error code list 4-1
4 2 Troubleshooting 4-6
4 2 1 Diesel engine and fuel system 4-6
4 2 2 Hydraulic system 4-7
4 2 3 Travel gearbox 4-8
4 2 4 Electrical system 4-8
4 2 5 Heating and air-conditioning system 4-9
4 2 6 Working attachment 4-9
4 3 Fuses and relays 4-10
4 3 1 Fuse box E50 4-10
4 3 2 Control console C 4-11
Operating manual
R 313 Litronic / 11140221 MJFCIFSS
copyright by
4 3 3 Control console 4-12
4 3 4 Battery box 4-13
4 4 Emergency mode 4-13
4 4 1 Purpose 4-13
4 4 2 Towing the machine 4-14
5 Maintenance 5-1
5 1 Safety instructions 5-1
5 1 1 General safety instructions 5-1
5 1 2 Checking for cracks 5-1
5 1 3 Welding 5-2
5 1 4 Fuels, lubricants and process chemicals 5-2
5 1 5 Repair 5-2
5 1 6 Electrical system 5-3
5 1 7 Pressure accumulator 5-3
5 1 8 Hydraulic hoses and lines 5-4
5 1 9 Cab protection (FOPS) 5-5
5 2 Access doors for maintenance 5-5
5 2 1 Overview of access doors 5-5
5 2 2 Door lock 5-6
5 2 3 Bonnet release mechanism 5-7
5 3 Cleaning machine 5-7
5 4 Care for rubber components 5-8
5 5 Fuels, lubricants and process chemicals 5-8
5 5 1 General information 5-8
5 5 2 Lubricating chart 5-10
5 5 3 Lubricant table 5-11
5 5 4 Fuels, lubricants and process chemicals 5-12
5 6 Specifications for fuels, lubricants and process chemicals 5-12
5 6 1 Fuels and lubricant for the diesel engine 5-12
5 6 2 Hydraulic oil 5-12
5 6 3 Lubricants for axles and gearboxes 5-18
5 6 4 Lubricating oil for transmission 5-19
5 6 5 Grease 5-20
5 6 6 Lubricants and care products for electrical and mechanical components 5-20
5 6 7 Grease and other process chemicals 5-21
5 7 Diesel engine 5-21
5 7 1 Check oil level 5-21
5 7 2 Changing the oil 5-22
5 8 Cooling system 5-22
5 8 1 Checking and cleaning the cooling system 5-22
5 8 2 Checking coolant level 5-23
5 8 3 Corrosion inhibitor and antifreeze agent 5-24
5 8 4 Changing coolant 5-24
5 9 Fuel system 5-25
5 9 1 Refuelling 5-26
5 9 2 Draining the water from the fuel tank 5-27
5 9 3 Emptying and cleaning the fuel tank 5-27
5 9 4 Fuel pre-filter 5-28
5 9 5 Replacement of fuel filter cartridge (fine filter) 5-29
5 10 Dry air filter 5-30
5 10 1 Cleaning the dust removal valve 5-30
5 10 2 Replacing filter elements 5-30
5 10 3 Checking the clean air line 5-32
5 11 Hydraulic system 5-32
5 11 1 Checking the oil level in the hydraulic tank 5-33
5 11 2 Releasing the pressure from the hydraulic system 5-34
5 11 3 Releasing tank pressure 5-34
Operating manual
R 313 Litronic / 11140221 MJFCIFSS
copyright by
5 11 4 Emptying and refilling hydraulic tank 5-35
5 11 5 Changing return filter 5-36
5 11 6 Changing control oil filter 5-38
5 11 7 Checking the control circuit 5-39
5 11 8 Bleeding hydraulic pump 5-39
5 11 9 Maintenance of hydraulic cylinders 5-40
5 11 10 Replacing hydraulic hoses 5-40
5 12 Changing the oil on components 5-41
5 12 1 General notes 5-41
5 12 2 Swin gear – oil change 5-42
5 12 3 Travel gear – oil change 5-43
5 13 Drive 5-43
5 13 1 Cleaning drive 5-43
5 13 2 Checking fixtures of drive components 5-44
5 13 3 Checking chain tension 5-45
5 13 4 Tensioning chain 5-45
5 13 5 Releasing chain 5-46
5 13 6 Changing lubrication nipple 5-47
5 14 Electrical system 5-47
5 14 1 Notes regarding the electrical system 5-47
5 14 2 Battery main switch 5-48
5 14 3 Battery care 5-49
5 14 4 Slip ring body (optional equipment) 5-50
5 15 Heating system 5-51
5 15 1 Ambient air filter 5-51
5 15 2 Heating system 5-52
5 15 3 Air-conditioning system (optional equipment) 5-53
5 16 Automatic lubrication of the machine 5-53
5 16 1 Fully automatic central lubrication system (optional equipment) 5-53
5 17 Manual lubrication of the machine 5-55
5 17 1 Central slewing gear lube point 5-55
5 17 2 Lubricating the attachment 5-56
5 17 3 Digging buckets / bucket tilting device 5-56
5 17 4 Attachments (optional equipment) 5-57
5 17 5 Hydraulic quick change adapter 5-57
5 17 6 Mechanical quick-change adapter 5-58
5 18 Couplings of the quick-change adapter systems (optional equipment) 5-59
5 18 1 Hydraulic coupling 5-59
5 18 2 LIKUFIX electric coupling 5-60
5 19 Travel and swing brakes 5-61
5 20 General maintenance tasks 5-61
5 20 1 Replacing wear parts 5-61
5 20 2 Replacing teeth on digging tool 5-61
5 20 3 Welded parts on the machine 5-63
5 21 Maintenance and inspection schedule 5-64
VIDEO PREVIEW OF THE MANUAL:
PLEASE NOTE:
This is the same manual used by the DEALERSHIPS to SERVICE your vehicle.
The manual can be all yours – Once payment is complete, you will be taken to the download page from where you can download the manual. All in 2-5 minutes time!!
Need any other service / repair / parts manual, please feel free to contact us at heydownloadss @gmail.com . We may surprise you with a nice offer
S.M