Liebherr Hydraulic excavator/ Material handler R 904 C Operating Instructions Manual SN23073 – PDF DOWNLOAD
FILE DETAILS:
Liebherr Hydraulic excavator/ Material handler R 904 C Operating Instructions Manual SN23073 – PDF DOWNLOAD
Language : English
Pages :320
Downloadable : Yes
File Type : PDF
Size: 10.4 MB
DESCRIPTION:
Liebherr Hydraulic excavator/ Material handler R 904 C Operating Instructions Manual SN23073 – PDF DOWNLOAD
Product identification
Manufacturer: LIEBHERR FRANCE S.A.S
Type: R 904 C
Type no.: 983/984/985/993/1017/1018
Conformity: CE
from serial number 23075
FOREWORD
These operating instructions have been written for the machine operator and for the maintenance personnel of the machine.
They contain:
The technical data.
The safety requirements.
The operating instructions.
The maintenance instructions.
The operating instructions are to be read and used carefully by all persons who carry out work with or on the machine before putting the machine into service for the first time and later, at regular intervals.
Work with or on the machine includes, for example:
Operation including setting up and equipping, rectifying malfunctions during the course of work, resolving production dropouts, care, disposal of operating and process materials.
Maintenance, including maintenance, inspection, and repair work.
Transportation or loading the machine.
The operating instructions allow the machine operator to familiarize himself with the machine more easily and prevent malfunctions occurring due to improper operation.
The observance of the operating and maintenance instructions by maintenance personnel:
Increases reliability in use.
Extends the service life of your machine.
Reduces repair costs and downtime.
The operating instructions belong with the machine. Place a copy in an easily reached position on the cab storage shelf.
The operating and maintenance instructions should also incorporate information on current national regulations for accident prevention and protection. In addition to the operating instructions and legally binding regulations on accident prevention which apply in the user country and at the point of use, authorized specialist rules for safe and correct working procedures are also to be observed.
These operating and maintenance instructions contain all the information required for operating and maintaining your machine.
Some illustrations in these operating instructions may depict details and working devices which differ from your machine.
In some illustrations, protective devices and covers have been removed in the interests of better presentation.
Improvements, which are always being incorporated into our machines, may result in changes to your machine which are not yet indicated in these operating instructions.
However, should you require any further explanations or information, LIEBHERR's technical documentation, sales school, and customer service departments are available for your convenience.
You will appreciate that LIEBHERR cannot honor any warranty claims made on the basis of improper operation, insufficient maintenance, use of unauthorized service fluids, or non-adherence to safety regulations.
LIEBHERR will void any and all obligations incurred by LIEBHERR and/or its dealers, such as guarantee commitments, service contracts, etc., without prior notice in the event that replacement parts other than original LIEBHERR parts or spare parts purchased from LIEBHERR are used for maintenance or repairs.
Modifications, conditions, copyright:
We reserve the right to make modifications without prior notice in the course of technical progress.
The information and illustrations contained in this manual may neither be copied and distributed nor used for competitive purposes. All rights are expressly reserved in accordance with copyright laws.
The warranty and liability conditions will not be expanded by the above information.
IMAGES PREVIEW OF THE MANUAL: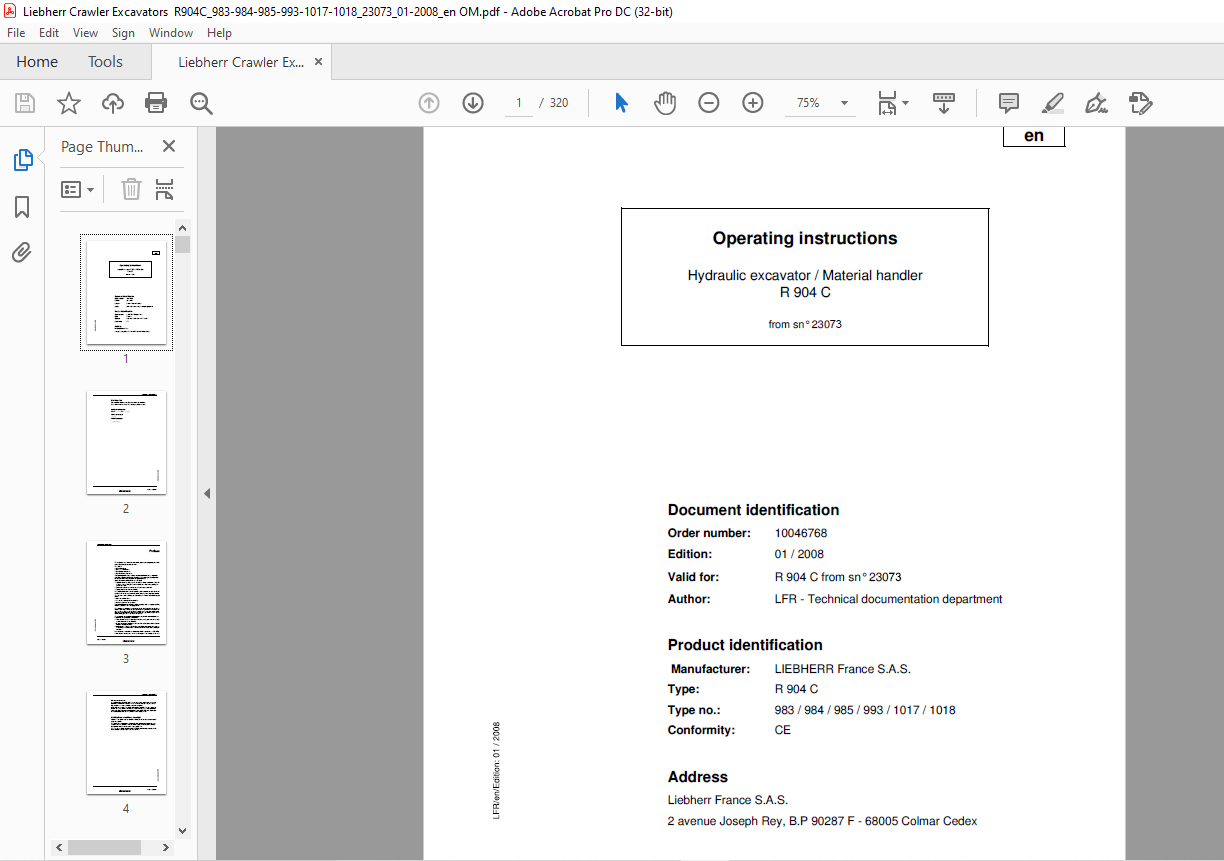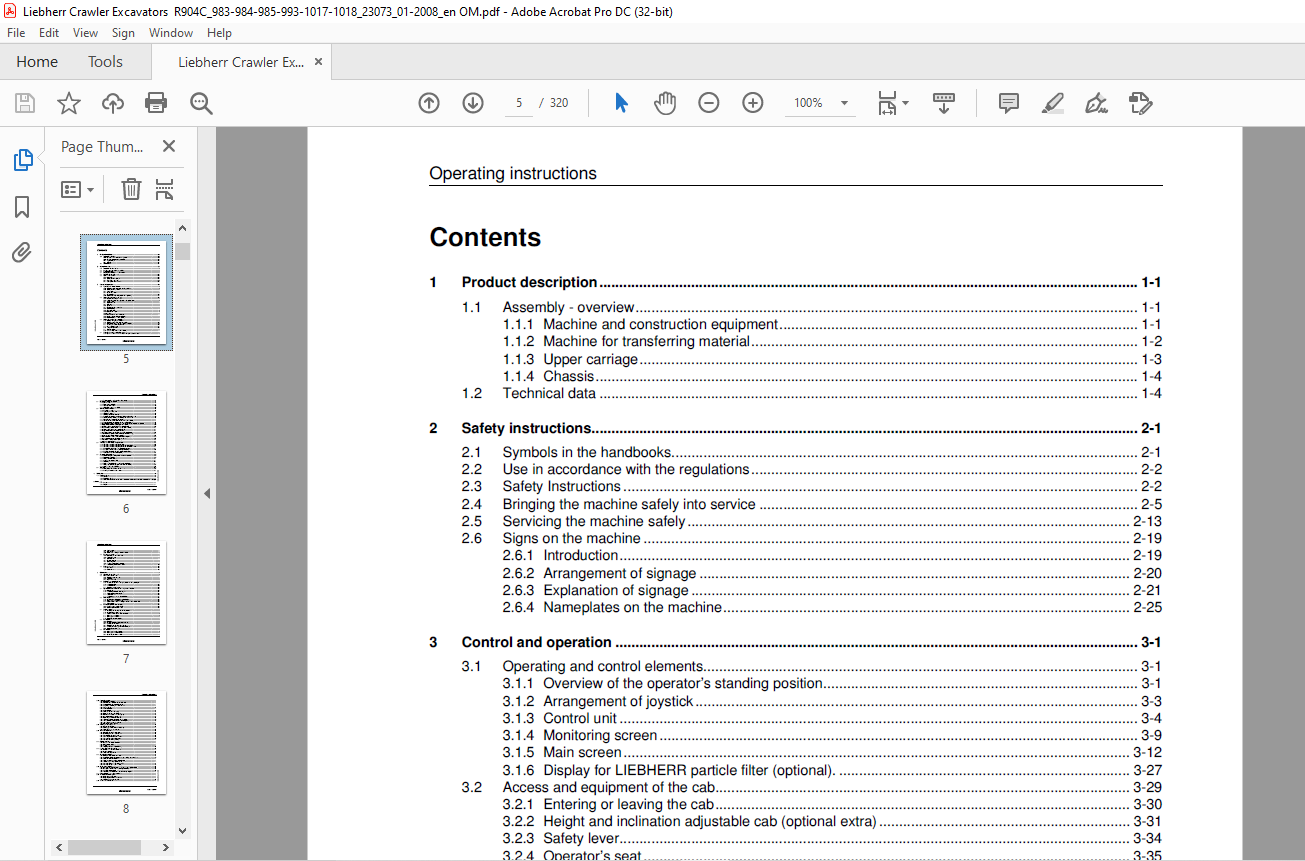 TABLE OF CONTENTS:
Liebherr Hydraulic excavator/ Material handler R 904 C Operating Instructions Manual SN23073 – PDF DOWNLOAD
1 Product description 1-1
1 1 Assembly – Overview 1-1
1 1 1 Machine and construction equipment 1-1
1 1 2 Uppercarriage 1-2
1 1 3 Undercarriage 1-3
1 2 Technical data 1-3
2 Safety information, signs 2-1
2 1 Symbols in the operating instructions 2-1
2 2 Use in accordance with the regulations 2-2
2 3 Safety instructions 2-2
2 3 1 General Safety instructions 2-2
2 3 2 Crushing and burn prevention 2-3
2 3 3 Fire and explosion prevention 2-4
2 4 Signs on the machine 2-4
2 4 1 Introduction 2-4
2 4 2 Arrangement of signs 2-5
2 4 3 Explanation of signs 2-6
2 5 Identification tags on the machine 2-11
3 Control, operation 3-1
3 1 Operating and control elements 3-1
3 1 2 Arrangement of joysticks 3-3
3 1 3 Overview of control panel, right 3-4
3 1 4 Control panel functions 3-6
3 2 Operation 3-12
3 2 2 Safety lever 3-13
3 2 4 Front windshield 3-18
3 2 5 Sun visor 3-19
dow 3-19
3 2 7 Interior illumination 3-20
3 2 8 Fire extinguisher (option)* 3-20
3 2 9 Windshield wiper 3-20
3 2 10 Lighting 3-22
3 2 11 Heating system / heating and air conditioning system (option) 3-23
3 3 Operation 3-27
3 3 1 Safety instructions 3-27
3 3 2 Starting / shutting down the machine 3-28
3 3 3 Starting aid (Optional extra) 3-33
3 3 4 Jump start procedure 3-33
3 3 5 Travel operation 3-34
3 3 6 Towing the machine 3-37
3 4 Working with the machine 3-38
3 4 1 Working with the machine safely 3-38
3 4 2 Sensor controlled low idle automatic 3-42
3 4 3 Operating the swing gear 3-42
3 4 4 Fine control 3-44
3 4 5 Working position 3-45
3 4 6 Joystick functions when setting up the machine 3-45
3 4 7 Lowering the attachment when the engine is not running 3-47
3 4 8 Turning, rotating, locking and unlocking the attachments 3-48
Operating instructions
R 317 Litronic / 8720350
MJFCIFSS
3 4 9 Accessory kits AHS 1, AHS 11 and AHS 12 (option) 3-49
3 4 10 Adjusting the boom to side 3-51
3 4 11 Change over of controls (option) 3-55
3 4 12 Overload warning device 3-55
3 5 Installation and removal of attachment parts 3-57
3 5 1 Safe installation and removal of attachment parts 3-57
3 5 2 Safe removal and installation of attachment pins 3-57
3 5 3 Installation and removal of digging tool 3-58
3 5 4 Installation and removal of grapple on stick 3-60
3 5 5 Mechanical quick change adapter (option) 3-62
3 5 6 Hydraulic quick change adapter (option) 3-67
3 5 7 LIKUFIX Hydraulic coupling system (option) 3-73
3 6 General working methods 3-75
3 6 1 Guidelines for minimum impact working methods 3-75
3 6 2 Preparatory activities 3-75
3 6 3 Working with the backhoe bucket 3-77
3 6 4 Loading the transport vehicle 3-78
3 6 5 Working with the hydraulic hammer 3-78
3 6 6 Grading 3-80
3 6 7 Working with the grab 3-81
3 6 8 Load lifting work 3-83
3 7 Transport 3-84
3 7 1 Transporting the machine safely 3-84
3 7 2 Transporting the machine on a flatbed trailer 3-85
3 7 3 Loading the machine with a crane 3-87
4 Malfunctions 4-1
4 1 Problems and remedies 4-2
4 1 1 Diesel engine and fuel system 4-2
4 1 2 Hydraulic system 4-3
4 1 3 Travel gear 4-3
4 1 4 Electrical system 4-4
4 1 5 Heating and Air conditioning system 4-4
4 1 6 Work attachment 4-4
4 2 Fuses and relays 4-5
4 2 1 Fuse box E50 4-5
4 2 2 Panel ignition switch 4-6
4 2 3 Panel, cab 4-7
4 2 4 Distributor plate 4-7
5 Maintenance 5-1
5 1 Maintaining the machine safely 5-1
5 1 1 General Safety instructions 5-1
5 1 2 Cleaning 5-1
5 1 3 Crack inspection 5-2
5 1 4 Welding 5-3
5 1 5 Operating and service fluids 5-3
5 1 6 Repair 5-3
5 1 7 Electrical system 5-4
5 1 8 Pressure accumulator 5-4
5 1 9 Hydraulic hoses and lines 5-5
5 2 Maintenance access doors 5-6
5 2 1 Overview of access doors 5-6
5 2 2 Door lock 5-7
5 2 3 Engine hood release 5-7
5 3 Lubricants and operating fluids 5-8
5 3 1 General information to change lubricants and operating fluids 5-8
Operating instructions
R 317 Litronic / 8720350
MJFCIFSS
5 3 2 Lubrication chart 5-9
5 3 3 Lubrication chart 5-10
5 3 4 Operating fluid chart 5-11
5 4 Lubricant and operating fluid specifications 5-12
5 4 1 Lube oil for the Diesel engine 5-12
5 4 2 Fuel 5-12
5 4 3 Hydraulic oil 5-14
5 4 4 Gear oil 5-17
5 4 5 Lubricating grease and other lubricants 5-17
5 4 6 Coolant 5-18
5 5 Diesel engine 5-20
5 5 1 Check oil level 5-20
5 5 2 Changing the oil 5-21
5 6 Cooling system 5-21
5 6 1 Checking and cleaning the cooling system 5-21
5 6 2 Checking the coolant level 5-22
5 6 3 Anti-corrosion fluid and antifreeze 5-22
5 6 4 Changing water filters 5-23
5 6 5 Changing the coolant 5-23
5 7 Fuel system 5-25
5 7 1 Refuelling 5-25
5 7 2 Draining the water from the fuel tank 5-26
5 7 3 Emptying and cleaning the fuel tank 5-27
5 7 4 Fuel preliminary filter (type 1) 5-27
5 7 5 Fuel preliminary filter (type 2) 5-28
5 7 6 Replacing the fuel filter cartridge (fine filter) 5-29
5 8 Dry air filter 5-30
5 8 1 Changing the main element 5-30
5 8 2 Changing the safety element 5-31
5 8 3 Checking the filtered air line 5-32
5 9 Hydraulic system 5-32
5 9 1 Checking the oil level in the hydraulic tank 5-32
5 9 2 Relieving the pressure in the hydraulic system 5-33
5 9 3 Emptying and refilling the hydraulic tank 5-34
5 9 4 Return filter 5-35
5 9 5 Servo oil filter 5-36
5 9 6 Servo circuit 5-37
5 9 7 Bleeding the hydraulic pump 5-38
5 9 8 Servicing the hydraulic cylinder 5-39
5 9 9 Replacing hydraulic hoses 5-40
5 10 Changing the oil on components 5-40
5 10 1 General notes 5-40
5 10 2 Swin gear – oil change 5-41
5 10 3 Travel gear – changing the oil 5-42
5 11 Track components 5-42
5 11 1 Checking the mounting of the track components 5-43
5 11 2 Check chain tension 5-43
5 11 3 Retensioning the chain 5-44
5 11 4 Releasing chain tension 5-44
5 11 5 Cleaning the track components 5-45
5 12 Electrical system 5-45
5 12 1 Notes for electrical system 5-45
5 12 2 Battery master switch 5-46
5 12 3 Battery care 5-47
5 12 4 Slip ring assembly (option) 5-47
5 13 Heating system / heating and air conditioning system (option) 5-48
5 13 1 Fresh air filter 5-48
5 13 2 Heating system 5-49
Operating instructions
R 317 Litronic / 8720350
MJFCIFSS
5 13 3 Air conditioning system (option) 5-50
5 14 Lubricating the machine 5-52
5 14 1 Lubricating the swing gear 5-52
5 14 2 Lubricating the attachment 5-53
5 14 3 Lubricating the digging tool / bucket tilt device 5-53
5 14 4 Lubricating the grapple (option) 5-54
5 15 Quick change systems 5-54
5 15 1 Lubricate the mechanical quick change adapter (option) 5-54
5 15 2 Hydraulic quick change adapter (option) 5-55
5 15 3 LIKUFIX (option) 5-56
5 16 Travel and swing brakes 5-57
5 17 General Maintenance points 5-58
5 17 1 Replacing wear parts 5-58
5 17 2 Replacing the teeth on the digging tool 5-58
5 17 3 Welding work on the machine 5-59
5 18 Inspection and maintenance schedule 5-
VIDEO PREVIEW OF THE MANUAL:
PLEASE NOTE:
This is the same manual used by the DEALERSHIPS to SERVICE your vehicle.
The manual can be all yours – Once payment is complete, you will be taken to the download page from where you can download the manual. All in 2-5 minutes time!!
Need any other service / repair / parts manual, please feel free to contact us at heydownloadss @gmail.com . We may surprise you with a nice offer
S.M