Lexmark T420 N Laser Printer Service Repair Manual
FILE DETAILS:
LANGUAGE:ENGLISH
PAGES:208
DOWNLOADABLE:YES
FILE TYPE:PDF
VIDEO PREVIEW OF THE MANUAL:
IMAGES PREVIEW OF THE MANUAL: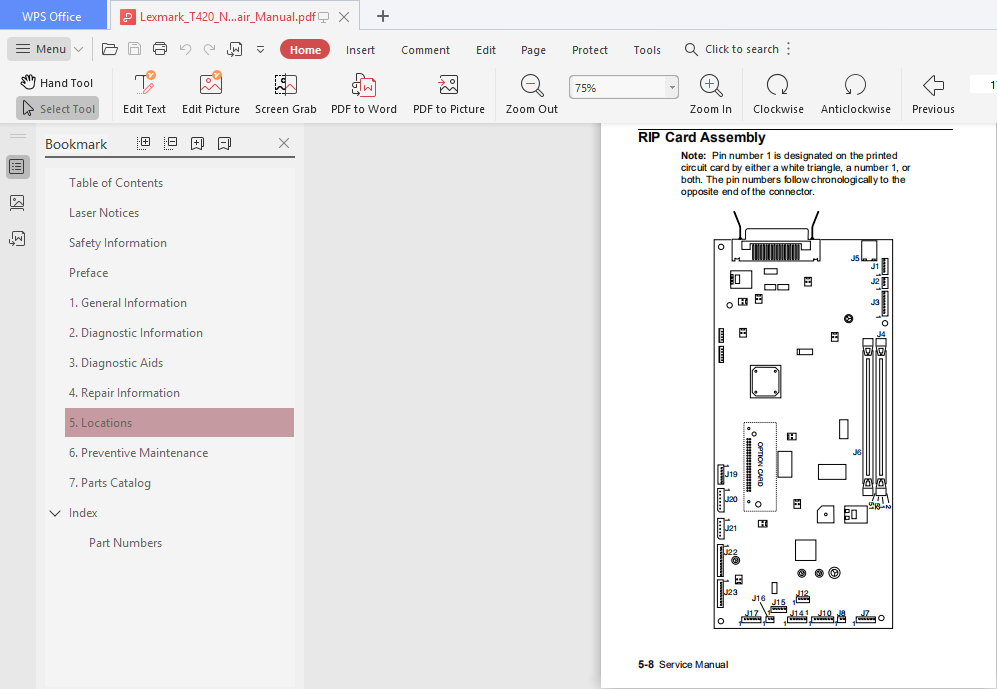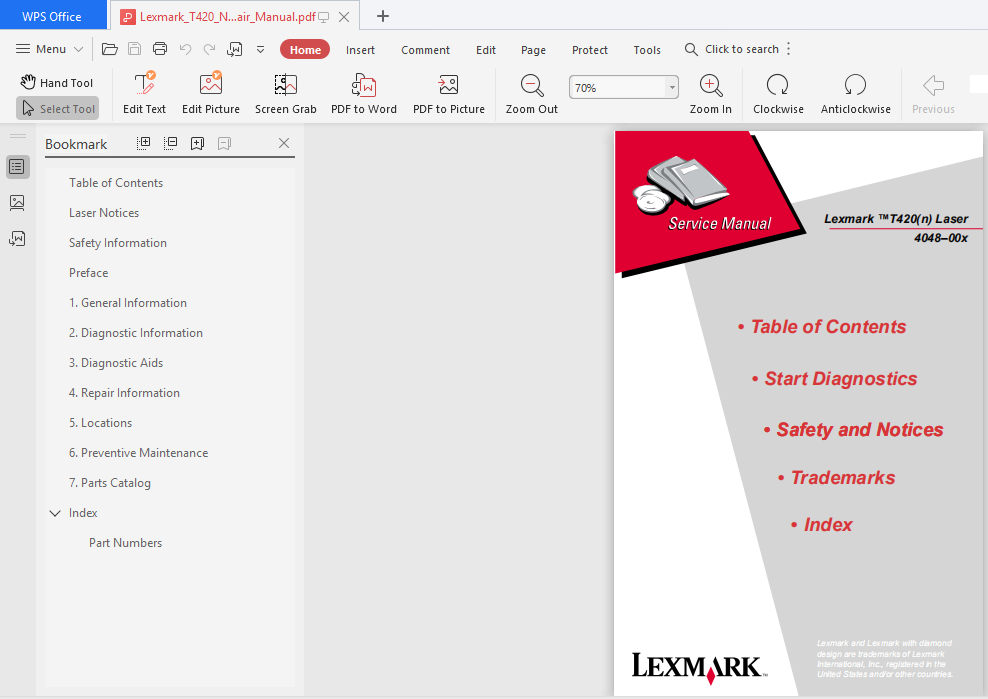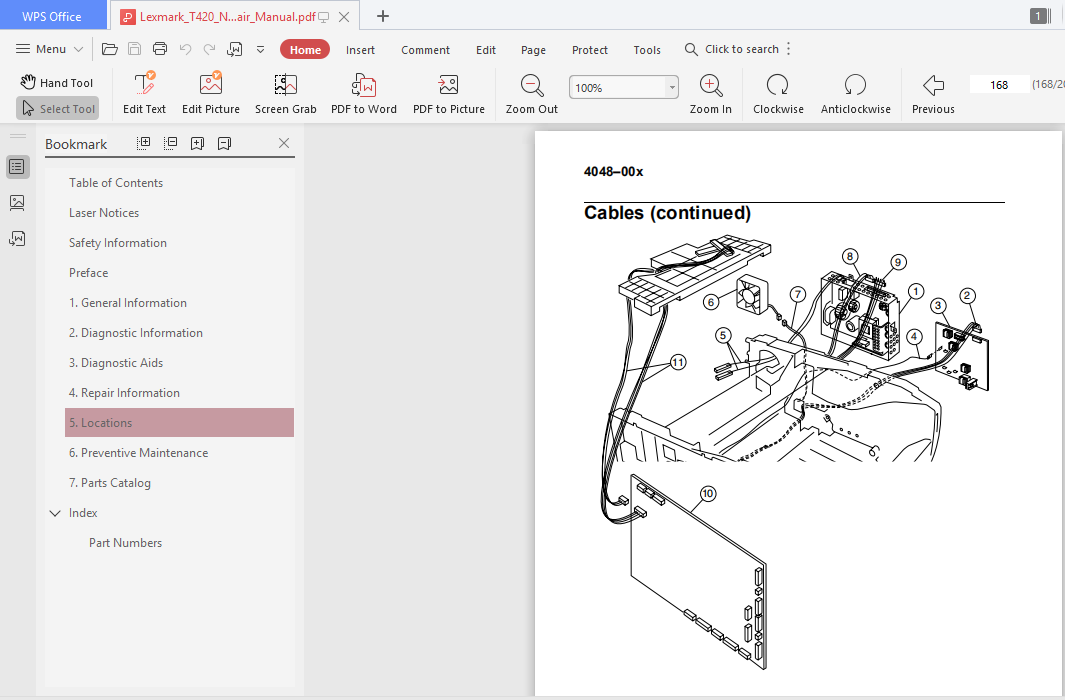 DESCRIPTION:
Lexmark T420 N Laser Printer Service Repair Manual
Preface
This manual contains maintenance procedures for service personnel. It is divided into the following chapters:
1. General Information contains a general description of the printer and the maintenance approach used to repair it. Special tools and test equipment are listed in this chapter, as well as
general environmental and safety instructions.
2. Diagnostic Information contains an error indicator table, symptom tables, and service checks used to isolate failing field replaceable units (FRUs).
3. Diagnostic Aids contains tests and checks used to locate or repeat symptoms of printer problems.
4. Repair Information provides instructions for making printer adjustments and removing and installing FRUs.
5. Locations uses illustrations and tables to identify the locations and test points on the printer.
6. Preventive Maintenance contains the lubrication specifications and recommendations to prevent problems.
7. Parts Catalog contains illustrations and part numbers for individual FRUs.
Safety Information:
• The safety of this product is based on testing and approvals of the original design and specific components. The manufacturer is not responsible for safety in the event of use of unauthorized
replacement parts.
• The maintenance information for this product has beenprepared for use by a professional service person and is not intended to be used by others.
• There may be an increased risk of electric shock and personal injury during disassembly and servicing of this product. Professional service personnel should understand this and take necessary precautions.
• Use of this symbol throughout the service manual indicates the presence of hazardous voltage in the repair work area. Unplug the printer before proceeding or proceed with caution, if repair
work requires power
TABLE OF CONTENTS:
Lexmark T420 N Laser Printer Service Repair Manual
Laser Notices vii
Safety Information xvii
Prefacexxii
General Information 1-1
Maintenance Approach1-1
Special Tools 1-1
Serial Number 1-2
Printer Identification 1-2
Printer Features 1-3
Memory and User Flash Memory 1-3
Resolution and Print Quality1-4
Print Area 1-5
Print Media 1-6
Printer Data Streams 1-7
Fonts 1-8
Paper Handling1-8
Connectivity 1-10
Printer Speed 1-11
RIP Card Specifications 1-11
Supplies 1-12
Operator Panel1-12
Options 1-13
Acronyms1-14
Diagnostic Information 2-1
Start2-1
Operator Panel 2-2
Light Patterns 2-3
Status Information Light Patterns 2-3
Attendance Information Light Patterns 2-5
Obtaining Information about Printer Service Error Codes2-11
Service Error Codes 2-11
Power–On Operations2-25
Power–On Self Test (POST) 2-26
Symptom Tables 2-26
iv Service Manual
4048-00x
Service Checks 2-29
Cooling Fan Service Check 2-29
Cover Interlock Switch Service Check2-30
RIP Card Service Check 2-31
Dead Machine Service Check2-33
Low Voltage Power Supply (LVPS) Service Check 2-33
Fuser Service Check 2-34
Main Motor Service Check 2-37
Operator Panel Service Check 2-38
Transfer Roll Service Check 2-40
Paper Feed Service Checks 2-41
Parallel Port Service Check 2-47
Print Quality Service Checks 2-48
Solving Print Quality Problems 2-55
Restoring Factory Defaults 2-62
Using Print Quality Test Pages 2-62
Diagnostic Aids 3-1
Operator Panel3-1
Menu Definition3-1
Configuration Menu Group or Diagnostic Menu Group 3-2
Printer Diagnostics Mode 3-6
Continuity Check on HVPS/Cartridge 3-7
Repair Information 4-1
Handling ESD-Sensitive Parts4-1
Adjustments 4-2
Printhead Assembly Adjustment 4-2
Adjusting Paper Feed Alignment 4-3
Lubrication 4-3
Re–assembly 4-5
Removal Procedures 4-6
Cover Removals 4-6
Rear Exit Door Removal 4-18
Duplex Tray Assembly Removal 4-19
Fuser Assembly, Fuser Paper Exit Guide,
Fuser Exit Sensor, and Fuser Lamp Removal4-20
Terminal Assembly Removal 4-22
Tray Damper and Spring Removal 4-23
Door Latches (Right Side) Removal 4-24
Bracket, Opener Shutter Removal4-25
Paper Guide Roller Removal 4-26
Charge Roll Removal 4-27
v
4048-00x
Right Guide Removal 4-28
Left Guide Removal 4-28
Smart Button Sensor Removal4-31
Entrance Guide Removal 4-32
Transfer Roll Assembly and Left Transfer Support Bearing Removal
4-33
Bracket, Paper Detect (Input Sensor) Removal 4-34
D–Roll Tray 1 Feed Removal 4-35
D–Roll (Tray 1) Shaft Assembly Removal4-36
3–Pin and 2–Pin Connectors Removal4-38
Printhead Removal4-39
RIP Card Cage (with card in place) Removal 4-40
Main Drive Motor Assembly Removal 4-42
Motor Assembly (Stepper) Removal 4-43
Main Drive Assembly Removal4-44
Reference Plate Assembly Removal 4-46
Cartridge Coupling Assembly Removal 4-48
Upper (MPF) Housing Assembly (with Paper Flag) Removal 4-49
Lower (MPF) Housing Assembly – Paper Sensor Removal 4-50
Lower (MPF) Housing Assembly Removal4-52
MPF Roller Assembly Removal 4-53
HVPS Card Removal 4-56
LVPS Card Removal 4-57
Cooling Fan Removal 4-58
Locations 5-1
Cables 5-2
Cables (continued)5-4
Sensors5-6
RIP Card Assembly 5-8
Power Supply (LVPS) 5-11
High Voltage Power Supply (HVPS)5-12
Preventive Maintenance6-1
Safety Inspection Guide 6-1
Lubrication Specifications 6-1
Parts Catalog7-1
How to Use This Parts Catalog7-1
Index I-1
PLEASE NOTE:
This is not a physical manual but a digital manual – meaning no physical copy will be couriered to you. The manual can be yours in the next 2 mins as once you make the payment, you will be directed to the download page IMMEDIATELY.
This is the same manual used by the dealers inorder to diagnose your vehicle of its faults.
Require some other service manual or have any queries: please WRITE to us at [email protected]