Komatsu Wb93s-5 Backhoe loader Operation Maintenance Manual
image preview: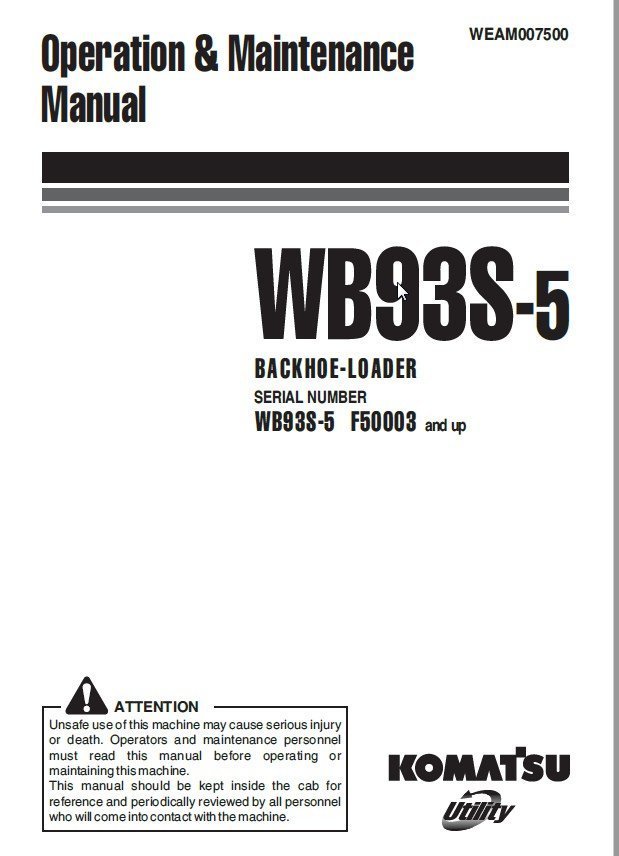 VIDEO PREVIEW:
DESCRIPTION:
q This manual has been produced by Komatsu Utility S.p.A. in order to supply their customers with all the necessary
information on the machine and the safety regulations related to it, together with the use and maintenance
instructions that enable the operator to exploit the capacity of the machine with optimal results and to keep the
machine efficient over time.
q The operation manual, together with the spare parts catalogue, is an integral part of the machine and must accompany
it, even when it is resold, until its final disposal.
q The manual must be handled with the greatest care and always kept on board the machine, so that it can be
consulted at any moment; it must be placed in the appropriate compartment behind the seat, where also the
ownership documents and the logbook are usually kept (see "3.5.9 TECHNICAL DOCUMENTATION").
q This manual must be given to the persons who have to use the machine and carry out the routine maintenance
operations; they must read the contents carefully more than once, in such a way as to clearly understand what
are the correct operating conditions and the dangerous conditions that must be avoided.
In case of loss or damage, request a new copy to Komatsu or your Komatsu Dealer.
q The illustrations contained in this manual may represent machine configurations available on request.
The machines are constantly upgraded in order to increase their efficiency and reliability; this manual sums up
all the information regarding the state of the art at the moment when the machine is launched on the market.
Contact your Komatsu Dealer for updated information.
q Punctual periodic annotations regarding the maintenance operations that have been carried out are important to
have a clear prospect of the situation and to know exactly what has been done and what has to be done after the
next maintenance interval. Therefore, it is advisable to consult both the hour meter and the maintenance plan
frequently.
q Komatsu Dealers have gathered a considerable amount of experience over years of work in close contact with
the users.
If more information is needed, do not hesitate to contact your Komatsu Dealer: he always knows how to get the
best performance from the machine, he can recommend the equipment that is most suitable for specific needs
and can provide the technical assistance necessary for any change that may be required to conform the machine
to the safety standards and traffic rules.
Komatsu Dealers also provide assistance for the supply of original Komatsu spare parts, which alone guarantee
safety and interchangeability.
q The table included in this manual must be filled in with the machine data, which are the data that must always be
indicated to the Dealer when requiring assistance and ordering spare parts.
MANUAL COVERS:
TABLE OF CONTENTS
FOREWORD
11 FOREWORD 1
12 INFORMATION ON SAFETY 2
13 INTRODUCTION 4
131 INTENDED USES 4
132 IMPROPER OR UNAUTHORIZED USE 4
133 MAIN CHARACTERISTICS 5
134 RUNNING-IN 5
14 PRODUCT IDENTIFICATION 6
141 MACHINE IDENTIFICATION NUMBER (PIN) 6
142 MACHINE IDENTIFICATION PLATE AND PRODUCT IDENTIFICATION NUMBER (PIN)
(alternatively for some markets) 6
143 MACHINE IDENTIFICATION PLATE AND PRODUCT IDENTIFICATION NUMBER (PIN) 7
144 ENGINE SERIAL NUMBER AND EXHAUST GAS EMISSION PLATE 8
145 FRONT AXLE SERIAL NUMBER 8
146 REAR AXLE SERIAL NUMBER 9
147 TRANSMISSION SERIAL NUMBER 9
148 CAB SERIAL NUMBER 9
149 SERIAL NUMBERS AND DEALER'S ADDRESS 10
SAFETY AND ACCIDENT PREVENTION
21 SAFETY, NOISE AND VIBRATION PLATES 20
211 POSITION OF THE SAFETY PLATES 20
212 PICTOGRAMS AND RELEVANT MEANINGS 22
213 POSITION OF THE NOISE PLATES ON MACHINES WITH CAB 28
214 VIBRATIONS TO WHICH THE OPERATOR IS SUBJECTED 29
22 GENERAL PRECAUTIONS 30
221 GENERAL SAFETY RULES 30
222 SAFETY DEVICES AND GUARDS 30
223 CLOTHING AND PERSONAL PROTECTION ITEMS 30
224 UNAUTHORIZED MODIFICATIONS 31
225 LEAVING THE OPERATOR'S SEAT 31
226 GETTING ON AND OFF THE MACHINE 32
227 CHECKING THE REAR-VIEW MIRRORS 32
228 PREVENTING FIRES DUE TO FUEL AND OIL 33
229 PREVENTING BURNS 33
2210 PREVENTING DAMAGE DUE TO ASBESTOS POWDER 34
2211 PREVENTING DAMAGE CAUSED BY THE WORK EQUIPMENT 34
2212 FIRE EXTINGUISHERS AND FIRST AID KIT 35
2213 PRECAUTIONS CONCERNING THE CAB STRUCTURE 35
2214 PRECAUTIONS CONCERNING THE EQUIPMENT 35
23 PRECAUTIONS TO BE TAKEN BEFORE STARTING THE ENGINE 36
231 SAFETY ON THE WORK SITE 36
232 FIRE PREVENTION 36
233 PRECAUTIONS TO BE TAKEN FOR THE OPERATOR'S CAB 36
234 ROOM VENTILATION 37
235 CLEANING WINDOWS, MIRRORS AND LIGHTS – CHECKING THE WINDSHIELD
WIPER BLADES AND THE BULBS 37
wwwkomatsupartsbookcom
TABLE OF CONTENTS
12
24 PRECAUTIONS TO BE TAKEN DURING WORK 38
241 WHEN STARTING THE ENGINE 38
242 RULES FOR TRAVELLING ON ROADS 38
243 HAND SIGNALS 39
244 CHECKS FOR TRAVELLING IN REVERSE 44
245 MOVING THE MACHINE 44
246 WORKING ON SLOPES 45
247 PREVENTING ELECTROCUTION 46
248 VISIBILITY 47
249 WORKING ON ICY OR SNOW-COVERED SURFACES 47
2410 PREVENTING DAMAGE CAUSED BY THE WORK EQUIPMENT 47
2411 WORKING ON LOOSE GROUND 47
2412 PARKING THE MACHINE 48
25 TRANSPORTING THE MACHINE ON OTHER VEHICLES 49
251 LOADING AND UNLOADING THE MACHINE 49
252 TRANSPORT 49
26 BATTERY 50
261 PREVENTING RISKS THAT MAY BE DUE TO THE BATTERY 50
262 STARTING WITH BOOSTER CABLES 50
27 PRECAUTIONS FOR EMERGENCY RECOVERY 51
28 PRECAUTIONS TO BE TAKEN DURING MAINTENANCE 52
281 WARNING PLATES 52
282 TOOLS 52
283 PERSONNEL 53
284 EQUIPMENT 53
285 WORKING UNDER THE MACHINE 53
286 KEEPING THE MACHINE CLEAN 54
287 USE OF THE ENGINE DURING MAINTENANCE 54
288 PERIODICAL CHANGE OF THE SAFETY RELATED PARTS 54
289 STOP THE ENGINE BEFORE CARRYING OUT ANY MAINTENANCE OPERATION
OR INSPECTION 55
2810 RULES TO BE FOLLOWED DURING FUEL OR OIL TOPPING UP 56
2811 CHECKING THE COOLANT LEVEL IN THE RADIATOR 56
2812 USING LAMPS 56
2813 PRECAUTIONS TO BE TAKEN WHEN HANDLING THE BATTERY AND THE ALTERNATOR 57
2814 PRECAUTIONS CONCERNING THE STARTER 57
2815 HANDLING HIGH-PRESSURE PIPES 58
2816 PRECAUTIONS TO BE TAKEN WHEN WORKING ON HIGH- PRESSURE SYSTEMS 58
2817 PRECAUTIONS FOR MAINTENANCE WORK INVOLVING HIGH TEMPERATURES
AND PRESSURES 58
2818 HYDRAULIC ACCUMULATOR 59
2819 COOLING FAN AND FAN BELT 59
2820 WASTE MATERIALS 59
2821 PRECAUTIONS CONCERNING TECHNOPOLYMERS AND ELASTOMERS 60
2822 PRECAUTIONS TO BE TAKEN WHEN INFLATING THE TYRES 60
2823 PRECAUTIONS FOR THE INSTALLATION OF THE EXHAUST SYSTEM TAILPIPE 61
2824 PRECAUTIONS TO BE TAKEN WHEN USING SYNTHETIC BIODEGRADABLE OIL
TYPE «HEES» 61
wwwkomatsupartsbookcom
TABLE OF CONTENTS
13
DESCRIPTION AND USE OF THE MACHINE
31 SAFETY LOCKS 64
311 FRONT LOADER LOCKS 64
312 BACKHOE LOCKS 66
32 GENERAL VIEWS 68
321 FRONT GENERAL VIEW 68
322 BACKHOE GENERAL VIEW 69
323 CAB INSIDE GENERAL VIEW 70
3231 CAB INSIDE GENERAL VIEW (mechanical backhoe controls) 70
3232 CAB INSIDE GENERAL VIEW (backhoe servo controls) 71
33 INSTRUMENTS AND CONTROLS 72
331 FRONT INSTRUMENTS 72
332 SIDE INSTRUMENTS 76
333 PUSH BUTTONS ON THE FRONT LOADER CONTROL LEVER 84
334 PUSH BUTTON ON THE GEARSHIFT LEVER 85
335 CAB SWITCHES AND ELECTRIC ACCESSORIES 86
336 MACHINE CONTROLS 89
3361 MACHINE CONTROLS (version with mechanically-controlled backhoe) 89
3362 MACHINE CONTROLS (version with servo-assisted backhoe) 91
3363 ADJUSTING THE CONTROLS 114
34 FUSES AND RELAYS 117
341 CENTRAL UNIT FUSES – RELAYS AND ENGINE LINE 117
3411 FUSES 117
3412 RELAYS 119
342 VENTILATION, HEATING AND AIR CONDITIONING FUSES AND RELAYS 120
3421 FUSES 120
3422 RELAYS 120
35 GUARDS, CAB AND DRIVER'S SEAT 121
351 ENGINE HOOD 121
352 CAB 122
353 VENTILATION AND HEATING 125
354 AIR CONDITIONER (if installed) 126
355 SEAT 128
3551 SEAT (STANDARD) 128
3552 SEAT (OPTIONAL) 129
356 SAFETY BELT 130
357 FIRE EXTINGUISHER 130
358 FIRST AID KIT 130
359 TECHNICAL DOCUMENTATION 130
3510 STORAGE COMPARTMENT 131
36 USE OF THE MACHINE 132
361 CHECKS TO BE CARRIED OUT BEFORE STARTING THE ENGINE 132
3611 VISUAL CHECKS 132
3612 OPERATIONAL CHECKS 133
362 STARTING THE ENGINE 134
3621 STARTING WITH WARM ENGINE OR IN TEMPERATE CLIMATES 134
3622 STARTING WITH COLD ENGINE OR IN COLD CLIMATES 135
363 WARMING THE ENGINE 136
364 HEATING THE HYDRAULIC OIL 136
365 HOW TO MOVE THE MACHINE 137
3651 ENGAGING THE FOUR-WHEEL DRIVE 138
3652 WORKING ON SLOPES 139
3653 MAXIMUM IMMERSION DEPTH 140
wwwkomatsupartsbookcom
TABLE OF CONTENTS
14
37 PARKING THE MACHINE 141
371 PARKING ON LEVEL GROUND 141
372 PARKING ON SLOPES 142
38 STOPPING THE ENGINE 143
39 TRANSPORTING THE MACHINE ON OTHER VEHICLES 144
391 LOADING AND UNLOADING THE MACHINE 144
392 TRANSPORT 145
310 PRECAUTIONS TO BE TAKEN IN THE COLD SEASON 146
3101 FUEL AND LUBRICANTS 146
3102 COOLANT 146
3103 BATTERY 147
3104 OTHER PRECAUTIONS 147
3105 PRECAUTIONS TO BE TAKEN AT THE END OF WORK 147
311 PRECAUTIONS TO BE TAKEN AT THE END OF THE WINTER 148
312 USING THE MACHINE AS A LOADER 149
3121 BUCKET POSITION INDICATOR 149
3122 ORGANIZING THE WORK AREA 149
31221 LOADING HEAPED AND LEVEL MATERIAL 150
31222 LOADING OPERATIONS ON SLOPES 151
3123 CHANGING THE STANDARD FRONT BUCKET 151
313 USING THE MACHINE AS AN EXCAVATOR 152
3131 POSITIONING THE BUCKET ACCORDING TO THE WORK THAT MUST BE CARRIED OUT 152
3132 POSITIONING THE MACHINE FOR DIGGING OPERATIONS 153
3133 SLIDING THE BACKHOE UNIT SIDEWARDS 154
3134 DIGGING METHOD 155
31341 CHANGING THE BACKHOE BUCKET 156
314 LONG PERIODS OF INACTIVITY 157
3141 PREPARING THE MACHINE FOR A LONG PERIOD OF INACTIVITY 157
3142 PREPARING THE ENGINE FOR A LONG PERIOD OF INACTIVITY 158
3143 MAINTENANCE DURING A PERIOD OF INACTIVITY 158
3144 RESTARTING THE ENGINE 159
3145 AFTER THE PERIOD OF INACTIVITY 159
315 TROUBLESHOOTING 160
3151 HOW TO REMOVE THE MACHINE 160
3152 AFTER THE FUEL HAS RUN OUT 160
3153 IF THE BATTERY IS DOWN 161
31531 STARTING WITH BOOSTER CABLES 162
3154 OTHER TROUBLES 163
31541 ELECTRICAL CIRCUIT 163
31542 HYDRAULIC SYSTEM 163
31543 BRAKING SYSTEM 164
31544 CONVERTER 164
31545 ENGINE 164
wwwkomatsupartsbookcom
TABLE OF CONTENTS
15
MAINTENANCE
41 GUIDE TO MAINTENANCE 168
42 MAINTENANCE NOTES 170
421 NOTES REGARDING THE ENGINE 170
4211 ENGINE OIL 170
4212 COOLANT 170
4213 FUEL 171
422 NOTES REGARDING THE HYDRAULIC SYSTEM 171
423 NOTES REGARDING THE ELECTRIC SYSTEM 172
424 NOTES REGARDING LUBRICATION 172
425 PARTS SUBJECT TO WEAR THAT PERIODICALLY NEED CHANGING 173
43 FUEL, COOLANT AND LUBRICANTS 174
431 LUBRICATION WITH GREASE 175
432 HOMOLOGATED SYNTHETIC BIODEGRADABLE LUBRICANTS "HEES" 176
44 DRIVING TORQUES 177
441 STANDARD DRIVING TORQUES FOR SCREWS AND NUTS 177
442 SPECIFIC DRIVING TORQUES FOR SCREWS AND NUTS 178
443 STANDARD DRIVING TORQUES FOR HOSES WITH ORFS 178
45 LUBRICATION 179
451 LUBRICATION DIAGRAM 179
452 LUBRICATION DIAGRAM (4in1 bucket and pallet forks) 180
453 LUBRICATION DIAGRAM (front bucket quick couplings) 181
454 LUBRICATION DIAGRAM (offset device) 182
46 PERIODICAL CHANGE OF THE SAFETY RELATED COMPONENTS 183
461 SAFETY RELATED PARTS 184
4611 FUEL SYSTEM 184
4612 DELIVERY HYDRAULIC SYSTEM 185
4613 FRONT LOADER HYDRAULIC SYSTEM 186
4614 BACKHOE HYDRALIC SYSTEM 187
4615 OPERATOR'S SAFETY 188
47 MAINTENANCE PLAN 189
48 MAINTENANCE PROCEDURES 191
481 WHEN REQUIRED 191
481a CHECKING, CLEANING OR CHANGING THE ENGINE AIR FILTERS 191
481b CHECKING AND CLEANING THE CAB AIR FILTER 192
481c CHECKING AND CLEANING THE AIR RECIRCULATION FILTER
(only for machines with air conditioner) 193
481d CHECKING THE DETERGENT LEVEL IN THE WINDSHIELD WASHER RESERVOIR 193
481e CHECKING THE WINDSHIELD WIPER BLADES 194
481f LUBRICATING THE CAB DOOR HINGES 194
481g FUSES AND RELAYS – CHECK AND CHANGE 194
481h BLEEDING THE BRAKING CIRCUIT 195
481i CHECKING AND ADJUSTING THE WHEEL TOE-IN 196
481j CHECKING THE BRAKING EFFICIENCY 196
481k CHECKING AND ADJUSTING THE PARKING BRAKE 197
481l CHECKING AND ADJUSTING THE BRAKE PEDAL STROKE 198
481m ADJUSTING THE AUTOMATIC RETURN-TO-DIG DEVICE OF THE FRONT
BUCKET (if installed) 198
481n CHECKING AND ADJUSTING THE STABILIZER SLACK 199
482 MAINTENANCE INTERVALS IN CASE OF USE OF THE DEMOLITION HAMMER 200
482a CHANGING THE HYDRAULIC OIL FILTER 200
482b CHANGING THE HYDRAULIC OIL 200
wwwkomatsupartsbookcom
TABLE OF CONTENTS
16
483 CHECKS TO BE CARRIED OUT BEFORE STARTING THE ENGINE 201
483a VARIOUS CHECKS 201
483b CHECKING THE COOLANT LEVEL 201
483c CHECKING THE FUEL LEVEL 202
483d CHECKING THE ENGINE OIL LEVEL 202
484 MAINTENANCE EVERY 10 HOURS OF OPERATION 203
484a LUBRICATING THE JOINTS 203
485 MAINTENANCE AFTER THE FIRST 50 HOURS OF OPERATION
(Only for machines in which synthetic biodegradable oil type HEES is used) 205
486 MAINTENANCE EVERY 50 HOURS OF OPERATION 205
486a CHECKING THE HYDRAULIC OIL LEVEL 205
486b CHECKING THE FLUID LEVEL IN THE RADIATOR 206
486c CHECKING THE BRAKING SYSTEM OIL LEVEL 206
486d LUBRICATING THE PROPELLER SHAFTS 207
486e LUBRICATING THE FRONT AXLE JOINTS AND CENTRAL COUPLING
AND THE REAR AXLE JOINTS 208
486f CHECKING THE TYRE PRESSURE 208
486g DRAINING THE WATER SEPARATOR 209
487 MAINTENANCE AFTER THE FIRST 250 HOURS OF OPERATION 210
488 MAINTENANCE EVERY 250 HOURS OF OPERATION 210
488a CHECKING THE ALTERNATOR-FAN BELT 210
488b CHECKING AND ADJUSTING THE A/C COMPRESSOR BELT TENSION
(only for machines with air conditioner) 211
488c CHECKING THE BATTERY ELECTROLYTE LEVEL 212
488d CHECKING THE FRONT AXLE OIL LEVELS 213
488e CHECKING THE REAR AXLE OIL LEVEL 213
488f CHECKING THE HYDRAULIC TRANSMISSION OIL LEVEL 214
488g CHECKING THE WHEEL NUT DRIVING TORQUE 214
489 MAINTENANCE AFTER THE FIRST 500 HOURS OF OPERATION
(Only for machines in which synthetic biodegradable oil type HEES is used) 215
4810 MAINTENANCE EVERY 500 HOURS OF OPERATION 215
4810a CHANGING THE ENGINE OIL 215
4810b CHANGING THE ENGINE OIL FILTER 216
4810c CHANGING THE HYDRAULIC SYSTEM OIL FILTER 216
4810d CHANGING THE FUEL FILTER 219
4810e DRAINING THE FUEL TANK 220
4810f DRAINING THE HYDRAULIC OIL TANK
(only for machines in which synthetic biodegradable oil type HEES is used) 221
4810g CLEANING THE OUTSIDE OF THE RADIATOR 222
4810h CLEANING THE OUTSIDE OF THE A/C CONDENSER
(only for machines with air conditioner) 223
4811 MAINTENANCE EVERY 1000 HOURS OF OPERATION 224
4811a CHANGING THE FRONT AXLE OIL 224
4811b CHANGING THE REAR AXLE OIL 225
4811c CHANGING THE HYDRAULIC TRANSMISSION OIL 226
4811d CHANGING THE HYDRAULIC TRANSMISSION OIL FILTER 227
4812 MAINTENANCE EVERY 2000 HOURS OF OPERATION 228
4812a CHANGING THE HYDRAULIC OIL AND CLEANING THE INTAKE FILTER 228
4812b CHANGING THE COOLANT 230
4812c CHANGING THE BRAKING SYSTEM OIL 231
4812d CHECKING THE ALTERNATOR AND THE STARTER 232
4812e CHANGING THE ALTERNATOR BELT 232
4812f CHECKING THE A/C COOLING GAS QUANTITY
(only for machines with air conditioner) 232
wwwkomatsupartsbookcom
TABLE OF CONTENTS
17
4813 MAINTENANCE EVERY 3000 HOURS OF OPERATION 233
4813a CHECKING THE ENGINE RETAINING SCREWS AND DAMPING ELEMENTS 233
4813b CHECKING AND ADJUSTING THE ENGINE VALVE CLEARANCE
AND THE INJECTION TIMING ADVANCE 233
4814 MAINTENANCE EVERY 4000 HOURS OF OPERATION 234
4814a CHANGING THE A/C DEWATERING FILTER
(Only for machines with air conditioner) 234
4814b CHECKING THE OPERATING CONDITIONS OF THE A/C COMPRESSOR
(Only for machines with air conditioner) 234
4814c CHANGING THE ENGINE THERMOSTATIC VALVE 234
TECHNICAL SPECIFICATIONS
51 TECHNICAL DATA 236
511 STANDARD OVERALL DIMENSIONS 236
5111 OVERALL DIMENSIONS WITH STANDARD ARM 236
5112 OVERALL DIMENSIONS WITH TELESCOPIC ARM 236
512 TECHNICAL CHARACTERISTICS 237
513 LIFTING CAPACITIES 239
5131 SYMBOL TABLE 239
5132 LIFTING CAPACITIES (STANDARD ARM) 240
5133 LIFTING CAPACITIES (BOOM WITH OFFSET DEVICE) 241
AUTHORIZED OPTIONAL EQUIPMENT
61 AUTHORIZED OPTIONAL EQUIPMENT 244
611 PRECAUTIONS REGARDING SAFETY 244
612 PRECAUTIONS REGARDING THE INSTALLATION OF EQUIPMENT 245
613 CHARACTERISTICS OF THE OPTIONAL EQUIPMENT 246
62 FRONT EQUIPMENT QUICK COUPLING DEVICES 247
621 MANUAL QUICK COUPLING 247
622 HYDRAULIC QUICK COUPLING FOR STANDARD BUCKET 248
623 HYDRAULIC QUICK COUPLING FOR 4in1 BUCKET AND OPTIONAL EQUIPMENT
WITH UNIDIRECTIONAL OIL FLOW 248
63 4in1 BUCKET 249
631 DESCRIPTION AND CONTROLS 249
632 SAFETY DEVICES 249
633 INSTALLING THE 4in1 BUCKET 250
634 USING THE 4in1 BUCKET 251
635 MAINTENANCE 251
64 PALLET FORKS 252
641 DESCRIPTION 252
642 SAFETY DEVICES 253
643 USING THE FORKS 253
6431 PREPARING THE PALLET FORKS FOR USE 254
6432 OVERTURNING THE FORKS 254
644 REMOVING THE FORKS 255
645 INSTALLING THE FORKS 255
646 MAINTENANCE 255
wwwkomatsupartsbookcom
TABLE OF CONTENTS
18
65 BACKHOE TELESCOPIC ARM 256
651 DESCRIPTION AND CONTROL 256
6511 CONTROL (version with mechanically-controlled backhoe) 256
6512 CONTROL (version with servo-assisted backhoe) 256
652 SAFETY DEVICES 257
653 USING THE TELESCOPIC ARM 257
654 MAINTENANCE 258
6541 ADJUSTING THE GUIDE SLACK 258
66 CONFIGURATION FOR THE INSTALLATION OF THE DEMOLITION HAMMER 260
661 DESCRIPTION AND CONTROL 260
6611 CONTROL (version with mechanically-controlled backhoe) 260
6612 CONTROL (version with servo-assisted backhoe) 260
662 USE OF THE DEMOLITION HAMMER AND RULES TO BE OBSERVED 261
663 INSTALLING AND REMOVING THE DEMOLITION HAMMER 265
6631 INSTALLING THE HAMMER 265
6632 REMOVING THE HAMMER 267
664 USING THE HAMMER 267
665 MAINTENANCE 267
67 APPLICATION OF THE OFFSET DEVICE 268
671 DESCRIPTION AND CONTROL 268
6711 CONTROL (version with mechanically-controlled backhoe) 268
6712 CONTROL (version with servo-assisted backhoe) 269
672 MAINTENANCE 269
68 CONFIGURATION FOR THE USE OF OPTIONAL EQUIPMENT WITH UNIDIRECTIONAL OIL FLOW 270
681 DESCRIPTION AND CONTROL 270
6811 CONTROL (version with mechanically-controlled backhoe) 270
6812 CONTROL (version with servo-assisted backhoe) 270
682 INSTALLING AND CONNECTING THE EQUIPMENT 271
683 MAINTENANCE 271
69 CONFIGURATION FOR THE USE OF THE CLAMSHELL BUCKET 272
691 DESCRIPTION AND CONTROL 272
6911 CONTROL (version with mechanically-controlled backhoe) 272
6912 CONTROL (version with servo-assisted backhoe) 273
692 INSTALLING THE CLAMSHELL BUCKET 274
693 USING THE CLAMSHELL BUCKET 275
694 MAINTENANCE 275
610 CONFIGURATION FOR THE USE OF THE HAND HYDRAULIC HAMMER 276
6101 DESCRIPTION AND CONTROL 276
6102 INSTALLING AND REMOVING THE HAND HAMMER 277
61021 CONNECTING THE HAND HAMMER 277
61022 REMOVING THE CONNECTIONS 278
6103 USING THE HAMMER 278
6104 MAINTENANCE 278
611 LOAD STABILIZER SYSTEM (LSS) (Optional) 279
6111 LOAD STABILIZER SYSTEM (LSS) ACCUMULATOR 279
612 REAR EQUIPMENT MECHANICAL QUICK COUPLING DEVICE 280
6121 EQUIPMENT COUPLING AND RELEASE PROCEDURE 281
6122 MAINTENANCE 282
PLEASE NOTE:
 This is the SAME exact manual used by your dealers to fix your vehicle.
The same can be yours in the next 2-3 mins as you will be directed to the download page immediately after paying for the manual.
Any queries / doubts regarding your purchase, please feel free to contact [email protected]