Komatsu Pc400,400lc-6 Pc450 450lc-6 Hydraulic Excavator Operation Maintenance Manual
FILE DETAILS:
LANGUAGE:ENGLISH
PAGES:280
DOWNLOADABLE:YES
FILE TYPE:PDF
VIDEO PREVIEW OF THE MANUAL:
IMAGES PREVIEW OF THE MANUAL: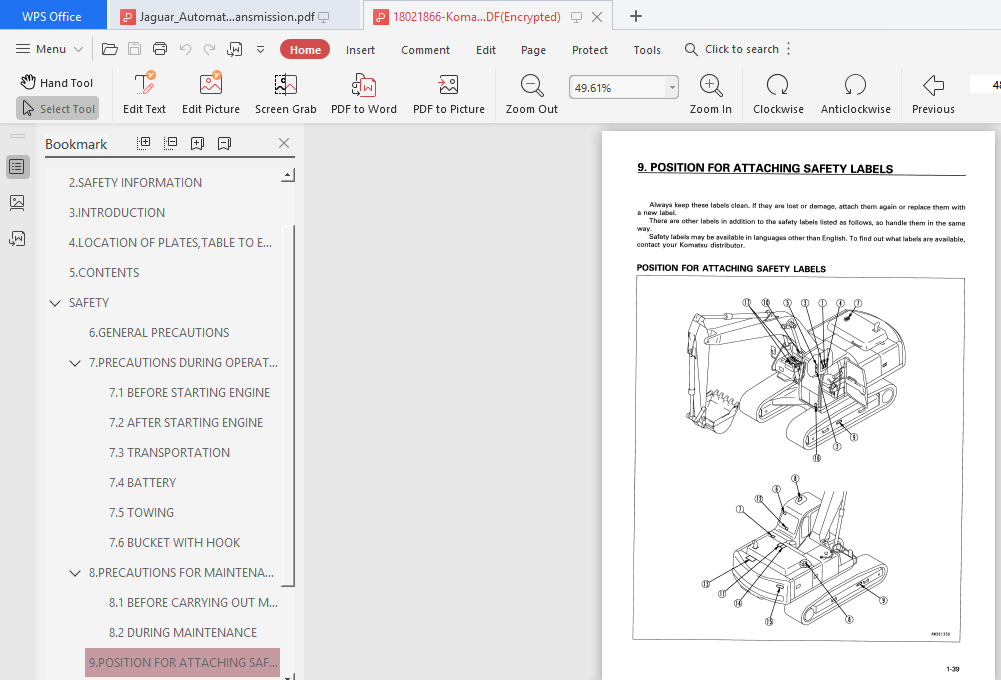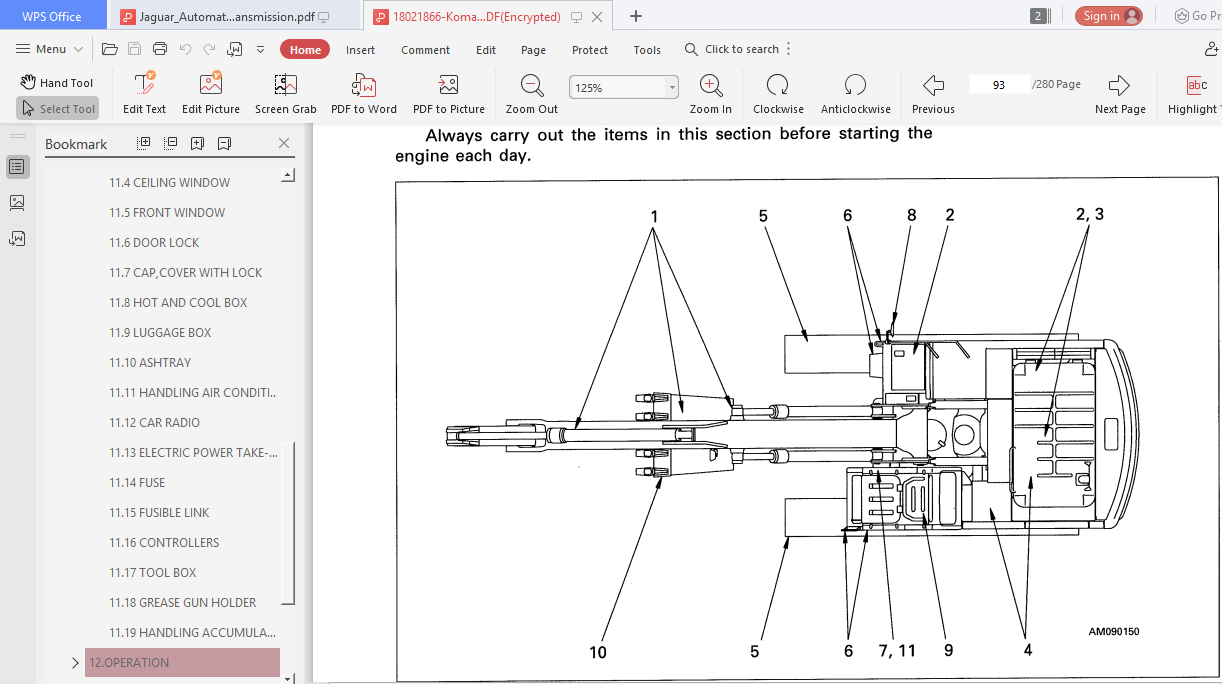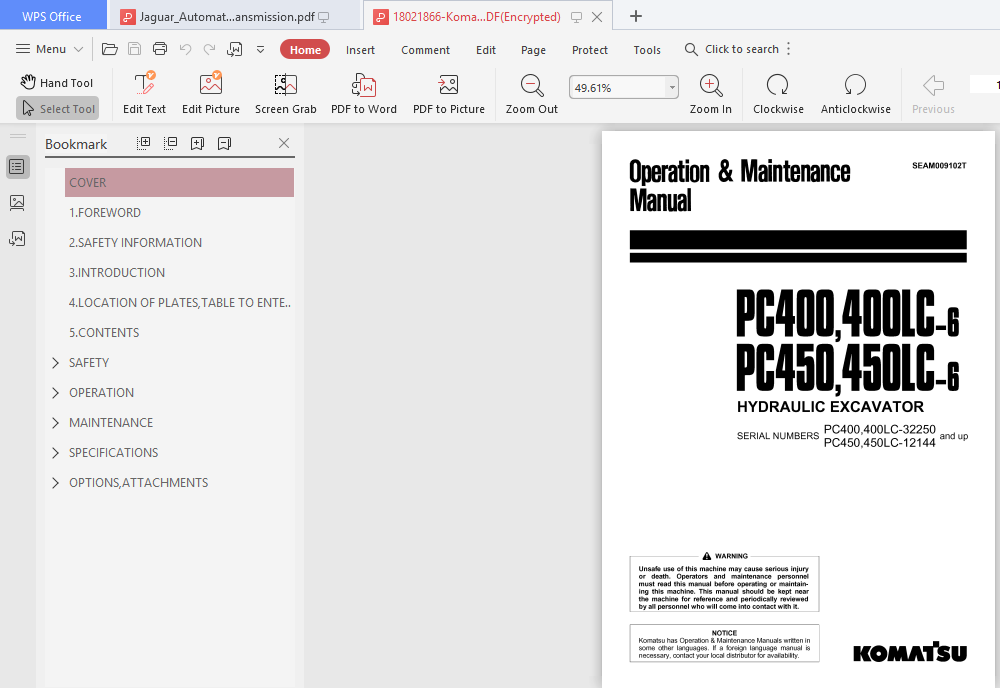 DESCRIPTION:
Komatsu Pc400,400lc-6 Pc450 450lc-6 Hydraulic Excavator Operation Maintenance Manual
This manual provides rules and guidelines which will help you use this machine safely and effectively. Keep this manual handy and have all personnel read it periodically. If this manual has been lost or has become dirty and can not be read, request a replacement manual from Komatsu or your Komatsu distributor. If you sell the machine, be sure to give this manual to the new owners. Continuing improvements in the design of this machine can lead to changes in detail which may not be reflected in this manual. Consult Komatsu or your Komatsu distributor for the latest available information of your machine or for questions regarding information in this manual. This manual may contain attachments and optional equipment that are not available in your area. Consult Komatsu or your Komatsu distributor for those items you may require.
3.1 INTENDED USE:
This Komatsu HYDRAULIC EXCAVATOR is designed to be used mainly for the following work:
 Digging work 0 Smoothing work
 Ditching work
 Loading work See the section "12.14 WORK POSSIBLE USING HYDRAULIC EXCAVATOR" for further details.
3.2 FEATURES :
 This Komatsu HYDRAULIC EXCAVATOR is equipped with various controls based on an advanced electronics system.
 The monitor panel greatly facilitates daily maintenance and self-diagnosis.
 Working mode, travel speed and swing priority are selectable.
 Digging and lifting force can be increased by light-touch control. (For details, see operation section.)
 Adjustable wrist control levers make operations smooth and easy.
 Air-conditioned operator's cab assures comfortable operation.
 Low noise level and smart urban-style design and coloring.
 Superb operating performance provided by powerful engine and higlvperformance hydraulic pumps. 0 Low fuel consumption controlled by an electronic control system provides an environment-friendly machine.
3.3 BREAKING IN THE MACHINE :
Your Komatsu machine has been thoroughly adjusted and tested before shipment. However, operating the machine under severe conditions at the beginning can adversely affect the performance and shorten the machine life. Be sure to break in the machine for the initial 100 hours (as indicated by the service meter.) During breaking in:
 Idle the engine for 5 minutes after starting it up.
 Avoid operation with heavy loads or at high speeds.
 Avoid sudden starts, sudden acceleration, sudden steering and sudden stops except in cases of emergency.
The precautions given in this manual for operating, maintenance, and safety procedures are only those that apply when this product is used for the specified purpose. If the machine is used for a purpose that is not listed In this manual, Komatsu cannot bear any responsibility for safety. All consideration of safety in such operations is the responsibility of the user. Operations that are prohibited in this manual must never be carried out under any circumstances.
TABLE OF CONTENTS:
COVER
1.FOREWORD
2.SAFETY INFORMATION
3.INTRODUCTION
4.LOCATION OF PLATES,TABLE TO ENTER SERIAL
NO.AND DISTRIBUTOR
5.CONTENTS
SAFETY
OPERATION
MAINTENANCE
SPECIFICATIONS
OPTIONS,ATTACHMENTS
PLEASE NOTE:
This is the same manual used by the dealers to diagnose and troubleshoot your vehicle
You will be directed to the download page as soon as the purchase is completed. The whole payment and downloading process will take anywhere between 2-5 minutes
Need any other service / repair / parts manual, please feel free to contact [email protected] . We still have 50,000 manuals unlisted