Komatsu Hydraulic Mining Shovel Pc8000 General Assembly Procedure
FILE DETAILS:
LANGUAGE:ENGLISH
PAGES:158
DOWNLOADABLE:YES
FILE TYPE:PDF
VIDEO PREVIEW OF THE MANUAL:
IMAGES PREVIEW OF THE MANUAL: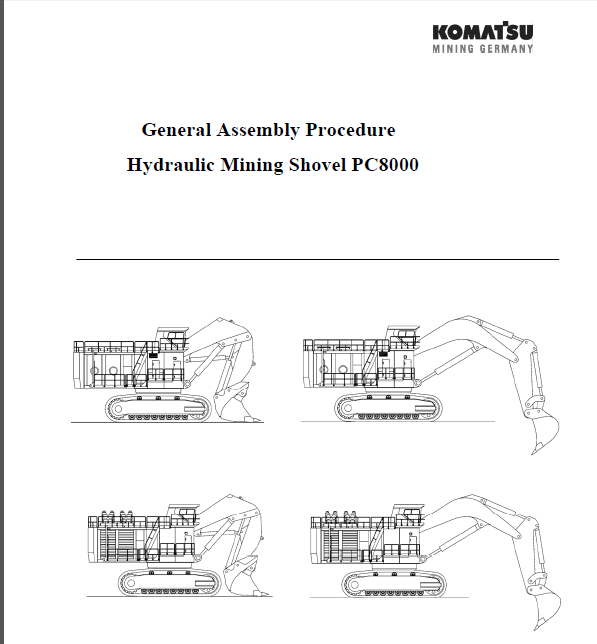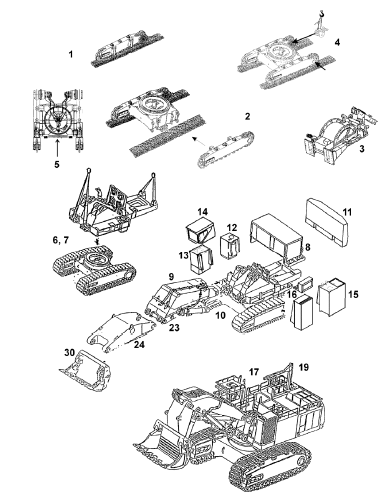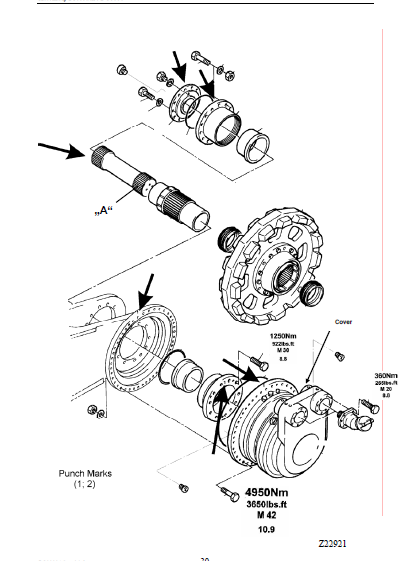 DESCRIPTION:
Komatsu Hydraulic Mining Shovel Pc8000 General Assembly Procedure
Assembling of the Excavator
ã • Assembling of the excavator must be carried out only by personnel with special knowledge of the excavator. Improper assembling procedures can cause severe accidents with personal injury.
The sequence of assembly is shown in this Manual. Disassembling is basically the reverse order of the assembling procedure.
Transportation and Lifting
The transport dimensions and weights of the excavator's components are listed in this manual. Observe the operating permits of the flat-bed trailers used for transportation. They contain the permissible load, loading width and height.
Observe the federal, state and local laws and regulations for transportation of heavy units. Know the safety rules and laws before you transport this excavator.
 Make sure the flat-bed trailer and the components of the excavator are equipped with the correct safety devices.
 Secure the excavator and all components transported on the trailer against movement.
 Use exclusively approved handling equipment
 When lifting components make sure that the handling elements do not cause damage to the component
 Secure the components safety before removing the lifting straps, ropes or chains.
 Wear safety clothing, goggles, respirator and other safety devices, whenever working conditions make this necessary.
 Provide hoists of sufficient capacity to lift heavy units. Refer to the weight specifications.
 Be sure to observe the instructions in the "Assembly Procedure Manual".
 Lifting gear, tools and other suspension systems must be in good condition and of sufficient lifting capacity.
 Be sure hydraulic cylinders and attachment components are properly supported from hoist and securely remove, before removing supporting pins.
 Floors must be clean and dry. After draining operations be sure all spillage is cleaned up.
TABLE OF CONTENTS:
Komatsu Hydraulic Mining Shovel Pc8000 General Assembly Procedure
MAIN MENU
COVER
CONTENTS
1. Mounting of Crawler Segments to the Side
Frames: Z22917
2. Assembly of Undercarriage: Z22918
3. Assembly of Cable Reel Unit: Z22919
4. Mounting of Final Drives: Z22921
5. Electric drive only: Mounting of auxiliary weight at the undercarriage: Z22993
6. Mounting of Slew Ring underneath the Superstructure Platform: Z22922
7. Assembly of the Superstructure Platform onto the Undercarriage: Z22923
7.1 Rotary Distributor Z22924
8. Assembly of the Prime Drive Unit to the Superstructure Platform: Z22925 / Z22926
8.1 Overview Drive unit
8.2 Electric drive: Direction of motor rotation; mounting the coupling
9. Preassembly Boom- and Stick Cylinders to the Boom: Z22932
9.1 Preassembly Boom- and Stick Cylinders to the Boom (Backhoe attachment) : Z23007; Z23008
10. Mounting of Boom Z22933
11. Mounting of Counterweight: Z22934A
12. Mounting the Fuel Tanlc Z22935 or Main Switch Cabinet for electric Driven Unit
13. Mounting of Cab Support Z22936
13.1 Mounting of Cable transfer Z22937
13.2 Mounting of front cover
14. Mounting of Operator's Cab 222938; 222939
14.1 Mounting of the Cab air cleaner (Cab support to Cab) 222940
15. Mounting of Hydraulic Oil Tank 222941
16. Mounting of Hydraulic Oil Coolers 222942; 222943
17. Mounting Hand Rails, Cat Walks, Steps, Stairs and Ladders: 222944; 222945
18. Install the hydraulic access ladder 222946
19. Installation of Muffler assy, and Cover:222928
20. Installation of Air Filters: 222929 - 222931
21. Installation of Lubrication Station and auxiliary Crane 222947; 222948
22. Connection of cable harnesses to the X - boards
23. Installation of Hose connections on Hydr. Tank and Hydr. Oil Coolers: 222949; 222950
23.1 Installation of Hose connections on Auxiliary Hydraulic Oil Cooler (222951 and 222952)
24. Installation of HP- Hoses in between HP - Filters and Main Valve Blocks: 222953
25. Mounting of Bucket Cylinders : 222954; 222955
26. Mounting of Sticlc 222956
26.1 Mounting of Sticlc 222989 (Backhoe attachment)
27. Installation of Hose connections to the boom: 222957; 222958
28. Fillind up hydraulic tank 222959
28.1 Filling up fuel tank
29. Pre-checks for initial Start-up
30. Mounting of Stick Cylinders to the Stick' 222961
31. Mounting of the Pin Seals
31.1 Mounting of the Pin Seals
32. Assembly of Bullclam Bucket to the Stick(221876; 222962)
32.1 Assembly of Backhoe to the Stick (223005)
33. Assembling and testing the Fire Detection, Actuation and Suppression System
34. Checks and Adjustments Prior to Commissioning
PLEASE NOTE:
This is the same manual used by the DEALERSHIPS to SERVICE your vehicle.
The manual can be all yours – Once payment is complete, you will be taken to the download page from where you can download the manual. All in 2-5 minutes time!!
Need any other service / repair / parts manual, please feel free to contact us at heydownloadss @gmail.com . We may surprise you with a nice offer