Komatsu Bx50 Series Forklift Trucks Parts Manual
FILE DETAILS:
FILE TYPE:PDF
DOWNLOADABLE:YES
MANUAL LANGUAGE:ENGLISH
PAGES:932
DESCRIPTION:
GENERAL This parts book lists engine, chassis and mast service parts for the machine shown on the title page. We reserve the right to make changes or add improvements at any time without incurring any obligation to install such changes on products previously sold.
ILLUSTRATIONS – Illustrated items are given item numbers which correspond to the same number in the parts list. Item numbers may point to more than one identical item. The quantity of items shipped will depend on the quantity ordered. Illustrations are of typical parts only and may not exactly match your application.
METHOD OF LISTING – The parts list and its associated illustration is the essential content of the Parts Book. Each parts list is arranged in numeric sequence by Chapter, Figure Number and by page number.
The parts list page is divided into five columns for easy use:
1. ITEM Column – This column contains keys to the illustration so the part can be located on the associated illustration. If there is no key number for the part, the part is not shown and is not on the associated illustration. In this case "NS" (Not Shown), or some other key, may appear in the column.
2. PART NUMBER Column – This column contains the part number of each serviceable part. The part number, in conjunction with the description of the part, is the key to locating needed service parts. If " * " appears, the part is "NSS" (Not Sold Separately).
3. DESCRIPTION Column – This column contains the description of each part. It can be used to find needed parts when the part number is not known. Indentation of an item, preceded by a dot (.), indicates that it is a component part (or subassembly) of the item shown above the item indented. There may be 2 or 3 dots in some cases.
4. QTY Column – This column contains the total quantity of each part number listed as needed for the product.
5. SERIAL NO. Column – This column contains the serial number range of each part number listed. The serial number is displayed in the page heading if it applies to all parts on that page.
TABLE OF CONTENTS:
Komatsu Bx50 Series Forklift Trucks Parts Manual
COPYRIGHT STATEMENT
CONTENTS 1
INTRODUCTION 11
FORKLIFT TRUCKS COVERED IN THIS PUBLICATION (S/N 200001A~) 13
CHAPTER 00 – RECOMMENDED STOCK LIST
Fast Moving Stock List (FMSL) – 00-0000 00- 01
Full Recommended Stock List (FRSL) – 00-0001 00- 05
EPA Related Stock List (EPASL) – 00-0002 00- 011
Filters 00-0003 00- 015
CHAPTER 01 – ENGINE AND RELATED PARTS
Engine Units – (K21/K25 Gas/LP/Dual-Fuel) 01-0001 01- 01
Transmission-to-Engine Mounting Parts – (K21/K25) 01-0002 01- 03
Engine Mounting Parts – (K21/K25) 01-0003 01- 05
Air Cleaner Assy – (K21/K25) 01-0010 01- 07
Engine Assy & Short Block Assy (K21/K25) 01-0200 01- 09
Bare Engine Block & Oil Pan (K21/K25) 01-0205 01- 011
Cylinder Head & Rocker Cover (K21/K25) 01-0210 01- 013
Crankcase Ventilation (K21/K25) 01-0215 01- 015
Piston, Crankshaft & Flywheel (K21/K25) 01-0220 01- 017
Camshaft & Valve Mechanism (K21/K25) 01-0225 01- 021
Front Cover & Fittings (K21/K25) 01-0230 01- 023
Manifold Assembly (K21/K25) 01-0235 01- 025
Fuel Rail & Injector Assembly (K21/K25 Gasoline) 01-0240 01- 027
Fuel Injector Holder Assembly (K21/K25 LPG) 01-0241 01- 029
Fuel Rail & Injector Holder Assembly – Press Reg (K21/K25 Dual-Fuel) 01-0242 01- 031
Fuel Rail & Injector Holder Assembly – Press Reg (K21/K25) 01-0242A 01- 033
Fuel Injection System (K21/K25) 01-0242B 01- 035
Lubricating System (K21/K25) 01-0245 01- 038
Water Pump, Cooling Fan & Thermostat (K21/K25) 01-0250 01- 039
Ignition System (K21/K25) 01-2055 01- 041
Bracketry – Ignition / Cooling (K21/K25) 01-0260 01- 043
Vacuum Piping (K21/K25) 01-0265 01- 045
Alternator (K21/K25) 01-0270 01- 047
Starter Motor (K21/K25) 01-0275 01- 049
Gasket Kit (K21/K25) 01-0280 01- 051
Fuel Pump Block-Off (K21/K25) 01-0285 01- 053
Vaporizer (K21/K25 LP & Dual-Fuel) 01-0290 01- 055
Caution Plate & Label (K21/K25) 01-0295 01- 057
Engine – (4D94LE Diesel) 01-1001 01- 059
Engine Mounting Parts – (4D94LE) 01-1001A 01- 061
Air Cleaner Assy – (4D94LE) 01-1001B 01- 063
Cylinder Block 01-1002 01- 065
Gear Housing (4D94LE) 01-1002A 01- 067
Flywheel Housing & Oil Sump (4D94LE) 01-1002B 01- 069
Cylinder Head & Bonnet (4D94LE) 01-1002C 01- 071
Intake Manifold (4D94LE) 01-1002D 01- 075
Exhaust Manifold (4D94LE) 01-1002E 01- 077
Camshaft & Driving Gear (4D94LE) 01-1002F 01- 079
Cooling Water System (4D94LE) 01-1002G 01- 081
Fuel Injection Pump (4D94LE) 01-1015 01- 087
Fuel Injection Valve (4D94LE) 01-1020 01- 089
Fuel Filter (4D94LE) 01-1025 01- 091
Starting Motor (4D94LE) 01-1030 01- 093
Alternator – STD (4D94LE) 01-1035 01- 095
Alternator – UL-DS (4D94LE) 01-1040 01- 097
Gasket Set (4D94LE) 01-1045 01- 099
CHAPTER 03 – EXHAUST SYSTEM
Muffler & Exhaust – (K21/K25 Pneumatic) 03-0001 03- 01
Muffler & Exhaust – (K21/K25 Cushion) 03-0002 03- 03
Muffler & Exhaust – (4D94LE) 03-0003 03- 05
CHAPTER 04 – COOLING SYSTEM
Radiator – (K21/K25) 04-0001 04- 01
Radiator – (4D94LE) 04-0002 04- 03
Radiator Shroud & Hoses – (K21/K25) 04-0010 04- 05
Radiator Shroud & Hoses – All Except 3 5T Diesel – (4D94LE) 04-0011 04- 07
Radiator Shroud & Hoses – 3 5T Diesel (4D94LE) 04-0012 04- 09
Radiator Back Cover (All Models) 04-0015 04- 011
Cooling System Reserve Tank – (K21/K25) 04-0020 04 013
Cooling System Reserve Tank – (4D94LE) 04-0021 04- 015
TorCon Cooler & Piping – (K21) 04-0050 04- 017
TorCon Cooler & Piping – (K25) 04-0051 04- 019
TorCon Cooler & Piping – All Diesel Except 3 2 & 3 5T – (4D94LE) 04-0055 04- 021
TorCon Cooler & Piping – 3 2 & 3 5T Diesel – (4D94LE) 04-0056 04- 023
CHAPTER 05 – FUEL SYSTEM – GAS
Fuel System – Gasoline – Tank – (K21/K25) 05-0001 05- 01
Fuel System – Diesel – Tank – (4D94LE) 05-0002 05- 03
Fuel System – Diesel – Tank Unit – (4D94LE) 05-0003 05- 05
CHAPTER 06 – FUEL SYSTEM – LPG & DUAL-FUEL
LPG Fuel System – Overview 06-0001 06- 01
LPG Fuel System – Clips & Clamps 06-0002 06- 03
LPG Fuel System – LPG Gas Hose Assy 06-0010 06- 05
CHAPTER 13 – TORQUE CONVERTER
Torque Converter – Mounting & Inner Parts 13-0001 13- 01
Converter & Pump Detail – (All Models Except Export) 13-0002 13- 03
Converter & Pump Detail – (Export Only) 13-0003 13- 07
CHAPTER 15 – TORQFLOW TRANSMISSION
Unit Assy & Case 15-0001 15- 01
Input & Idler Assy (All Except 3 2 & 3 5T) 15-0002 15- 03
Input & Idler Assy (3 2 & 3 5T) 15-0003 15- 07
Valve Assy 15-0004 15- 011
Valve Assy Detail 15-0005 15- 013
Solenoid Valve Parts 15-0006 15- 015
External Case Parts 15-0007 15- 017
Universal Joint 15-0010 15- 019
3
CHAPTER 21 – DRIVE AXLE
Drive Axle Assy – (2 0 & 2 5T Pneumatic) 21-0001 21- 01
Drive Axle Assy – (2 8 & 3 0T Pneumatic) 21-0002 21- 03
Drive Axle Assy – (3 2 & 3 5T Pneumatic) 21-0003 21- 05
Drive Axle Assy – (Cushion) 21-0010 21- 07
Drive Axle Assy – Detail – (Cushion) 21-0011 21- 09
Differential Gear Assy – (All) 21-0050 21- 011
Differential – Coupling Shaft – (All) 21-0100 21- 015
CHAPTER 24 – STEER AXLE
Steering Axle Assy – (Pneumatic) 24-0001 24- 01
Steering Axle Assy – Detail – (Pneumatic) 24-0002 24- 05
Steering Axle Assy – (Cushion) 24-0003 24- 09
Steering Axle Assy – Detail – (Cushion) 24-0004 24- 011
Stabilizer Assy (FG) 24-0010 24- 013
CHAPTER 27 – FRONT (DRIVE) WHEELS & TIRES
Front Wheels & Tires – (Cushion) 27-0001 27- 01
Front Wheels & Tires – (Pneumatic) 27-0002 27- 03
CHAPTER 28 – REAR (STEERING) WHEELS & TIRES
Rear Wheels & Tires – (Cushion) 28-0001 28- 01
Rear Wheels & Tires – (Pneumatic) 28-0002 28- 03
CHAPTER 30 – BRAKES, SERVICE / PARKING
Brake System – Service – (2 0 & 2 5T Pneumatic) 30-0001 30- 01
Brake System – Service – (3 0T Pneumatic) 30-0002 30- 05
Brake System – Service – (3 2 & 3 5T Pneumatic) 30-0003 30- 09
Brake System – Service – (Cushion) 30-0010 30- 013
Brake System – Service – (Cushion – Wheel Cyl ) 30-0010A 30- 017
Brakes – Service – Master Cyl & Piping, Front (All Except 3 2 & 3 5T) 30-0050 30- 019
Brakes – Power – Booster Assy & Piping, Front (3 2 & 3 5T) 30-0051 30- 021
Brakes – Master Cylinder – Exploded View (All Except 3 2 & 3 5T) 30-0055 30- 023
Brakes – Booster Assy – Exploded View (3 2 & 3 5T) 30-0056 30- 027
Parking Brake Lever Assy W/ Alarm 30-0060 30- 029
CHAPTER 33 – STEERING HANDWHEEL
Steering Wheel 33-0001 33- 01
CHAPTER 34 – STEERING COLUMN & WHEEL ASSEMBLY
Steering Column – Power Steering Valve 34-0001 34- 01
CHAPTER 36 – PEDALS, BRAKE & INCHING
Inching & Brake Pedals – Torqflow Spec – 36-0001 36- 01
CHAPTER 37 – PEDAL, ACCELERATOR
Accelerator Pedal – (FG Models) 37-0001 37- 01
Accelerator Pedal Assy – (FD Models) 37-0002 37- 03
CHAPTER 41 – FRAME AND CHASSIS
Frame Assy 41-0001 41- 01
Frame Assy – Rear View 41-0002 41- 03
Frame Assy – Tilt Accessories 41-0003 41- 05
Frame – Fuel Cover (LPG Models) 41-0010 41- 07
Frame – Fuel Cap(Except UL-S) 41-0011 41- 09
Frame – Fuel Cap (UL-S) 41-0012 41- 011
Frame – Under Cover Bracket 41-0020 41- 013
CHAPTER 43 – COUNTERWEIGHTS & SUBWEIGHTS
Counterweights 43-0001 43- 01
Sub-Weights 43-0010 43- 03
CHAPTER 50 – OUTER PANEL, OVERHEAD GUARD, OPERATOR COMPARTMENT
Seats, Operator's 50-0001 50- 01
Insulator Assy – Frame – (Pneumatic) 50-0050 50- 05
Insulator Assy – Frame – (Cushion) 50-0051 50- 07
Insulator Assy – Step, Sub-Bonnet, Radiator 50-0052 50- 09
Dashboard 50-0100 50- 011
Dashboard & Step Covers, External 50-0101 50- 013
Overhead Guard 50-0200 50- 015
Overhead Guard – Mounts 50-0201 50- 017
Sub-Bonnet 50-0301 50- 019
CHAPTER 55 – ELECTRICAL SYSTEM
Engine Area / Speed Sensor – (K21/K25) 55-0001 55- 01
Attachments – Battery Holder – (K21/K25) 55-0002 55- 03
Attachments – Condenser – (K21/K25) 55-0003 55- 05
Attachments – Battery – (K21/K25) 55-0004 55- 07
E/G Harness / Relays / Fuse Box – (K21/K25) 55-0010 55- 09
Komatsu Operator Presence System (K O P S ) – Relays – (K21/K25) 55-0011 55- 011
Bonnet Sub-Assy – Seat Switch (All Models) 55-0020 55- 013
Dashboard – (K21/K25) w/o Power Brakes 55-0030 55- 015
Dashboard – (K25) w/ Power Brakes 55-0031 55- 017
Electrical – UL-S (GS & LPS) – (K21/K25) – Part 1 55-0040 55- 019
Electrical – UL-S (GS & LPS) – (K21/K25) – Part 2 55-0041 55- 021
Head Lamps 55-0250 55- 023
Front Combination Lamps 55-0251 55- 025
Rear "LED" Combination Lamp 55-0252 55- 029
Engine Control Unit (ECU) – (K21/K25) 55-0400 55- 031
LP Driver / SSC Speed Control – (K21/K25) 55-0410 55- 033
K O P S Controller – Frame 55-0420 55- 035
Engine Harness – (4D94LE) 55-0500 55- 037
Attachments – Battery – (4D94LE) 55-0504 55- 039
Dashboard – (4D94LE) 55-0530 55- 041
Electrical – UL-S (DS) – (4D94LE) – Part 1 55-0540 55- 043
Electrical – UL-S (DS) – (4D94LE) – Part 2 55-0541 55- 045
CHAPTER 56 – METER PANEL
Meter Panel Assy & Combination Switch 56-0001 56- 01
Meter Panel Display 56-0002 56- 03
Meter Panel – Bulbs & Detail 56-0003 56- 05
CHAPTER 60 – HYDRAULIC PUMP
Hydraulic Pump (FG) 60-0001 60- 01
Hydraulic Pump (FG) – Detail (K21 Engine) 60-0002 60- 03
Hydraulic Pump (FG) – Detail (K25 Engine) 60-0003 60- 05
Hydraulic Pump (All FD Except 3 5 Ton)) 60-0010 60- 07
Hydraulic Pump (3 5 Ton FD) 60-0011 60- 09
CHAPTER 61 – HYDRAULIC CONTROL VALVE
Hydraulic C/V & Conversion Kit 61-0001 61- 01
Hydraulic C/V 3-Spool – Detail 61-0001A 61- 03
Hydraulic C/V 4-Spool – Detail 61-0001B 61- 05
Hydraulic Control Valve Lever Assy 61-0010 61- 07
Hydraulic Control Valve Piping – 3-Spool (Except 3 5T) 61-0020 61- 09
Hydraulic Control Valve Piping – 3-Spool (3 5T) 61-0021 61- 011
CHAPTER 64 – TILT CYLINDER
Tilt Cylinders – (All) 64-0001 64- 01
Tilt Cylinder Detail – (2 0 & 2 5T Pneumatic) 64-0001A 64- 05
Tilt Cylinder Detail – (2 8, 3 0, 3 2 & 3 5T Pneumatic) 64-0001B 64- 09
Tilt Cylinder Detail – (2 0 & 2 5T Cushion) 64-0001C 64- 011
Tilt Cylinder Detail – (2 8, 3 0, 3 2T Cushion) 64-0001D 64- 015
Tilt Cylinder Boot Assy 64-0010 64- 017
CHAPTER 65 – POWER STEERING CYLINDER
Power Steering Cylinder Assy – (Pneumatic) 65-0001 65- 01
Power Steering Cylinder Assy – (Cushion) 65-0002 65- 03
CHAPTER 66 – HYDRAULIC SYSTEMS
Power Steering Cyl Piping 66-0001 66- 01
Power Steering Pump Return 66-0010 66- 03
Hydraulic System – Tank Cover w/o Power Brakes 66-0020 66- 05
Hydraulic System – Tank Cover w/ Power Brakes – (3 5T) 66-0021 66- 07
Hydraulic Piping – Return Lines 66-0031 66- 09
Hydraulic Pump Piping – (Std FG w/o Power Brakes) 66-0041 66- 011
Hydraulic Pump Piping – (FG Pneumatic w/ Power Brakes) 66-0042 66- 013
Hydraulic Pump Piping – (Std FD w/o Power Brakes) 66-0051 66- 015
Hydraulic Pump Piping – (FD w/ Power Brakes) 66-0052 66- 017
Hydraulic Control Valve Piping 66-0061 66- 019
Hydraulic Piping – Lift Piping at Control Valve (& Accumulator) 66-0071 66- 021
Hydraulic Tilt Piping 66-0081 66- 023
Hydraulic Power Brake Piping – Part 1 66-0091 66- 025
Hydraulic Power Brake Piping – Part 2 66-0092 66- 027
Hydraulic Power Brake Piping – Part 3 66-0093 66- 029
CHAPTER 72 – MASTS
Mast Bushings 72-0000 72- 01
E50-MD Dual Mast
Safety Decals 72-0010 72- 03
Main Lift Cylinder – Left Side 72-0020 72- 05
Main Lift Cylinder – Right Side 72-0021 72- 07
Free Lift Cylinder 72-0025 72- 09
Uprights / Weldments 72-0030 72- 011
Carriage – 4-Roller 72-0040 72- 013
Carriage – 6-roller 72-0045 72- 015
Hoist Chains 72-0050 72- 017
Load Backrest 72-0060 72- 019
Mounting Parts – Cushion Tire Trucks 72-0070 72- 021
Mounting Parts – Pneumatic Tire Trucks 72-0071 72- 023ff
Lowering Control Valve 72-0085 72- 025
Internal Hose Reeving – Single Function (Pneumatic) 72-0090 72- 027
Internal Hose Reeving – Single Function (Cushion) 72-0091 72- 031
Internal Hose Reeving – Double Function (Pneumatic) 72-0095 72- 035
Internal Hose Reeving – Double Function (Cushion) 72-0096 72- 039
Recommended Stock List (RSL) 72-0099 72- 043
E50-MS 2-Stage Mast
Safety Decals 72-0100 72- 047
Main Lift Cylinders 72-0200 72- 049
Outer Upright 72-0300 72- 051
Inner Upright 72-0360 72- 053
Carriage – 4-Roller 72-0400 72- 055
Carriage – 6-roller 72-0450 72- 057
Hoist Chains 72-0500 72- 059
Load Backrest 72-0600 72- 061
Mounting Parts – Cushion Tire Trucks 72-0700 72- 063
Mounting Parts – Pneumatic Tire Trucks 72-0701 72- 065
Lowering Control Valve 72-0850 72- 067
Internal Hose Reeving – Single Function – 55"-66" OCL (Pneumatic) 72-0900 72- 069
Internal Hose Reeving – Single Function – 67" ~ (Cushion) 72-0901 72- 071
Internal Hose Reeving – Double Function – (Pneumatic) 72-0950 72- 073
Internal Hose Reeving – Double Function – (Cushion) 72-0951 72- 075
Recommended Stock List (RSL) 72-0999 72- 077
E50-MT 3-Stage Mast
Safety Decals 72-1100 72- 081
Main Lift Cylinders 72-1200 72- 083
Free Lift Cylinder 72-1250 72- 085
Outer Upright 72-1300 72- 087
Intermediate Upright 72-1330 72- 089
Inner Upright 72-1360 72- 091
Carriage – 4-Roller 72-1400 72- 093
Carriage – 6-Roller 72-1450 72- 095
Hoist Chains & Free Lift Hose 72-1500 72- 097
Load Backrest 72-1600 72- 099
Mounting Parts – Cushion Tire Trucks 72-1700 72- 101
Mounting Parts – Pneumatic Tire Trucks 72-1701 72- 103
Lowering Control Valve 72-1850 72- 105
Internal Hose Reeving – Single Function – 56"-66" OCL 72-1900 72- 107
Internal Hose Reeving – Single Function – 67" ~ 72-1901 72- 109
Internal Hose Reeving – Double Function 72-1950 72- 111
Recommended Stock List (RSL) 72-1999 72- 115
E60-MS 2-Stage Mast
Safety Decals 72-2100 72- 119
Main Lift Cylinders 72-2200 72- 121
Outer Upright 72-2300 72- 123
Inner Upright 72-2360 72- 125
Carriage – 6-Roller 72-2450 72- 127
Hoist Chains 72-2500 72- 129
Load Backrest 72-2600 72- 131
Installation Components – (Pneumatic) 72-2700 72- 133
Installation Components – (Cushion) 72-2701 72- 135
Lowering Control Valve 72-2850 72- 137
Internal Hose Reeving – Single Function – (Cushion) 72-2900 72- 139
Internal Hose Reeving – Double Function – (Cushion) 72-2950 72- 141
Recommended Stock List (RSL) 72-2999 72- 143
E60-MT 3-Stage Mast
Safety Decals 72-3100 72- 147
Main Lift Cylinder 72-3200 72- 149
Free Lift Cylinder 72-3250 72- 151
Outer Upright 72-3300 72- 153
Intermediate Upright 72-3330 72- 155
Inner Upright 72-3360 72- 157
Carriage – 4-Roller 72-3400 72- 159
Carriage – 6-Roller 72-3450 72- 161
Hoist Chains & Free Lift Hose 72-3500 72- 163
Load Backrest 72-3600 72- 167
Installation Components – (Cushion) 72-3700 72- 169
Installation Components – (Pneumatic) 72-3701 72- 171
Lowering Control Valve 72-3850 72- 173
Internal Hose Reeving – Single Function – 56"-66" OCL 72-3900 72- 175
Internal Hose Reeving – Single Function – 67" OCL ~ 72-3901 72- 179
Internal Hose Reeving – Double Function 72-3950 72- 183
Recommended Stock List (RSL) 72-3999 72- 187
E65-MS 2-Stage Mast
Safety Decals 72-4100 72- 191
Main Lift Cylinders 72-4200 72- 193
Outer Upright 72-4300 72- 195
Inner Upright 72-4360 72- 197
Carriage – 6-Roller 72-4450 72- 199
Hoist Chains 72-4500 72- 201
Load Backrest 72-4600 72- 203
Installation Components – (Cushion) 72-4700 72- 205
Installation Components – (Pneumatic) 72-4701 72- 207
Lowering Control Valve 72-4850 72- 209
Internal Hose Reeving – Single Function 72-4900 72- 211
Internal Hose Reeving – Double Function 72-4950 72- 213
Recommended Stock List (RSL) 72-4999 72- 215
E65-MT 3-Stage Mast
Safety Decals 72-5100 72- 219
Main Lift Cylinder 72-5200 72- 221
Free Lift Cylinder 72-5250 72- 223
Outer Upright 72-5300 72- 225
Intermediate Upright 72-5330 72- 227
Inner Upright 72-5360 72- 229
Carriage – 6-Roller 72-5450 72- 231
Hoist Chains & Free Lift Hose 72-5500 72- 233
Load Backrest 72-5600 72- 235
Installation Components – (Pneumatic) 72-5700 72- 237
Installation Components – (Cushion) 72-5701 72- 239
Lowering Control Valve 72-5850 72- 241
Internal Hose Reeving – Single Function 72-5900 72- 243
Internal Hose Reeving – Double Function 72-5950 72- 245
Recommended Stock List (RSL) 72-5999 72- 249
45D-MQ 4-Stage Quad Mast
Safety Decals 72-6100 72- 253
Main Lift Cylinder – Right Side (See Designated PID #) 72-6200 72- 255
Main Lift Cylinder – Right Side (See Designated PID #) 72-6201 72- 257
Main Lift Cylinder – Right Side (PID # 45D-MQ-6359~) 72-6202 72- 259
Main Lift Cylinder – Left Side (See Designated PID #) 72-6203 72- 261
Main Lift Cylinder – LeftSide (See Designated PID #) 72-6204 72- 263
Main Lift Cylinder – Left Side (PID # 45D-MQ-6359~) 72-6202 72- 265
Free Lift Cylinder – (See Designated PID #) 72-6250 72- 267
Free Lift Cylinder – (See Designated PID #) 72-6251 72- 269
Free Lift Cylinder – (PID # 45D-MQ-6359~) 72-6252 72- 271
Outer Upright – (PID # 45D-MQ-001~) 72-6300 72- 273
Outer Intermediate Upright – (PID # 45D-MQ-001 to 6358) 72-6330 72- 275
Outer Intermediate Upright – (PID # 45D-MQ-6359~) 72-6331 72- 279
Inner Intermediate Upright – (PID # 45D-MQ-001~) 72-6340 72- 283
Inner Upright – (PID # 45D-MQ-001 to 883) 72-6360 72- 285
Inner Upright – (PID # 45D-MQ-884 to 6358) 72-6361 72- 287
Inner Upright – (PID # 45D-MQ-6359~) 72-6362 72- 289
Carriage – 4-Roller 72-6400 72- 291
Carriage – 6-Roller 72-6450 72- 293
Hoist Chains & Free Lift Hoses – (PID # 45D-MQ-001 to 6358) 72-6500 72- 295
Hoist Chains & Free Lift Hoses – (PID # 45D-MQ-6359~) 72-6501 72- 297
Load Backrest 72-6600 72- 299
Mast Installation Parts 72-6700 72- 301
Lowering Control Valve & Bracket 72-6850 72- 303
Internal Hose Reeving – Single Function – StdVis –
(PID # 45D-MQ-001 to 883) 72-6900 72- 305
Internal Hose Reeving – Single Function – StdVis –
(PID # 45D-MQ-884~) 72-6901 72- 309
Internal Hose Reeving – Single Function – HiVis –
(PID # 45D-MQ-884~) 72-6902 72- 313
Internal Hose Reeving – Single Function – HiVis – Left Side –
(PID # 45D-MQ-884~) 72-6903 72- 317
Internal Hose Reeving – Double Function – StdVis –
(PID # 45D-MQ-001 to 883) 72-6950 72- 321
Internal Hose Reeving – Double Function – StdVis –
(PID # 45D-MQ-884) 72-6951 72- 325
Internal Hose Reeving – Double Function – HiVis –
(PID # 45D-MQ-884~) 72-6952 72- 329
Internal Hose Reeving – Double Function – HiVis – Left Side –
(PID # 45D-MQ-884~) 72-6953 72- 333
Recommended Stock List (RSL) 72-6999 72- 337
55D-MQ 4-Stage Quad Mast
Safety Decals 72-7100 72- 343
Main Lift Cylinder – Right Hand 72-7200 72- 345
Main Lift Cylinder – Left Hand 72-7203 72- 347
Free Lift Cylinder 72-7250 72- 349
Weldments (Uprights) 72-7300 72- 351
4-Roller Carriages 72-7400 72- 355
6-Roller Carriages 72-7450 72- 357
Hoist Chains & Free Lift Hoses 72-7500 72- 359
Load Backrest 72-7600 72- 361
Mast Installation Parts 72-7700 72- 363
Lowering Control Valve & Brackets 72-7850 72- 365
Internal Hose Reeving – Single Function – Standard Mast 72-7900 72- 367
Internal Hose Reeving – Double Function – Standard Mast 72-7950 72- 371
Internal Hose Reeving – Single Fuction – Hi-Visibility Mast 72-7955 72- 375
Internal Hose Reeving – Double Function – Hi-Visibility Mast 72-7960 72- 379
Internal Hose Reeving – Single Function – Hi-Vis – Left Hand Only 72-7970 72- 383
Internal Hose Reeving – Double Function – Hi-Vis – Left Hand Only 72-7975 72- 387
Recommended Stock List (RSL) 72-7999 72- 391
CHAPTER 83 – OPTIONS
Strobe Light 83-0001 83- 01
Back-up Buzzer 83-0002 83- 03
Protector, Under-Carriage 83-0003 83- 05
Protector, Under-Carriage – Detail 83-0003A 83- 07
Options – Misc 83-0010 83- 09
CHAPTER 93 – FORKS
Forks 93-0001 93- 01
CHAPTER 96 – NAME PLATES AND DECALS
Top and Side Views – 96-0001 96- 01
Rear View & Detail – 96-0002 96- 05
Misc Locations (Dashboard, Counterweight, Mast) 96-0003 96- 09
CHAPTER 98 – PAINT
Paint – 98-0001 98- 01
CHAPTER 99 – APPENDIX – NUMERICAL PARTS INDEX
Numerical Parts Index – BX50 99-0000 99- 01
SCREENSHOT OF THE MANUAL: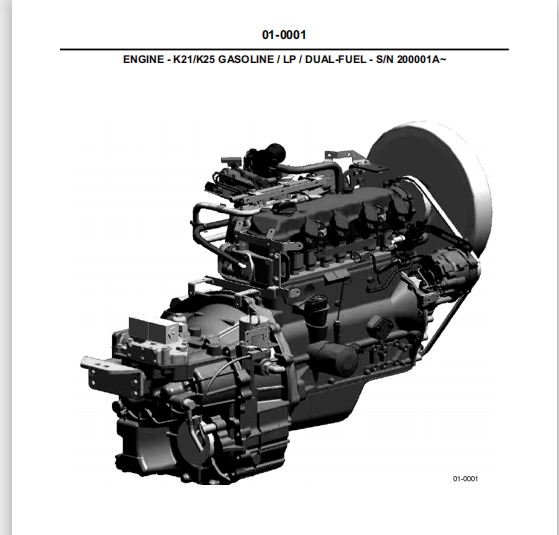 VIDEO PREVIEW:
PLEASE NOTE:
⦁ This is the same manual used by the dealers to diagnose and troubleshoot your vehicle
⦁ You will be directed to the download page as soon as the purchase is completed. The whole payment and downloading process will take anywhere between 2-5 minutes
⦁ Need any other service / repair / parts manual, please feel free to contact [email protected] . We still have 50,000 manuals unlisted