Kohler Motor Engine Service Repair Manual
FILE DETAILS:
LANGUAGE:ENGLISH
PAGES:2127
DOWNLOADABLE:YES
FILE TYPE:PDF
VIDEO PREVIEW OF THE MANUAL:
IMAGES PREVIEW OF THE MANUAL: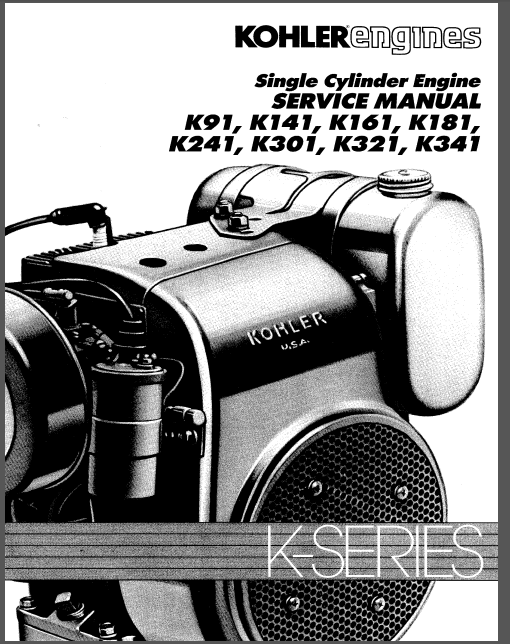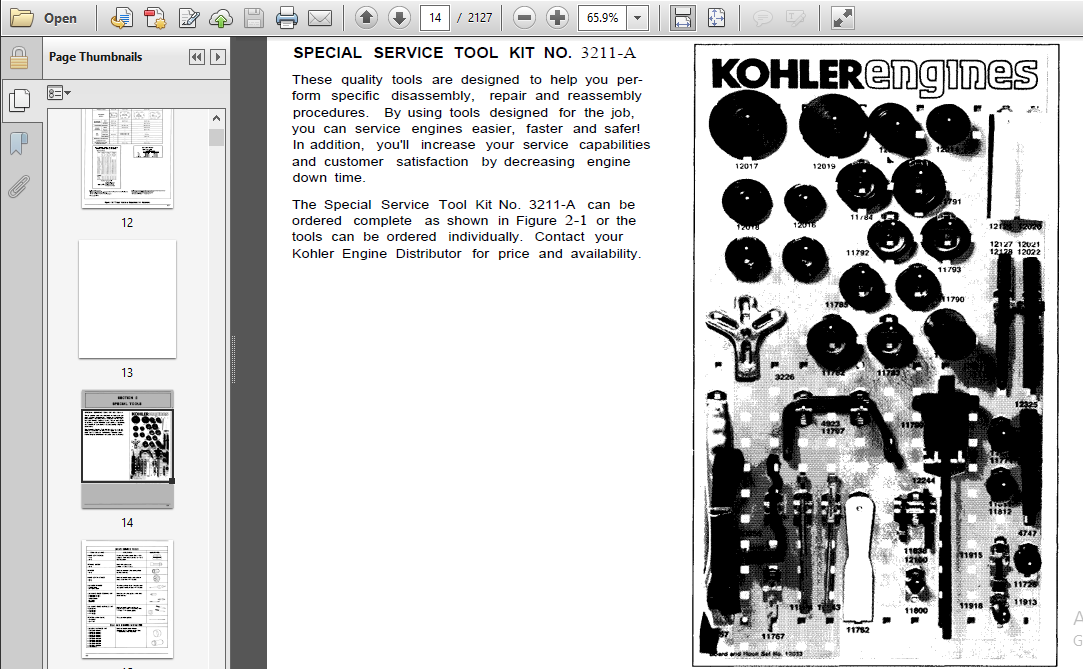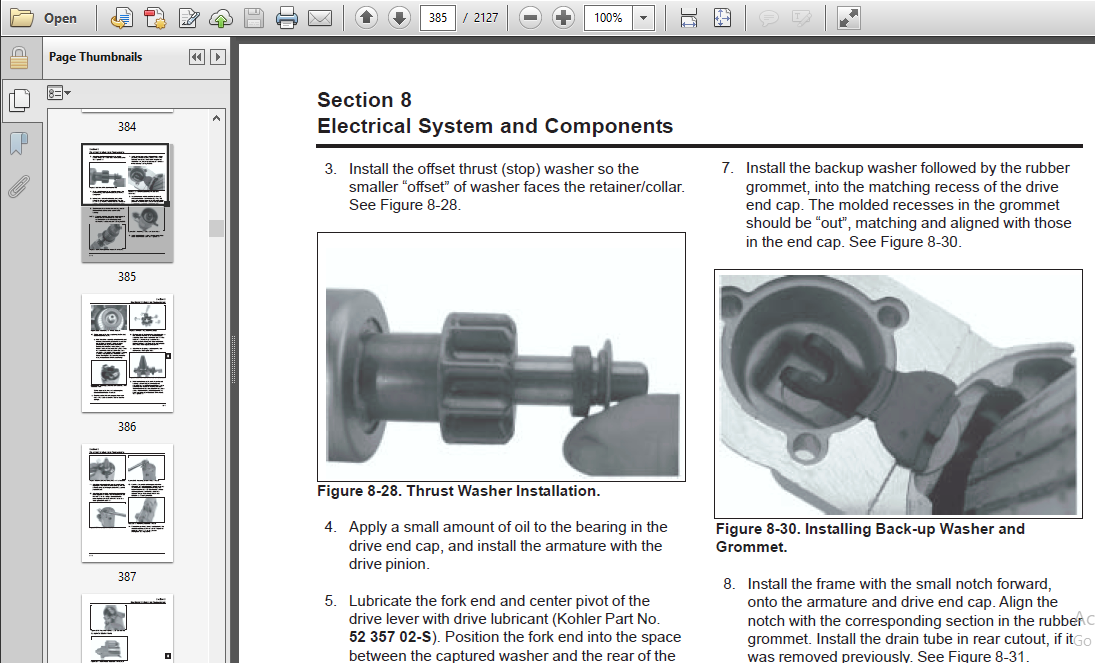 DESCRIPTION:
Kohler Motor Engine Service Repair Manual
CLEANING THE ENGINE:
After inspecting the external condition of the engine, clean it thoroughly before disassembling. Also clean individual components as the engine is disassembled. Only clean parts can be accurately inspected and gauged for wear or damage. There are many commercially available cleaners that quickly remove grease, oil and grime from engine parts. When such a cleaner is used, follow the manufacturer's instructions carefully. Make sure all traces of the cleaner are removed before the engine is reassembled and placed in operation. Even small amounts of these cleaners quickly break down the lubricating properties of engine oil.
BASIC ENGINE TESTS:
Fuel System Test To determine if fuel is getting to the carburetor, disconnect the fuel line at inlet to carburetor – if fuel does not flow out of line, check system back to tank for clogged lines, wrong (unvented) filler cap, blocked filter screen, faulty fuel pump, etc. If fuel is getting as far as the carburetor, remove the spark plug, crank engine and check for fuel inside combustion chamber. If no fuel is present here, check for faulty carburetor.
Ignition System:
Test To determine if the ignition system is good, remove the spark plug and place plug with side electrode against cylinder head then crank engine at sufficient speed to produce a good spark. If a sharp, snappy spark is noted, this eliminates the ignition system components as the causeI although the ignition timing could be off. If no spark or a weak spark is produced, check the ignition system further. If points are pitted, donI t attempt to service them – replace points in bad shape. Dirty points may be cleaned. A bad condenser will cause premature failure of points. Check the breaker push rod for evidence of binding or sticking – replace as needed. Condenser can be tested on commercial tester per tester manufacturer's instructions. Check ignition coil on coil tester for continuity.
TABLE OF CONTENTS:
Kohler Motor Engine Service Repair Manual
SECTION1 General Information
SECTION2 Special Tools
SECTION3 Periodic Maintenance
SECTION4 Troubleshooting
SECTION5 Air Cleaner And Air Intake System
SECTION6 Fuel System And Governor
SECTION7 Retractable Starters
SECTION8 Electrical Systems And Components
SECTION9 Automatic Compression Release
SECTION10 Disassembly I •••••••••••••••••••••••••••
SECTION11 Inspection and Repair
SECTION12 Reassembly ,
PLEASE NOTE:
This is the same manual used by the dealers to diagnose and troubleshoot your vehicle
You will be directed to the download page as soon as the purchase is completed. The whole payment and downloading process will take anywhere between 2-5 minutes
Need any other service / repair / parts manual, please feel free to contact [email protected] . We still have 50,000 manuals unlisted