Kawasaki Kx80 Kx100 Service Manual Repair 1991 – 1997 Kx 80 Kx 100
FILE DETAILS:
LANGUAGE:ENGLISH
PAGES:220
DOWNLOADABLE:YES
FILE TYPE:PDF
VIDEO PREVIEW OF THE MANUAL:
IMAGES PREVIEW OF THE MANUAL: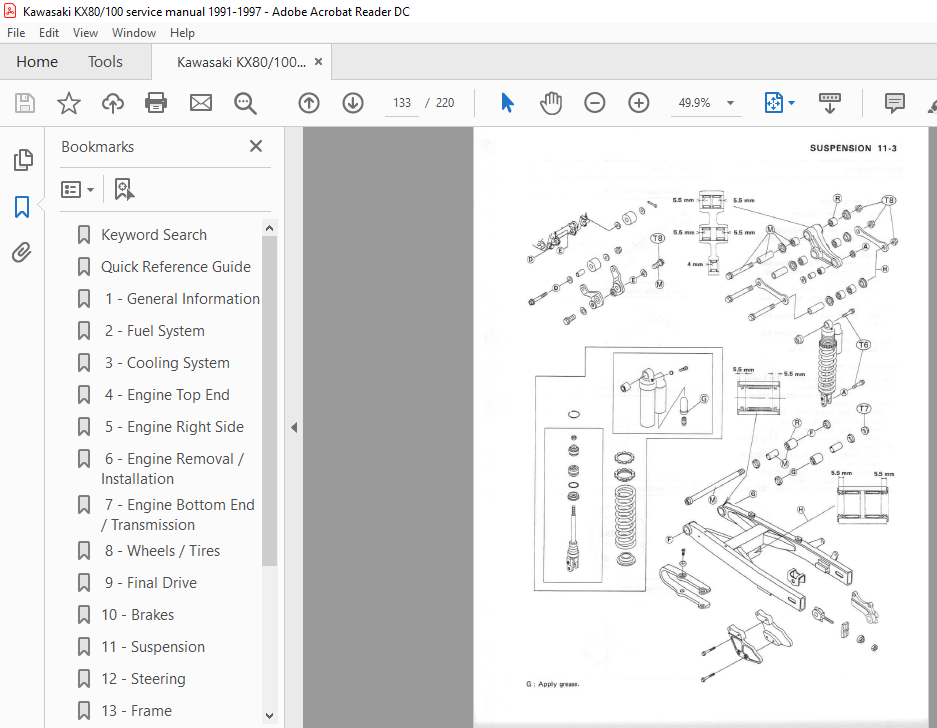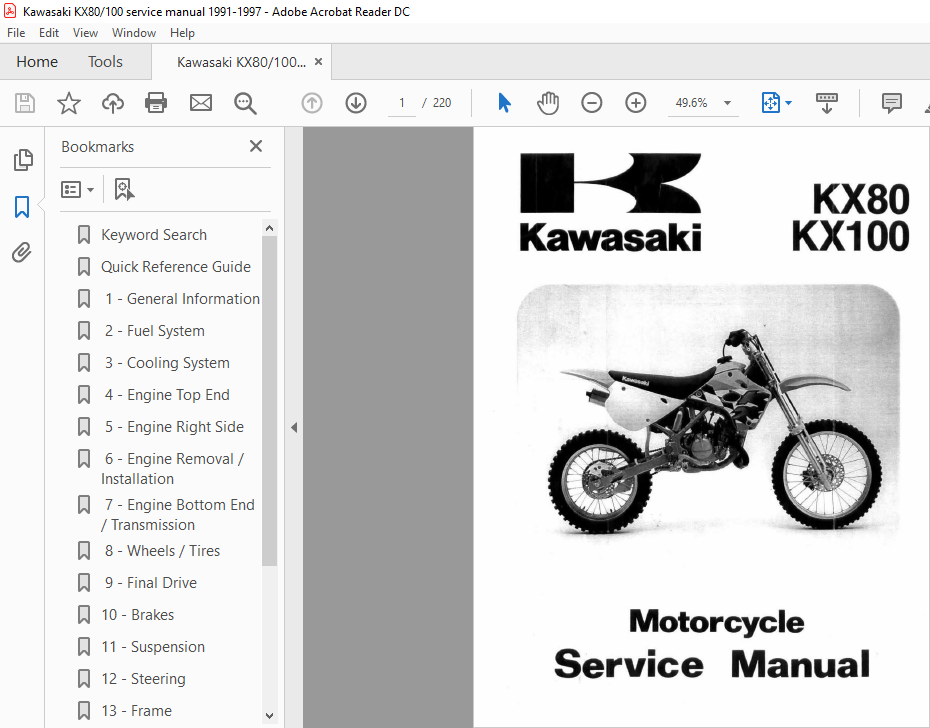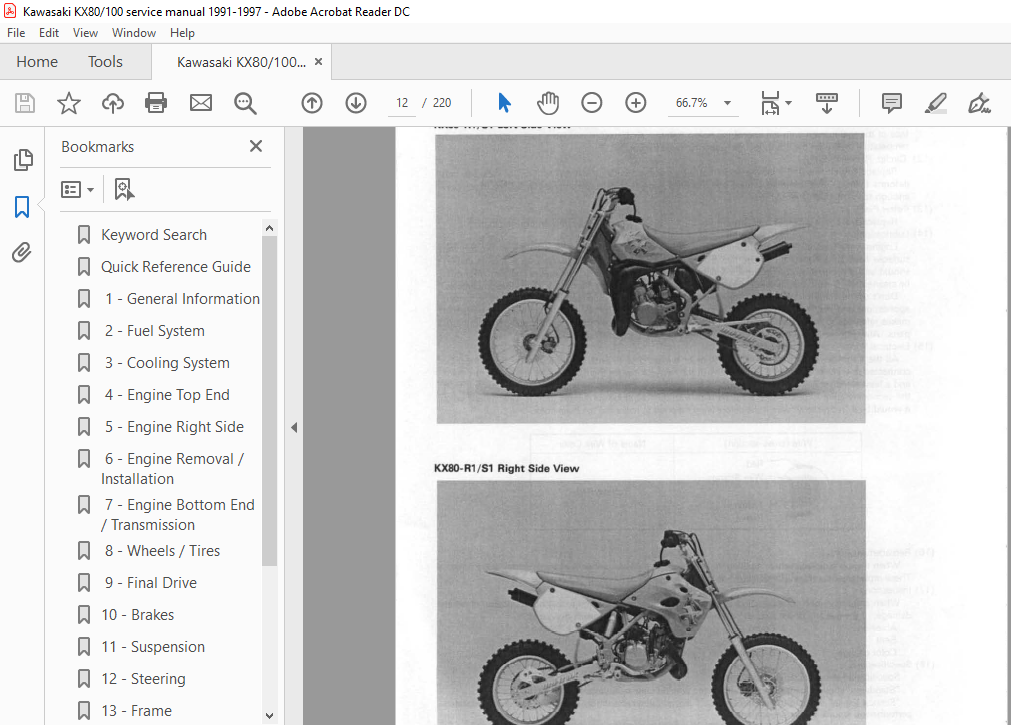 DESCRIPTION:
Kawasaki Kx80 Kx100 Service Manual Repair 1991 – 1997 Kx 80 Kx 100
Foreword :
This manual is designed primarily for use by trained mechanics in a property equipped shop. However, it contains enough detail and basic information to make it useful to the owner who desires to perform his own basic maintenance and repair work. A basic knowledge of mechanics, the proper use of tools, and workshop procedures must be understood in order to carry out maintenance and repair satisfactorily.
Whenever the owner has insufficient experience or doubts his ability to do the work, all adjustments. maintenance, and repair should be carried out only by qualified mechanics. In order to perform the work efficiently and to avoid costly mistakes. read the text, thoroughly familiarize yourself with the procedures before starting work. and then do the work carefully in a clean area.
Whenever special tools or equipment are specified. do not use makeshitt tools or equipment. Precision measurements can only be made if the proper instruments are used, and the use of substi tute tools may adversely affect safe operation . We recommend that all repairs and scheduled maintenance be performed in accordance with this service manual. To get the longest life out of your motorcycle:
 Follow the Periodic Maintenance Chart in the Service Manual. .Be alert for problems and non-scheduled maintenance .
 Use proper tools and genuine Kawasaki Motorcycle parts. Special tools, gauges. and testers that are necessary when servicing Kawasaki motorcycles are introduced by the Special Tool Manual. Genuine parts provided as spare parts are listed in the Parts Catalog. .Follow the procedures in this manual carefully. Don't take shortcuts.
 Remember to keep complete records of maintenance and repair with dates and any new parts installed.
How to Use this Manual :
In preparing this manual. we divided the product into its major systems. These systems became the manual's chapters. All information for a particular system from adjustment through disassembly and inspection is located in a single chapter. The Quick Reference Guide shows you all of the product's system and assists in locating their chapters. Each chapter in turn has its own comprehensive .
The Periodic Maintenance Chart is located in the General Information chapter. The chait gives a time schedule for required maintenance operations. If you want spark plug information. for example, go to the Periodic Maintenance Chart first. The chart tells you how frequently to clean and gap the plug. Next. use the Quick Reference Guide to locate the Electrical System chapter. Then. use the Table of Contents on the first page of the chapter to find the Spark Plug section .
TABLE OF CONTENTS:
Kawasaki Kx80 Kx100 Service Manual Repair 1991 – 1997 Kx 80 Kx 100
Keyword Search...........................  0
Quick Reference Guide....................  3
 1 - General Information.................  9
 2 - Fuel System......................... 27
 3 - Cooling System...................... 43
 4 - Engine Top End...................... 53
 5 - Engine Right Side................... 65
 6 - Engine Removal / Installation....... 79
 7 - Engine Bottom End / Transmission.... 83
 8 - Wheels / Tires...................... 97
 9 - Final Drive.........................107
10 - Brakes..............................115
11 - Suspension..........................131
12 - Steering............................153
13 - Frame...............................161
14 - Electrical System...................165
	Wiring Diagram.......................167
15 - Appendix............................177
Supplement for 1992-1996 Models..........183
Supplement for 1997 Models...............207

PLEASE NOTE:
This is the SAME exact manual used by your dealers to fix your vehicle.
The same can be yours in the next 2-3 mins as you will be directed to the download page immediately after paying for the manual.
Any queries / doubts regarding your purchase, please feel free to contact [email protected]