Jungheinrich Electric Reach Truck Etr230 Etr235 Etr335d Etr340 Etr345 Workshop Service Manual
Covered models: ETR230 (from 05.2014) ETR235 (from 05.2014) ETR335D (from 05.2014) ETR340 (from 05.2014) ETR345 (from 05.2014)
FILE DETAILS:
LANGUAGE:ENGLISH
PAGES:400+
DOWNLOADABLE:YES
FILE TYPE:PDF
VIDEO PREVIEW OF THE MANUAL:
IMAGES PREVIEW OF THE MANUAL: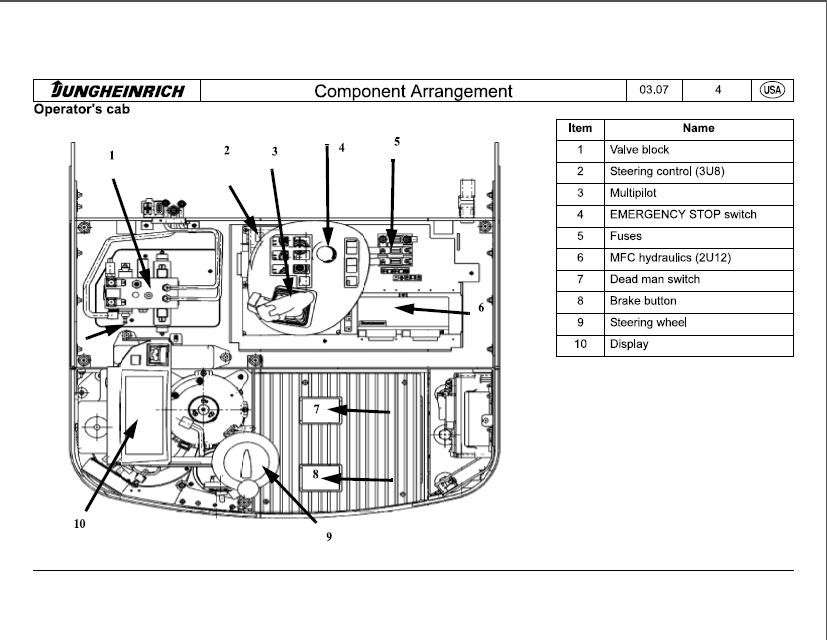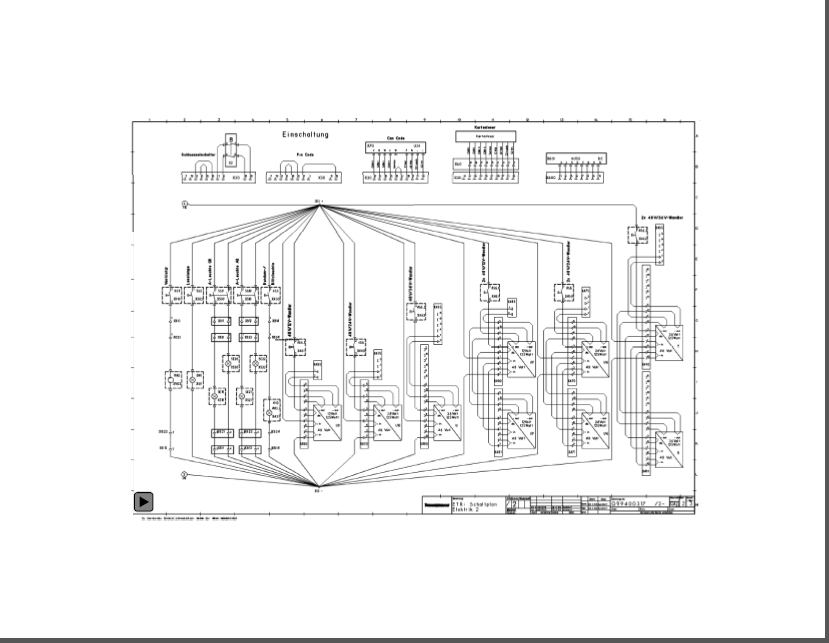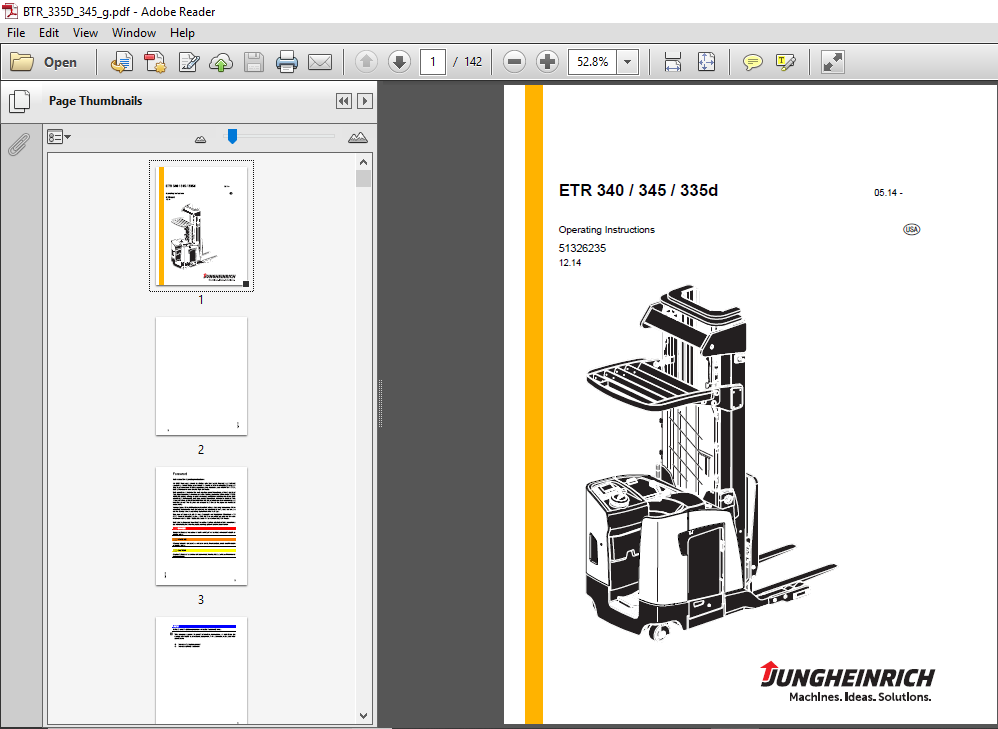 DESCRIPTION:
Jungheinrich Electric Reach Truck Etr230 Etr235 Etr335d Etr340 Etr345 Workshop Service Manual
Foreword :
United States users should be familiar with the Occupational Safety and Health Administration (OSHA) regulations and standards, and ANSI/ITSDF B56.1, Safety Standard for Low Lift and High Lift Trucks. Safe operation of the industrial truck requires special knowledge, which is acquired from these Operating Instructions, from the training required by OSHA under 29 CFR 1910.178, and by training operators in factory installations and their functions.
Safe operation of the industrial truck also requires knowledge that can be acquired from these ORIGINAL OPERATING INSTRUCTIONS. Information is set out concisely and in a clear format. The chapters are arranged by letter and the pages are numbered sequentially.
Various types of industrial trucks are described in these Operating Instructions. When operating the industrial truck and carrying out maintenance work, make certain you use the description corresponding to your industrial truck type.
TABLE OF CONTENTS:
Jungheinrich Electric Reach Truck Etr230 Etr235 Etr335d Etr340 Etr345 Workshop Service Manual
A Compliance with regulations – Legal requirements and common
sense 11
B Recognition and avoidance of risks 13
C Proper use 15
1 General 15
2 Proper use 15
3 Permissible usage conditions 15
4 Duties of the operator 16
5 Adding attachments or optional equipment 17
6 General instructions for operating personnel and the owner 18
7 Stability 20
D Know Your Industrial Truck 21
1 Description of indicators and controls 21
2 Overview of components 23
3 Display unit 24
31 Battery discharge indicator 27
32 Battery discharge monitor 27
4 Technical data 28
41 Performance data 28
42 Weights 30
43 Wheels 30
44 Dimensions 31
45 Battery 34
46 US standards 35
47 Usage conditions 37
48 Electrical requirements 37
5 Position of Labels and Nameplates 38
51 Overview of labels and nameplates 38
52 Nameplate 40
53 Load capacity plate of the industrial truck 41
8
E Operation 43
1 Important general issues affecting safe operation and use of the industrial
truck 43
11 Training, certification, and approval to operate the industrial truck 43
12 Damage and repairs to the industrial truck 46
13 Issues related to the load 47
14 Operating environment 48
15 Safety devices and warning labels 52
2 Setting the display unit 53
3 Preparing the industrial truck for operation 54
31 Daily checks before startup 54
4 Starting the industrial truck 55
41 Safety regulations for industrial truck operators 55
42 Operation of the industrial truck 61
43 Safe loading and transporting 64
44 Reduce risk of a tipover 66
45 Supervising and securing the industrial truck 68
46 Lifting persons with platform 69
47 Preparing for operation 70
48 Emergency stop 71
49 Travel direction definition 72
410 Driving 73
411 Braking 76
412 Steering 79
413 Adjusting the forks 80
414 Lifting 81
415 Tilting 82
416 Sideshifter (o) 83
417 Reach/Retract Forks 84
418 Lifting, transporting, and putting down load 85
419 Operating attachments 88
420 Operating the pantograph 89
421 Emergency lowering 90
422 Parking the industrial truck 91
5 Optional equipment (o) 92
51 Keypad (CanCode) (o) 92
F Battery – maintenance, charging, and changing 107
1 Safety instructions for handling acid-filled batteries 107
11 General information for handling batteries 108
2 Charging the battery 109
3 Removing and installing the battery 110
31 Removing the battery 110
32 Installing the battery 111
9
G Industrial truck maintenance 113
1 Operating safety and environmental protection 113
2 Safety regulations for maintenance 114
3 Maintenance and inspection 118
4 Maintenance check list 119
41 Operator 119
42 Customer service 121
5 Fluid and lubrication chart 124
51 Handling fluid safely 124
52 Lubrication chart 126
53 Fluids 128
6 Description of maintenance and service tasks 129
61 Preparing the industrial truck for maintenance and servicing 129
62 Check the hydraulic oil level 130
63 Checking the electrical fuses 132
7 Long term shutdown of the industrial truck 134
71 Actions to be taken before shutting down the industrial truck 135
72 Actions to be taken during shutdown 135
73 Restarting the industrial truck after shutdown 137
8 Permanent decommission and disposal 138
H Transport and initial startup 139
1 Handling by crane 139
2 Transport 140
3 Initial startup 141
31 Check the supporting rollers/casters before starting up the vehicle 142
Safety instructions
Component Arrangement
Technical data
Circuit diagrams (electrics / hydraulics)
ETRBZOSettIngparametersandoptions
parkingbrake/Magnembrake
Operator display and information unit
Jungheinrich ISM
Access module
Error Messages / Troubleshooting
ECR pin assignment
AS4814i Threephase Controller
Traction and Lift Controller
Connecting the frame and mast
Hydraulic Connector System
Maintenance of Jungheinrich Products
Pantograph lubrication
Steering control AS48032
PLEASE NOTE:
This is not a physical manual but a digital manual – meaning no physical copy will be couriered to you. The manual can be yours in the next 2 mins as once you make the payment, you will be directed to the download page IMMEDIATELY.
This is the same manual used by the dealers inorder to diagnose your vehicle of its faults.
Require some other service manual or have any queries: please WRITE to us at [email protected]