Jungheinrich Electric Lift Truck Efg-df Series 13 15 16 18 20 16l 18l 07 98-12 03 Operating And Maintenance Instructions 
IMAGES PREVIEW OF THE MANUAL: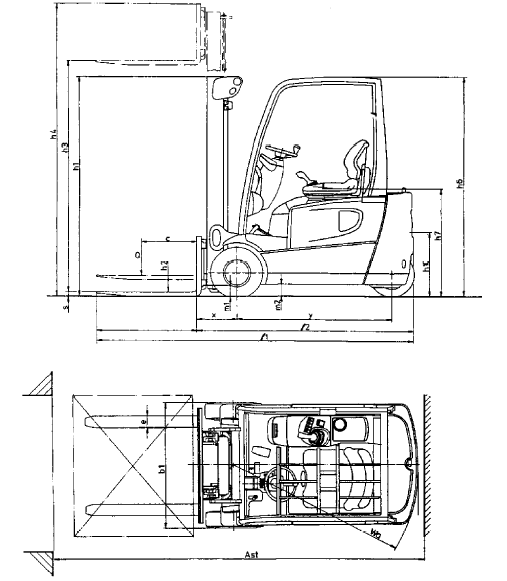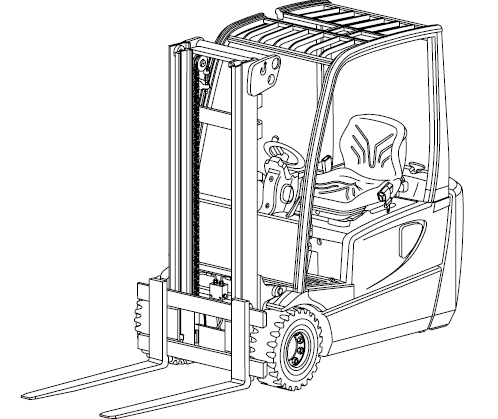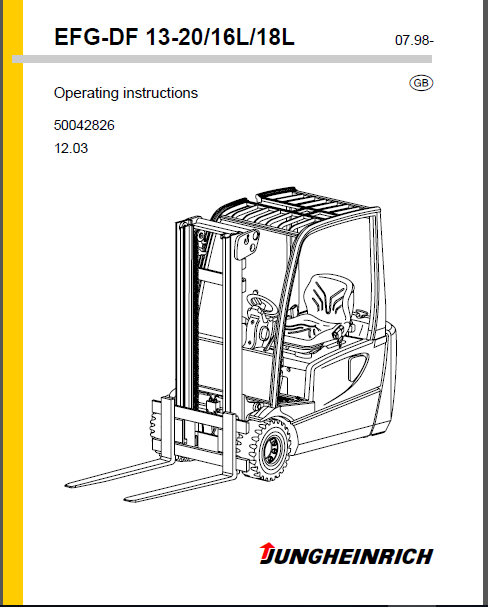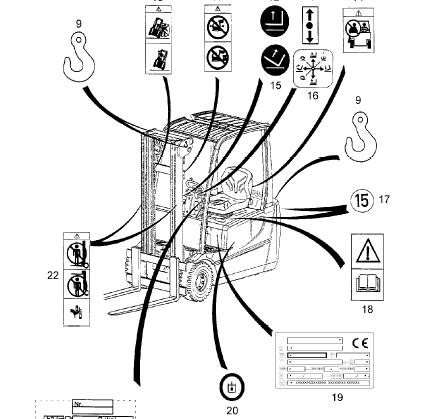 DESCRIPTION:
The present ORIGINAL OPERATING INSTRUCTIONS are designed to provide sufficient instruction for the safe operation of the industrial truck. The information is provided clearly and concisely. The chapters are arranged by letter. Each chapter starts with page 1. The page identification consists of a chapter letter and a page number. For example: Page B 2 is the second page in chapter B. The operating instructions detail different truck models. When operating and servicing the truck, make sure that the instructions apply to your truck model.
TABLE OF CONTENTS:
ACorrectuseandapplicationofthetruck
BTruckdescription
1DescriptionofapplicationB1
2DescriptionofassembliesandfunctionsB2
21DescriptionoftruckB3
3TechnicaldataofstandardversionB4
31TypesofhoistframeB5
32PerformancedataB7
33Weights(allweightsinkg)B8
34TyreequipmentB8
35ENstandardsB9
36ConditionsforapplicationB9
4LocationofinstructionlabelsandidentificationplatesB10
41TruckidentificationplateB11
42CapacitylabelTruckB11
43CapacitylabelForktines(basicdevice)B12
44CapacitylabelAttachmentB12
CTransportationandcommissioning
1TransportationbycraneC1
2FirstcommissioningC1
3MovingofthetruckwithoutowndriveC2
DBattery-Servicing,recharging,replacing
1Safetyregulationsgoverningthehandlingoflead-acidbatteriesD1
2BatterytypesD2
3Openingthebatteryhoodwithsupportsystem(optional)D3
4OpenbatteryhoodD4
5ChargingthebatteryD5
6RemovingandinstallingthebatteryD6
7ClosingbatterycoverD7
8Batterydischargeindicator,batterydischargemonitor,operating
hourmeterD7
I2
EOperation
1SafetyinstructionsforfloorconveyoroperationE1
2DescriptionoftheoperatingcontrolsandindicatorsE2
21DashboardswitchesE4
22OperatingconsoleswitchesE4
3InformationandserviceindicationE5
31InformationindicationE5
32LEDwarningindicatorsE6
33KeyboardassignmentE6
34PlaintextalarmmessagesinthedisplayE7
35IndicationofdrivingprogramsE7
36DisplayindicatorsE8
37ChangingtruckparametersE9
4CommissioningthetruckE10
41Checksandactionsbeforeroutinestart-upE10
42Adjustmentofdriver'sseatE10
43AdjustingthesteeringcolumnE11
44ProvideoperatabilityE11
45SettingthetimeE11
46SafetybeltE12
47Automatic/MechanicalSupportSystem(optional)E14
5WorkingwiththefloorconveyorE16
51SafetyregulationsapplicablewhendrivingthetruckE16
52DrivingE17
53SteeringE20
54BrakingE20
55Operatingtheliftingdeviceandattachments(controllever)E22
56Operatingtheliftingdeviceandattachments(MultiPilot)E23
57Pickingup,transportingandsettingdownofloadsE25
58SafeparkingofthetruckE28
59TrailertowingE28
510TrailerloadsE29
6FaultlocationE30
61TemperaturemonitoringE30
I3
FMaintenanceofthetruck
1OperatingsafetyandenvironmentalprotectionF1
2SafetyregulationsapplicabletotruckmaintenanceF1
3ServicingandinspectionF3
4MaintenancechecklistforEFGDF13/15/16(L)/18(L)/20F4
5LubricationplanforEFG13/15/16(L)/18(L)/20F7
51ConsumptiontypematerialsF8
6DescriptionofservicingoperationsF9
61PreparationofthetruckforservicingandmaintenanceoperationF9
62OpenrearcoverF9
63CheckfixingofthewheelsF9
64DesiredconditionofrearwheelsF9
65CheckhydraulicoillevelF10
66CheckthetransmissionoillevelF11
67LetoffoilF11
68RefilloilF11
69ChangingofhydraulicoilfilterF11
610CheckingthebrakefluidF12
611SafetybeltmaintenanceF12
612CheckingtheelectricfusesF13
613RecommissioningthetruckF14
7DecommissioningthetruckF14
71OperationstobeperformedpriortodecommissioningF14
72MeasurestobetakenduringdecommissioningF14
73RecommissioningthefloorconveyorF15
8Safetycheckstobeperformedatregularintervalsandfollowingany
untowardincidents(D:UVVaccordingtoVBG36)F15
VIDEO PREVIEW OF THE MANUAL: