Jeep Cherokee 1981 – 1986 Parts Manual
FILE DETAILS:
LANGUAGE:ENGLISH
PAGES:1741
DOWNLOADABLE:YES
FILE TYPE:PDF
VIDEO PREVIEW OF THE MANUAL:
IMAGES PREVIEW OF THE MANUAL: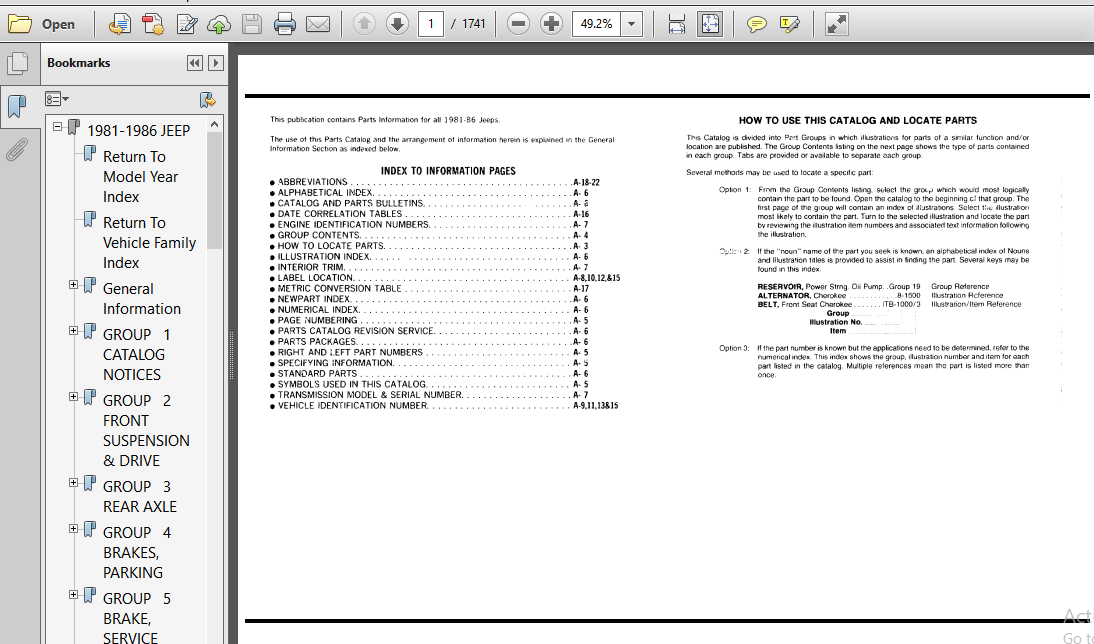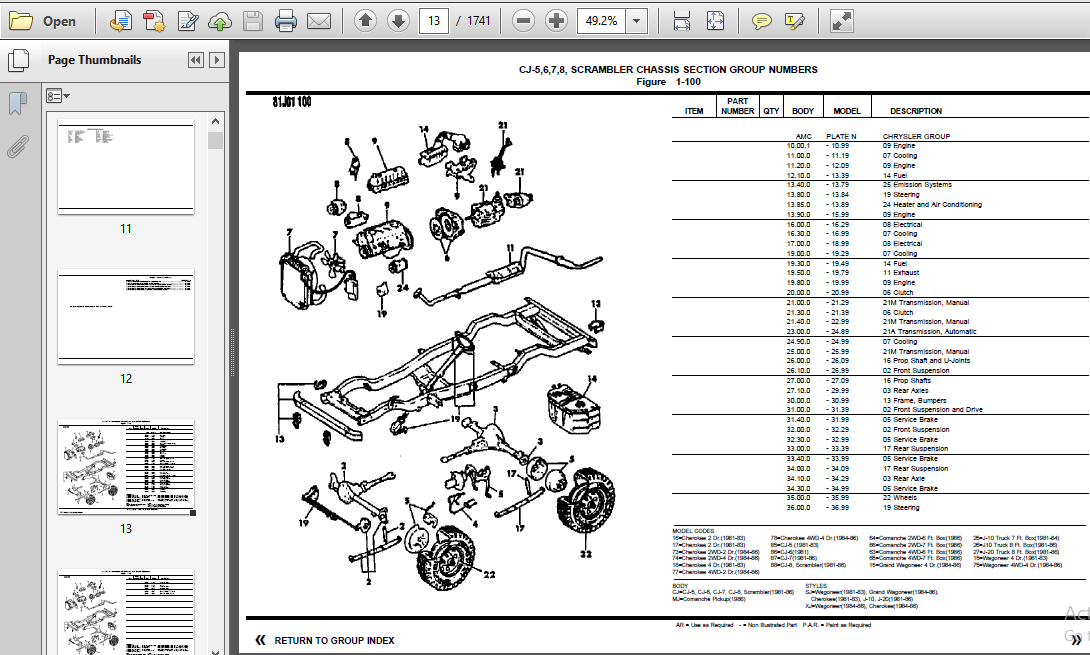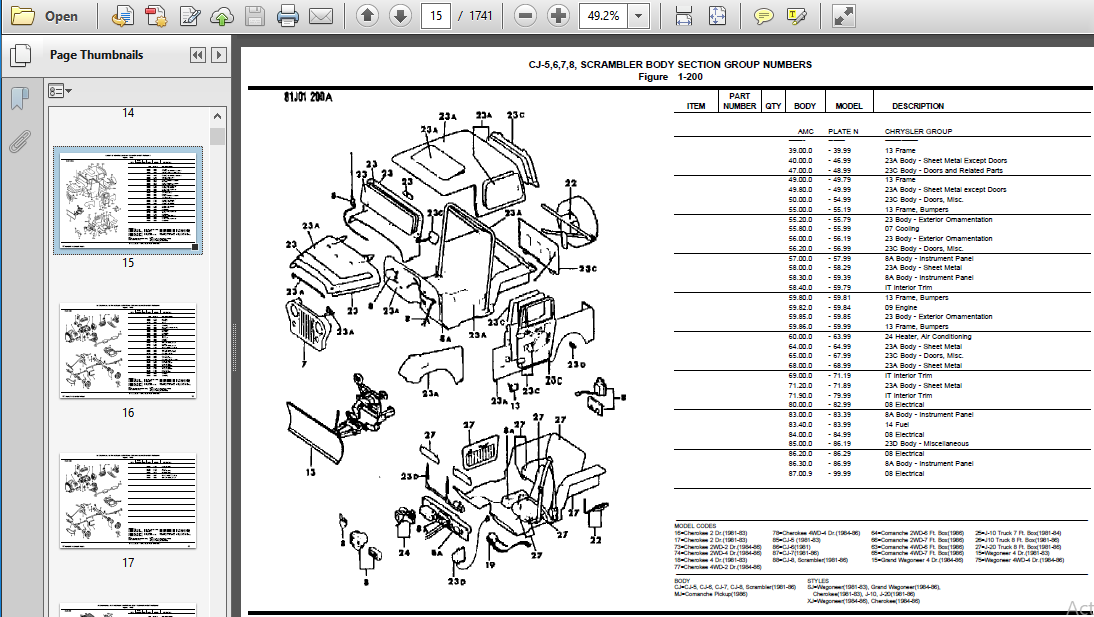 DESCRIPTION:
Jeep Cherokee 1981 – 1986 Parts Manual
HOW TO USE THIS CATALOG AND LOCATE PARTS :
This Catalog is divided into Part Groups in which illustrations for parts of a similar function and/or location are published. The Group Contents listing on the next page shows the type of parts contained in each group. Tabs are provided or available to separate each group.
Several methods may be used to locate a specific part:
Option 1: From the Group Contents listing, select the grow which would most logically contain the part to be found. Open the catalog to the beginning of that group. The first page of the group will contain an index of iltustrations. Select the illustration most likely to contain the part. Turn to the selected illustration and locate the part by reviewing the illustration item numbers and associated text information following the illustration.
Option 2: If the "noun" name of the part you seek is known. an alphabetical index of Nouns and illustration titles is provided to assist in finding the part. Several keys may be found in this index.
Option 3: If the part number is known but the applications need to be determined. refer to the numerical index. This index shows the group. illustration number and item for each part listed in the catalog. Multiple references mean the part is listed more than once.
TABLE OF CONTENTS:
Jeep Cherokee 1981 – 1986 Parts Manual
General Information
GROUP 1 CATALOG NOTICES
GROUP 2 FRONT SUSPENSIONBLDRIVE
GROUP 3 REARAXLE
GROUP 4 BRAKES, PARKING
GROUP 5 BRAKE, SERVICE
GROUP 6 CLUTCH
GROUP 7 COOLING
GROUP 8 ELECTRICAL
GROUP 08A ELECTRICAL – INSTRUMENT PANEL AND C
GROUP 09A ENGINE, 4 CYLINDER
GROUP 098 ENGINE, 6 CYLINDER
GROUP 09C ENGINE, 8 CYLINDER
GROUP 11 EXHAUST
GROUP 13 FRAME & BUMPERS
GROUP 14 FUEL
GROUP 16 PROP. SHAFT AND UNIVERSAL JOINT
GROUP 17 REAR SUSPENSION
GROUP 19 STEERING
GROUP 21M TRANSMISSION, MANUAL
GROUP 21A TRANSMISSION, AUTO.
GROUP 22 WHEELS
GROUP 23 BODY – EXTERIOR ORNAMENTATION
GROUP 23A BODY – SHEET METAL EXCEPT DOORS
GROUP 23C BODY – DOORS AND RELATED PARTS
GROUP 23D WIPER – WASHER AND CYLINDER & KEYS
GROUP 24 HEATER AND AIR CONDITIONING
GROUP 25 EMISSION SYSTEMS
GROUP 46 CJ INTERIOR TRIM
GROUP 47 X) CHEROKEE, XJ WAGONEER, COMANCHE
GROUP 48 SJ CHEROKEE, SJ WAGONEER, J10, J20 End Of Catalog i
PLEASE NOTE:
This is the SAME manual used by the dealers to troubleshoot any faults in your vehicle. This can be yours in 2 minutes after the payment is made.
Contact us at [email protected] should you have any queries before your purchase or that you need any other service / repair / parts operators manual.