Instruktionsbok Volvo Bm 500
FILE DETAILS:
LANGUAGE:SWEDISH
PAGES:36
DOWNLOADABLE:YES
FILE TYPE:PDF
VIDEO PREVIEW OF THE MANUAL:
IMAGES PREVIEW OF THE MANUAL: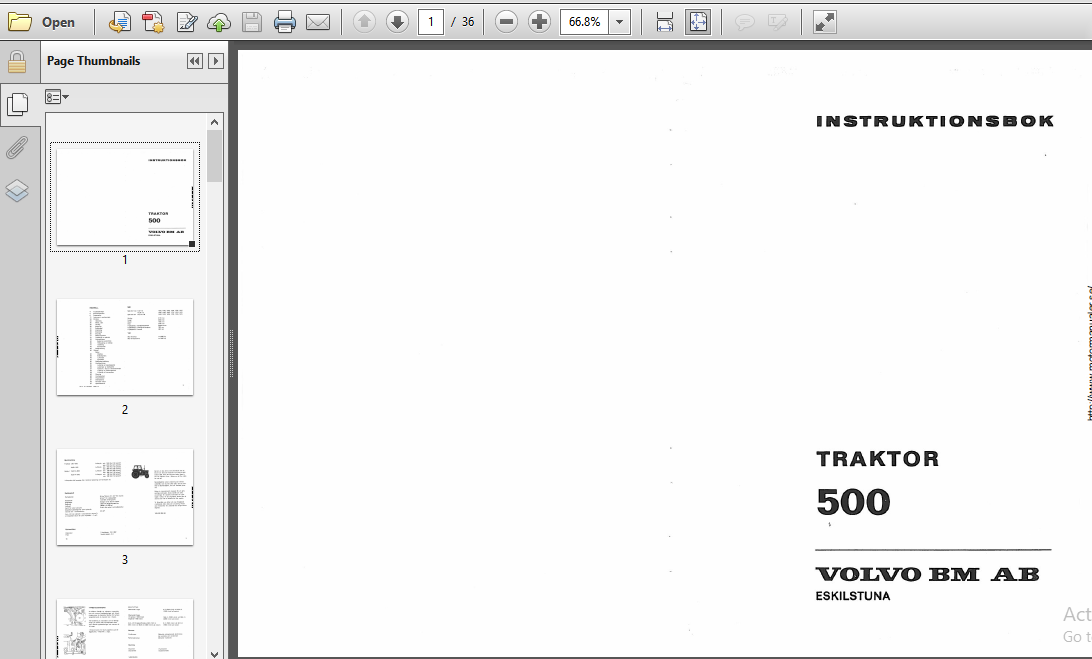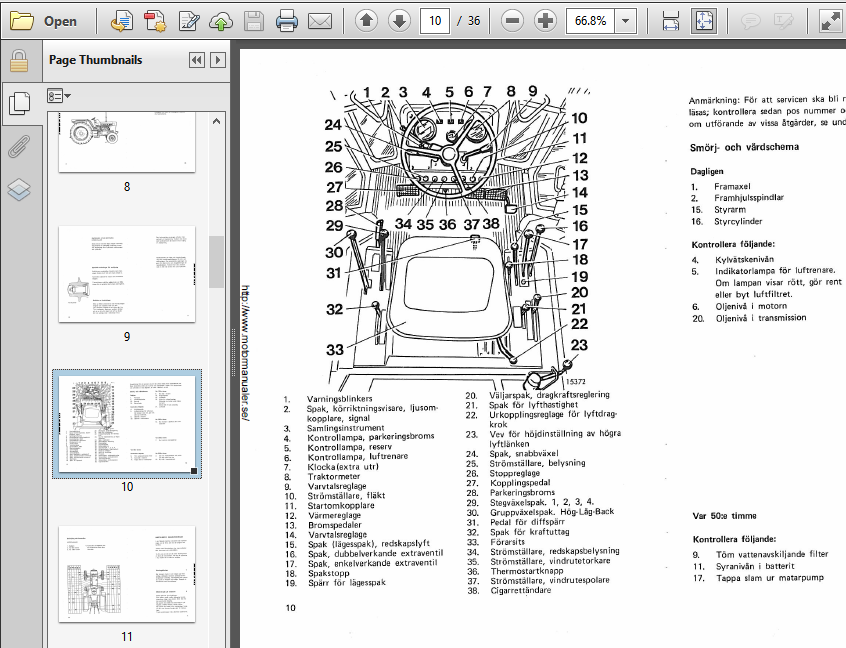 DESCRIPTION:
Instruktionsbok Volvo Bm 500
Genom att léisa denna instruktionsbok kan Ni Ifira Er att kbra och skate Er nya VOLVO BM traktor 500. Avon for Dig som sedan lange or van vid traktorer finns i boken en del Du maste ha reda pa. Serviceatgarder utiiver smorjning och anklare underhall, som Du Iatt utfér sjalv, bor Du over- Iéta till aterftirsaljaren, som har utbildad perso- nal. Boken fir internationellt anpassad for att galla samtliga marknader. Detta medfijr att olika utrustningar for speciella marknadet har med- taglts i boken, Vi ber Dig darfijr bortse fran de avsnitt som into or aktuella for Din maskin. Vi forbehaller oss rattan att utan foregaende meddelande findra data och utrustning, liksom even foreskrifter for underhall och 6vriga service- atg'cirder.
TABLE OF CONTENTS:
Instruktionsbok Volvo Bm 500
INNEHALL
4 Typbeteckningar '
5 Serviceinspektion
6 Presentation
11 Instrument, manfiverorgan '
24 Korning
24 Inkiirning
25 Motor, start
26 Viixling ,
26 Bogsering
27 Snabbvaxel
28 Kraftuttag ,
29 Bromsning
30 Styrning
31 Belastningsvikter
3i Installning av sparvidd
33 Hydraulsystem
34 Spakarnas anyandning
39 Tlllkoppling av redskap
41 lnstiillning
43 Extraventiler
44 Draganordning
45 Skotsel.
Motor
45 Oljebyte
46 Branslesystem
49 Luftrenare
51 Kylsystem
65 Strélkastarinstéillning –
55 Kraft'overforing
55 Justering av kapplingspedal
56 Justeringar av vaxelspakar .
57 Kontroll 0 byte av transmissionsolja
59 Justering av parkeringsbroms
59 Luftning av bromssvstem
60 Styrning
60 Hydraulsystem '
60 Hyttventilator
61 Smorjschema
66 Periodisk tillsyn '
67 Specifikationer
PLEASE NOTE:
This is the SAME manual used by the dealers to troubleshoot any faults in your vehicle. This can be yours in 2 minutes after the payment is made.
Contact us at [email protected] should you have any queries before your purchase or that you need any other service / repair / parts operators manual.