Hyundai R210lc 9 Crawler Excavator Operating Manual
FILE DETAILS:
Hyundai R210lc 9 Crawler Excavator Operating Manual
FILE TYPE:PDF
DOWNLOADABLE:YES
MANUAL LANGUAGE:ENGLISH
PAGES:1850+
DESCRIPTION:
Hyundai R210lc 9 Crawler Excavator Operating Manual
This manual contains a number of instructions and safety recommendations regarding driving, handling, lubrication, maintenance, inspection and adjustment of the excavator. The manual is to promote safety maintenance and enhance machine performance.
Keep this manual handy and have all personnel read it periodically. If you sell the machine, be sure to give this manual to the new owners. This machine complies with EC directive "2006/42/EC".
1. Read and understand this manual before operating the machine.
This operator's manual may contain attachments and optional equipment that are not available in your area. Please consult your local Hyundai distributor for those items you require.
Improper operation and maintenance of this machine can be hazardous and could result in serious injury or death.
Some actions involved in operation and maintenance of the machine can cause a serious accident, if they are not done in a manner described in this manual.
The procedures and precautions given in this manual apply only to intended uses of the machine. If you use your machine for any unintended uses that are not specifically prohibited, you must be sure that it is safe for you and others. In no event should you or others engage in prohibited uses of actions as described in this manual.
2. Inspect the jobsite and follow the safety recommendations in the safety hints section before operating the machine.
3. Use genuine Hyundai spare parts for the replacement of parts. We expressly point out that Hyundai will not accept any responsibility for defects resulting from nongenuine parts or non workmanlike repair.
In such cases Hyundai cannot assume liability for any damage.
Continuing improvements in the design of this machine can lead to changes in detail which may not be reflected in this manual. Consult Hyundai or your Hyundai distributor for the latest available information for your machine or for questions regarding information in this manual.
TABLE OF CONTENTS:
Hyundai R210lc 9 Crawler Excavator Operating Manual
Foreword 0-1
Before servicing this machine 0-2
EC regulation approved 0-3
Table to enter S/No and distribution 0-4
Safety labels 0-5
Machine data plate 0-16
Guide (direction, S/No, symbol) 0-17
SAFETY HINTS
1. Before operating the machine 1-1
2. During operating the machine 1-6
3. During maintenance 1-13
4. Parking 1-16
SPECIFICATIONS
1. Major components 2-1
2. Specifications 2-2
3. Working range 2-5
4. Weight 2-8
5. Lifting capacities 2-11
6. Bucket selection guide 2-18
7. Undercarriage 2-20
8. Specification for major components 2-22
9. Recommended oils 2-26
CONTROL DEVICES
1. Cab devices 3-1
2. Cluster 3-2
3. Switches 3-23
4. Levers and pedals 3-27
5. Air conditioner and heater 3-29
6. Others 3-36
OPERATION
1. Suggestion for new machine 4-1
2. Check before starting the engine 4-2
3. Starting and stop the engine 4-3
4. Mode selection system 4-6
5. Operation of the working device 4-11
6. Traveling of the machine 4-12
7. Efficient working method 4-15
8. Operation in the special work sites 4-19
9. Normal operation of excavator 4-21
10. Attachment lowering 4-22
11. Storage 4-23
12. RCV lever operating pattern 4-25
13. Switching hydraulic attachment circuit 4-27
TRANSPORTATION
1. Preparation for transportation 5-1
2. Dimension and weight 5-2
3. Loading the machine 5-6
4. Fixing the machine 5-8
5. Loading and unloading by crane 5-9
MAINTENANCE
1. Instruction 6-1
2. Tightening torque 6-6
3. Fuel, coolant and lubricants 6-9
4. Maintenance check list 6-11
5. Maintenance chart 6-16
6. Service instruction 6-18
7. Electrical system 6-40
8. Air conditioner and heater 6-43
TROUBLESHOOTING GUIDE
1. Engine 7-1
2. Electrical system 7-2
3. Others 7-3
HYDRAULIC BREAKER AND QUICK CLAMP
1. Selecting hydraulic breaker 8-1
2. Circuit configuration 8-2
3. Maintenance 8-3
4. Precaution while operating the breaker 8-4
5. Quick clamp 8-6
INDEX 9-1
SCREENSHOT OF THE MANUAL: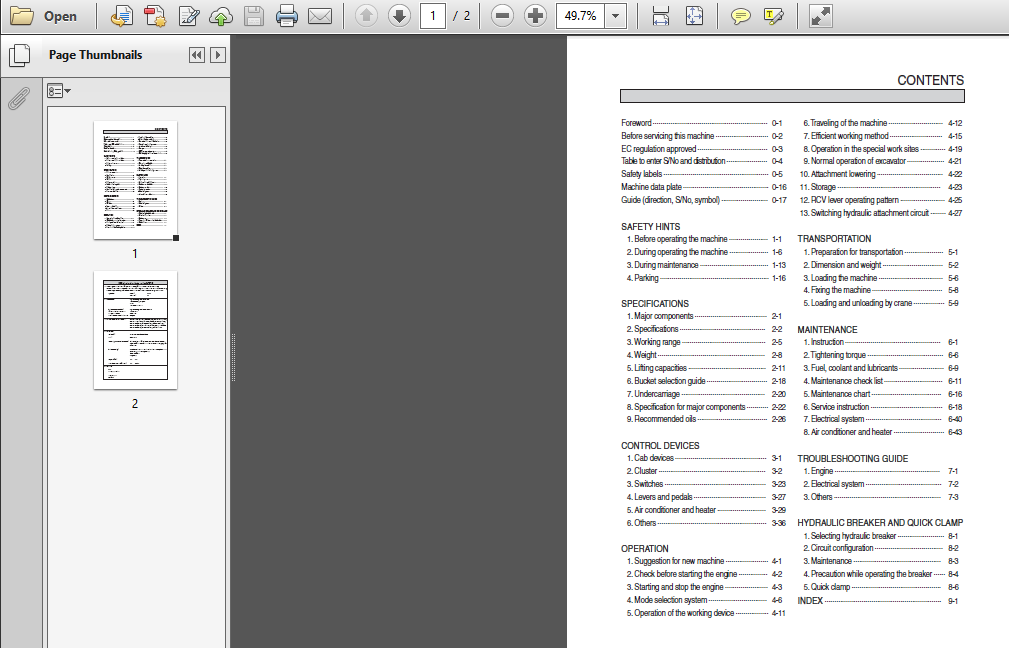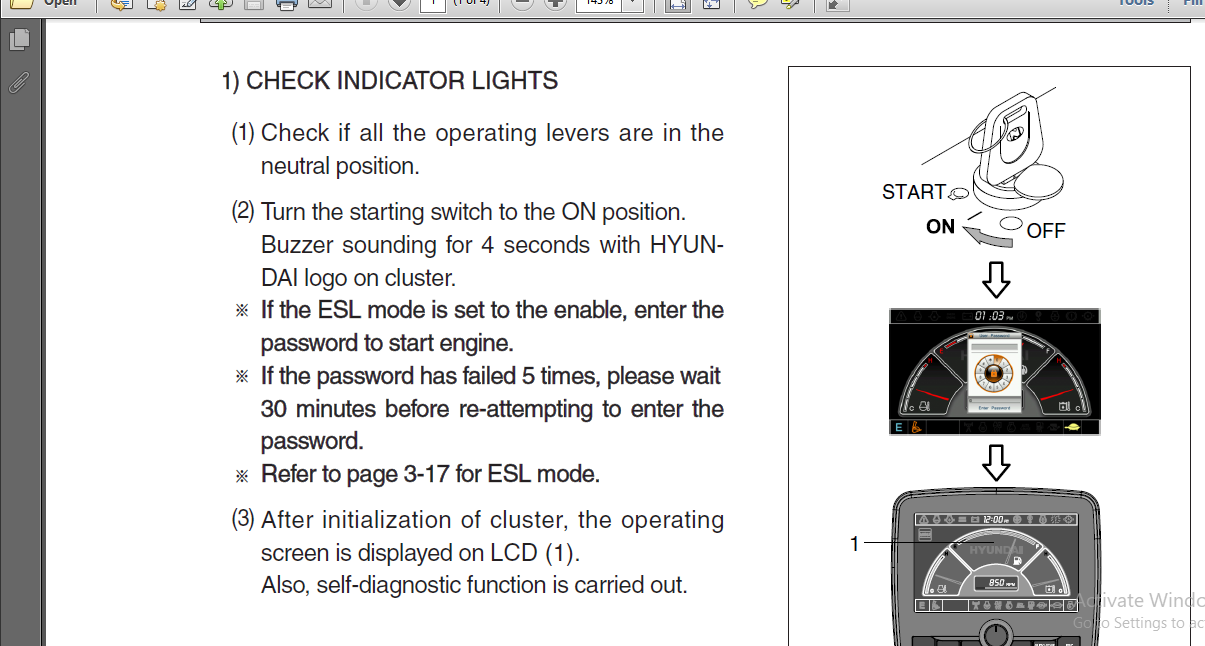 VIDEO PREVIEW:
PLEASE NOTE:
⦁ This is the same manual used by the dealers to diagnose and troubleshoot your vehicle
⦁ You will be directed to the download page as soon as the purchase is completed. The whole payment and downloading process will take anywhere between 2-5 minutes
⦁ Need any other service / repair / parts manual, please feel free to contact [email protected] . We still have 50,000 manuals unlisted