Hyster F117 H40 00xm h48 00xm 16ch H50 00xm h52 00xm 16ch Forklift Repair Manual
FILE DETAILS:
LANGUAGE:ENGLISH
PAGES:1016
DOWNLOADABLE:YES
FILE TYPE:PDF
VIDEO PREVIEW OF THE MANUAL:
IMAGES PREVIEW OF THE MANUAL: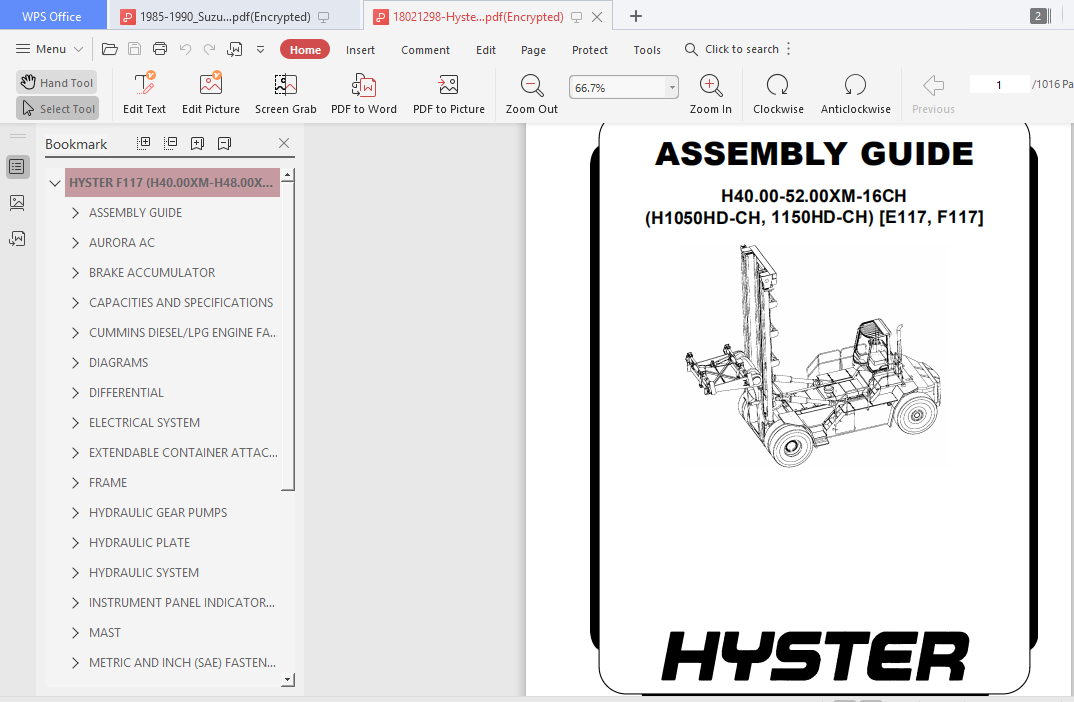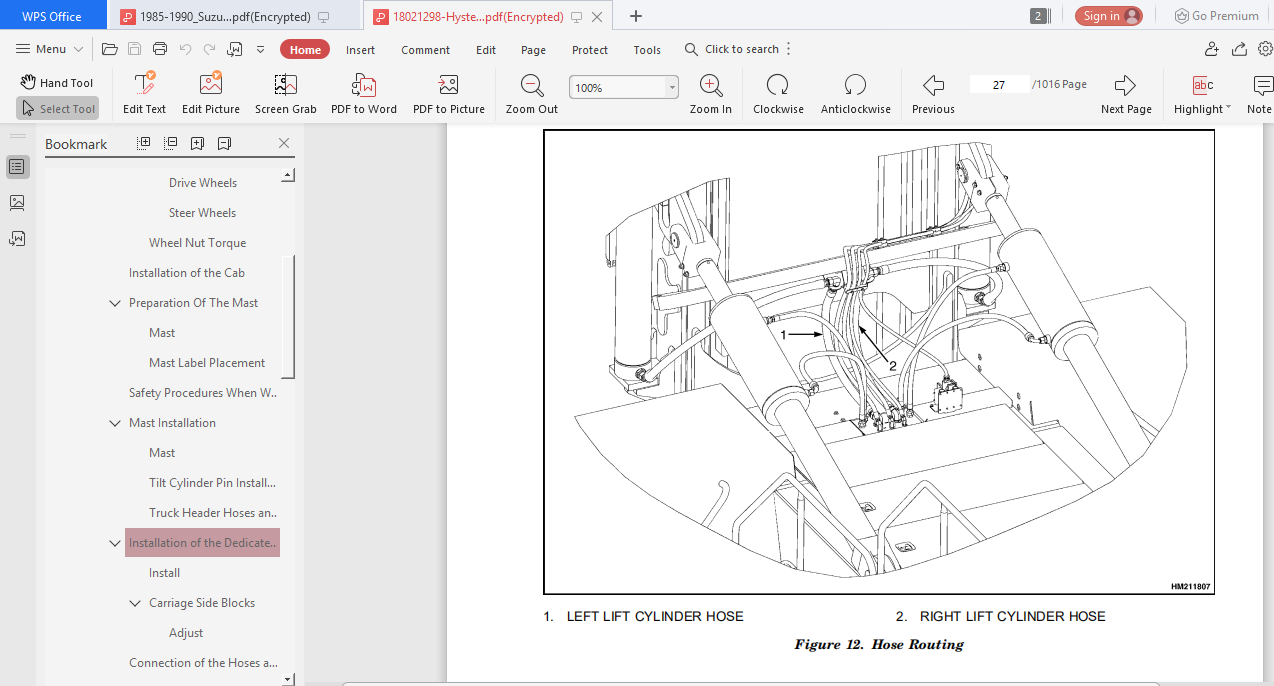 SAMPLE PAGES FROM THE MANUAL:
Hyster F117 H40 00xm h48 00xm 16ch H50 00xm h52 00xm 16ch Forklift Repair Manual
1. Safety is always the most important item!
When lifting parts or assemblies, make sure that
all slings, chains, or cables are correctly fastened
and balanced before lifting. Make sure that all
lifting devices have enough capacity to lift the
weight. If in doubt, do not hesitate to use a device
with a higher capacity than required. Always use
your common sense and avoid dangerous situations.
2. Plan enough personnel to do the job. Never
lift heavy parts by hand. Always use a lifting
mechanism.
3. The rental price of the crane, which you will
need to lift the major components, is very expensive.
Plan the job as well as possible in order to
limit the costs to the minimum required.
4. Check that all the items ordered are available
upon receipt of the machine and its components.
Unpack the case accompanying the machine
and identify all the components contained in it.
Check that all capscrews, nuts, pins, washers,
and brackets are all presented.
1
Checking of the Wheels 8000 SRM 1173
5. Prepare the job. Do all possible preparationand
preassembly of parts, cleaning, or lubrication in
advance. Allowing yourself half a day before the
arrival of the crane will enable you to mount the
drive wheels and prepare the mast for direct assembly,
and will reduce the rental charges of the
crane.
6. Take enough time to read the instructions contained
in this guide and to familiarize yourself
with the procedures. It is advised to read those
procedures when the machine and components
have arrived, in order to have a better practical
understanding of the instructions.
7. It is recommended to performall assembly procedures
outside. During the carriage assembly,
the inner mast will be almost fully retracted.
TABLE OF CONTENTS:
Hyster F117 H40 00xm h48 00xm 16ch H50 00xm h52 00xm 16ch Forklift Repair Manual
List of All Special Tools and Equipment Needed for the Assembly 1
General Considerations Before Starting the Job 1
Preparation of the Components Before Assembly 2
Checking of the Wheels 2
Air Pressure 2
Drive Wheels 3
Steer Wheels 8
Wheel Nut Torque 12
Installation of the Cab 14
Preparation Of The Mast 17
Mast 17
Mast Label Placement 18
Safety Procedures When Working Near Mast 19
Mast Installation 20
Mast 20
Tilt Cylinder Pin Installation 22
Truck Header Hoses and Electrical Cable Connections 24
Installation of the Dedicated Carriage/Gantry 26
Install 26
Carriage Side Blocks 26
Adjust 26
Connection of the Hoses and Cables to the Carriages 27
Installation of the Container Attachment on the Dedicated Carriage 32
Installation of the Container Attachment on the Gantry 34
Lights Installation – Operator Compartment 36
General Procedures After Assembly 37
Hydraulic Oil Check 37
Lubrication Points 38
General Truck Install Procedures 38
PLEASE NOTE:
This is not a physical manual but a digital manual – meaning no physical copy will be couriered to you. The manual can be yours in the next 2 mins as once you make the payment, you will be directed to the download page IMMEDIATELY.
This is the same manual used by the dealers inorder to diagnose your vehicle of its faults.
Require some other service manual or have any queries: please WRITE to us at [email protected]