2005 2006 2007 Honda Nt700 Nt700v Nt700va Service Repair Workshop Manual Download
VIDEO PREVIEW OF THE MANUAL:
The complete video preview of the  2005 2006 2007 Honda Nt700 Nt700v Nt700va Service Repair Workshop Manual Download can be seen below:
TABLE OF CONTENTS:
The table of contents for 2005 2006 2007 Honda Nt700 Nt700v Nt700va Service Repair Workshop Manual Download is as follows:
GENERAL INFORMATION
TECHNICAL FEATURE
FRAME /BODY PANELS / EXHAUST SYSTEM
MAINTENANCE
LUBRICATION SYSTEM
FUEL SYSTEM
COOLING SYSTEM
CYLINDER HEADVALVES
CYLINDER/PISTON
CLUTCH/GEARSHIFT LINKAGE
ALTERNATOR STARTER CLUTCH
CRANKCASE TRANSMISSION CRANKSHAFT
FINAL DRIVE
FRONT WHEEL/SUSPENSION/STEERING
HYDRAULIC BRAKE
IGNITION SYSTEM
IMMOBILIZER SYSTEM (HISS)
WIRING DIAGRAMS
TROUBLESHOOTING
DESCRIPTION:
The service and repair information contained in this manual is intended for use by qualified, professional technicians. Attempting service or repairs without the proper training, tools, and equipment could cause injury to you or others.
It could also damage the vehicle or create an unsafe condition. This manual describes the proper methods and procedures for performing service, maintenance, and repairs. Some procedures require the use of specially designed tools and dedicated equipment.
Any person who intends to use a replacement part, service procedure or a tool that is not recommended by Honda, must determine the risks to their personal safety and the safe operation of the vehicle. If you need to replace a part, use genuine Honda parts with the correct part number or an equivalent part. We strongly recommend that you do not use replacement parts of inferior quality.
IMAGES PREVIEW OF THE MANUAL: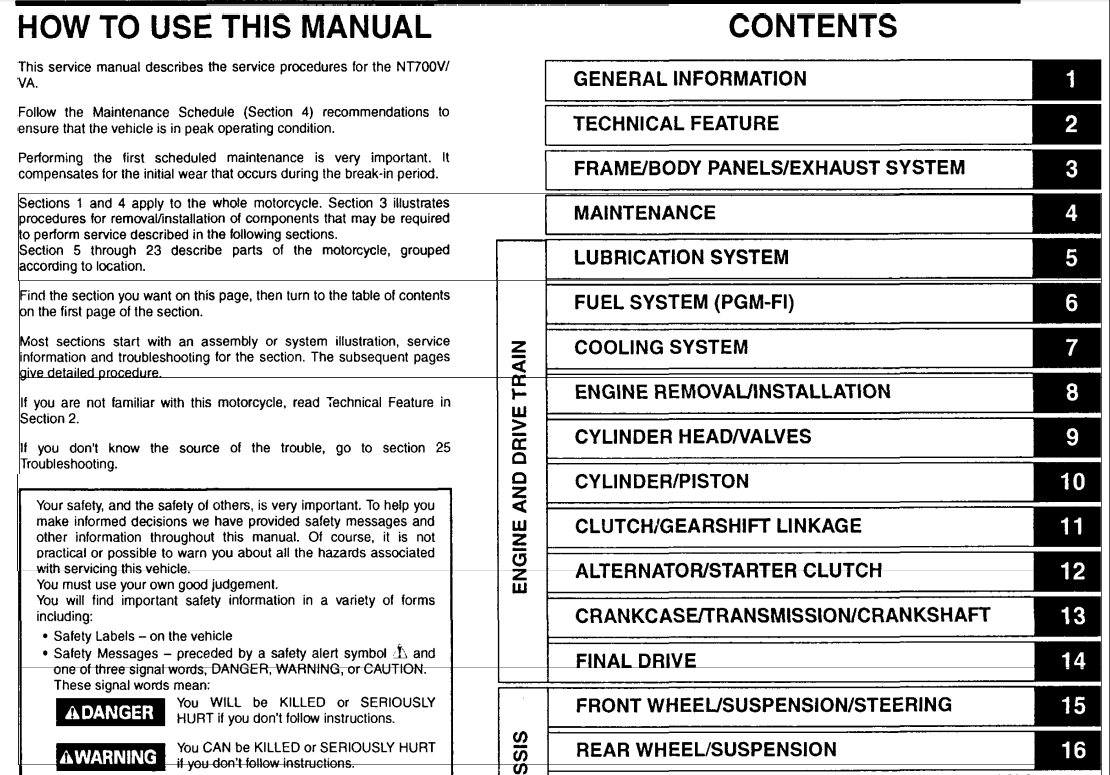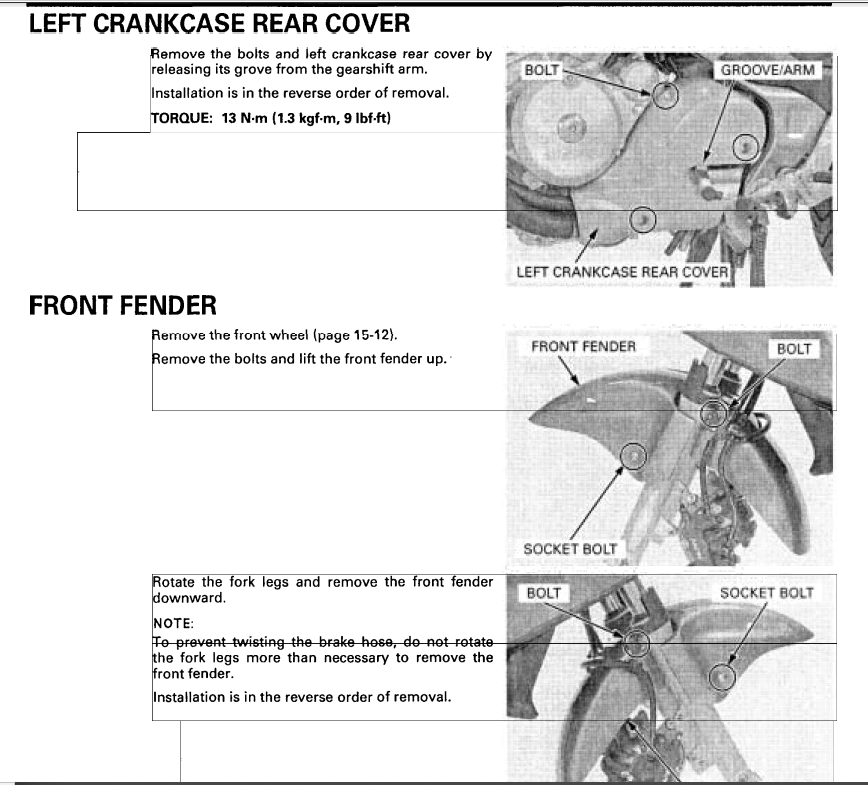 Sample page
HOW TO USE THlS MANUAL
This service manual describes the service procedures for the NT700VI
VA.
Follow the Maintenance Schedule (Section 4) recommendations to
ensure that the vehicle is in peak operating condition.
Performing the first scheduled maintenance is very important. It
compensates for the initial wear that occurs during the break-in period.
Sections 1 and 4 apply to the whole motorcycle. Section 3 illustrates
procedures for remwaVinstallation of components that may be required
to perform service described in the following sections.
Section 5 through 23 describe parts of the motorcycle, grouped
according to location.
Find the section you want m this page, then turn to the table of contents
on the first page of the section.
Most sections start with an assembly or system illustration, service
information and troubleshooting for the section. The subsequent pages
If you are not familiar with this motorcycle, read Technical Feature in
Section 2.
If you don't know the source of the trouble, go to section 25
Your safety, and the safety of others, is very important. To help you
make informed decisions we have provided safety messages and
other information throughout this manual. Of course, it is not
~racticaol r possible to warn you about all the hazards associated
with servicing this vehicle.
You must use your own good judgement.
You will find important safety information in a variety of forms
including:
Safety Labels -on the vehicle
* Safety Messages – preceded by a safety alert symbol f: and
one of three signal words, DANGER, WARNING, or CAUTION.
These signal words mean: m You WILL be KILLED or SERIOUSLY
HURT if you don't follow instructions.
m You CAN be HURT if you don't follow
instructions.
Instructions – how to service this vehicle correctly and safely.
m symbol. The purpose of this message is to help prevent
damage to your vehicle, other property, or the environment.
ALL INFORMATION, ILLUSTRATIONS, DIRECTIONS
AND SPECIFICATIONS INCLUDED IN
THlS PUBLICATION ARE BASED ON THE LATEST
PRODUCT INFORMATION AVAILABLE AT
THE TlME OF APPROVAL FOR PRINTING.
Honda Motor Co., Ltd. RESERVES THE RIGHT
TO MAKE CHANGES AT ANY TlME WITHOUT
NOTICE AND WITHOUT INCURRING ANY OBLIGATION
WHATSOEVER. NO PART OF THlS
PUBLICATION MAY BE REPRODUCED WITHWRllTEN
FOR PERSONS WHO HAVE
ACQUIRED BASIC KNOWLEDGE OF MAINTENANCE
ON Honda MOTORCYCLES, MOTOR
SCOOTERS OR ATVS.
PLEASE NOTE:
This is the SAME manual used by the dealers to troubleshoot any faults in your vehicle. This can be yours in 2 minutes after the payment is made.
Contact us at heydownloadss @gmail.com should you have any queries before your purchase or that you need any other service / repair / parts operators manual.