Hitachi Ex135ur Excavator Owners Operators Manual
<
FILE DETAILS:
LANGUAGE:ENGLISH
PAGES:252
DOWNLOADABLE:YES
FILE TYPE:PDF
VIDEO PREVIEW OF THE MANUAL:
IMAGES PREVIEW OF THE MANUAL: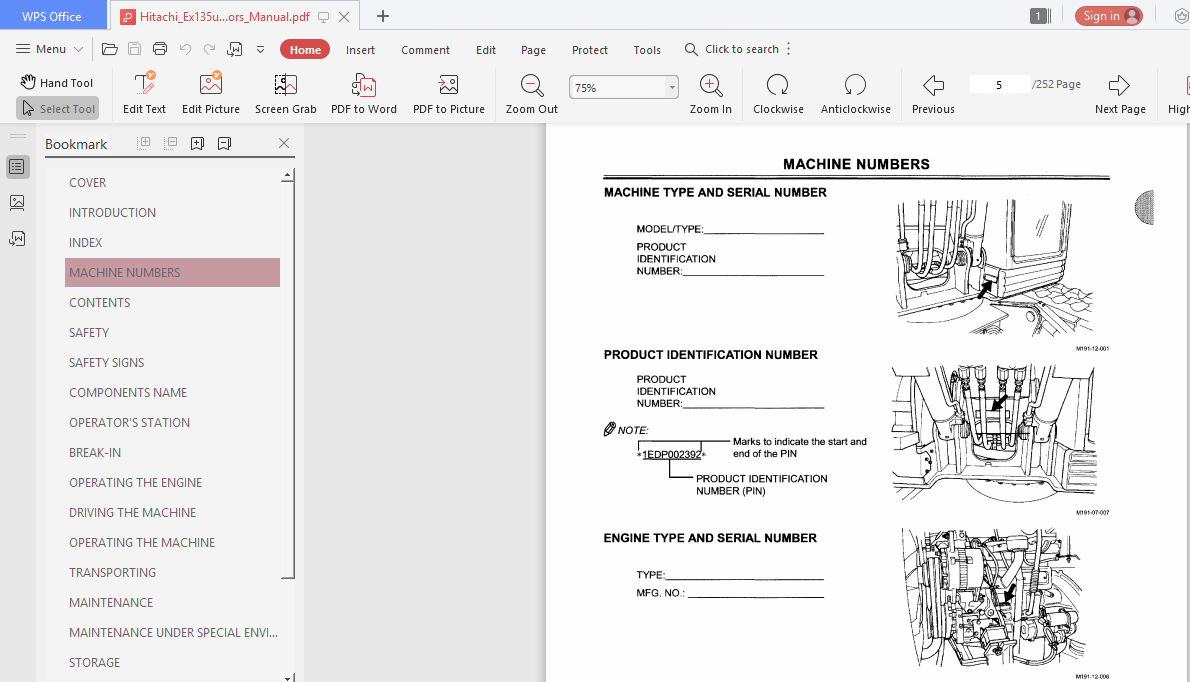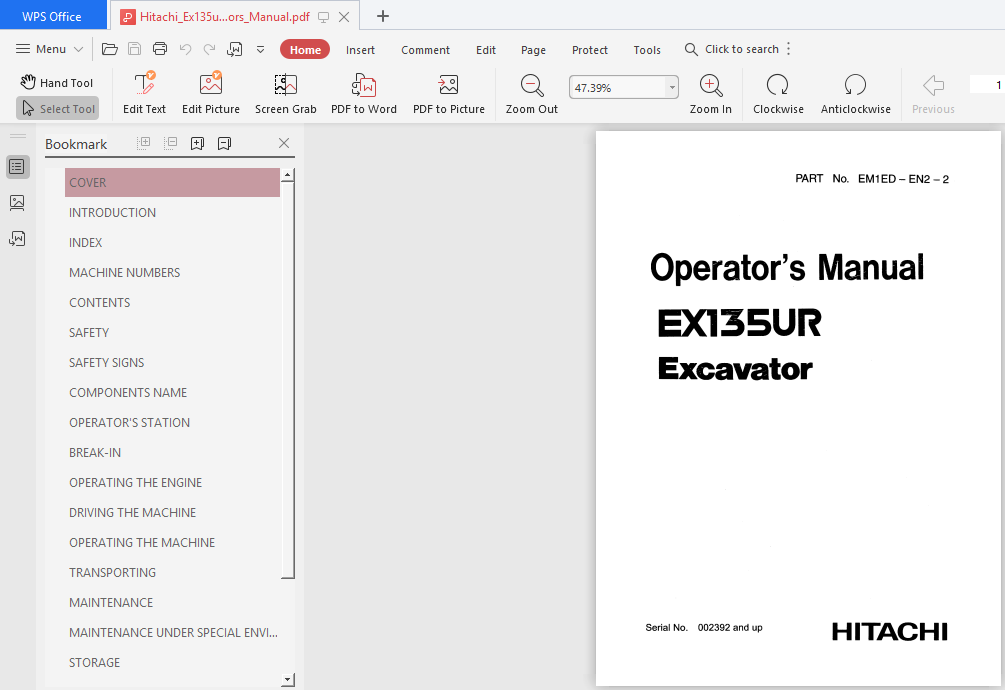 DESCRIPTION:
Hitachi Ex135ur Excavator Owners Operators Manual
Read this manual:
carefully to learn how to operate and service your machine correctly. Failure to do so could result in personal injury or machine damage.
This manual should be considered a permanent part of your machine and should remain with the machine when you sell it.
This machine is of metric design, Measurements in this manual are metric. Use only metric hardware and tools as specified.
Right-hand and left-hand sides are determined by facing in the direction of forward travel. Write product Identification numbers in the Machine Numbers section. Accurately record all the numbers to help in tracing the machine should it be stolen.
Your dealer also needs these numbers when you order parts. If this manual is kept on the machine. also file the identification numbers in a secure place off the machine.
TABLE OF CONTENTS:
Hitachi Ex135ur Excavator Owners Operators Manual
COVER
INTRODUCTION
INDEX
MACHINE NUMBERS
CONTENTS
SAFETY
SAFETY SIGNS
COMPONENTS NAME
OPERATOR'S STATION
BREAK-IN
OPERATING THE ENGINE
DRIVING THE MACHINE
OPERATING THE MACHINE
TRANSPORTING
MAINTENANCE
MAINTENANCE UNDER SPECIAL ENVIRONMENTAL
CONDITIONS
STORAGE
TROUBLESHOOTING
SPECIFICATIONS
OPTIONAL ATTACHMENTS AND DEVICES
INDEX
PLEASE NOTE:
This is the SAME manual used by the dealers to troubleshoot any faults in your vehicle. This can be yours in 2 minutes after the payment is made.
Contact us at [email protected] should you have any queries before your purchase or that you need any other service / repair / parts operators manual.